On November 11, 1998 the White Sox traded away a guy named Mike Cameron to the Reds to get Paul Konerko, then a 22 year old first baseman who showed some pop if not any speed. The move was viewed by many as a salary dump by a losing team. Cameron would go on to have a good career becoming one of a rare group to win Gold Gloves in both leagues.
But this isn't about him. You knew that didn't you?
Anyway, in his first full season with any team Konerko hit .298 with 24 homers and endeared himself to fans. His laid back, thoughtful, demeanor was the anti-Sosa and South Siders were well pleased to call him one of their own.
In 2000 he joined a rag tag group of misfits fleeing the Cylon tyranny ... no, wait .... he was joined by a bunch of kids who should have stayed in 3A. But no one told them so they went and won the division.
That was the first year I started going to see baseball again. I had been disgusted by the obvious roiders and the attention being paid to homers at the expense of the game. The Sox' slogan that year was The Kids Can Play and boy could they ever. A more agile Konerko would scoop anything that came near him. He became an integral part of the infield and the face of the franchise.
As time marched on he would win a World Series ring here, take less money to stay here and was, and is, the one person parents would consistently point out to their kids as a role model. His home may be in Arizona but his heart is in this city. He was one of the reasons, the other being Frank Thomas, that Abreu turned down Yankee money to come here. And if that sentence doesn't tell you all you need to know about both men you haven't been paying attention.
So yesterday the Sox held Paul Konerko Day. They wanted to honor his 16 years here as a player, mentor and fan favorite. And, boy did they ever get this right.
Our old pal, well, he's not as old as me but you know what I mean, Scott Merkin shares the joy.
All Paul Konerko wanted to do was play baseball.

That fact rang true during the 16 years the captain was a fixture with the White Sox on the South Side of Chicago. It certainly was the case Saturday night at U.S Cellular Field, just two games from the end of the 2014 regular season.

But on Paul Konerko Day, the six-time All-Star who never sought out the individual attention had to sit through an exceptional 41-minute program to honor his remarkable career coming to a close with Sunday's last pitch.

Ken "Hawk" Harrelson, the White Sox television play-by-play voice, emceed the ceremony and opened by talking about celebrating one of the most productive and popular players to ever put on a White Sox uniform. By the time the program was done, Konerko watched video tributes ranging from Mark Buehrle to Derrick Rose to Jonathan Toews and closed out with an eight-minute speech that was true to form for the class and character he has exemplified as the leader of this team.

"This is way more than you ever dream could happen when you pick up a bat," said Konerko, during the opening remarks of his speech. "You're 6 years old and you find yourself here 32 years later with all this going on.

"It's not something that you think is going to happen. I'm guessing it's too late to ask for a day off, Robin, because I don't know if I'm going to be able to get out there tonight. I'll do my best. I'll get out there."

The highlight of the program came when White Sox chairman Jerry Reinsdorf stepped to the dais. He spoke of the great moment the two shared after the '05 World Series championship and then showed a video of Konerko presenting him the baseball from the final out of the title during the ensuing victory parade.

Reinsdorf joked that Konerko should have never given him the ball because Konerko was the one who did the work to get the team to the ultimate plateau.

"Having said that, I'm not giving it back," said Reinsdorf.

Instead the White Sox tracked down the fan who caught Konerko's Game 2 grand slam from the '05 World Series. Chris Claeys presented the baseball to Konerko at home plate.

"As it was going on, I was thinking, 'OK, is Jerry going to give me the ball back, the one I gave him? Where is this going?'" said Konerko after the 5-4 victory over the Royals. "And then he actually said no, it's not that, so then I'm like, 'Where is he going with this?'

"Up until the moment he said what was happening I had no idea that that was happening. And it's cool because now that puts that to come back home to me and have it, that was a big moment for me, a big moment for the team."

That emotional moment was followed by Reinsdorf pointing to a bunch of balloons anchored on the left -field concourse. The balloons were released upon Reinsdorf's order, showing a statue of Konerko with his fist raised in the air commemorating that World Series grand slam. Konerko's No. 14 will be retired during a ceremony in 2015.

Former teammates Sean Lowe, Chris Getz, Greg Norton, Jim Thome, Brian Anderson, Ross Gload and Cliff Politte were in attendance, with video tributes from Ozzie Guillen, Scott Podsednik, Joe Crede, Gordon Beckham, A.J. Pierzynski, Juan Uribe, Joe Crede, Jermaine Dye and Derek Jeter. The tributes opened with James Hetfield, the lead singer from Metallica, thanking Konerko for previously using their music as his walk-up anthem.

"James Hetfield from Metallica said my name. It's crazy," Konerko said. "Just because you can hit a ball with a bat. It's pretty cool. I'm blown away by it."

There was an oil painting presented to Konerko depicting his swing and white and black baseballs forming the No. 14, all signed by his teammates from '05. There also was a bench made of baseball bats and balls saluting the captain. Konerko, a music enthusiast, received a 1976 Gibson guitar and a mint condition 1963 Fender Stratocaster.

At the time Konerko spoke, he congratulated the Royals first for reaching the playoffs and taking the time to watch the ceremony with the American League Central title still on the line. He thanked friends, family members, teammates, coaches and other important people from the organization, and the fans, whom he referred to as "friends."

"When you look at that statue out there, or you look at that number that's going to go right there, just realize that when you look at that when I'm not there and you're at these games, your fingerprints are all over it," said Konerko. "It wouldn't be there without you guys, so thank you."

By the time the third or fourth standing ovation erupted, Konerko stepped to the microphone and said. "Let's play some baseball here." It was a fitting end for the person and player.
How would you like to have been that dude in Houston answering the phone and hearing Jerry Reisndorf on the other end? I talked to a few people and they all said the same thing; once the staff found the guy Reinsdof took over. He paid the guy personally although no one seems to know how much that cost him. I would guess he would have called it a bargain at twice the price.
After all, how many Konerko's do you run into in a lifetime?
His stats make him a marginal candidate for the Hall of Fame. Of the twenty players most similar to him ten are in and ten are not. But the Hall has shown a propensity lately for actually considering character and that may give him an edge.
Oh, not that it matters, the Sox won 5-4 last night.
What does matter is that Jose Abreu, Konerko's heir apparent in many ways, hit his 36th homer of the year last night breaking Ron Kittle's rookie record. So, in honor of that, I'll let Jose end this blog.
"I'm very happy and grateful for the opportunity here and also extremely happy about everything that's happened for Paulie today. It's a special day for him and I want the attention on that. That's what I feel is the most important thing of today."
CORRECTION: The ball was owned by a Sox fan who just gave it to PK when he was asked. His name is Chris Claeys and all he asked for was an autograph.
CLICK HERE TO LAUD A CLASS ACT
Follow us on Twitter!
Tweet
Visit us on Rebel Mouse


Email BigBadBill
It's fall. That special time of year when a young man's fancy turns to large breasted women who buy him drinks. Or, if you're not me, then they turn to winter sports.
Last night the Bears, facing a "legitimate threat" (ESPN said so so it must be true), moved themselves into a tie for first place in their division and caused my pals Bill & Ruth to both win money off of strip cards. Since they both have had the stunning good fortune to be able to buy me a drink or two, it couldn't have happened to a nicer couple.
Now that I've seen three games I have a clearer idea of what they are attempting to do on special teams and defense. They aren't there yet but, if the offense can hold this team together for a couple more weeks, they might be worth seeing in the postseason.
But we'll deal with the Bears later. Now is the time to talk of legitimate champions. Those beckoning heralds of good will and actual hardware.
Fortunately for all involved there is someone smarter and better looking than me who took up that task. Our very own Roman F. takes a look at the Hawks.
With hockey season starting back up, I felt compelled to write-up the tenets of Hawks head coach Joel Quenneville, who is one of several reasons the Hawks are the favorite to win the Stanley Cup this season.

1. Play at full speed. When Quenneville was first hired, one area he said the Hawks could improve in was quickness. Shortly thereafter, players talked about the fast pace of his practices, "You play how you practice and you practice how you play," one 'Hawk was quoted as saying. Q believes in skating and making plays at full speed, with or without the puck, at both ends of the ice. If you don't follow that as a player, you can take a seat on the bench. Whenever you hear why Q benched a player like Brandon Saad during the season, or Kris Versteeg or (now ex-Hawk) Brandon Bollig during the playoffs, he almost always says, "He needs to play with more pace." This is what he means.

2 Defense first. Q favors guys who play defense and simply rids the team of guys who don't. I personally thought Rockford call-up Brandon Pirri was the best offensive player of the many players the Hawks tried last year at 2C, an offensive position. But Pirri didn't play much defense or win many board battles so Q had no place for him. Soon Pirri was traded from the team for next to nothing, despite clear offensive ability. A year earlier, Q would sometimes bench the lightning-fast 20-goal scorer Viktor Stahlberg due to defensive deficiencies and the team didn't try to re-sign him. The one exception was Patrick Kane, who was so exceptional on offense that Q had to live with Kane's disinterest in defense. Kane now plays a 200-foot game and I seriously wonder if he'd still be on the team if he didn't.

3. Strong stick on the puck. For all their speed and offensive wizardry, the Quenneville Hawks are about puck possession first and foremost, much like the Redwings team that dominated the '00s. When the Hawks are on their game, they always have the puck and the other team doesn't, reported to be maddingly frustrating for the opposition. The Hawks always get outhit—not because they don't like to hit, but because the team without the puck is always the one doing the hitting. While the other team is hitting, the Hawks are cycling the puck and scoring.

4. Have a great mustache. In our lifetimes, all winning Chicago coaches have had facial hair: Mike Ditka, Phil Jackson, Ozzie Guillen, and the Q-Stache.

The results? Two Stanley Cups in four years and four Conference Finals appearances in the six years. The most victories among any active coach. And an eventual place in the Hall of Fame.
So Roman just wrote off the Bears' season thanks to the fact that the coach is a hairless ape. Just in case you missed that.
Now for some trivia. The reason the Hawks don't get the vilification that the Redskins, Indians and Braves do is solely due to the fact that they are named for a dude, not a tribe. Specifically Chief Black Hawk whose visage is the basis of their logo. Although he had much cooler hair.
Something else of note, this site's founder and all around nice guy, Pat Dahl, is a head of PR for the Blackhawks. Just in case you wondered where all those cool ideas they have come from.
Lastly, apropos of nothing, my boss's dad, a retired cop, used to provide security for Rocky Wirtz.
There, now you can win free drinks on bar bets. Even if there aren't any large breasted women around to pay for them.
CLICK HERE TO COMMIT TO THE INDIAN
Follow us on Twitter!
Tweet
Visit us on Rebel Mouse


Email BigBadBill
Where to begin? How about this? Each week before the Bills play anyone they send them a little postcard which reads as follows;
Hi Opponent:
We're the Bills. Our QB is kinda sorta iffy so we're just going to run the ball. We hope this doesn't cause you any inconvenience.
Sincerely,
The Buffalo Bills
They're polite like that in Buffalo.
Still, knowing that, and everybody did, the Bears defense did their best Ginger Rogers impersonation by playing the game backwards and in heels. Add in the fact that Cutler did his best Rex Grossman impression and you had a recipe for disaster.
Rick Morrissey, over at the Sun Times, says not to worry ... the fix is in.
If there was a theme to the Bears' response to their season-opening loss Sunday, it was that they would have to watch game film to offer an educated explanation of what happened. Apparently, they'll get back to us on this.

I don't want to spoil the movie for them, but it involves a speeding truck, a typically erratic quarterback and, who knows, maybe some barbeque overindulgence.

The purported good news is that tight end Martellus Bennett said all the mistakes in the 23-20 overtime loss to the Bills were fixable, echoing coach Marc Trestman's declaration after the third preseason game that the team's problems were "correctable.''

But when are those mistakes going to be considered "unacceptable'' and "intolerable'' before they happen? You know, from the "get-go-able?''

You can take this to its painful end and call what happened ­Sunday un-Bear-able, but in reality, the loss was so very Bear-able.

Jay Cutler making a terrible decision, throwing a game-altering interception and then being snippy with the media afterward? Check.

The defense giving up 193 rushing yards, including a long run when it mattered most? Check.

No pressure on the opposing quarterback? Check.

The dawn of the 2014 season looked a lot like the downer of last season, a buzz kill for a fan base that has seen this show too often.

"Correctable'' was the word Trestman used after the Bears' first-team defense gave up 31 first-half points to the Seahawks a little more than two weeks ago. On Sunday, the Bears gave up almost 200 rushing yards, including a soul-sucking 38-yard run by Fred Jackson in overtime to set up Dan Carpenter's game-winning kick. On that run, Jackson threw around much-maligned safety Chris Conte like a bag of laundry. If the Bears have to watch the game film to ­figure what happened, then they have bigger problems than we thought. Hint: It involves bad linebacker play. Lance Briggs, the renowned smokehouse proprietor, had three tackles.

Correct me if I'm wrong, but I don't see a lot of progress going on. You can call it an overreaction to an 0-1 start, but when you see the same things over and over again, you have a tendency to want to gouge your eyes out. Things such as Cutler's second interception of the day, when he tried an ill-advised pass across his body that defensive tackle Kyle Williams picked off in the fourth quarter.

His habit of trying to make things happen is "part of what makes him special,'' Trestman said.

The line between "special'' and "reckless'' is the approximate width of a light-bulb filament.

"We'll clean it up,'' Cutler said, as if it were spilled milk or toys left out.

He threw for 349 yards and two touchdowns, with two interceptions thrown in for bad measure. That's how he rolls. After the game, he curtly said he expected the ­media to be "as negative as ­possible.'' That's how he rolls, too.

The Bears had enough ­challenges on their hands without self-induced mistakes and penalties. They were without wide receiver Alshon Jeffery (hamstring) for most of the second half, forcing Cutler to throw to Santonio Holmes, Josh Morgan and Micheal Spurlock too often. Add to that the second-half absences of center Roberto Garza and guard Matt Slauson with ankle injuries, and you can see why this game might have been a struggle.

But come on. A Bills team that went 6-10 last season? At Soldier Field, with spirits high?

Three turnovers, including a fumble by Brandon Marshall, didn't help matters. Nor did Bears defenders getting manhandled in the running game. Newcomer Jared Allen had one tackle and no sacks.

"It's a long season, just getting started,'' Bennett said.

In the hollowness of Sunday's loss, that sounded more like a threat than comforting words.

The Bills finished second in the NFL in rushing last season, and the good news for the Bears is that they're done with them. The bad news is that the next opponent is the 49ers, who were third in rushing last season. Is that negative thinking? Sorry, Jay.

The Bears were wretched against the run last season. Until they figure out how to stop it, they're going to have a long season — and not the good one Bennett envisions.

"[The Bills] ran the ball well, so you've got to give credit to them,'' Conte said. "But it's all stuff that we're going to work on and get fixed.''

Fixable?

So we hear. Often.
Here's a fix. What happened to putting 8 men in the box to stop the run? What happened to running sack stunts with the run in mind? What the hell happened to the defensive line that was allegedly so good?
By the way, watching Conte get shoved around in overtime was just sad.
As to Cutler, I saw it coming when I realized that the whole game was on him and the offense. That doesn't play well into the team's strengths and it showed.
I know I picked this team to go 11-5 this year, and that may still be possible, but if what we witnessed yesterday is any indication 5-11 might be optimistic.
Follow us on Twitter!
Tweet
Visit us on Rebel Mouse


Email BigBadBill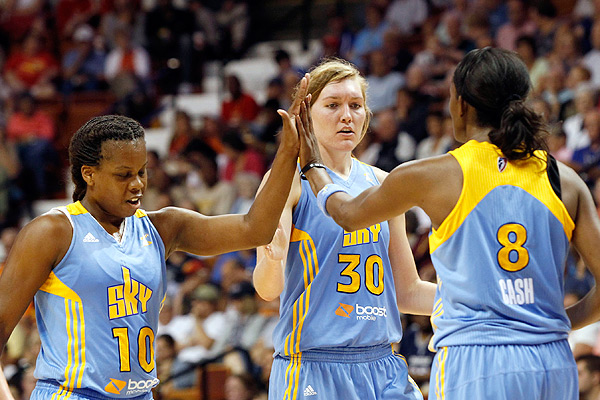 Okay, last year I said I would write about the Sky when they won a freaking playoff game. My frustration with the team was palpable. Year after year they had everything they needed to get into the playoffs and go deep. Instead, year after year, they were more disappointing than a celibate hooker.
This year, beset by injuries, they earned a free pass. No one expected them to do anything. So what did they do? They beat everyone. They didn't even have a full team until the last four or five games and it didn't matter.
Allie Quigley, this year's 6th Player of the Year in the WNBA, couldn't make the court in a pick up game in previous years. She'd been cut more often than Marilyn Manson.
And yet, here she is, double digit night after double digit night, willing her team to win.
And this team plays defense. They crowd the boards, hustle the court, harass anyone stupid enough to cross their paths and, in general, play some exciting, and more traditional, round ball.
And now they are playing for the whole enchilada. They head on down to America's second favorite open carry state, one that really loves minorities and women as long as they know their place and shut the fuck up, to face the stupidly named Phoenix Mercury.
I'm not sure if they're named after the god of speed or the car exclusively built for fat white people. Based on their logo it could go either way.
Amar Abdul Nasir, over at Dime Mag, tells us what we can expect from this impending match-up.
The most talented pure scorer in the league going up against the fiercely talented and sometimes controversial frontcourt force. Two of the sport's most marketable stars stepping onto the league's biggest stage for ownership of the game's most coveted prize.

No, this isn't 1993, when Michael Jordan's Chicago Bulls took on Charles Barkley's Phoenix Suns in what turned out to be an epic NBA Finals series.

This is the 2014 WNBA Finals, which pits Elena Delle Donne and the Chicago Sky against Brittney Griner and the Phoenix Mercury. Game 1 of the best-of-five series tips off this Sunday at 3:30 p.m. EST on ABC. But unlike '93, when Jordan was at the height of his powers and the Bulls were working on their first three-peat, Phoenix is the runaway favorite here.

The Mercury set a WNBA regular-season record for victories during this summer's 29-5 rampage, while the Sky made history of their own as the first WNBA team to make the playoffs with a losing record (15-19).
And if that was all you knew about these teams, then this would look like an NCAA Tournament 13-seed surviving and advancing all the way to the championship game, where their final hurdle happened to be a No. 1 seed loaded with lottery picks.

Except this isn't quite that.

Despite their record, Chicago is good. They're no Cinderella. They're actually among the league's elite when they're anywhere close to healthy. But the main reason the Sky fell below .500 this season was due to an unfortunate spate of injuries.

Delle Donne, the 6-5 wing who surprisingly beat out Griner for WNBA Rookie of the Year in 2013, missed more than half of this season due to complications of Lyme disease. Fortunately for the Sky, she has mostly looked like herself – i.e., the WNBA's answer to Kevin Durant – during Chicago's run to the Finals. Delle Donne scored 34 points in a first-round series-clinching win over Atlanta and is averaging 17.3 points per game in the postseason.

The Sky also struggled during the early-season absence of 6-6 center Sylvia Fowles. The two-time WNBA Defensive Player of the Year and two-time Olympic gold medalist missed 14 of Chicago's 34 games due to injuries. She quickly returned to form, however, and is averaging 17.2 points (63.3% FG), 10.5 rebounds and 1.8 blocks in the postseason. The third member of the Sky's Big Three is point guard Courtney Vandersloot, who missed exactly half of the regular season with injuries. Vandersloot's 6.0 assists per game would have led the league had she played enough games to qualify, and in the playoffs she's averaging 7.5 points, 6.3 dimes and 1.5 steals per game.

So no, the Sky is not the plucky bunch of underdogs their record would imply. Chicago is the most talented team in the Eastern Conference. Had Delle Donne, Fowles and Vandersloot been on the court together more and on the sideline less, the Sky would've cruised in the playoffs instead of barely making it. That's why, even with the losing record, Chicago coach Pokey Chatman made a good case for WNBA Coach of the Year; she held things together with duct tape and worn shoelaces until the cavalry came back to save the day.

The Sky's stars got healthy at the right time, and now – with the help of guard Epiphanny Prince (15.0 ppg in the regular season), forward Tamera Young (9.7 ppg in the postseason) and guard Allie Quigley (24 points in Wednesday's conference finals-clinching win over Indiana) – they've taken their rightful place in the WNBA Finals.
Here's my prediction. It goes all 5 and the Sky wins it all.
Of course, given that I'd picked the Sox to be in the playoffs this year you may want to hold off on mortgaging your home for that trip to Vegas.
The regular media, long ago frustrated by the annual flame outs, has been forced to play a lot of catch up on this team. I've actually watched broadcasters refer to the team's pronunciation guides to get the names right. Well, whatever it takes. This team has earned the right to join the hallowed pantheon inhabited by Jackie Robinson West and the Blackhawks.
CLICK HERE TO HAVE AN EPIPHANY
Follow us on Twitter!
Tweet
Visit us on Rebel Mouse


Email BigBadBill
Just another day in the Jay the Joke corporate boardroom.
From the N.Y. Daily News.
Monday is the day to celebrate the American worker and his sacrifices and economic and social achievements.

You do know that, right?

If you don't, you're not alone.

Few recall the bloodstained origins of this holiday as we fire up the grill, throw on the burgers and dogs and turn on the U.S. Open tennis or maybe the Yanks, Mets or another ballgame.

And, in a sign of the times, the Sunday morning network news shows didn't even offer their usual, token pre-Labor Day weekend spot for the head of the nation's labor movement.

"No," said AFL-CIO President Richard Trumka when I asked him. "No invitations this year."

President Grover Cleveland signed legislation to create Labor Day.

President Grover Cleveland signed legislation to create Labor Day.

I told the former mine worker-turned-lawyer that there seems to be a precious lack of understanding of the holiday's origins.

In fact, it stems from an awful confrontation in Chicago in 1894 that saw federal marshals and the Army kill 30 striking Pullman railroad strikers.

Soon after the Pullman walkout ended, Congress and President Grover Cleveland quickly passed and signed legislation for the holiday.

That history is rarely taught in schools and there are few full-time labor journalists anymore.

So with many millions jobless or involuntarily working part-time, we'll have a few pro forma parades, but not much else.

Americans will be grilling hot dogs on Labor Day rather than honoring the history of the holiday.

"Unfortunately, I think your analysis is spot on," said Trumka, who will take part in celebrations in his native Pennsylvania, including Pittsburgh, while President Obama does the same Monday with one in Milwaukee.

"From assembly lines to classrooms, across highways and steel mills, American workers strengthen the foundation of our country and demonstrate that our economy grows best from the middle out," Obama says in his formal holiday proclamation.

Yes, but sadly, "There is virtually no labor writing anymore and little, if any, reporting on the working class or working class communities," said William Serrin, a longtime NYU journalism professor and former New York Times labor writer.

"It could be a gold mine of important stories. It's a shame," he said Sunday.

Hey, anybody need another burger?
Follow us on Twitter!
Tweet
Visit us on Rebel Mouse


Email BigBadBill