The Bulls beat the Heat last night. They do this often in the regular season as has been noted here before. But at the end of the day it's the rings that count and, as of right now, this Bulls team has none. Nor are they within sniffing distance of getting any. Rose's pre-game press conference, in which he left the door open to playing this season, was a complete waste of time. The Bulls aren't going to let him even wear a uniform to a costume party this year.
So color them done.
Jay Cutler proudly announced that he was going to play in Monday night's upcoming tilt against the Cowboys and then the team informed him that he was wrong, So he'll sit on the bench, watch the Jumbotron and eat popcorn or something. Phil Emery also took time out of his busy week to declare the Bears can't afford to tag Cutler so he'll either get a long term deal or none at all. That information being less useful than the what was doled out at the Rose press conference.
Anyway, with four games left and the team needing to win the division to even think about the playoffs, you can color them done as well.
I say that knowing full well that the Lions will implode. It doesn't matter.
So we move on.
The Cubs, after announcing that they were going to open an outdoor bar year round found out that they need silly things like licenses and neighborhood approval. I'm not even sure what to say there other than the Cubs do truly live in dysfunction junction.
Toni Ginnetti, over at the Sun Times, says the Cubs also introduced their new manager, Rick Renteria, yesterday and he admitted that the only job he's ever wanted was the one he just got.
Rick Renteria met the Chicago media for the first time Thursday as the new Cubs manager, but he had a special connection to the team and to Wrigley Field decades before.

As a rookie with the Pittsburgh Pirates in 1986, he played his first game at Wrigley on Sept. 14 and got a hit in his only at-bat.

''He had his picture taken in front of the park,'' his wife Ilene remembered. ''It was the only place he ever had his picture taken.

''I'm not just saying this—this was the job he always wanted. He was absolutely thrilled.''

Ilene Renteria said the stars aligned perfectly in his ideal job coming at a time when their three sons are grown and their daughter is in her first year of college.

Rick Renteria, who turns 52 on Christmas, believes the same can happen for the Cubs after three of the franchise's worst seasons.

''I don't think in terms of the past except for where the organization has been,'' he said. ''My attitude is to move forward.

''I compare it to a batter who thinks he had a bad call on the first pitch of an at-bat. You still have to grind through that at-bat and you can't keep thinking about that first pitch. You have to keep grinding and move forward.''

Renteria, who was the bench coach for Bud Black with the San Diego Padres for the last three seasons, said he will have a measure of familiarity with the team, having worked under general manager Jed Hoyer when Hoyer was with the Padres.

''It will be nice to be in a familiar setting with people I'll be working along side,'' he said. ''I expressed to them this was the place I wanted to be.''

Renteria spent the majority of November reaching out to players, starting with shortstop Starlin Castro.

''People ask me about Starlin. He was one of the first I spoke to and we spoke at length. I watched him from the other side and thought 'what a tremendously gifted athlete.' He's willing to do whatever we ask him to do.

''The reality is you have to have dialogue. You have to put forward as best a plan on how [each player] can move forward.''

Renteria said he assembled a staff designed to teach his style and approach to the game.

''They'll bring the idea that we want to teach,'' he said. ''We have to present a consistent message. I want this to be a club that gives tremendous effort. We want to be a club that is aggressive on the bases and is smart. I'm very excited about the guys we have now and the talent in the organization.

''You don't go into a season anticipating failure. No player wants to go out and fail. The game is about peaks and valleys and about the players and I understand that. We have to help them in those times when things aren't going well. We're looking forward to an exciting season.''
When people talk about Renteria they mention his upbeat attitude (to the point of being annoyingly perky), his ability to speak Spanish (Bienvenido a Chicago!), and his ability to help young players develop. In other words, he has all the skills you'd want in a 3A coach. Of course, since it'll be a few years before he has to coach a major league team, I guess he'll be all right.
On the South Side, Rhett Bollinger writes that the Sox are welcoming back Paul Konerko for one last season.
White Sox captain Paul Konerko will return to play next season.

The six-time All-Star will remain with Chicago on a one-year, $2.5 million contract, with $1 million of it deferred until 2021. Under terms of his previous contract, signed in December 2010, Konerko is to receive $1 million annually from 2014-20.

Konerko met with White Sox brass in November but didn't inform the team of his decision to return until Tuesday, with the signing becoming official on Wednesday.

"It really wasn't a difficult process on our end," White Sox senior vice president/general manager Rick Hahn said in a conference call. "It was giving Paulie the information and time and space on his decision and his new role. It was incumbent on us to be honest about how the fit would work out with the club moving forward."

Konerko is expected to be used in a part-time role in 2014, seeing time as a designated hitter against left-handed hitters and working with Jose Abreu's transition into the role of the club's primary first baseman. Abreu is a 26-year-old Cuban defector who signed a six-year contract with the White Sox in October.

Konerko, who turns 38 on March 5, said he's comfortable with his new role, and didn't want to retire with a sour taste in his mouth after both he and the White Sox struggled last season.

"For me, I pretty much knew from being around the game and the natural evolution of a player, I knew back in August, September, that if I was going to play next year, it was going to be like this," Konerko said. "Accepting the role, I'm probably way ahead of everybody else on this one because I knew where this was going to head."

White Sox manager Robin Ventura, who was also on the conference call, said he'll find ways to get Konerko in the lineup despite having Adam Dunn and Abreu on the roster.

"I think matchups will have something to do with it," Ventura said. "There will be some mixing and matching. But with how professional these guys are, I don't have to bang my head over it. I'm not limiting him to just DH. We'll see in Spring Training how it evolves and how it goes. I'm just happy having these guys and what they bring to the team."

But the White Sox are bringing back Konerko for more than just his playing ability, as they value his leadership in the clubhouse as the face of the franchise for the last 15 years.

"A large part of the role is his presence in the clubhouse," Hahn said. "Having him around as a role model has a lot of value to us as we build this roster."

Konerko, who has spent 15 of his 17 Major League seasons with Chicago, hit .244 with 12 homers and 54 RBIs in 126 games this past season. His 434 career home runs rank fifth among active players and are tied with Juan Gonzalez and Andruw Jones for 42nd place in Major League history. His 1,390 RBIs are sixth among active players and 75th all-time.

He ranks second in White Sox history in home runs (427), RBIs (1,361), total bases (3,944) and games played (2,187) and third in hits (2,249) and doubles (398). He needs five total bases and 21 homers to tie the franchise records held by Frank Thomas. Konerko's 13 seasons of 20 or more homers are a franchise record, and his 10 grand slams are tied with Ventura for the club mark.

"Paul Konerko has been the constant face of the White Sox organization and the heart of our clubhouse over the past 15 seasons," said chairman Jerry Reinsdorf. "He certainly earned the right to make this decision on his own, and we are very pleased that he has decided to return for another season. While the accomplishments speak for themselves—six All-Star Games, a World Series title, 427 home runs with the White Sox—anyone who is in our clubhouse day in and day out knows the value Paul brings to our franchise as a leader, as a teammate, as a mentor and as our captain."
In summation, the Sox are saying that Dunn will face right handed pitching, Konerko will face left handed pitching and Abreu will face all comers.
Here's what I say; Dunn is done, PK will platoon DH with whoever Ventura picks on any given day and Abreu will knock the snot out of the ball when he connects with it. And, as a side note, while Abreu may never compete for a Gold Glove, he's not a defensive liability either. Get the ball near him and he'll catch it.
So how are teams chances looking next year?
If the Cubs get Tanaka, something they claim they are trying to do and something I doubt they can even spell, then they will have embarked on a serious press to add high quality free agents to their developing team. If you read that sentence slowly you'll realize that it's not going to happen. They'll be flipping vets for prospects just after the All Star break. In other words, color them gone.
The Sox, as currently constituted, should compete, aggressively, for last place. But, given the depth they have in pitching, a couple of trades and they could be right in the thick of things. I'll hold off judgement on them for now.
You can color them beige.
CLICK HERE TO LET US KNOW WHAT YOU'RE CHEERING FOR
Follow us on Twitter!
Tweet
Visit us on Rebel Mouse


A lot of people are saying that Marc Trestman made an ass of himself Sunday. Thus our pic today. Well, come on, would you really have preferred a pic of Trestman's ass? I didn't think so. Anyway, people are mad at him.
The Twitter and the Facebook are ablaze with the fury. The Trestman MUST be sent back to the Canadia they wail. He must be the flogged and the tarred and the feathered they howl. Who cares if the offense is fixed, they keen, if there's an idiot calling plays and the defense sucks? Like John the Baptist before him, this Trestman must go.
Yes, a segment of the population is seriously irked.
There are two things that bother me with Trstman's call. First, he just said out loud that he doesn't trust his team to run a play without fucking up. That should set off alarms on every level of Halas Hall. If the coach doesn't trust his players what the hell is he doing on the sidelines?
The second issue, as Rick Morrissey points out, is that now that he has a real job he's developed the habit of saying "I'm always right so fuck you."
It was Robert Half who said, "Not admitting a mistake is a bigger mistake.'' I have loved, embraced and lived by that quote ever since Monday, when I Googled "quotes about people who won't admit mistakes.''

I was wholly unaware of who Half was until I Googled his name and learned he was the founder of a national employment agency for accountants. It seemed too good to be true because Bears coach Marc Trestman, our subject today, is dealing with accountability issues, math difficulties, stubbornness over mistakes and, perhaps, long-term employment questions.

Trestman had a very bad day Sunday, when he sent in Robbie Gould for a 47-yard field-goal attempt on second-and-seven in overtime instead of using a down or two to get more yards against a bad Minnesota defense. Gould's kick was wide right by inches, meaning the exact same kick probably would have been good from, say, 44 yards. The Vikings went on to win 23-20.

After the game, Trestman said he had been worried his offense might fumble or draw a penalty on second down. The next day at Halas Hall, nothing had changed in terms of this thinking.

"We were in the middle of the field, well within Robbie's distance, and the decision is not anything that I regret,'' he said.

Not even passive-voice, "mistakes were made'' PR spin.

If the refusal to own up to a mistake were an isolated incident with Trestman, it might be easier to dismiss. But Trestman has shown an intractability when it comes to admitting errors.

We saw it when he refused to budge after his decision to play a limping, ineffective Jay Cutler in most of a Nov. 10 loss to the Lions, rather than insert a healthy, frisky Josh McCown.

"No regrets here,'' Trestman had said afterward.

We saw it again when he told reporters he liked his play-calling on second- and third-and-one late in the fourth quarter against the Vikings. The two running plays went for no gain, and the Bears punted.

If they win those winnable Lions and Vikings games, they're 8-4 today instead of 6-6.

You can't learn from your mistakes if you don't think they're mistakes.

Trestman said Monday that he often questions his decisions.

"You do look back and ask yourself, 'What other options did I have and would they have worked under the circumstances?' '' he said.

And? Wouldn't that kind of self-evaluation bring him to a different conclusion the day after the kick? No, he said.

He had watched a crazy game lurch about and didn't want to further antagonize the football gods. A penalty already had wiped out a Vikings field goal in overtime. An interception had done in a Vikings drive at the Bears' 1-yard line in the fourth quarter.

What any of that had to do with the Bears' offense, I don't know.

The message Trestman sent to his offense on Gould's overtime attempt was not a pleasant one. It all but said, "You are not to be trusted.''

It's hard to find any solid rationale for what Trestman chose to do in overtime. He said 47 yards is in Gould's range. Yeah? So is 50 yards. And 55 yards, for that matter. But Gould's chances of making a field goal increase as the distance decreases. And, don't forget, running back Matt Forte had averaged 5.2 yards per carry leading up to the kick and hadn't fumbled.

I like Trestman. I like his attention to detail on and off the field. I like that he treats people with decency and fairness. He seems to genuinely care about his players. And he has played a huge role in turning the previously unremarkable McCown into a good quarterback.

But he seems to be under the impression that making a decision means justifying it to the bitter end. That's a weakness in a coach, and it doesn't play well with many Chicagoans, some of whom have quaint ideas about genuine accountability. If Trestman doubts that, he might want to check out the Twitter world from the last 36 hours or so.

It was a brutal loss for the Bears, who entered the game with playoff hopes and left with a .500 record. Trestman can rightly point to three or four moments when the Bears could have put away the game. But the decision to kick on second down reduced those moments to footnotes. That's the way it works. Some decisions are bigger than others. Some are dumber than others.
Yes, it is a weakness. And an unforeseen one at that. Hopefully it's a glitch that he'll grow beyond. New city, new media and all that. I can see it being a little whelming and him needing to assert his manhood, as it were.
In other words, I'm cutting his some slack.
For now.
CLICK HERE IF YOU'RE IRKED TOO
Follow us on Twitter!
Tweet
Visit us on Rebel Mouse


Yesterday some friends of a friend came down from their farm and brought some fresh kill sausages. Saturday it had been a cow, Sunday it was on a grill. It doesn't get much fresher than that. They do this once in a while, without announcement, and share with anyone who happens to be around. The only pattern I've noticed is that they only come to town when the Bears are on TV. Well, that, and the meats are in-freaking-credible. You want to know why grandma and grandpa could eat this stuff all the time and live to ripe old ages? Just try some fresh kill meats and you'll get it. 100% fresh ingredients, all natural spices and not an ounce of commercial processing.
When I was a kid I would spend summers on farms with relatives. I still remember my uncle telling me to pick a chicken for dinner. I can still taste it. So fresh and rich in texture. Not at all like the bland crap you get in a store.
I hope you understand why I want to hold those happy thoughts instead of remembering the game.
Sadly, you don't come here to read food porn.
You may have noticed the image to the right. It simply didn't seem right to laud our gridiron warriors with a sexy fan after their performance yesterday. But I wanted something nice there and, you have to admit, she's easy on the eyes.
Even if she's a Vikings' fan.
Late in the 3rd quarter the Bears trotted out their "prevent defense." This is a holdover from the Lovie Smith era that had, heretofore, been kept under wraps. The reason is that the "bend but don't break" philosophy behind it has been proven a sham time and time and time and time ..... again.
Yesterday was no different.
As Patrick Finley, over at the Sun Times, notes, it's hard to win games when your defense gives up over 200 yards on the ground to one guy.
Fireworks popped from two wires traversing above the goal posts Sunday.

The Bears had lost, and then they hadn't, but the smoke lingered, a reminder of how the Vikings' overtime field goal was wiped out by a penalty.

It took two more misses — one by the Vikings' Blair Walsh and a season-defining 47-yard push by the Bears' Robbie Gould — before the fireworks returned again.

Walsh's 34-yarder sealed the Bears' 23-20 overtime loss, and likely their playoff fate.

Amid the explosions, there was an implosion.

"We keep shooting ourselves in the foot, basically," running back Matt Forte said.

On second down, Gould's right foot pushed a potential game-winner right with 4:12 left in overtime.

"It's on my shoulders," Gould said.

Coach Marc Trestman said, "Robbie didn't lose the game. There's a lot of different ways to lose.''

The Vikings thought they won earlier, but Walsh's 39-yarder was offset by Rhett Ellison's 15-yard facemask penalty. He missed a 57-yarder two plays later, giving the Bears life.

"We're thinking the game's over," Bears linebacker James Anderson said. "Wait a minute? A flag?"

Adrian Peterson ran 35 times for 211 yards to knock the 6-6 Bears one game behind the Lions, who own the tiebreaker with four to play.

"Now we need a lot more help," left tackle Jermon Bushrod said.

The Bears led 20-10 after two third-quarter touchdown receptions by Alshon Jeffery — an 80-yarder on the second play of the half and a leaping 46-yard grab near the left pylon.

Jeffery finished with 12 catches for a franchise-record 249 yards, breaking the mark he set in October after it had stood untouched for 59 years.

Trailing by 10 in the fourth quarter, the Vikings converted one fourth down and three third downs — including Greg Jennings' eight-yard touchdown catch — to cap an 89-yard drive.

The Bears fumbled on their next possession — guard Kyle Long caught a deflection and lost the ball — before Khaseem Greene intercepted a bobbled pass at the goal line.

The Bears couldn't convert second-and-one and third-and-one and punted.

"Any run play, if you give up penetration," Forte said, "it's tough to gain those yards back."

Down three with 1:55 left in regulation, the Vikings went for it on fourth-and-11 from their 8. Quarterback Matt Cassel — who replaced concussed starter Christian Ponder for the second half — found Jerome Simpson for 20 yards.

After a pass for a loss, Cassel threw three consecutive times for 62 yards. Three incompletions from the 12 forced a field goal.

With the game tied with 20 seconds left, Devin Hester returned the kickoff to midfield, but Gould missed a 66-yarder to force overtime.

"It was tough," Bushrod said. "A lot of weird calls. A lot of penalties, flags, blah-blah-blah.

"There were a lot of swings in the game, a lot of ups and downs.''
First off, Jeffrey's a keeper. That TD catch of his in the 3rd showed levels of smart we haven't seen in this city for a long time.
Now, for those who claim the refs cost the Bears the game, you're wrong. Those penalties get called all the time and weren't pulled out of some dusty notebook just to piss you off.
For those of you who blame Trestman, uhhhhh, maybe. He made some questionable calls, that's true. But if his defense wasn't on its back more often than a hooker at a bachelor party maybe he wouldn't have to risk things like he did.
The Bears defense, for lack of a better term, sucks.
Long the backbone of this team, they have no depth and were old to begin with. Something tells me that Phil Emory is going to have a huge phone bill this off-season.
Something also tells me that there will be some shiny new people wearing Bears uniforms in 2014.
Follow us on Twitter!
Tweet
Visit us on Rebel Mouse


Yes, the Hawks are insane. They just tallied their best record on a circus road trip in franchise history. And that history includes two Stanley Cup winning teams. That's even more impressive than the animation to the right, and that is a very impressive animation. But I've written about the Hawks twice in a row and am running out of superlatives. If someone with more knowledge about the game wants to toss up an article just hit me up and we can make that happen,
The usual rules apply, if you quote something cite your source and keep the finished product under 1,500 words if you can.
Their housemates at the Madhouse, the Bulls, still seem to be in a funk. Their 1-5 road record on this trip is reminiscent of the last year of the Scott Skiles era. That sound you just heard was a million Bulls fans letting out a whimper.
The Bears are playing the Viqueens today and that has spawned 2 distinct types of articles; (1) Peterson will have his way with a crappy defense and score 5 touchdowns all on his own and; (2) with the return of a healthy _________ the Bears should be able to stop Peterson as they have done in the past.
Who's right? Tune into Fox at noon, local time, to find out.
Oddly enough, no one is even slightly concerned with the offense. When's the last time you can remember that happening?
All that being said, there've been a couple of stories that I wanted to share but they just didn't seem to fit anywhere. Somehow, and I could be wrong, they seem perfect for a lovely Sunday.
We'll start with Tom Singer's story about the legendary Lee Smith.
"Fireman," an ode to closers, was published in 2010. Mariano Rivera was pictured on the cover. Asked to provide the foreword, because he knew more about the role and for a long time performed it better than anyone, was Lee Smith.

Large Lee wrote that prologue, but he still hasn't gotten to write the epilogue to his own career, an acceptance speech to be delivered on a Cooperstown lawn.

As a career reliever, Smith spent 18 years in the bullpens of eight different teams waiting for the phone to ring. He has spent the past 11 years again waiting for the phone to ring—this time to welcome him to the Baseball Hall of Fame. One of the Major League's groundbreaking closers still keeps getting his wires crossed, and with more compelling candidates added to the 2014 ballot, it won't get easier for him in his 12th try.

In 2012, Smith appeared to finally become at least a Hall of Famer-elect by attracting 50.6 percent support. Through the first 75 years of balloting, Gil Hodges had been the only one to ever get more than 50 percent of the votes and never reach the 75 percent required for induction.

But Smith's hopes of becoming the next Goose Gossage or the next Bruce Sutter, fellow trailblazing closers whose plaques already adorn Cooperstown walls, rather than the next Hodges took a hit a year ago: His vote support receded to 47.8 percent, even in a year none of the candidates mustered enough votes for induction.

The long wait used to puzzle Smith, and a backward step disillusioned him. Yet the process has also made him appreciate more the privilege of possibly joining baseball's Valhalla, having given him time to reflect on the company of peers waiting for him.

"Just to be mentioned for the Hall, alongside guys like Lou Brock, Steve Carlton, Bob Gibson and so many others. ... Man, that's incredible," Smith said.

In 2003, in his first year of eligibility, the onetime and longtime holder of the career saves record drew 42.3 percent of the votes, and had been in that respectable zone until cracking the 50-percent ceiling.

Smith's shelf life on the mainline Baseball Writers Association of America ballot has only four years remaining. But it seems reasonable to guarantee that even if writers continue to dismiss one of the modern game's trendsetters, Smith's likeness will eventually find its way into Cooperstown's Plaque Room through a Veterans Committee.

Since 1964, only five different men have held the career saves record longer than for one fleeting year.

Two of them—Hoyt Wilhelm and Rollie Fingers—are already in the Hall of Fame. Two others—Trevor Hoffman and Mariano Rivera—are certain to join them as soon as they become ballot-eligible.

Then there is Smith, who held that record from 1993 until being passed by Hoffman in 2006—three years after he had first landed on the ballot. During Smith's fruitless candidacy, the perceived cold shoulder to relief pitchers has warmed up with the elections of Dennis Eckersley (in 2004), Sutter ('06) and Gossage ('08).

And the man who once seemed destined to be the one to throw open Cooperstown's doors for closers would be more than thrilled to follow his peers across the door sill.

"To see Goose and Rollie and Sutter going in now, that's going to help us relievers out a whole lot," Smith has noted. "Closers overall are starting get a little more credit and respect. Teams can no longer ignore their value."

A candidate must receive 75 percent of the vote from Baseball Writers' Association of America members to gain election to the National Baseball Hall of Fame. No players reached that threshold in 2013. Second baseman Craig Biggio (68.2 percent), starting pitcher Jack Morris (67.7 percent) and first baseman Jeff Bagwell (59.6 percent) are the top returning vote-getters from last year's ballot. Results of the 2014 election will be announced on Wednesday, Jan. 8.

Even in the fickle world of Hall of Fame certification, the rejection of Smith, who turns 56 on Dec. 4, has been interesting. He was so dominant for so long that in 1995, he was singled out by the respected columnist Jim Murray as the active player most likely to make it to Cooperstown.

As it turned out, 14 others active at that time have beaten Smith through baseball's pearly gates.

If a new trail has indeed been blazed, few belong in the footsteps of Eckersley, Sutter and Gossage more than the 6-foot-6, 240-pound jovial giant whose 478 saves survived as the career record until September 2006. Smith's possession of the all-time mark had been viewed as the leading plank of his heretofore unsuccessful Hall campaigns.

So it would be ironic for him to gain entry without that distinction. Yet, there is no denying the encouraging precedent set in the elections of Sutter and Gossage who, incidentally, between them combined for only 132 more saves than Smith alone logged during his 18 seasons.

Both Sutter—elected in his 13th year on the ballot—and Gossage—affirmed in his ninth year—began their candidacies with lower support than had Smith.

Smith and other closers have been dealt a unique hand by the modern proliferation of their specialty. While perspective tends to raise appreciation for past players' performances, in the case of closers, each season appears to dilute their accomplishments.

Putting up 30 saves just isn't as big of a deal as it was in 1984, when Smith broke that barrier for the first of 10 times. In '84, six other big league closers notched 30-plus saves; in a typical season in the current era, that number triples (an average of 17 have accomplished the feat over the past six seasons—in 2013, there were 19).

"They claim it's an easy job," Smith once remarked, "talking about how guys now are only pitching one inning. I wish you could get all the guys that vote one opportunity to pitch the ninth inning and let 'em see how tough a job it was."

And few have done that job as consistently as did the hard-looking, soft-speaking Louisiana native, who went 12 seasons between his first 30-save season and his last (1995).

That extended success is also part of Smith's handicap. He isn't recalled as an impact reliever. Thus, contemporaries Sutter and Gossage, whose heydays were more concentrated, were widely regarded as more deserving of enshrinement. Smith's have-hammer-will-travel career keeps him from being identified with any particular team, creating another image problem. He logged saves for eight different teams.

Yet, until recently, he held the career saves record for two of those teams, both among the most storied franchises in the game. He still holds the Cubs' record of 180, and also had the Cardinals' mark until Jason Isringhausen notched his 161st save for St. Louis on June 13, 2006. This is noteworthy, also, because those were Sutter's primary teams as well.

For someone who supposedly lacked impact, Smith certainly had his dominant years. During one six-year stretch (1985-90), he averaged more than one strikeout per inning each season, with 580 total punchouts in 509 frames during that span. Gossage, reputed to be the fire-breathing flamethrower of his era, did that in only four of his 23 seasons.

Smith supporters love to point out that when he notched his first save, in 1981, the career record was 272, a number he would surpass by more than 200. And that old lifetime mark was held by Fingers, who was recognized for it by being inducted into the Hall of Fame on his second time on the ballot (after a near-miss as a rookie candidate).

But Smith presented a compelling argument that lasted 18 seasons, during which he appeared in 1,022 games—most of which ended with him throwing the last pitch. He held another Major League record for most games finished—802—until it was surpassed late in the 2009 season by Hoffman, who in '11 was himself overtaken by Rivera.

Considering that Smith either saved or won more than half of the games in which he appeared (549, to be exact), the good comfortably outweighed the bad. Does he have one more good finish in him?

"You always wonder if you don't make it in the first five or six years," Smith said. "Hopefully people remember you and you don't fall out of favor."

That hope was realized by Sutter and Gossage, so one of these years Lee could be living large, too.
There is a short list of Cubs players that I would literally pay to see. Smith is on that list. His 180 saves for the Cubs is still a team record and the 160 more he got for the Cards was a team record there until 2006. In 1995, near the end of his career, he set a MLB record with 19 consecutive saves. The previous record, by Doug Jones, was 15. He is one of only 4 players to make the All Star team for four different teams. The others are Walker Cooper, George Kell and Goose Gossage
There is no valid reason this guy isn't in the Hall.
The Hall aside, there are different ways to measure success. Scott Merkin says that having generations of family members all in the same sport, and all succeeding one way or another, is a win for everyone.
Approximately one month ago, Gary Matthews Jr. was speaking to a group at the University of Texas about African-Americans in baseball, and specifically Jackie Robinson's historic dreams regarding this exact topic.

Gary Jr. took an educated guess at Robinson's goal for African-Americans to become managers and general managers and owners. Toward the end of this speech, Matthews Jr. brought up his family.

"I said that I don't know what exactly Jackie's dreams were, but I hope my family owns a small piece of those dreams for African-Americans," Gary Jr. said during a phone interview from his Orange County, Calif., home.

"We've had positions as players, as All-Stars. My father has been a coach, he's been on radio, he's been on TV," Gary Jr. said. "My younger brother has been in the front office. I'm so proud my family has occupied that small piece of those dreams."

The Matthews family has plenty to be thankful for at this time of year. Then again, they have much to be proud of or celebrate at any time on the calendar. And as Gary Jr. explained, some of those greatest achievements came through baseball.

Known to all as "Sarge," Gary Matthews played for five teams over a 16-year career that featured a .281 average and 234 home runs. He currently works on Phillies broadcasts but lives in Chicago, where he found fame as the left fielder of the 1984 Cubs team that came one win away from reaching the World Series.

Del Matthews had a brief Minor League career as part of the Brewers organization but now serves as assistant director of player development and scouting for the White Sox. And Gary Jr. played for seven teams over a 12-year run that included one All-Star selection in 2006 before retiring after the '10 campaign.

Countless young boys grow up playing baseball in their backyard or at the local park, envisioning someday putting on the uniform of their favorite team. The Matthews brothers did their growing up around Major League ballparks and ended up going into the family business.

"We loved this game and this sport and just being around it. Watching Dad prepare, it shaped us with the work ethics we have," Gary Jr. said. "You see your father get up at 6 in the morning, go to breakfast with him and watch him get ready for day games at Wrigley. It can't help but have an impact with the way you work."

"That's all we did was play baseball," Del said. "We'd play catch, go hit, go to the cages. Play baseball in the living room, anywhere we can form a game. We'd play in the tunnel of the stadiums. It's funny now when I'm going home and going through the tunnel [at U.S. Cellular Field] and see other players' kids throwing the ball around and playing baseball. That's what we did."

When Sarge was holding down left field at Wrigley Field, his focus was on helping the Cubs get to the postseason. But every now and then, he would allow himself to look up to the bleachers and see Gary and Del running around with other players' kids. They got to know standouts from Pete Rose to Shawon Dunston along the way, and created lifelong memories.

There was one occasion when Matthews hit a home run with the Braves and Del was serving as batboy. As the father hit home plate, his son was picking up the bat and jumped up to give his dad a high five. Gary Jr. ended up playing the same left field for the Cubs at Wrigley that he watched his dad do 15 years earlier.

"Really unique," Gary Jr. said of the career symmetry with his father. "There aren't words to describe how much it means."

"As a dad, I never pushed baseball," Gary Sr. said. "Even if they had great days, I never said, 'You'll be a Major League player.' We talked more so about going to school."

Playing baseball was a common conversation had between Gary Jr. and Del. Not just playing, but the team where they would end up, winning a World Series, making All-Star squads and playing with and against each other.

They were together in Arizona one Spring Training, with Del part of the Brewers and Gary Jr. with the Cubs, and maybe someday again they can work together as part of a front office. Del returned to the University of Illinois-Chicago after his playing career didn't work out, and he eventually decided to go into the business side of the game.

He ran the Arizona Fall League in 2005 and made his way into MLB's executive-development program, which gave him great experience through a department rotation in New York for one year before being placed with a club. That club was the White Sox, with Matthews having earlier talked to then general manager Ken Williams for a college assignment.

Since the fall of '08, Del has been a full-time and important part of the organization.

"I'm so proud of him," said Gary Jr. of his brother. "The White Sox have been great for him, and he's grown in his professional life. He has a unique skill set."

"Definitely, I'm very thankful and privileged and blessed to have the opportunity to do what I love and have a passion for," Del said. "It's a connection with my dad and my brother, it brings us together. We always have that bond."

Dustin, Dannon and Paige join Gary Jr. and Del as part of the full Matthews family picture. That athletic prowess extends throughout the immediate family, with their cousin Aja Evans an Olympic bobsledder and cousin Fred Evans a defensive lineman for the Vikings.

Both Del and Gary have children of their own, possibly extending the Matthews baseball legacy. One of the grandchildren's present baseball connections comes from singing the seventh-inning stretch at Wrigley with Gary Sr.

With the holidays fast approaching, it's easy to see how it already has been a wonderful baseball life for this tight-knit baseball family.

"There hasn't been a major decision in my life that I've not talked with my dad or my brother about," Del said. "From that standpoint, I feel thankful and a great sense of pride.

"My dad has been there for me and for my brothers. For us to still be able to tap into his life experience and his wisdom, it has made us all better because of that. I take a lot of pride in being my father's son."
I met Del when he first came to the Sox. We're not BFFs or anything, I doubt he could pick me out of a line up, but he was, and still seems to be, a nice young man with a good head on his shoulders. Something tells me that there'll be a Matthews in baseball for a long time to come.
Which is not a bad thing at all.
CLICK HERE TO SAY SOMETHING NICE
Follow us on Twitter!
Tweet
Visit us on Rebel Mouse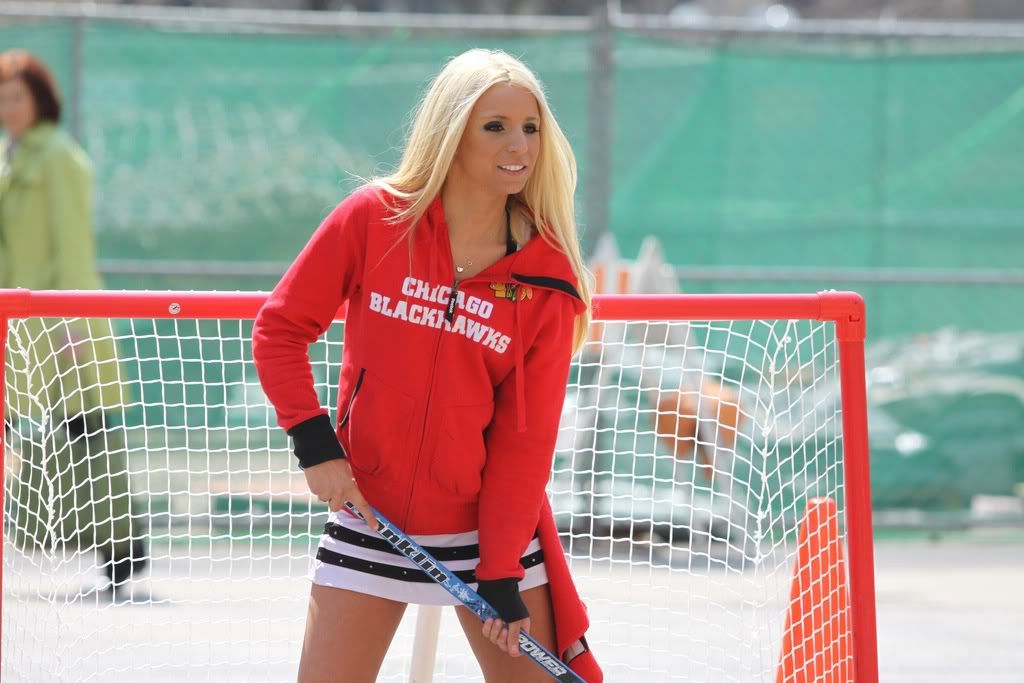 There are milestones in everyone's life. Your first kiss, your first car, your first three way with a bunch of roadies in the back of someone else's bus. You know, life's seminal moments. Those thing we can all relate to.
But there are other moments that we, as mere mortals, can only sit back and watch in awe.
500 home runs, 300 yards rushing in a single game, a single player scoring 100 points in an NBA game and so on.
All of these are individual achievements that also help their respective teams.
Last night that hallowed pantheon opened its doors wide to admit yet another luminary. Corey Crawford, of the MIGHT-EEE BLACK HAWKS, earned his 100th win.
And, as Mark Lazerus at the Sun Times notes, it will be a game he will long remember because he really, really, earned it.
The shootout, by its very nature, is a rather silly way to decide a hockey game. Perhaps the ultimate team sport distilled into a one-on-one skills competition for a crucial point that could end up determining playoff positioning in April. Hockey purists abhor it, and the NHL is kicking around ways to make them as infrequent as possible.

Thing is, they can be awfully fun to watch — and to play in.

"If we win, yeah," Blackhawks goalie Corey Crawford said. "Otherwise, there's no point in being there."

So the epic 11-round shootout Friday that ended when Ben Smith scored to give the Hawks a 2-1 comeback victory over the Dallas Stars was plenty of fun for the Hawks, as it extended their winning streak to five games.

"That's the way it is," said Smith, who beat Kari Lehtonen high on his first career NHL shootout attempt after most of the Hawks were stymied trying to go low on him. "Obviously, you want to win in regulation or overtime, but the fans love it. For us to battle for 65 minutes and to win that way, we'll take it."

It was the third time in the last four games that the Hawks have won after trailing 1-0 through two periods, something that coach Joel Quenneville said "showed great character."

It also gave Crawford — who withstood 10 of 11 Stars in the shootout, as well as a penalty shot in the second period — his 100th career regular-season victory.

"It's pretty big," Crawford said. "It's important. That's definitely the most important stat. Hopefully, there's a lot more to go."

The shootout was fitting — only three of 22 players scored — as offense came at a premium in this one. After scoring in 11 straight periods — plus an overtime — against Dallas, the Hawks came up empty through two periods, the Stars leading 1-0 on Rich Peverley's first-period goal after Crawford strayed way too far from his crease.

The Stars played at a very high pace early on, and the Hawks looked like they were suddenly feeling the effects of being on Night 12 of a seven-city, 13-night road trip. They were a bit sloppy in their end and lacked the usual jump that has made them the highest-scoring team in the league.

Quenneville said before the game that a few off periods here and there were inevitable on a trip like this, and his players were proving him right early on.

"It's been a long road trip for us," Crawford said. "But it's just another game where we find a way to get two points."

Indeed, just as they did Wednesday night in Calgary, the Hawks turned it on in the third period. Dallas was down to five defensemen after Stephane Robidas broke his right leg in a gruesome fall along the boards in the second period, and the Hawks put the pressure on the short-handed Stars.

They finally broke through at 7:21 of the third, when Patrick Sharp redirected a Duncan Keith shot through Lehtonen's legs for a 1-1 tie. It was Keith's 21st assist — tops among defensemen and third in the league, only three behind Pittsburgh's Evgeni Malkin for the league lead.

Crawford and Lehtonen did the rest — Crawford making a big stop on Jamie Benn, Lehtonen denying Patrick Kane's last-minute scoring chance, ending Kane's career-high point streak at 12 games — to send the game to overtime, then to the never-ending shootout.

The Hawks might be tired, and they might not be at their best.

The standings say otherwise.

"The last couple of games, we probably haven't been what we want to be," Smith said. "But we've come out with four points, and that's the biggest thing."
While it seems like every game the Hawks have someone new make an important goal or someone new make highlight reel defensive play - all of which are sign of a solid team - Crawford has been a constant. And due in large part to him the Hawks have the best record in hockey.
That's the one weird thing about hockey. While, as Mark noted, it's the ultimate team sport, if a team isn't solid in goal, they are doomed. That one position is a game changer.
So, from all of us here at Jay The Joke, congratulations Mr. Crawford, you've truly earned every honor you've gotten.
CLICK HERE TO JOIN THE 100 PUCK SALUTE
Follow us on Twitter!
Tweet
Visit us on Rebel Mouse