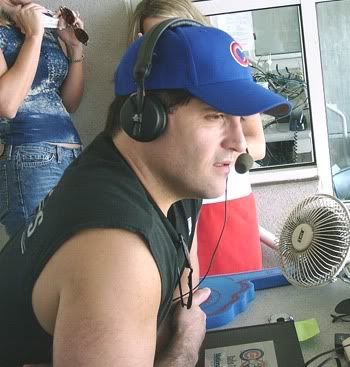 Did you know that Mark Cuban wrote back to Jay's email? Did you? Isn't that so cool? Truthfully, it's not. When I was 20 I wrote Mark Cuban an email about High Def television on a Friday night. He wrote back within an hour. It only added to the amount of respect I have for him. But forget Jay's shameless attempt to seem hip. Or at least seem like less of a, well, douchebag. Let me take you back a couple of years. On November 17th, 2004 Jay launched a campaign demanding that Jerry Reinsdorf sell the White Sox because he could see them as no better than a .500 club in 2005. Well, we all remember how that turned out for the Sox. And I'm pretty sure Jay's "campaign" never really got off the ground. Now he has become the self-appointed broker of a deal between the Tribune Co. and Mark Cuban. This is all based on the fact that the Tribune says it isn't selling, and that Mark Cuban said he would look at the price if the Cubs decided to sell. There is little possibility of this happening, as Jay admits in the second half of his column. Why waste our time? Oh yeah, because Jay wants us to know that Mark Cuban returns his emails. This is most obvious in the closing, where Jay writes "I suspect his inbox will take another beating today. The man has planted a seed." This pseudo-sexual conclusion is really too much for me. Let me explain. Jay starts this article out by writing "I chose to seek solutions this time and gauge the self-made billionaire's level of curiosity." He writes as if he was the first person to hope/think/dream that Cuban would buy the Cubs. So who is "the man" that planted the seed? It's Jay! Now read that closing sentence again. Cuban's "inbox" will take a "beating" because "the man"(Jay) has "planted a seed." Ahhhh! My mind! It's burning! Keep your goddamned fantasies to yourself, Jay.
Jay's Sunday column is always such a treat, and this week is no exception. In today's column Jay rises like a short, pudgy messiah over the city of Chicago. He attempts to portray himself as all-knowing and in some way superior to anyone who manages, plays or cheers for either of the city's major league teams. He starts by comparing the Cubs to the Titanic. That might sound familiar to some of you. Yes, that's Jay's go-to metaphor for whenever a team is struggling, most recently used for the Blackhawks, but also utilized for the 2005 White Sox during the late season slide. We all remember what happened to that ship. I'm not saying the Cubs will win the World Series. I'm not even saying they'll win again. I'm just saying that Jay, as a writer, sucks. He needs to find some new metaphors. And how does Mariotti react to AJ's assertion that he hasn't ever come down to the Sox clubhouse? He tells AJ that he needs to "chill." I can totally imagine that exchange happening in person. AJ would be towering over a scared shitless Mariotti, demanding that Mariotti stop spewing uninformed crap. Mariotti's butt would pucker, but it wouldn't help. A little bit of wet poop would trickle down his leg, as Mariotti would be scared shitless (hey-yo!). Mariotti claims that the city was "embarrassed" by the brawl. He claims that it shows that Chicago is a "baseball insane asylum" and not a "savvy sports town." He writes that this "goofiness… is an insult to the city's intelligence. Whether the city knows it or not." Ignore for a minute his sentence fragment, and try to process the unbelievable level of smug superiority here. A man with an obvious inferiority complex is acting like he is the voice of reason, and we silly fans just don't see as clearly as he does. Initially I took great offense to that. Die-hard baseball fans in this city know a ton about baseball. We certainly know more than you, Jay. How dare you insult us like that! But the more I thought about it I realized that we baseball fans do have something to be embarrassed about. What kind of city would allow Jay Mariotti to be its signature sports columnist? Shame on us! I hope all of you have your tails between your legs.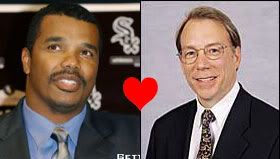 Was signing Jacque Jones a good idea? Is the Sox bullpen ready to defend a title? Should the Cubs resign Kerry Wood this offseason? Is Brian Anderson the answer? Most every move a team makes is open to debate. Why did I use the word "most?" I"ll tell you, fair readers. There is one instance in which both Cubs fans and Sox fans have to agree that their team's respective leaders made the right choice: sending a letter to the editor of the Chicago Suntimes blasting Mariotti. From the Letter:
As is not uncommon with Mr. Mariotti, he has made no effort to be the least bit informed on this important subject.
Granted, this letter is in defense of Bud Selig, but the point is that Mariotti is so evil that he even makes Selig likeable! That's impressive, folks.
Jay Mariotti on Frank Thomas in his
May 9th article
:
We've seen Frank the Head Case before. Good thing the act is playing elsewhere, so he can be another city's problem. "I'm just shocked I'm hitting under .200,'' Thomas said. "I know what I can do, but I'm not able to get in a groove. I don't understand it.'' Imagine if Williams ran a ballclub according to The Big Blurt's rationale.
Jay Mariotti on Frank Thomas in his
May 23nd article
:
Now, as he was shoving a second-inning home run up Ken Williams' piehole and torching the team that dumped him and wounded his ego, there was nothing but a loud, respectful standing ovation from 39,000 fans. And I felt good for him. But not as good as I felt for him three innings later, when he took another mighty swing off the struggling Jon Garland and -- was that Williams exiting the ballpark? -- launched another ball into the left-field stands.
This is a classic example of something jaythejoke.com refers to as "The Mariotti Flip." Two weeks ago the guy is lambasting Frank and praising Williams for getting rid of him. This week? He's as happy as a schoolboy watching Frank hit dingers at the Cell and acting as if two home runs make Williams look like a fool. There is no consistancy from week to week. He simply picks something inflamatory, gets out his thesaurus and starts writing. That's what makes this cheap shot, from Tuesday's article sting:
Guillen had asked them to honor Thomas and not act like Cleveland fans, who foolishly booed Thome in his homecoming earlier this month. Like sheep, Ozzie's disciples followed his orders.
Screw you, Jay. How dare you accuse Sox fans of being sheep just because they were smart enough to ignore your columns regularly trying to incite hatred towards Frank. He is the greatest hitter in the history of the Sox. Of course their fans are going to cheer for him. They are intelligent, unlike you. Again, you know nothing about Chicago sports, or Chicago sports fans. So please go away.