I have to be honest, I could only skim Jay's column today. He writes that the Bears shouldn't be considered sure-ins for the Super Bowl yet. Yes, this is at least the third time he has written this since the season started, and it's hard enough reading his crap each morning as it is.
His resentment of the team's success is still painfully obvious and he still offers absolutely no insight or knowledge that the most casual of fans wouldn't have. What he does do, however, is make it seem as if he has had faith in this team all season:
I'm thrilled the Bears have an opportunity to hush the doubters.
Yes, friends, the Mariotti Flip has officially occurred. Whereas two weeks ago, Jay was one of the loudest doubters out there, he is now looking to "hush" the group to which he once belonged. I'm going to pinpoint this article as his turning point in the season. He has officially turned on his original conviction that the Bears aren't for real and begun to lay the groundwork for an "I told you so" column on Super Bowl Monday in Miami. Expect to see this sentiment grow as the Bears continue to succeed.
Ironically, the only interesting thing in the entire article comes when Jay admits what a frontrunner he truly is:
If they win it all, I'll be the first to crown their ass.
Yes, friends, that's an actual quote. Not only does he cop to being a bandwagon fan, he does it in the sort of homoerotic style that only a Jay Mariotti can truly possess.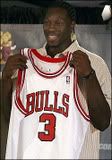 The Bulls have come a long way since national TV broadcasts avoided them like the plague, as they will kick off the NBA season against the defending-champion Miami Heat Halloween night on TNT.
I imagine Jay will write about this tomorrow (unless he decides to wait and see how the game plays out). Either way, his take on the Bulls this year will probably be this:
"The Bulls have improved but don't have the star player to make them a true championship contender yet."
Then Jay will throw out a few half-baked suggestions that the Bulls get Kevin Garnett or Jermaine O'Neal or some other star big man rumored to be on the trading block. Then he will scream about it during Around the Horn.
Jay won't be alone in his opinion. Most writers agree the Bulls will be a tough out in the playoffs but lack the low post scoring threat to make them true contenders.
In fact, try to find an NBA preview that doesn't mention the Bulls inside scoring deficiency. I dare you.
For some reason, there is this widespread perception around the league that the Bulls will be an offensive disaster. Yet they scored nearly 99 points a game last year without one competent big man on the roster.
They now have two.
Newly acquired veterans Ben Wallace and P.J. Brown aren't going to frighten anyone offensively. But their savvy when it comes to the little things like setting picks, finding the open man and grabbing offensive rebounds will help. More than you realize.
Anyone who watched the Bulls regularly last season knows how many possessions were lost to things like Tyson Chandler trying to catch the ball with his face or Michael Sweetney being unable to exert himself for more than 30 seconds.
That won't happen this year.
Combine that with the fact that the team's four leading scorers — Kirk Hinrich, Ben Gordon, Luol Deng and Andres Nocioni — are relatively young and still improving, and there's no reason the Bulls offense should not improve considerably.
But can the really win it all?
The popular answer is they can't, which is why it's the answer Jay will likely go with.
Personally, I don't see a signle team in the NBA that makes me think "There is absolutely no way the Bulls could take them." Especially not in the East, where the Heat aren't getting younger and no team improved more than the Bulls.
Ok, they don't have a star low-post scoring threat. But the Mavericks almost won it all (actually probably should have) with Dirk Nowitzki, who gets inside more than he used to but is still more comfortable on the perimeter. Size will always matter than the NBA, but the game is changing and the classic low-post, back-to-the-basket big man is a dying breed.
Let's forget about what they don't have for a second. What do they have. Rebounding? Check. Great defense? Check. Clutch scorers? Check. Depth? Check. Chemistry? Check. Coaching? Check.
You get the idea. Everyone seems to have ignored the fact that once you get past the one glaring weakness, this is one of the most complete teams in the league. That doesn't guarantee anything, but it gives them more of a shot than people are acknowledging.
I won't be surprised if this team starts off slow. They have the last two seasons and they are adjusting to the new faces. But they will be playing as well as anyone come springtime.
So...a message to anyone who has ignored the Bulls since the Jordan Era: THIS IS THE SEASON TO GET BACK ON THE BANDWAGON.
Just don't be surprised if Jay hedges his bets before he decides to jump on it.
As the tide turns, so does Jay's support for the Bears. One week they look shaky and he's out on a limb. Two weeks later they dominate and he's their front-running supporter, extolling the virtues of Urlacher (possibly because he is frightened after Urlacher recently said Mariotti was the one non-football player he'd like to "hit"). We're all used to that. When a Chicago sports team is succeeding, Jay is their number one fan. When they aren't, Jay has a convoluted idea about what needs to change.
What changed today was that in a column in which Jay rambled on and on about his love of Urlacher, he actually admitted that he regrets bashing the linebacker for his life off the field.

These days, Urlacher is caught up in legal dramas, but while his image took a hit in this column and elsewhere last year, his performances are center stage again.
Okay, so it's not exactly an admission of any wrongdoing, but it is self-aware, something that I don't believe has been seen to date in one of Mariotti's columns. This is the first time since we started this site that Jay has even hinted that he might, in fact, regret something that he wrote.
We all know what this means. Jay is too egomaniacal not to read this blog, and now we're really starting to get to him.
Ideally, one would like a sports columnist to actually enjoy the world of sports. We have covered Jay's bitter nature at length, and his hair-brained idea to move the series to a warm weather site completely epitomizes the ambivalence he feels toward the game and the disdain he has for the true fans. Yes, the idea has its upside, but it goes against almost everything baseball stands for. Only Jay would want to take the game away from the fans.
Baseball is an unpredictable game. Any team can win on a given night, which is why it is played in series. This isn't like a Super Bowl where you can shoot down to Miami for a weekend; the Championship can take over a week to decide.
Given that a month and a half ago there were about sixteen teams in playoff contention, there would have been absolutely no way that hotels could handle all the reservations made. The Mets found out that they weren't going to the World Series two days before it started. Yes, you can argue that it could be pushed back after the Championship Series, but baseball is a game of momentum. The Tigers took a week off and look what is happening to them. The Sox had a break of action before the ALCS last year and the rustiness cost them their only playoff loss.
What would ultimately happen if the Series was moved to a warm weather site is that the games would be seen by a neutral crowd with no rooting interest. There wouldn't be any electricity.
One of the great things about baseball is that it affords someone of almost any income the opportunity to go see a game. There are 81 home games a season, and with seats so far from the field they make Bobby Jenks look like a chubby ant, the majority of fans can say they attend at least one game a year. One of the great things about any sport is seeing it in person. You remember Field of Dreams. You agree with Shoeless Joe Jackson when he said:

Man, I did love this game. I'd have played for food money. It was the game… The sounds, the smells. Did you ever hold a ball or a glove to your face?
As someone who sat through the rain and cold during a World Series game last year, let me tell you that I wouldn't trade it for the world. Screaming with over 30,000 Sox fans as Paul Konerko launched a grand slam something I'll never forget, and a feeling that I hope every baseball fan gets to experience.
Jay disagrees.
Only the most pompous and spiteful of men would want to take the game out of the fans' backyards and move it to Texas, Florida or California. He doesn't want fans to enjoy the long walk down the ramps, spent chanting about your favorite team.
Instead, he wants to be able to watch the game in warmth and comfort on the Sun-Times' dime. He wants to bust out his linen pants after Labor Day. He wants to throw on his speedo and head to the beach. He wants to travel to Los Angeles on the Sun Times' dime and shop a movie based on his own pathetic life while we are forced to filter the game through Joe Buck.
Jay has become completely warped, and now more than ever, he has no connection to the people of Chicago.
The headline was all I needed to see:
"The real smudge, once again, is on Bud"
Even though Jay doesn't write the headlines (editors do) it was enough to tell me Jay had become roughly the 100,000 columnist, anchor, former player or other talking head to weigh in on smudge-gate in the past week.
Guess what?
We don't care.
Everyone knows what happened, and everyone interested has seen enough evidence to form an opinion one way or another. There comes a certain point where the average baseball fan is much more irritated with self-righteous columnists bombarding us day after day with the same thing than they are with the stench of cheating in their beloved games.
That's why I'm calling on all commissioners to further step up efforts to eradicate cheating, in all forms, from all sports.
Not to protect the integrity of the games. To protect us from the media.
It's not that Andro, Balco, greenies and pine tar aren't stories. They are. But there comes a point where no new information is coming out, yet still everyone in the media feels the need to beat a dead horse.
Or in Jay's case, beat the horse, bury him, then dig him up and beat him again.
If you're going to treat us to two smudge columns in the span of the week, at least have an interesting take. We get it: Cheating is bad and Bud Selig cares more about making money than enforcing the rules.
Thanks for pointing it out. Again. It really starts to sink in the 100,001st time.