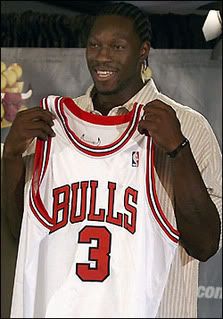 As several Jaythejokers already predicted, Jay has weighed in on Headbandgate.
Unlike the Tribune's Sam Smith, I'm a huuuuge fan of the whole "gate" suffix for any type of scandal gimmick.
Nomenclature aside, I have to say I don't necessarily disagree with Jay's contention that the Bulls ought to just let this one go.
I'm not sure I agree either.
As wishy-washy as it sounds, I don't really know how I feel. Both sides appear pretty ridiculous don't they? On the one hand you have a franchise spending $60 million on a franchise player and treating him like some undrafted rookie off the street. On the other hand, you have a supposed franchise player acting like a teenage girl.
Or Lindsay Lohan, if you're like Jay and have weekly quotas of trite pop cultute references to meet.
This story is tailor made for today's sports media machine. You have two opposing sides with no clear-cut right or wrong answer, making it easy to just call one of them "wrong" and crank out a column.
I'm not surprised Mariotti waited for some trivial but catchy story like this to write his first substantive Bulls column since the season started. Although, to be fair, the Bulls' play hasn't provided much to write about.
I have a feeling Paxson and Skiles are too smart and Wallace is too proud to let this situation derail the season. Remember, it's not like this whole lousy start thing is new to the Bulls. They've pulled the same thing the last two seasons before making a late-season surge. They'll be there in the mix in the East before it's all said and done.
If I'm wrong, expect to see another installment of Mariotti's series "Michael Jordan needs to come back and run the Bulls," coming soon to an edition of the Sun-Times near you.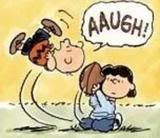 Hope everyone had a lovely holiday.
Jay certainly did. He managed to find the time to rip Brian Urlacher for defending a teammate and Charlie Weis for his wardrobe choices. He even dazzled us with yet another mention of fag-gate.
I also heard a rumor that while watching the Charlie Brown Thanksgiving special, Jay referred to Brown as "a no-talent loser about as likely to kick that football as Paris Hilton is to win a Grammy."
Just a rumor.
But alas, we haven't the time to discuss the past.
Why, you ask?
Because, ladies and gentlemen ... did someone say ... QUARTERBACK CONTROVERSY?!?!
That's right, another suspect performance by Rex Grossman means the great Griese-Grossman debate is back. And it's better than ever.
Fire up the sports talk radio! Get me a split screen with two ESPN guys screaming at each other! And get me Dan Jiggetts on the phone!
Ahh, nothing gets the sports media in a tizzy quite like a good old quarterback conundrum.
I must admit, for the first time this season, benching Rex has become a legitimate question.
Jay implies that the Bears should make a switch, but Lovie Smith doesn't have the "cojones" to do it.
It's too bad Jay doesn't go to locker rooms. I'd pay 200 dollars to see him question Lovie's manhood to his face.
I'm with Lovie in the "stick with Rex" camp. Here's my explanation.
As erratic as Rex has been, he's still the best Bears quarterback I've seen since Jim McMahon. If I honestly thought Brian Griese gave them a better shot, I would say go for it. But anyone from the Denver area can tell you Griese is far from a sure thing in the playoffs. Just because he had a nice little stretch with Tampa Bay last year and a good preseason playing against scrubs everyone suddenly thinks he's Johnny Unitas.
Sure, Tony Romo has saved Dallas and Jay Cutler is about to try a resurrection act in Denver. But in both of those cases, which Jay fails to mention, coaches benched suspect journeymen in favor of a possible quarterback of the future.
For the Bears, a switch would be the exact opposite.
It would have been nice for Rex to have a great game Sunday and quiet all the doubters. He didn't. And like Jay said, having the season in his hands right now is "a scary thought"
But that doesn't mean it isn't the right decision.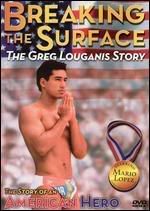 Have you guys realized that the Bears are the best team in the NFC? Did you know that most of the great teams are in the AFC? Did you know that the Bears will not win the Super Bowl unless they beat one of those teams from the other conference?! Color me surprised - I didn't realize that until Jay pointed it out in his column today. Thank goodness we have such an informative little feller to fill us in on the happenings around the NFL.
Yes, friends, another lackluster and uninformative column from our resident deluded big shot at the Sun-Times today.
Maybe "uninformative" is the wrong word. While the column certainly doesn't provide any insight into sports, it does offer a glimpse into Jay's reality.
Jay Likes the Ladies
He writes:

The unspoken concern, of course, is that the Bears are being set up for a fall, like Ugly Betty in a lingerie contest against pick-your-Jessica (Simpson, Alba, Biel).
Yeah, baby! Shagadelic! Jay is giving off an unmistakably hetero vibe with this one.
Jay Doesn't Like the Blogs
He writes:

In my latest NFL power rankings—doesn't everyone with a blog have power rankings?—seven of the top 10 teams are in the AFC.
Oh, snap! A subtle dig at blog culture. I wonder why there's the animosity? Is there a blog out there that would infuriate a Jay Mariotti? I seriously doubt it.
Jay Has No Idea
He writes:

So forgive a personal confession shared by many: I still have no idea who the Bears are, how good they might be and whether they're capable of beating the varsity on Feb. 4.
Well, there you have it. A man who proclaims to be the top sports columnist in Chicago can't for the life of him devise a method with which to evaluate the Bears. It's like he says what we're all thinking.
Jay Has a Way With Numbers
He writes:

They'll be just another NFC fraud threatening to turn the big game into Super Bowl XLIE.
Wait a minute - is that a little Roman numeral wordplay? I think it is! Do you get it? No, seriously, do you, like, get it? What he did was take Super Bowl XLI and threw an "E" on the end of it, so it spelled XLIE. Wow.
Jay Has a Crush
He writes:

Smith, who would look better than Belichick in a suit, refuses to buy into the AFC-is-supreme theory.
Calling all fashion magazines! It's time you tapped into Jay's obvious fashion sense!
Jay Likes Similes
He writes:

But if they end the season as Mario Lopez, watching Emmitt Smith dance away with the mirror ball, what will it matter?
Any time you can craft a simile using Slater, it's just another day of top-notch journalistic integrity.
So while Jay's column might not be informative on the subject of sports, it does provide a glimpse into the life of a serially unhappy and universally disliked little man.

You know that movie "Groundhog Day"? Or that show "Daybreak" that blatantly ripped it off?
I'm sure Jay does.
Because Mariotti seems to be on a personal mission to have every Chicagoan wake up feeling like the days are repeating themselves. Why else would he have cranked out 30 "The Tribune should/might/will sell the Cubs" columns in the last two weeks?
Ooh! Ooh! I know!
Because Jay is petty enough to let his personal hatred of the Tribsters drive his column content. For someone who derides the professionalism of Tribune writers for being "house men" who don't criticize players enough, the personal joy he seems to be taking in the Tribune's struggles seems awfully, well, unprofessional.
Shocking, I know.
There isn't much else that needs to be said, since there wasn't anything new in Jay's column. I would like to point out that New York Times writer Murray Chass wrote pretty much the same thing Jay wrote. Minus the bitterness. And one day earlier.
And he doesn't even work in Chicago.
Next time, Jay, could you please just discuss your hatred of the Trib with your friends and save your columns for your hatred of everything else?
What, no friends?
Well, just scream about it with Woody Paige on "Around the Horn" then. Maybe that will get it out of your system.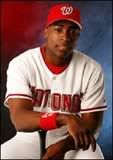 Sunday must have been a tough one for Jay.
Not only do the Bears win again, but the Cubs have to go and spend an out-of-character $136 million on free agent Alfonso Soriano.
With so much joy and good cheer surrounding him, how long do you think Mariotti waited to take an unprovoked cheap shot in his Monday morning column?
Much to my surprise, he made it all the way to paragraph three.
First Jay warms up by casting the Cubs success as a failure on the part of the White Sox. Then it's a few zingers for Andy MacPhail and the Tribune Company. And even though it's a baseball column, Jay even takes a random shot at Rex Grossman.
Once he fills his insult quota, Jay gets back to gushing about the Soriano signing.
Jay, like everyone else, was quite taken aback by the move. Having ripped the Cubs' tight spending habits since he got here, Jay doesn't have much choice but to praise the Cubs' shopping spree.
I'm not sure how I feel. On the one hand Soriano was clearly the top prize on the market, but his 40-40-40 season last year seems to have made everyone ignore some of his deficiencies, particularly a penchant for strikeouts—something the Cubs already know too much about.
Jay doesn't ignore this, but says "You tolerate his whiffs because he's so spectacular." Let's see how tolerant Jay is the first time the $136 million man goes 0 for 5 and leaves 11 men on base.
Usually my Cubs fan friends would be jumping up and down at such a move, but everyone's reaction Sunday seemed to revolve around surprise more than genuine excitement. Maybe we're a little shell shocked from the season, or maybe we're waiting to see what the Cubs do about starting pitching.
Maybe it's just that we know that Soriano alone won't solve everything. Using Boston as a comparison, a key part of getting them over their World Series woes was the $160 million they shelled out for Manny Ramirez. But an under-the-rader deal for a relative unknown named David Ortiz turned out to be even bigger.
It's nice to be able to outspend everyone. But World Series championships are also built on the clever moves other teams didn't think of. Hopefully Hendry has a few more of those in store as well.