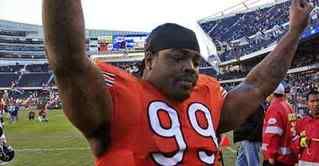 I'm not going to pretend to know enough about Tank Johnson's past to judge what the Bears should do with him. I'm not going to assume I know enough about his present to lecture anyone at this esteemed website about the best course of action.
Jay has built an entire career writing assumptions about a world that he truthfully knows nothing about. Instead of focusing on things he knows like shoe lifts and bikini underwear, he has decided to hack his way through sports journalism. He criticizes the moves of GMs, having no idea what their plans for the big picture are. He critiques coaches without an understanding of what motivated certain choices. And in typical Jay fashion, he judges players without having spoken to them. That's continued today and it's not something I'm willing to do.
What I am willing to do is point out the most ironic statement in Jay's entire column today. The following is in regards to Jerry Angelo and Lovie Smith:
How can they be issued extensions if media and fans are so unhappy with their performance?
Jay, if extensions were to be based on the satisfaction of the media and fans, you would have been out of town a long time ago. You are universally disliked in this town, by both the media (I have proof) and the fans. For some reason the Sun-Times keeps you on, thinking that you sell papers, when, in fact, you do little more than ruin the reputation of "The Bright One."
I would like to ask all of Chicago's media to please stop lecturing us on how we should feel about Tank Johnson. Nothing original could be written at this point, and so we're probably at the point where you should start moving on. The whole situation is now past the "I can't believe what a terrible person Tank is" phase and well into the "let's make jokes about Tank's situation" phase.
Editor's Note: We're working on a funny/wacky Tank Johnson T-Shirt. Stay tuned!
Stop the presses. Jay has caused me to change my mind. To flip-flop, if you will.
The Bears must immediately cut Tank Johnson for his indiscretions. The whole affair, combined with Ricky Manning Jr.'s ill-fated Denny's run and Lovie Smith's refusal to renounce Ozzie Guillen for calling Jay a bad name has caused me to cease being a Bears fan.
I need another NFL contender whose bandwagon I can join. Someone who runs a nice, tight ship.
How about the Ravens? They have my two favorite players named Lewis who have spent time in prison. One of them has a Super Bowl MVP, too.
The Chargers look awfully scary. And Shawne Merriman and Luis Castillo might be able to hook me up with a good steroids guy.
But then, the Cowboys have always been America's team. And with current ESPN analyst Michael Irvin's notorious coke and hooker binges having given way to Terrell Owens spitting in opponents' faces, who could blame America?
So many choices.
As you can see, finding a management regime in the NFL that hasn't stuck by a questionable character or two at some point in its history is no easy task. The Patriots seem pretty squeaky clean right now, but I have this feeling authorities are going to find a bunch of severed heads in Bill Belichick's office one day. Something has to be going on there.
Serial-killer coaches aside, it's ridiculous (and not the good, Devin Hester against the Rams kind) for Mariotti to imply that the Bears, regardless of how this Tank Johnson situation pans out, are somehow an exception in a league where winning always trumps the lip service it pays to character. According to Jay…
"If Johnson plays football for them this season, or ever again, Angelo and Smith will have made their statement to the city and the league that winning is more important than discipline."
And what about the team (probably another contender) that immediately picks Tank up after the Bears cut him? What will that team be saying?
When the Vikings cut wide receiver Koren Robinson for his 80th DUI or something, it was "oh look, the Vikings are cleaning up their act after the Love Boat incident." Then the Packers turned around and signed him, and all anyone wanted to know was whether he would be a good fit with Brett Favre.
And Koren Robinson isn't even good.
The NFL has a comically short memory when it comes to stuff like this, so why should the Bears cut a productive defensive player only to watch him help another team. Yes, the guy has made some incomprehensibly bad choices recently. Having guns while on probation to begin with was suspect (even if they were registered in Arizona, as the Chicago Tribune has reported). Heading out to a club after a police raid boggles my mind. Especially since incidents outside clubs in Tank's past are part of what has made this such a big story.
Still, in today's NFL, two incidents in one year do not constitute a team with no discipline. Manning's actually occurred before he even joined the team. I think Jay would have self-destructed by now if he worked in Cincinnati.
If only…
If the Bears decide to stick with Tank in one form or another, which is what signs are pointing to, it will make them ... no different than any other team in the league. If anything the Bears can afford to take more chances because they have a solid group of veteran leaders and a coach they respect.
So please Jay, spare us the holier-than-thou act with your clever rhymes like "Malice Hall." Try spending some time actually providing some interesting insight.
Sorry, I forgot that isn't your thing. Just keep doing what you do, I suppose.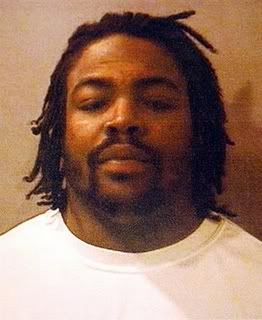 This is a transcript of a conversation that never took place Sunday at Soldier Field between two Bears fans.
To emphasize this conversation's fictional nature and because I like funny names, we'll call the concerned parties Cyrus and Icabod.
Cyrus: I do say Icabod that was quite a match!
Icabod: Indeed it was Cyrus. Yet I find Tank Johnson's recent legal troubles have rather diminished my ability to enjoy these sporting matches.
Cyrus: Right you are! Between that and the recent fracas in New York, I fear the moral foundation of our beloved games is crumbling.
Icabod: I just feel bad for those of us who love sports. We want so dearly to enjoy the games, but the creeps and the thuggery keep getting in the way.
That last part isn't entirely fictional. It was the last line of Mariotti's column today. Sounds pretty ridiculous even coming from a fictional character who speaks like he's from the Gilded Age, does it not?
Apparently, since the NBA happened to have a huge brawl on the same weekend Tank Johnson's career fell apart, it constitutes a sporting apocalypse. Such cataclysmic events require Jay to crank out an incredibly trite, incoherent piece about the supposed sorry state of American sports.
Jay is bad enough when he speaks for himself, but worse when he tries to speak for all Americans:
"But on Sunday at Soldier Field, and all through America, there was a sick feeling that the madness surrounding sports is out of whack and that the entire industry has plummeted into a criminal and moral cesspool."
Well, if Jay is qualified to speak for America, then so am I. The vast majority of Americans don't let legal troubles or occasional on-field brawls tarnish their overall feelings about the games they love. Check the attendance figures if you don't believe me.
If anything, the biggest downside of these incidents is the intolerable self-righteous commentary from hacks like Mariotti who think having a column somehow makes them the moral compass of the sporting world.
If I looked to Mariotti for answers to moral questions, I would fire people whenever they screwed up. I would see to it no one ever received a second chance. And I would constantly insult people but refuse to meet them face to face.
(At the risk of looking like a hypocrite, I would like to formally invite Jay to meet with me and discuss my various issues with his writing. Just send me a time and place).
I'm not necessarily saying Jay is wrong, in this case, in saying that Tank Johnson should be off the team. I'm not saying he's right either. I'm honestly not sure. It's a decision that will undoubtedly influence the Bears' playoff chances and, more importantly, the rest of Tank Johnson's life.
With so much at stake, what I am sure about is Jay is the last person I would want making the call.
It seems as if our dear friend Jay has started taking Fridays off. So to tide you over until another amazing blog entry on Sunday, here is an extended commercial for arguably one of the best segments on Comcast, Jerry Azumah's Best Dressed. Personally, we think Tank Johnson might just look good enough in orange to win the award one week next season. It's probably going to come down to his man-purse made of soap. Have a good weekend!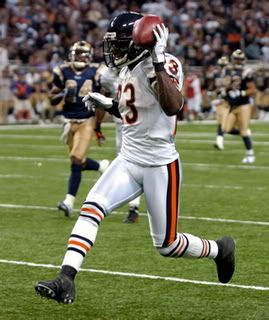 The 11-2 Chicago Bears are tied for the best record and football and on a course for home-field advantage throughout the playoffs. Obviously someone needs to step in and set things straight.
Someone who has never even played a sport, or covered a sports beat.
Someone with metrosexual tendencies and an inferiority complex.
Ladies and gentlemen, your savior of the 2006 Bears: Jay Mariotti!
Since Coach Lovie Smith is obviously botching the job, Jay has decided to intervene. I'll use his words since I couldn't possibly convey that level of arrogance myself:
"Yes, I think I need to have a talk with the man. Because Lovie is not thinking straight."
The latest bit of manufactured controversy Mariotti teased out of a press conference he did not attend? Lovie Smith said the Bears do not currently plan to use electrifying rookie Devin Hester on offense.
A rational, intelligent person might come to the conclusion that Lovie Smith made these statements because Devin Hester will only have time to learn a limited number of offensive plays. That being the case, it doesn't make sense to tip one's hand in front of lowly Tampa Bay and Detroit. Wouldn't it make more sense to wait for the stiff competition that awaits in the playoffs?
Naturally, Jay blows right past this painfully obvious logic. Fortunately, it isn't Sun-Times company policy to hire only idiots, as we can see from reading football writer Brad Biggs:
"Of course, if Smith was scripting a plan for a limited offensive role for Hester, he wouldn't announce to the world what likely would be designed as a surprise scheme for the playoffs."
Thank heavens Jay wasn't in charge of planning D-Day. He would have broadcast it to the world in 1943 and we'd all be speaking German right now.
Clearly Jay is not well-versed in the art of deception:
"Unless he's bluffing, and his tone of voice indicated he wasn't, Smith has no interest in using pro football's most exciting and explosive missile with an offense that would benefit spectacularly from Hester's occasional presence."
Please, for the love of my bank account, let me into a poker game with this man! Apparently Jay thinks when one is "bluffing" he should clearly indicate it in his voice. This way, half-wits like him can easily uncover the person's true intentions. Have you been hanging out with Johnny Chan, Jay?
While we're talking about gambling, see if you can make a wager with someone that Devin Hester will see offensive snaps come playoff time. It's easy money.
Almost as easy as a poker game with Mariotti.