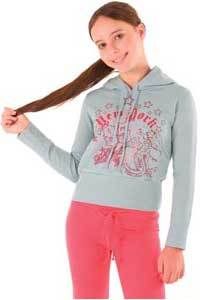 So, like, does anyone know what's, like, happening in Chicago Sports? I feel, like, totally clueless ever since the most awesomest sports writer ever, Jay Mariotti, took his vacation.
I mean, I guess I know that the Bulls didn't trade for that, like, European guy. Hello! That might come back to bite them!
And every idiot knows that the Bears should have signed Lovie to, like, an extension by now. I mean, that was news a week ago!
And like, there's, like, hockey. Yeah, totally hockey.
Wait, what are you saying to me? Are you saying to me that Jay Mariotti is back today? Oh, my God! I'm, like, totally flipping out! I can't wait to see what he has to say!
Okay, let's see here. This column is totally about how the Bears need to sign Lovie to an extension. Radical! I was, like, just talking about that! Oh, my God! Check this out:
I don't want to describe the Bears as the Britney Spears of the 2007 sports year, but they're perfectly capable of blowing all their credibility and couth with dizbrain thinking.
He, like, totally just dissed Brit! Oh my God, Jay vs. Brit is totally the new Paris vs. Nicole! That's awesome! I'm totally on Team Jay! But I have to ask… What is a "dizbrain?" Is that, like, some sort of awesome new word? It's not in that, um, big, um, dictionary. This is what I love about Jay! He, like, totally has a smart person's job, but totally writes just like me!
No way! Did you guys see that Jay called Ted Phillips "Tightwad Ted?" That is like, the most hilariously awesome nickname ever! What is that thing? You know, that, like thing where words sound alike? Alliterization? Yeah, Jay just like totally alliterizizied.
At a time when stable leadership is critical to mending wounds and keeping eyeballs on another NFC title, they are proving to be cheap, petty, shortsighted and all those nasty things we've always said about the McCaskeys
Oh, my God. You should totally have heard all the petty things Jay said about the McCaskeys at our slumber party. He was on fire! He told us about the time he slapped Michael McCaskey and made him cry. He totally made fun of Virginia McCaskey's perm, and he used to totally rip Ed McCaskey, before he died or whatever. Jay is, like, very good at the insults.
Hate to break the news, but five of the last six Super Bowl losers didn't make the playoffs.
Oh no he didn't! Jay just, like, totally broke it to us. He, like, broke it down. Seriously. So. Awesome.
This column is, like, everything I love about Jay! I'm so glad he's back. He doesn't try to be too deep and he uses language that, like, normal people like me use. So awesome.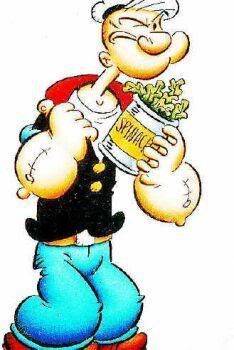 He just couldn't stay away.
With the Lovie Smith negotiations dragging on and on, you knew Jay was bound to weigh in on a topic that was right in his wheelhouse.
If Mariotti were Popeye, organizations being tight with their money would be his can of spinich, giving him the strength to take cheap shots at ten times the rate of an average columnist.
With all his pent-up post Super Bowl insults still simmering inside, Jay really let loose this morning.
So much so, in fact, that he didn't let little things like "logic" get in the way of mocking the Bears in every way possible.
Jay wants us to believe the Bears are at fault in the strained contract talks because they are cheap.
He's right. They are. To Chicagoans, calling the Bears cheap raises about the same number of eyebrows as calling Mayor Daley corrupt. (Happy City Election Day everyone!)
Still, we'll play ball Jay. Tell us about how the Bears are cheap and it's a travesty Lovie Smith doesn't have his contract yet.
Jay hits the nail on the head in paragraph two:
'''He's scared to death,'' noted Colts defensive line coach John Teerlinck, echoing the world's thoughts on a waterlogged evening when Prince showed more poise then Rexy."
Excuse me? What exactly does Rex's historically poor performance in the Super Bowl have to do with Lovie Smith?
If you want to argue that the Bears are doing Lovie wrong, why continuously bring up the poor performance of Grossman, who has no bigger supporter in the Bears organization than Smith?
If anything, by Jay's "logic", shouldn't Lovie's loyalty to his shaky quarterback reflect poorly on him in negotiations?
Of course it shouldn't. But Jay can't worry about little matters like completely contradicting himself. So many insults, so little time.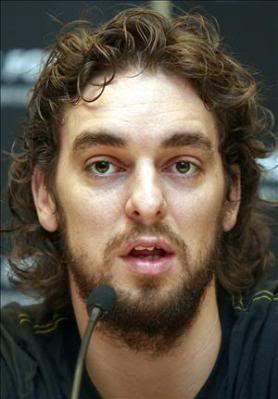 The balance of power in the NBA has shifted my friends.
Backup guard Anthony Johnson is headed from Dallas to Atlanta for a 2nd round pick.
If that doesn't blow your warmup pants right off, Toronto sent backup guard Fred Jones to Portland for backup guard Juan Dixon.
For those keeping score at home, that's three backup guards and a 2nd rounder.
This was the trading deadline we've all been waiting for?
I already had accepted that the Bulls probably weren't going to do anything much. With the Grizzlies' insane asking price for Gasol, that deal was pretty much dead in the water. But I was expecting something.
Honestly, you would think I'd have learned by now. With every trading deadline that passes in any major sport, roughly one out of every hundred trades that finds its way into the rumor mill actually comes to fruition.
Actually, those odds might be too favorable.
Yet there I was this afternoon, patrolling ESPN.com and waiting to see the headline "Vince Carter to Knicks," or "Jason Kidd to Lakers" or even "Timberwolves send Mark Madsen to Celtics for Brian Scalabrine in Swap of League's Most Awkward White Power Forwards."
And all I got was those lousy three guards and a 2nd rounder.
The NBA trade deadline is easily the most consistently disappointing in the major sports. Hockey never disappoints because only five people are paying attention. Big midseason trades are rare in the NFL so no one expects them. And while the baseball deadline is always more talk than action, the dynamic of teams with deap pockets pillaging small market teams for the stretch run always ensures a few interesting deals.
The NBA trade deadline is particularly seductive (yes, I think that is an entirely appropriate adjective) because huge trades do happen from time to time. And in no sport can one player change the entire complexion of a team more easily than basketball.
Rasheed Wallace in 2004 is the classic example. The Pistons took him off of the Blazers hands (they had enough problems) sensing they were one player away from being something special. They were right. Watching them trounce Kobe and Shaq in the finals that year was the only time I have found myself rooting for the Pistons. Never again.
But more often than not it's all talk and no action. From now on I should just start recklessly circulating trade rumors in this space during every deadline that comes along. It wouldn't have any less truth to it than most of what we see in mainstream media. Then I could take Sam Smith's job at the Tribune.
(Actually, in Sam's defense, he makes it clear when he's just playing fantasy general manager and when he has actual information. Still, he's gotten my hopes up for quite a few transactions that never took place over the years.)
Why are we so easily sucked in by trade rumors? Even though I know full well most of them should be taken about as seriously as a Britney Spears rehab stint (yes I was channeling Jay there ... someone needs to bring you your US Weekly jokes) I still find myself taking the bait every time.
The thing about trade speculation is its incredibly easy, pretty much anyone can do it, and it can yield an endless amount of discussion. Talk radio and Web sites thrive on the rampant speculation. And there I am, every year, fueling the fire until the deadline passes and throws a cold bucket of water on the whole mess.
I guess we have to get on with the actual season now.
Speaking of which, did you see the Bulls game tonight? I did not, because in my current living situation I share a TV with six people and the OC Series finale got the trump card. However, I was following it online, and even through the flashing numbers on Sportline I could tell Ben Wallace finally gave us a monster game.
14 points, 19 rebounds, 5 assists, 7 blocks, 2 steals and a pair of clutch free throws. A few more games like that and he might earn half of that $16 million he's making this year.
Hopefully Ben is just trying to get himself into gear for his homecoming to Detroit on Sunday. That game, in addition to home games Friday against the Wizards and Monday against the Magic, should be a good indication as to whether the Bulls are going on their now-patented second half tear.
Basically, if you've been sleeping on the Bulls all year, now is a good time to start paying attention. They're better off without that tall goofy Spaniard anyway.

Well, guys, I guess this is it. Tonight is my final performance at a University of Illinois sporting event. I've been busting my freakin' hump for over eighty years for this school and then they decide to just up and get rid of me. I guess slaughtering my people and stealing our land wasn't enough for you.
Before I hand over my loincloth, there are a few things I'd like to say.
First, I'd like to thank the students and alumni who have supported me for so many years. My teepee doesn't always protect me from the harsh winds rolling through these beautiful plains, but your kindness has left me feeling warm as I snuggle into my deerskin sleeping bag each night.
Secondly, I'd like to thank all the student-athletes I have encountered during the past eight decades. Nothing makes my feathers flutter like serving as a role model to the many young people that have come through this athletic program. I am just one man, and while I may not be a perfect role model (I told Jamar not to drive home – we were totally messed up!), I always try my best.
Finally, I would like to officially offer to NOT smoke my peace pipe with all the whiny, politically correct pansies who cost an honest man his job.. Do you know how hard it is for an Indian to find a job in this town? Yeah, yeah, I know, I can work at a casino, but I'm not very good at math. I am a dancer by nature, so my job prospects look bleak. Supposedly Chief Wheatgrass knows Justin Timberlake's manager, but I doubt anything will come of it. So, yeah, thanks for looking out for me.
But no matter how tragically things have ended, I will always cherish you, dear friends. I'll look back upon this time fondly, and I hope to see all of you at my final performance tonight.
Sincerely,
Chieeeeeeeeeeeeeeeeeeeeeeeeeeeeeeef
This year was going to be different.
The Cubs locked up Aramis Ramirez and I barely raised an eyebrow.
They grabbed a high-profile manager with World Series cred in Lou Piniella. Still not buying it.
They gave Alfonso Soriano the keys to the Scrooge McDuck giant room-o-money and still I wasn't going to let them get me.
After spending the bulk of my 26 years (or roughly 1/4 of the Cubs century of futility) as a Cubs fan, one would hope I had learned by now not to get my hopes up.
And there is so much to dislike about this team.
Their starting rotation is counting on heavy lifting from Ted Lilly and Jason Marquis. Great ... a flower and a Frenchman. I'm sure Albert Pujols is losing sleep at night.
Soriano, while extremely talented, is expected to play center field, a position he has never played. Also, he is leading off, which does not suit him either given his propensity to strike out constantly. These are not the question marks you want after a $136 million investment.
Derrek Lee never looked quite right after his wrist injury. I still remember watching Nomar Garciaparra never quite regain his stroke after breaking his wrist and given the Cubs' luck I'm not convinced Lee will come back in his old MVP form, despite reports that he is "totally healed."
Their second baseman, Mark DeRosa is a career utility man coming off an average year that somehow earned him $13 million from the Tribune Company. Calling their shortstop, Cezar Izturis, "light hitting" would be a compliment.
For a team that went on a freewheeling spending spree in the offseason, that's a lot of holes. And I could go on.
In fact, I haven't even mentioned Ryan Dempster's epic self-destruction last season or the devious hot tub that attacked Kerry Wood.
And yet ...
Something about just seeing those first clips of pitchers and catchers working out in Mesa seems to get my foolish Cubbie optimism all fired up again.
I start reading all the experts pegging Rich Hill for a huge breakout year. I realize we have three guys in our lineup who could easily top 40 home runs. I notice that for once Mark Prior is battling for the 5th spot in the rotation, instead of being placed at the top while Cubdom keeps its fingers crossed that he doesn't get mauled by tiger or get scurvy.
And then the what-ifs start.
What if Wade Miller and Prior both stay healthy and Hill breaks out? Then Lilly is the fifth starter and Marquis is a $7 million mop-up guy. And the Cubs have one of the best rotations in the league.
What if Soriano-Ramirez-Lee actually turns out to be as potent as it sounds?
What if Kerry Wood fights through his ThermaSpa nightmares and emerges as an elite set-up man?
I've been down this road so many times before. Deep down I know this team feels like one of those desperate Mets teams that would haphazardly throw $100 million onto the field every season with no real plan and then lose 95 games. It just doesn't feel like a contender.
But still ... the "what ifs."
Let's face it. Spring is a time for unfounded hope and unbridled enthusiasm.
It's not that logic and reason have no place in baseball. They are for June, when the Cubs are already 10 games out and we're trying to figure out whether or not to trade Carlos Zambrano.
For now, I'm content to be willfully, blissfully ignorant about the Cubs' chances. Let's see ... 95 wins sounds about right.
Being a baseball fan in the offseason is great. If only those pesky "seasons" didn't have to get in the way.