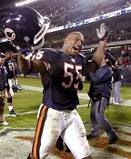 When Lance Briggs first went public with the "disrespect" the Bears had shown him in the form of 7 million dollars, I said they should take the first decent offer that comes along.
Well, that time has come.
The Washington Redskins are reportedly willing to swap the sixth pick in the upcoming draft with the Bears' 31st pick in exchange for Briggs' services.
Assuming the offer is actually on the table, the Bears should take it.
It makes so much sense, it's the kind of offer only Mariotti could hate.
In a perfect world the Bears would have been able to meet Briggs contract demands and pencil in the best linebacking tandem in the NFL for the next five years.
Unfortunately, salary caps and Drew Rosenhaus don't mix so well.
The Bears have some pricey contract extensions looming in the near future. Tommie Harris (another Rosenhaus client...gulp) Charles Tillman, Nathan Vasher, Bernard Berrian and hopefully Rex Grossman if he can earn it. Paying Briggs would have killed their future at just about every other position.
Right now, the best case scenario if the Bears keep Briggs is having him begrudgingly play this year and then losing him to free agency. If the alternative is moving into the top ten, sign me up.
Let's take a look at a little Bears draft history since 1975:
Top Ten Picks:
Walter Payton (4)
Dennis Lick (8)
Brad Shearer (3)
Dan Hampton (4)
Jim McMahon (5)
Jimbo Covert (6)
Mark Carrier (6)
Curtis Conway (7)
Curtis Enis (5)
Brian Urlacher (9)
David Terrell (8)
Cedric Benson (4)
Sure, we had a few bad apples. Enis was such an epic disaster I think I've blocked him from my memory. Same with Terrell. I don't know much about Brad Shearer or Dennis Lick, but their Wikipedia entries don't lead me to believe they were anything special. Although I was thrilled to find out the Bears once employed someone named Dennis Lick.
Still, you have two Hall of Famers and two of the greatest nicknames in Bear history (Sweetness and Danimal) and a future Hall of Famer in Urlacher. Jimbo Covert was on track for the Hall until injuries derailed his career and McMahon led them to a Super Bowl. Carrier and Conway also carved out nice careers. Obviously the jury is still out on Benson.
How about the bottom of the first round? We'll call it pick 21 or later.
William Perry (22)
Neal Anderson (27)
Jim Harbaugh (26)
Brad Muster (23)
Stan Thomas (22)
Alonzo Spellman (22)
Rashaan Salaam (21)
Marc Colombo (29)
Rex Grossman (22)
Certainly this group isn't totally devoid of talent, but if you were starting a team I think it's pretty clear which one you go with. How about that run of Thomas, Spellman, Salaam and Colombo ... yikes.
(Half the reason I did this little exercise was because I still despise Stan Thomas to this day. I was only 10 when the Bears drafted him. but his complete worthlessness sticks with me like it was yesterday).
Obviously the fact that good players get drafted first isn't a revelation that is going to put Mel Kiper Jr. out of business. The point I want to make is you don't find transcendent, franchise-altering superstars outside of the top ten very often. So, if you have a chance to move up that far and the only expense is a linebacker who is causing a massive headache anyway, it seems like a pretty easy choice.
That choice is made easier thanks to the involvement of Daniel Snyder and the Washington Redskins. In trades, it isn't just about what you trade, but who you trade with. John Paxson learned quickly he could help rebuild the Bulls by repeatedly fleecing Isiah Thomas (who no longer takes Paxson's calls as a result). Given the Redskins transaction history under the Snyder regime, I like the Bears chances to come out of this one on top. We already got Adam Archuleta for pennies on the dollar after the Redskins wildly overpaid him last offseason.
If the deal does go through, the Bears will have lost Thomas Jones and Lance Briggs without gaining anything other than draft position, which doesn't sound like much. But if you look at it as getting something of value for players who wanted out (and everyone in the league knew it), it doesn't look so bad.
We'll hold off and perusing the merchandise in this year's top ten until something actually happens. Hopefully Briggs will enjoy a nice career in Washington, were good players go to become terrible.
Jay's newest hobby seems to be writing about how terrible Rex Grossman is, as if he invented questioning the young quarterback. But Grossman isn't the first quarterback Jay has dissected. Oh, no. We invite you to take a quick trip down memory lane:
On Tommy Maddox: "The lesson: You're in good hands with Tommy Maddox."
On Cade McNown: "Cade and Marcus, not a department store, are the linked centerpieces of the decade ahead… If [Cade] hasn't arrived for keeps yet, he has flashed a glimpse."
On Drew Henson: It wouldn't shock me if Henson, who is 6-4 and equipped with a monster arm, has a much better career than Grossman.
On Chris Chandler: "...all of which suggests that the coaching staff rev up the welcoming party for Chris Chandler, who so far this training camp has been treated with the importance of a towel boy. Surely sooner than later, the Bears will have to summon their so-called backup QB for service. When they do, everybody will notice how polished he is, how experienced he is, how accurate and strong his arm is."
And let's not forget that Mariotti was once calling for the Bears to draft Grossman:
On Rex before the draft: "'They told me they are going to draft a quarterback for sure on the first day,' [Grossman] said. Why not Rex The Wonder Arm?"
The lesson to be learned here, kids, is that Jay Mariotti is always right.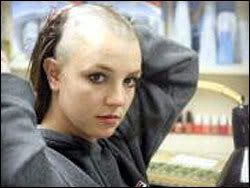 Admittedly, it's been a bit of a slow news week.
First Jay treated us to a fabulous summary of a column that previously appeared on CBS Sportsline. This morning we got a warmed-over Grossman column.
If there's a real story here, it's Rex giving the Tribune Company's spending habits and Ozzie Guillen's mouth a run for it as Jay's most popular fallback column.
Rex made his first public comments since the Super Bowl this week while accepting an award in Baltimore. When the subject of the media came up, here's what Rex had to say:
''What I've noticed in this league is that it's exaggerated in both ways. The media would never tell you if you're just good. You're either great or you're terrible,'' Grossman said. ''People have a short memory, especially if you aren't established in this league.

''In some of those games, I was bad. I had 13 or 14 games I'm extremely proud of and five or six that were really bad. After those really bad games, they wanted to kick me out of the league. And it wasn't that long after I was Offensive Player of the Month. The swings of criticism were much bigger than swings in my play.''
To be fair, I'd say the swings in play and in coverage were pretty much on par. But Rex admitted he was bad. Really bad. If he wants to make some fairly innocuous comments about the build-them-up, tear-them-down culture of sports media, I think he's entitled.
Not surprisingly, Jay responds with a reference to Britney Spears.
Not to call him delusional or anything, but a Britney Spears mood meter displays more stability than a Rex Grossman performance chart.
Has Britney Spears done something to indicate that she's emotionally unstable? I had no idea. If only US Weekly would step up and finally make Jay that offer he couldn't refuse.
Jay goes on to tell us what we've already heard 10,000 times by now about Rex Grossman's inconsistency last year. By the way, he didn't play well in the Super Bowl, either. Not sure if you remembered that.
Like most of Chicago, I have my doubts about Grossman next year. How could you not? But given that he did, for better or worse, get to the Super Bowl in his first full season, I think it merits a chance to make things right.
If we're still talking about consistency problems at midseason, I think the Bears finally make the switch to Brian Griese.
But that switch will be about Rex Grossman's play on the field. Not about him "saying all the right things" to appease vultures like Marioitti.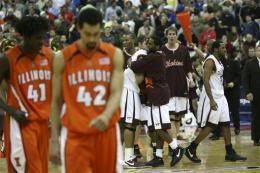 You might remember that Jay was up in arms yesterday about Illinois Athletic Director Ron Guenther using the word "idiot" after Warren Carter made a bad pass during a first round loss to Virginia Tech.
How does Warren Carter feel?
"I made a stupid pass," Carter said. "My teammates told me that and I told myself that.

"Mr. Guenther is always around the program, and if he wants to cheer for us or give us tips, he has every right to do that.

"I don't think he should be judged on that. It's unbelievable to me that we're even having a discussion about it."
Jay, I'm sure you figured you were going to be Carter's hero, using your mighty pen to slay the evil dragon that is Ron Guenther. Turns out, Carter probably thinks your columns are as crappy as we do.
Carter cool with Illini 'fan' Guenther [chicagosports.com]