Well, another day, another petty column by Jay. Jay wasted another column firing shots at Ozzie Guillen, and frankly it has become too repetitive to dissect. What is unique, though, is that Jay decided to mention his radio career today:
And Reinsdorf can't blame North's bosses at the flagship station, WSCR-AM, for his problems. After all, he was the one who yanked broadcast rights from WMVP-AM in part because that station employed a certain host he didn't like.
Yes, this is a mention of the days when Jay and my dad, Steve Dahl, were on the same radio station. Jay likes to discuss how Reinsdorf supposedly ruined his radio career. He wears it as a badge of courage, despite the fact that it hasn't been proven and that Jay's ratings were generally crap. What he doesn't like to discuss is the time he physically assaulted a producer on my dad's show.
Let me take you back. Ryne Sandberg had just quit the Cubs so the sporting world was abuzz. My dad, who does a show that is not focused on sports, was only mildly interested. Jay, however, who came on after my dad had Larry Bowa lined up to do an interview to start the show. Unfortunately for Jay, The Steve Dahl Show was running a bit late. Jay, who had Bowa on hold, was furious and throwing a regular hissy fit about it in the station's hallway. Noticing this, my stubborn dad slowed his pace even more.
This is when Jay attacked.
He stormed up to my dad's producer, demanding that it end. He grabbed the man's shirt and in an act of menopausal rage, he ripped it. My dad told the producer to call the cops, but the producer declined.
The next day, as some sort of "thank you for not having me arrested, I'm sorry I have insane rage issues," Jay literally tossed a hundred bucks at the guy and walked away.
And this, children, is the story of the time Jay assaulted someone.
In a roundabout way, Eddy Curry finally got his true revenge for the whole ugly possible-deadly-heart-condition-turned-bizarre-fight-over-DNA-testing scandal.
As you may have heard, Eddy's last-second tip in gave the Knicks a win and ultimately bumped the Bulls from the five slot, which would have yielded Greg Oden and a fistful of trophies, for the nine slot and a whole lot of uncertainty.
Such is life. No use crying over spilled ping pong balls.
The optimist in me had a good feeling the Bulls would still move up in the lottery, even if they didn't have enough ... balls. But we all know it wasn't exactly likely.
Even though things didn't go the Bulls' way, there is still quite a bit to like about how things played out from the Bulls perspective.
For one thing, Oden and Durant will both be hanging out in the Pacific northwest. Had Milwaukee landed a top-two pick, the top four contenders for the 2008 Eastern Conference title (Pistons, Bulls, Cavs and Bucks) would all have been playing in the Bulls division. Do not mistake Milwaukees blatant attempts to give away the season for a shot at lottery glory for a sign that they are a bad team. Put Oden or Durant on that team with Michael Redd, Andrew Bogut, Charlie Villanueva, Charlie Bell and Bobby Simmons (if healthy) is a potentially scary team. Thankfully, it's not going to happen.
Oden and Durant will be safely tucked away out west. Bad for the competitive balance of an already talent-skewed league, good for the Bulls.
But only having to see Oden and Durant twice each a year is only a small part of the overall good vibes we have going on. The way the lottery fell gives the Bulls a couple of intriguing possibilities in their quest for a big man.
Portland will more than likely take Oden, which means they have a glut of big men between Oden, Zach Randolph, LaMarcus Aldrige and Joel Przybilla. Someone is probably leaving.
I'd love to find a way for the Bulls to get Aldridge, but my guess is they are going to try to build around him along with Oden and Brandon ROY (gotta love it when your name is an acronym for an award you won ... I wonder if he changed it before college?). The Blazers will probably do everything they can to get rid of Randolph or Przybilla.
Przybilla has a reasonable contract, but doesn't address any of the Bulls low-post scoring issues we have heard soooooooo much about. Zach Randolph does, but he's signed through 2011 at about $12 million per year. He also fits the me first/no defense/slightly crazy profile that Paxson and Skiles have tended to avoid. But that was the book on Rasheed Wallace (except the no defense) when Detroit rolled the dice on him and won a title. Maybe Randolph will be Paxson's gamble. But I doubt it.
The more interesting trade partner could actually be the team that just missed out—Atlanta (although they should be happy with the third pick, if they had fallen any farther the pick would have gone to Phoenix).
Atlanta needs a point guard very, very badly. Of course, that was the case two years ago when they passed on Chris Paul and Deron Williams for Marvin Williams. But they may finally have reached their limit on crazy-athletic 6'9'' guys.
Atlanta and the Bulls could swap picks and Atlanta could still possibly have a shot at Ohio State point guard Mike Conley, although word is he is impressing scouts quite a bit. But if he goes early they could still take Acie Law there, who would not be a bad consolation prize.
The Bulls could move up to the third pick and take Al Horford—a prototypical power forward who can defend, shoot, rebound and run the floor. He fits the Bulls mode and is the only guy in the draft (besides the big two) who I think could make the team demonstrably better next season.
But what could the Bulls offer the Hawks that would entice them to make such a switch? I would move Chris Duhon and Andres Nocioni and the 9 pick in exchange for the 3 pick and some players back from Atlanta to make the trade work (possible Shelden Williams or Zaza Pachulia).
Duhon won't be resigned in Chicago beyond next season, the last on his contract. The Bulls have too many small guards already and are counting on Thabo Sefalosha to play more minutes. That said, Duhon is a good defender who can run an offense. He is also better than any point guard on the Hawks' roster right now. He could keep things warm and mentor whatever rookie point guard the Hawks take.
Nocioni will hopefully be able to demonstrate he's healthy by the time the draft comes around. He is another guy who has value, but just doesn't make sense to keep around with the ascent of Luol Deng and Tyrus Thomas.
The Hawks have so many athletes, but a couple of role players like Duhon and Nocioni could make the Hawks a much better team. The Bulls would get some much needed size in return, with Horford being the big prize.
I'm sure there will be dozens of trade proposals between now and the draft. That's mine. I feel like Sam Smith. Minus the facial hair and old age.
Now we just have to wait for Mariotti to propose a Kevin Garnett trade that has no chance whatsoever of happening.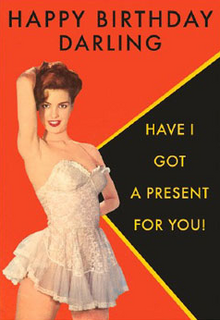 Friends and lovers (you would not believe the tail Matt an I pull because of this blog),
Today marks the one year anniversary of JaytheJoke.com. Exactly 365 days ago we started ripping Jay here, and we've since built a small army of true Chicago sports fans. In the past year we have seen Jay slowly become more and more deranged.
He has acknowledged our blog more than once. Since our creation he has taken multiple extended vacations, and his homo-erotic ramblings seem to have lost all focus and point. I truly believe we are driving the man mad, and for that we are a success.
If we were going to make a speech, we would thank Ozzie Guillen for calling Mariotti a "fag" shortly after the blog was created and helping to get us national press. We would also thank Teddy Greenstein for writing about us, and Deadspin.com for regularly linking to us. But most of all, we would thank our avid readers and message board "creatures" for helping make this such a great spot for Chicago sports fans.
We have big plans for the next year, starting with the upcoming Sox/Cubs series at The Cell. We hope you'll stick around for the fun.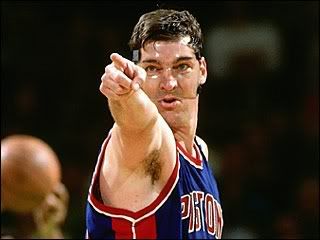 Chicago Tribune media columnist and friend of the blog (my words, not his) Teddy Greenstein pointed out a little snafu for which Mariotti finally apologized yesterday in which he (shockingly) misappropriated a Detroit Free Press quote from Bill Laimbeer as his own work. Here's the passage:
Did you catch the apology that ran at the end of Jay Mariotti's Tuesday Sun-Times column? A week after he used a Bill Laimbeer quote obtained by the Detroit Free Press, Mariotti wrote that his computer had frozen on deadline: "In a frantic attempt to trim a too-long column ... I inadvertently deleted a paragraph containing attribution to a Detroit Free Press quote."

So Mariotti had to rewrite a nearly 1,200-word column between editions, and it ended up being too long? And since when does it take a paragraph to properly attribute a quote? "Told the Detroit Free Press" would have sufficed.
And just so I don't pull a Mariotti, thanks to new forum member Madhouse52 for first alerting us to the article.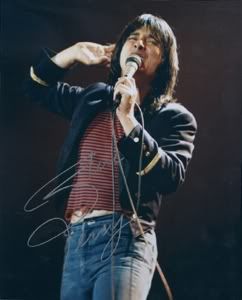 I remember the last time I gave up on a team that was down 3-0.
That team was the 2004 Boston Red Sox.
(Editor's note: Before you go all Bill Simmons on me and accuse me of sports bigamy, let me make something clear. I'm a Cubs fan. I have been ever since my childhood friends (Pat among them) teased me so relentlessly for refusing to hate the Cubs that I became more and more devoted. When people ask me why I'm a Cubs fan, I tell them "spite".
That said, I lived in Boston for four years and my dad's side of the family is for Massachusetts. Four years in Boston will teach anyone the finer points of Yankee-hating. Besides, as a Cubs fan it was easy to identify with their star-crossed history before they won it all and became *almost* as insufferable as Yankee fans.
Anyway, the point is I was at least somewhat emotionally invested in the series and had given up all hope when the impossible happened and the Red Sox made the only 3-0 comeback any non-Canadian under 60 cares about. My apologies to the 1942 Toronto Maple Leafs.)
I'm not saying the Bulls will be the first NBA team to climb the mountain. If they've shown one thing in this series, it's that we might as well not bother with anyone's predictions about how they will fare. All I'm saying is, my having writen them off completely (scroll down to see "In Which We Cast Blame" for more on this) bodes well for their chances.
How did we get here? In the first six halves of this series, the Bulls were borderline unwatchable for five of them, with the final blow coming in the 2nd half collapse in Game 3 that seemed to signal the end. The Bulls had been exposed. The Heat sweep was a distant memory. Talk radio was calling for Scott Skiles' head and for John Paxson to move onto rebuilding plan number six.
Then, something happened.
Shots started falling. Skiles rediscovered Tyrus Thomas. The fearless savvy that had the media gushing about the end of the Baby Bulls reemerged.
It's hard for me to blame even Jay Mariotti for flip-flopping on this one. The Bulls themselves flip-flopped. Everyone else just followed suit.
Now that we've been given that ray of hope, the fans really need to raise their game Thursday night. Break out those "Believe" signs. Scream so loud that old Chicago Stadium sounds like the Chicago Public Library by comparison. Get Steve Perry on on a plane and have him sing "Don't Stop Believin'". Also, teach Andres Nocioni the words to "Don't Stop Believin'".
We can do this.
Who knows what will happen the rest of the series? It would be foolish for anyone to suggest he or she had any idea. The Pistons have history on their side.
But as the 2004 Red Sox (fine, you too, 1975 New York Islanders) can tell you, stranger things have happened.