Roll the dice John!
Push all your chips into the middle, Pax!
Throw a twenty into the video poker machine, number five!
With another NBA draft upon us and the Bulls conspicuously absent from all the trade rumors flying around, expect another flurry of questions as to whether Bulls GM John Paxson has the proverbial stones to make a big move. Odds are the Bulls keep the number nine pick, take the best big man left on the board, and move on.
And honestly, I'm fine with that.
Just because the Bulls don't make a trade for that coveted low-post threat in this draft doesn't mean they will never make one. I still maintain that Paxson will pull the trigger on the right deal.
In fact, a couple of years ago Paxson was ready to move Tyson Chandler, Luol Deng and the pick that became Tyrus Thomas for Kevin Garnett. Now? The Timberwolves are talking about a three-way deal with Atlanta and Phoenix that will get them picks 3 and 11 and some spare parts. Tell me which one you would take. It's not Paxson's fault Kevin McHale is a cripplingly bad GM.
The main problem in finding a good draft day trade is that some of the Bulls more tradeable assets (P.J. Brown, Andres Nocioni) are no longer under contract. They won't have the financial wiggle room to make anything happen until later this summer when they have a few more contracts to move.
Tribune NBA writer Sam Smith made a great analogy about Paxson when discussing Steve Kerr's recent appointment to GM of the Phoenix Suns. He said Kerr would probably be a somewhat conservative GM like Paxson, comparing Paxson's management style to his playing style: Sometimes too hesitant in waiting for the perfect shot, but usually on target when he pulls the trigger.
I don't think Paxson has had a partner yet willing to make that perfect trade with the Bulls (yes, that includes the Grizzlies and Pau Gasol). But when the right move comes along, I have no doubt Paxson will be ready to pull of the GM equivalent of Game 6 of the 1993 Finals. If the Timberwolves weren't so poorly mismanaged, he would have done it already.
Since it appears the Bulls will be holding onto the pick, the question becomes, who do they take? I'm afraid it looks like it could be Spencer Hawes, who has (pardon the reverse-racism) big white bust written all over him. I'm sorry, but every year some caucasian American center climbs draft boards because of his polished post moves and fundamentals, then goes nowhere because he just gets pushed around by the more athletic big men in the NBA. The fact that Hawes was not a particularly good rebounder at the college level doesn't bode well, either.
I would never have said this a month ago, but Joakim Noah might not be the worst pick if he falls. Even though he can't score, he's an asset in every other aspect of the game, including leadership. If nothing else he would be an asset they could trade down the road.
The point is, the Bulls are going to need someone to score in the low post at some point. But that doesn't mean they have to get him tonight. The only guy in this draft other than Greg Oden and Kevin Durant who could help them in that capacity is Al Horford, and he will be long gone by the time the Bulls pick. I suspect Yi Jianlan will be too. I'm not sold on the mysterious big man from the Far East, but enough teams covet him that he'd be worth taking just for the trade value.
However if plays out, just remember if Paxson seems to be playing things close to the vest right now, that doesn't mean he won't make a big play down the road.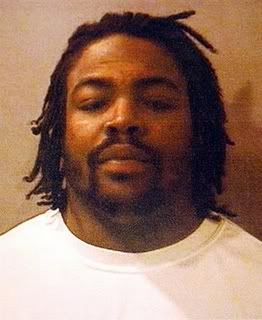 As I went to type the above title into our blogging template this morning, I discovered, much to my surprise, that I had already used it.
Intrigued, I investigated.
As it turns out, the same headline was used for a post last August during phase one of the great Rex Grossman debate. Jay was hoping that Lovie Smith's loyalty to Rex would get him fired.
Fast forward 10 months and here's Jay, thoroughly enjoying the unceremonious dismissal of yet another Bear, Terry "Tank" Johnson. Or "Terry the Tank Engine," as Jay calls him. Apparently he's been watching quite a bit of children's television lately.
As expected, Jay's column this morning was filled with his typical "I told you so, I'm a genius, everyone else is an idiot" shtick.
In this particular case, Jay does have some grounds to say "I told you so", as he was indeed suggesting the Bears ought to get rid of Tank in December and that he was not going to clean up his act. Of course, that should hardly be surprising since anytime there's even a chance someone might lose his job, Jay is jumping up and down like a heavyset woman who just won a car on "The Price is Right."
We all know Tank screwed up. We all know he has nobody to blame but himself for throwing away the Bears' seemingly infinite patience and support. That doesn't make it any less sad and tragic that a young man with so much potential couldn't straighten himself out. Anyone with a shred of human decency would at least acknowledge that.
Instead, Jay has this to say: "Tank's for nothing, fella."
Fella? Who does he think he is, John Wayne? I'd pay $500 to watch Jay say this to Tank Johnson's face.
Actually, if Tank was going to mess up anyway, it would have been nice if he could have made it count by cold-cocking Mariotti and becoming a Chicago folk hero.
But alas, it was not to be. Even if we've seen the last of Tank Johnson as a Bear, I suspect he hasn't worn out all of his chances in the NFL. Maybe not this year, but some team is going to roll the dice on him somewhere down the line. Smart money is on the Cowboys or Redskins.
When that time comes, Tank, please do yourself a favor and make it count. Hire a driver. Preferably a doddering old British man who doesn't carry a gun. Go to bed early. Discover the wonder of board games. Play season upon season of Madden. The clubs will still be there after your career is over, I promise.
When Jay asks about Tank "Will he find himself before the gutter finds him," you get the distinct feeling Jay is rooting for the gutter.
Even if it isn't with the Bears, I'm still rooting for Tank. Find a way to become a football player again, not an "Outside the Lines' episode.
For a split second this weekend, I almost started to feel bad for White Sox fans.
Almost.
After the ridiculous play which I'm sure you have all seen by now in which two different Cubs were tagged out but later returned to load the bases because of Juan Uribe interference call, it appeared the White Sox bad season will probably get worse before it gets better.
Friend of the blog Teddy Greenstein had a good recap of the different broadcasters takes on the play, including the always objective Hawk Harrelson.
Speaking of Hawk, I have to admit I found myself periodically checking in on the White Sox coverage of the series this weekend, if only because the long, awkward pauses of a catatonic Hawk when the Sox aren't playing well are one of life's little pleasures I just can't pass up.
My favorite moment of his actually came right at the beginning of the series:
(Paraphrased)
Hawk: Let's see if this Cubs series will be the thing to jump start this team and turn things around. Here's the pitch …
(Soriano crushes it into left field. The ball leaves the park in about half a second. Fifteen solid seconds of silence go by).
Hawk: And its 1-0 Cubs.
Say what you will about Hawk, but it's always fun when commentators are so blatantly biased and emotionally attached to the teams they cover that it seems to cause them physical discomfort when they mess up. It's the same reason Cubs fans love Ron Santo even though he'll spend three straight innings talking to Pat Hughes about the chicken salad sandwich he had for lunch the day before and completely miss the game.
The way I see it, if I'm not going to get someone who provides consistently outstanding analysis like Steve Stone, I'd rather have a guy who is completely biased towards my team and delivers from a comedy standpoint. I think that's why I still haven't fully come around on Len and Bob – there's nothing particularly good or bad about them, they're just kind of there.
As for the White Sox, it looks like the fire sale is coming fast, with Mark Beuhrle being the first piece to go. Predictably, Mariotti hates the move even though he was calling for it less than a month ago. For a take on what went wrong with the Sox from someone who actually knows things, check out Phil Rogers' piece from this morning's Tribune.
I have to say, even as a Cubs fan, I hate to see Beuhrle leave Chicago. He works as fast as any pitcher in the league and just seems like a good guy to be around. I always loved it when he'd be matched up against someone like Roy Halladay and the game would be over in thirty-five minutes. Even if he can't figure out what he thinks about it, I'd have to side with Jay's current opinion: Beuhrle is more valuable on the team than he is as trade bait. But then, he's also their only guy with serious trade value. Basically, the Sox are a mess. And as my friend Ryan observed, it's one thing when your team throws in the towel and starts bringing up the kids. It's another when all the kids look horribly overmatched. Not good for the future on the South Side … just keep watching those 2005 World Series DVDs.
The Cubs, on the other hand, are making me think maybe, just maybe, they might make things interesting in the NL Central this season. These next six games against the Rockies and Brewers are huge. Hopefully the Cubs can figure out a way to delay Derrek Lee's suspension until after the Milwaukee series. Even though he hit well, watching Aramis Ramirez navigate the bases this weekend with the grace of a sorority pledge after her twelfth Mike's Hard Lemonade didn't exactly inspire confidence that his knee is going to hold up.
(Now watch them lose five of six, leading me to give up on the season until they promptly win seven straight, then drop six of seven … and the vicious cycle continues.)
The really frustrating part about this particular team is if you look at the overall numbers there's no reason they shouldn't be five or six games above .500. Fortunately, the White Sox are the one team who play even worse in close games than the Cubs. The law of averages says the Cubs are due for a hot streak. Of course, it also says they should have won a World Series sometime in the last century, so I'm not holding my breath.
Finally, Jatythejoke would like to extend its condolences to the family and friends of Rod "The Shooter" Beck. If there was ever a Cub who could have been plucked from the team and placed in a Major League-esque oddball comedy, it was Beck. Between the 'stache, the beer belly and the propensity for entertaining fans in his RV during his time in Triple-A, calling him a "character" doesn't really do the man justice. Hopefully he's up there somewhere, downing a cold one in that big RV in the sky. Rest in peace.

I still remember the day the Cubs traded for Michael Barrett.
After getting him from the Expos via the Athletics straight-up for Damian Miller, the latest in a long list of Cubs catchers who were fine behind the plate but couldn't hit a drunk on Clark Street, it felt like the Cubs would finally have that offensive force behind the plate fans hoped for.
Initially? It worked out great. Having spent his entire career buried in the baseball purgatory that was Montreal, nobody seemed to appreciate all things Wrigley the way Michael Barrett did. He also displayed a knack for clutch hitting that season, and every time he had a big game at Wrigley, the post-game interview would consist of some stammering version of the phrase "I love this place … this is just awesome." He was so happy he turned into Chris Farley from "The Chris Farley Show".
But as we all know, ever since the collapse of 2004 (thanks LaTroy Hawkins), just about everything Cubs-connected has gone steadily down hill.
Despite his Silver Slugger in 2005, that was also the year the whispers started about Barrett's defense. Not just throwing guys out and blocking balls in the dirt – it was clear that those weren't his strong suits. His ability to call a game and handle pitchers was being called into question. Pitchers preferred Henry Blanco. The numbers backed it up.
As soon Carlos Zambrano cold-cocked Barrett this season, I had a feeling his days in Wrigley might be numbered, a feeling which was confirmed this morning with his reported trade to the San Diego Padres for switch-hitting catcher Rob Bowen and a minor leaguer.
It's a shame it couldn't have worked out better. Barrett was one of the players who truly seemed to love being a Cub in a day and age when players seldom exhibit any real connection to their teams, even if they might pay lip service to it. When he decked A.J. Pierzynski last season, it was almost as though he was channeling a century of Cub fan angst and projecting it on the perfect target.
I don't disagree with trading him. Despite the Cubs efforts to state publicly that everything was fine (the clearly pulled one over on the Sun-Times Gordon Wittenmeyer, who wrote this morning that Barrett might be catching Zambrano this week), it was clear that things weren't quite right between Barrett and the pitching staff.
I still wonder how much of it was Barrett's fault and how much it becomes a self-fulfilling prophecy when a guy gets a reputation as a suspect defensive catcher. But either way, when the pitching staff doesn't have confidence in the guy behind the plate, things probably aren't going to work out for long.
One thing to watch will be when the Cubs play the Padres again. They're done for the season unless they meet in the playoffs …
(You can stop laughing now).
But if Barrett is still in San Diego next season and the Cubs decide on a little retaliation for this most recent bench-clearing incident, I wonder if he might take a shot at Zambrano or any of the other pitchers who helped run him out of town.
Hopefully things work out for him in San Diego. In the meantime I'll be hoping Koyie Hill's batting average cracks .160.
Sometimes you don't know what you've got till it's gone.

Carol Slezak has apparently been hanging around the Sun-Times building for too long.
Slezak, as you may remember, berated Bears draft pick Greg Olsen for his "raunchy rap lyrics" as part of the legendary Miami rap group "7th Floor Crew" during his freshman year of college. She made such a fuss that her column received prime placement – the cover photo and first page of the news section – as the more prominent piece in a Slezak-Mariotti double team on the Bears rookie.
Here's what she had to say:
"After listening to all 8 minutes and 56 seconds of this unbelievably disgusting rap, I was shaking in anger and shock. How is it possible for these young men to have such little respect—or is it hatred?—for women? If Don Imus got fired for the comments he made about the Rutgers women's basketball team, these guys deserve jail time by comparison."
Funny she mentions respect for women and jail time, because guess who Slezak is clamoring for the Bulls to pick up? Kobe Bryant!
So for those of you keeping score at home, recording an ill-conceived rap song as an 18-year-old? Not okay. But a grown, married man who (allegedly) raped a young woman in a Colorado hotel room? Make him the face of the franchise.
Let's just say I'm skeptical about Kobe's innocence in the incident, given his deep pockets, the terrible handling of the case by the Eagle, Colorado DA and judge, and the hefty (rumored to be $6-$7 million dollars) settlement Kobe's legal team immediately granted the victim once she realized her lawyer was butchering the case and filed a civil suit.
And at best, if he's actually innocent, Kobe is a guy who cheated on his wife, lied about it to police before eventually admitting it and bought her a diamond the size of a golf ball to make everything cool again.
Now I know if you try to fill a professional franchise with choirboys, you're not likely to win many games. Michael Jordan just paid a hefty price for his longstanding infidelities, although he never faced any accusations anywhere near the gravity of what Kobe allegedly did.
I just find it interesting that Slezak can muster up so much anger over Greg Olsen's comparatively tame indiscretions and almost completely dismiss Kobe's, only mentioning once that he was "disturbingly" accused of criminal assault and noting that he has stayed out of trouble since then.
So had Greg Olsen, and that didn't stop her from tearing into him. But really, bravo Kobe, it's tough to make it more than a few years without being accused of rape.
Such remarkable inconsistency in logic has become a hallmark in Sun-Times columnists. I'm not saying everything has to line up perfectly all the time, but shouldn't there be some kind of consistency in your world view, especially when you've been such a champion for proper treatment of women like Slezak?
***
I'd be remiss in writing about this topic if I didn't weigh in on the other question at hand, should the Bulls go after Kobe or not?
Slezak is right about one thing: Kobe is the best perimeter player in the league. Pairing him with Kirk Hinrich would give the Bulls the best backcourt in the NBA, hands down.
But there is also the question of what they would have left around them.
Rumor has is that the Lakers want Ben Wallace, Ben Gordon, Luol Deng and the #9 pick, leaving the Bulls with Tyrus Thomas as their most experienced forward under contract. If that's the actual price tag, forget about it because there is no way Paxson will pay it.
But even if they could get Kobe for something more reasonable, would you want him? My brother and I had a discussion about this over the weekend. He's firmly in the "Kobe or bust" camp, although even he wouldn't take the trade listed above.
Even if the Lakers somehow feel like their hand is forced and sell him at a discount (which I don't see happening), I'm not sure I want the guy on my team.
Talent (and rape charges) aside, Kobe is petulant, self-centered, quick to blame everyone but himself and unable to make average teammates great and terrible players into solid role players. Basically, he is the anti-Jordan.
Even is might mean a trip to the NBA finals, where the Kobe-led Bulls would be slaughtered by whoever came out of the West, I personally just don't want to have to root for Kobe. I already fly off the handle whenever anyone dares compare him to Jordan. If Kobe set up shop in the United Center, we'd be hearing the comparisons every five minutes.
I know the purpose of sports is winning, but I don't want the Bulls to win like that. Fortunately, despite his child-like, wishy-washy trade "demands", I don't see Kobe going anywhere except the mediocre LA team he built for himself.
What a perfect fit.