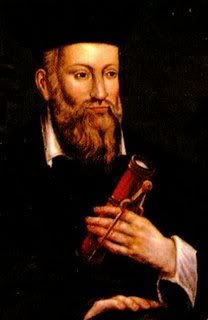 A lost book of NFL prophecies authored by Nostradamus has been discovered!
Season 2007
1.
Once the happiest of tabbies;
has now left his home den,
westbound in its rapid travels.
To jig in rain soaked fields again.
2.
A wise ancient leader of a savage tribe,
settled in a most wretched corrupt land.
Grows weary with fear of mortality,
and retires to tend to his galloping horse.
3.
A younger sibling grows among tall men,
arises on one wounded snow covered foot.
And delivers a fatal victorious blow,
against an unsuspecting army of the south.
4.
As weather warms, following season's end;
a bird of prey returns to tend the nest,
Two eggs once thought broken,
are mended with paternal care.
5.
The great finned beast drowns,
in a sea of turmoil and despair.
Unable to swim against the current,
a prince among babes is summoned.
6.
Two crimson feathered creatures,
wilt helpless under a desert sun.
One mends a wounded wing and takes flight,
while the other struggles to climb the cross.
7.
The great beast roars with pride,
within a raucous kingdom void of a sky.
A cherished king beloved by subjects,
is unceremoniously trampled with impunity.
8.
A sure footed young barbarian bearing proud horns,
sails an enormously large wooden ship off course.
After grounding the ship's ores upon shore, then is it understood,
a voyage bound captain requires a sea salty crew.
9.
An army wearing the bolt once considered invincible by many,
is catastrophically led by a fool to humbling defeat.
Once the incumbent is expelled from the enormous sea beast's womb,
the second in command previously from the middle country shall lead.
10.
A breeze dies after gusting ever so strong,
in a land once felled by the sea.
One messenger is slowed with a limp,
and replaced by another that is to become legendary.
11.
A destitute starving four legged woolly beast,
migrates north to a strange snow covered nation to feed.
Doomed by years' past of a wayward missile far right,
its most famous member is locked away in the tower.
12.
A phoenix shall not rise from his ashes,
as it pays penalty for crimes against the howlers.
Its city once threatened to explode,
must suffer as the heir fails time and again.
13.
A voice once muted, roars spitefully once again,
as the heavens fail to hurtle the rock towards outreached hands.
A starry band of brothers divides over bitter dispute,
The unsteady leather handler weeps in despair.
14.
A forgotten legion of iron clad battle tested soldiers,
surprisingly rises once again.
The big clock chimes seven before day's end,
to the hooded fang's dismay as his third eye grows blind.
15.
In a quaking land of fog by the sea,
the namesake of the ancient Macedonian king falters.
The man of fine linens and fabrics is exiled,
while a hero once lost now returns home to lead.
16.
A foot treasured by many, fails at winter day's end,
echoes of dismay resonate among the tall peaks.
Calls for the pipe fitter's return fall upon deaf ears,
A city in the great sky must accept the dull blade.
17.
A proud old crow in royal purple and black,
conquers no more and can no longer defend its nest.
The walker of the sky is wounded and does not return,
while the pot boils beyond its control and is engulfed in flames.
18.
The famed grizzled general is discovered,
drinking from a forbidden fountain of youth.
An empire falls in a colossal heap,
and thousands mourn at the frozen field.
19.
An unforgiving populace from the swamp,
demands penance from its weak limbed son.
A suitor fails to deliver upon expectations,
and the taskmaster returns to feast and drink at the head table.
20.
A strong willed hermit wearing red,
coaxes his klan of unknowns to rise and fight.
The Cal warrior is struck by lightening yet emerges victorious,
while a lamed man of God watches close by.
21.
For a few silver dollars more, the mercenaries in black,
are beckoned to return to the kingdom of angels.
Devoted followers from the town of the oaks,
dressed in goth will light a large flame.
22.
Land of bitter rain at sea's edge,
falters by a catastrophic decision from the bald one.
A populace saddened by sudden demise,
turns to the dark bitter bean to drink.
23.
A once sure footed horned beast,
flops in exhaustion on its own ground.
These guards of the French king's city,
capture no battles by season's end.
24.
Early riches prove later to be fool's gold,
as the pound of angry zealots growl ferociously.
Chants for the appearance of an Irish quill cascade,
as a Roman watches the lamb frolic among hungry wolves.
25.
A falcon flies south to roost in a land rich with black tea,
promise for a better future grows each passing day.
The white horse is nearly corralled before a famous son's birthday,
as the Deutsche ultimately fulfills a victor's prophesy.
26.
Named after the white clay, a star among stars is born,
while no longer haunted by the demonic son of John.
Men of legend shall rise next season,
as a young boy matures into a valiant fighting man.
27.
Wounded by a sharp sliver in its paw,
a cruel growl beckons from its den.
Sleep and heal this winter, it very well may,
as to return to vanquish slanderers and foes alike.
28.
A man of extreme age answers the cry of the dark leopard,
and is pounced helplessly by its invading captors.
Citizenry of the more northern of Carolines,
half-heartedly embrace the descendent of the spear.
29.
Once swashbuckling and conquering was this crew,
now with its ship run aground and sinking.
Its master with the court jester impressionable face,
walks off the plank to swim among circling sharks.
30.
A proud ignored feline of the plains suddenly is given due notice,
when it quickly strikes down upon unsuspecting prey.
Only then does the jungle take notice,
of the croc hiding amidst the spotted cat's fur coat.
31.
The hooded fang and his eager glowering apprentice,
ran roughshod of their opponents throughout autumn's days.
Battles won previously from the air, but not from the ground,
a defeat is celebrated with excessive wine by old men of prestige order.
32.
A restrained horse of ivory texture,
led quietly by an unassuming God fearing wise man.
Strategically avoids controversy,
And emerges victorious once again.
The rules are simple. Opine your detailed interpretations of these newly discovered prophecies. Hint: No more than one per NFL team has been issued. Answers will be provided once our panel of esteemed members grow bored with this game.
Happy Halloween and @#$@! Jay Mariotti!
Carol Slezak wrote a column about the Chicago Fire today. Well, at least she started to. But, due to the fact that she was so enamored with the minor detail that new owner, Andrew Hauptman, owns a part of a film company with his wife, the whole article degenerates quickly into how she thinks soccer can become more popular in the US.
Does she write about how this team hasn't lost a match since new ownership took over? Not really. Does she point out that this franchise is very respected in the world? Nope. Does she talk about how a day at Toyota Park is one of the best, family friendly, experiences in modern sports entertainment? Nope.
Does she talk about wanting to see Brad Pitt play soccer? Yep. Does she want Mr. Hauptman to use his "Hollywood connections" to enhance the celebrity quotient? Oh yeah.
One thing becomes painfully clear reading the article. She has never been to Toyota Park, has no real clue about the game and couldn't pick Cuauhtemoc Blanco out of a lineup if he wore a name tag. For those of you who do not know him, he is one of the greatest soccer players in the world. The only reason he isn't on ET every week, unlike the Beckham family, is that he doesn't speak English. Trust me on this one. He is funny, well liked by his teammates and has often been called "The Michael Jordan of Soccer." Not just because he is good, but because he makes everyone around him better. A true Jordan characteristic.
Of course, finding out these facts would have required ..... well, more work than she is capable of, obviously.
She did take the time to interview Mr. Hauptman, so that is a plus. And he, to his credit, tried very hard to focus on the team and how much he likes the city. That effort was in vain, but - by God - he did try. While I don't know him, nor anyone who does, every time he has opened his mouth to the media he comes across as intelligent, caring and interested in fielding a winner. I know, HOW DARE HE? Why can't he get Brad to suit up in a nice pair of shorts and ..... oh hell, I don't even want to go down that road.
Suffice it to say that Chicago has a winning team built on a storied franchise that went through some tough times but has righted itself and is in the playoffs. That should be the story. The sub plot could be what a great place it is to take your kids. Especially if you want them to see internationally competitive athletes in person. A side note - or companion story - could be how one of the greatest soccer players in the world is in our city and helping revitalize the sport. I know, those would require words of more than one syllable and a thought process unencumbered by People Magazine. But we can dream, can't we?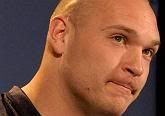 I was the one who injected the fan angle. I wanted Urlacher to realize the media are a conduit to the fans, and by issuing one- and two-word utterances, he was doing a disservice to consumers who pay his huge contract and watch his World Badminton Championship commercials. I wrote that the media, in the big picture, have made millions of dollars for Urlacher and suggested he shouldn't sound-bite the hand that feeds him. - Jay Mariotti
Sometime ago, it was suggested here that Chicago sports personalities avoid the local media until a certain back page pundit is fired.
It seems that perhaps the highest profiled and most media scrutinized Chicago based athlete, Brian Urlacher, has caught drift of that proposal.
In a continuance to yesterday's tirade against the Chicago Bears linebacker, Jay Mariotti resumes his verbal assault with regurgitated diatribes against Urlacher's character and personal life. Included in this morning's column is a running theme of allegory slanderous opining that Urlacher is "not a man's man", "whiny", and an "immature sellout" who needs to "grow up, lad."
As if that were not enough of a character assassination of #54, the notorious text messages supposedly sent by Urlacher to estranged former girlfriend/mother of his son, Tyna Robertson, resurface in a column somehow miscast as "sports" rather than "celebrity gossip".
Does anyone really need to wonder why Urlacher has elected Jay Glazer to blog about his injury and any other matters actually relating to football?
True to Jay's inner personal sense of human depravity and indifference, the dwarf gleefully accepts full responsibility for Urlacher's boycott of the Chicago media. Apparently Mariotti is tiring of beating a dead horse better known as Fag Gate and has recruited Brian Urlacher as the new back page whipping boy:

Urlacher is heading down the same slippery slope as Ozzie Guillen, whose rants were celebrated when the White Sox were World Series champions but fell on deaf ears when they tumbled into an underachieving pit.
Rick Telander, long time columnist of the Chicago Sun-Times seems to understand that Mariotti has crossed the line by offering that Urlacher is indeed a "man's man"(no coincidence in the usage of that phrasing). However, Telander is shortsightedly closing ranks with Mariotti:

The nonsense of providing info only to ''fans,'' only through a for-profit Web site, is so blatantly short-sighted, contradictory, vindictive and possibly unethical—if Urlacher gets anything in return from the Web site or Glazer, even intangibles, it breaches NFL rules—that it's almost laughable.
Hey Rick, you claim to be a family man. Would you open up to a local media group that consists of a certain you know who that divulges non-sports related content onto the back page of a national newspaper? Would you want private correspondence to become public knowledge as fodder for a column as ridiculous and nonsensical as authored by Jay Mariotti?
I doubt it.
On cue as usual, is David Haugh of the Chicago Tribune. Haugh usually looks beyond the day to day inconsequential flame throwing rhetoric and analyzes the bigger picture. With Urlacher admitting to a chronically degenerative medical condition such as spinal arthritis, the linebacker's long-term career forecast is suddenly murky. Haugh correctly ponders if Urlacher is physically capable of maintaining his high level of excellence as linebacker along with a suddenly heightened priority for Halas Hall to sign Lance Briggs to a long term deal. Congratulations David for sticking to real football matters with intelligent and honest factual opinions.
As for Telander and any other self-righteous local media personnel indignant over Blog Gate, blame yourself for shirking behind the media wall by aligning with Mariotti. Just stick to reporting the damn sporting events and the participants on-field performances. Calling out athletes for refusing to talk to the local media that apparently condones a member for peppering columns with exploitive personal life gossip will result in more and more athletes such as Brian Urlacher and Curt Schilling blogging for themselves rather than disclosing information to the so-called professionals.
And Jay, since you like keeping score:
Urlacher - 1
Mariotti - 0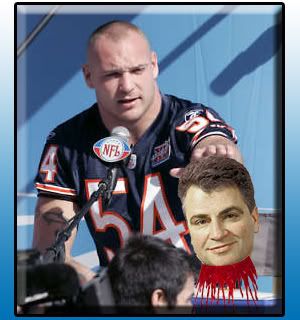 Urlacher could have explained this to the local media. We would have understood. Instead, he issued terse answers—not just on injury questions, but all questions—leading me and others to wonder why he was being such a jerk recently. This is why he went to Glazer, his friend, to cry on a national media guy's shoulder. - Jay Mariotti
Once upon a time ago, Jay was run out of Denver for declaring that John Elway was a "greedy and scared punk".
In an ironic twist of fate, perhaps Mariotti would be wise to stay in Denver, even though the World Series has been completed, in order to avoid Beardom's anger over this morning's latest rip against Brian Urlacher.
Indeed yesterday's pitiful performance by the Chicago Bears against the not so funny anymore Detroit Lions is rather indefensible. However, the back page pundit typically takes matters off the playing field and into the realm of personal cheap shots while ducking behind a vinyl Ben Wallace blow up doll for protection when the barbs are returned in favor.
The origin of the Mariotti - Urlacher feud is rather murky. Perhaps it evolved from a local television sports news broadcast from last season's training camp when #54 rather innocently answered "Jay Mariotti" to the question, "Name a non-football playing person you would like to tackle the most?" Or even more likely, the dwarf is jealous of Paris Hilton's brief fling with the linebacker. And yes, you read that last sentence correctly.
Sometime thereafter, Jay's hatred towards the linebacker intensified, whether mocking Urlacher's commericals, or Vitamin Water controversy. And then it got ugly as Mariotti crossed the line between alleged sports columnist and self-righteous tyrant by printing the player's private text messages to his son's mother during an extremely vicious custody battle.
It is not news to Bears followers that Urlacher has been concealing an injury throughout most of the season. In fact, this has been discussed at great length on message boards and talk shows. Considering the risks of playing professional football, it is little wonder why any player would choose not to fully disclose the nature and extent of any physical compromising weaknesses.
Seemingly, the pressure on Urlacher to reveal his injury was more troublesome than it was worth. And rather than divulge the scoop locally, he confided to FOX analyst Jay Glazer that his back was arthritic and that he didn't want his injury to become a distraction to his teammates. Equally interesting was the following confession regarding his tepidness towards the local media:

"But I decided to open up about this because the media didn't like my answers and started saying I was doing a disservice to the fans. But the fans aren't the ones getting ticked about my answers. The fans aren't the ones who I'm trying to avoid. I just don't want to talk about an injury where there are no answers. But when the media throws the fan angle in, I'm talking. That's what I'm doing now.''
However, Jay Mariotti doesn't give a damn about any of the potential consequences to Brian Urlacher's health as evident by the pundit's response to Urlacher's media statement concerning his lower back injury:

"I was the one who said Urlacher was doing a disservice to Bears fans by issuing one-word answers. In retrospect, he and the Bears should have told the truth all along and avoided the latest circus."
Congratulations Mariotti for making a sports issue all about yourself once again. The real story here should not be a petty one-sided feud between a maniacal television bobble head wannabe and a football player but rather the extent to which the Bears attempted to conceal the injury. And if Urlacher's injury is finally disclosed (to the real surprise of nobody) then how many more injuries to other players have yet to be revealed?
God forbid Halas Hall wanting to protect its players. And after all, other than gamblers, who really benefits from injury reports?
Clearly this season's team has not played to the same caliber as the one that earned the right to play the Colts for the Super Bowl in Miami this past February. Too bad Mariotti cannot see past a rather dumb and insignificant feud to reveal the truth behind the unraveling of the Bears. Apparently to achieve that type of insight, one has to buy a copy of the Chicago Tribune and read the latest offerings of David Haugh.
Today I am going to type slower so that Jay can follow along with the rest of you. Because today we need to help Jay understand baseball, the World Series and, quite possibly, real life. Okay, I'm reaching on that last one, but it is worth a try.
In some semblance of order, the reason the World Series is split is to ensure that the best team truly wins. To stake your claim as the best team in baseball you not only need to beat a team at your game, you need to beat them at theirs. Thus, and I am only typing with one finger now, some games are played under NL rules in an NL park and the rest are played under AL rules in an AL park. See? Just because a team thrives under one set of rules does not make it the best until it can win under the other. The rules don't change just because Woody Page bought you a Red Sox cap last week.
Now, to the DH. It is a simple adjustment that was made to revitalize the game. Here is how it works. At least, here is how it is supposed to work; every pitch of every game will see the best pitcher available against the best hitter. There is never some guy with an .098 batting average taking up space at the plate. No matter how good his slider.
Baseball is the ultimate team sport. It requires the individual to sacrifice for the good of the team. If someone is incapable of that, they are shipped off to the Yankees where they make a lot of money and have plenty of free time in the fall. The teams that win are just that; teams. That means, if sitting Youkilis gives the Red Sox the best chance at winning, then he gets a warm butt in Denver. And, since he clearly understands the concept of team, and you don't, he is not whining about it.
Your entire career has been based on the concept that one player makes a team. You have been wrong your entire career. I know that is hard for you to understand, but it is nevertheless true.
Now, to the real life part. A "beaver beard" or "beard" is a derogatory term describing a woman, usually a lesbian, who marries a homosexual man to give society the appearance of normalcy and remove their private lives from regular discussion. I am pretty sure that a professional baseball player would not be thrilled to have that specific term used to describe his facial hair.
There is already a spirited discussion going on in the forums about all of this, so CLICK HERE and join the fun!