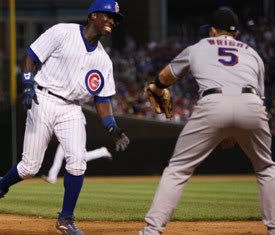 "There was the $136 million man, Alfonso Soriano, admiring his first hit of the series as it bounced off the outfield wall—and being held to a single because he loafed." - Jay Mariotti
Well now, how about this for a little example of yellow journalism and historical revising to begin one's Friday morning?
Absolutely it is disappointing for the Chicago Cubs and their fans to be 0-2 in the NLDS against the Arizona Diamondbacks. However to read Mariotti's latest blustering column that includes "humiliating", "frauds", "neurotic losers", "choking", "gagging", "regurgitating" and so on and so, rings so typically shallow and damn unfair.
Last season, this Cubs team finished seventeen and a half games behind the St. Louis Cardinals in the division and were dead last in the NL with a record of 66-96. For Mariotti to dismiss this year's vastly improved Cubs ball club with this latest and most recent smear campaign is beyond the realm of evil and just plain deliberately misleading.
However, it was the quote adorned to the top of this post that really sticks in the craws to knowledgeable Cubs fans. It has been little secret that outfielder Alfonso Soriano has been playing with an on/off right quadriceps injury throughout the season. Soriano swung a mean bat in September to help lift the Cubs into the playoffs but it is clear to anyone paying attention to this series that the leg is bothering him. Not being able to extend that particular hit into a double due to a probable lingering injury was astutely noted by Dick Stockton and Ron Darling who called the game for TBS .
Perhaps Mariotti was too preoccupied scoping the press-box for Alyssa Milano to garner her perspective on last night's game? Obviously his mission failed, otherwise this column would not have been written and instead we would have been treated to inside dish on growing up with Tony Danza during those glorious Who's the Boss? years.
As a devoted Cubs fan and brilliant long-time Jay the Joker member, Hino has repeatedly told me throughout this 2007 baseball season, "Keep the Faith".
And so I shall. Go Cubs.
Holy Christ. Jay started a blog. If one is to be judged by the company he keeps, then I've never felt more pathetic than I do at this moment. Oh, wait. Jay is writing an "online column." Can you imagine the bitching he must have done when the Sun-Times forced him to become just the thing he so hates?
As some of you may have noticed, we've been a little lax about updating the site. There are a number of reasons for this, but mostly it's just time constraints. I am getting married in a couple months and have been sucked into a world of cake tastings and invitation design. Matt graduated from Northwestern's journalism program (and gave the graduation speech), and now has a job working for the Tribune.
Also, after reading every one of Jay's columns for over a year, a man needs a break. For these reasons we are now going to be granting some of our most most loyal and frequent posters in the forum access to the main page. I'll still be posting on the site, but Matt's involvement is done.
Expect more frequent posts, funnier posts, and slightly more deranged posts. Should be a good time.