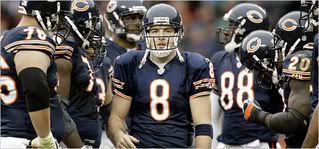 For all the boos, debates and national ridicule, Grossman has been given an opportunity by Lovie Smith to either sabotage himself one last time or, somehow, save a Bears season that actually might be salvageable. He has second-rate running backs. He has wide receivers who would drop newborn babies. He has a defense that has been exposed as kitty litter and no longer boasts dominant pillars, namely a declining superstar too consumed with his sparsely read blog. - Jay Mariotti
It would apparently seem to be an exercise of futility for the Bears to even step onto the grass of Soldier Field with the New York Giants on Sunday afternoon, according to Jay Mariotti. And despite already having written off Rex Grossman and well face it, the entire Chicago Bears team along with their management and fans for this millennium, the back page pundit revisits his old stomping grounds that is "Bad Rex/Good Rex".
This season for the Monsters of the Midway is admittedly disappointing but hardly over quite yet thanks to parity stricken NFC with a glut of teams hovering around the .500 winning mark. And even after denouncing the well familiar and much ballyhooed problems with the Bears that includes an aging offensive line and virtually non-existent running game, Mariotti still frames his column on the slant that Grossman is an ultimate failure should he not singlehandedly win against the Giants.
That is simply not fair. But it gets even more incredulous.
For those familiar with Jay's antics, it is well known that he likes to cover all the bases (cough, flip-flop, cough) in advance to create the illusion of successful prognostication as events unfold. Simply put, the ESPN loudmouth bobble head never admits to wrongdoing. Check this out:

Should Rex succeed and reach the playoffs, a long-term extension awaits at Halas Hall, which some of us think would be anathema but would allow the honchos to address major issues at offensive line and running back. And should he fail?
Blah, blah, blah.
So even if Rex succeeds and helps his team win a wild card entry to the playoffs, Mariotti is already announcing his intention to blast Halas Hall if the quarterback's contract is extended. In short, lose and Rex is damned or win and still be damned. Sounds like an Inquisition to me.
Does anybody really wonder why some athletes such as Brian Urlacher now refuse to talk to the local media under such ridiculous pretenses? And despite Mariotti's ridicule of Urlacher's collaborative blogging efforts with Jay Glazer, the linebacker is quite candid on his assessment of the Bears current predicament:

The Detroit game at our place or the Minnesota game at home. Minnesota ran all over us. These losses could really hurt us in the long run. You don't want one game to be the reason you don't get in. We put ourselves in a tough spot.
Good luck on Sunday, Rex.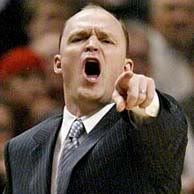 But make up the quotes? I'd say Skiles better stop playing journalism watchdog and concentrate on fixing his terrible team. If the Bulls don't start winning, those "Kobe! Kobe!" chants in the United Center might turn to "Fire Skiles! Fire Skiles!" - Jay Mariotti
It doesn't get much worse than this in the world of sports journalism.
Chicago Tribune basketball columnist Sam Smith launched a tirade against Scott Skiles a few days ago citing the following anonymous quotes allegedly from NBA coaches:

"I thought they were the toughest, best at sharing, best defensive team we'd play," one coach said. "They were so mentally strong. Not this time."

"They're not spirited," another coach said. "There's something funky going on there. They're not together."

"We trap [Ben] Gordon on the pick-and-roll," said a third coach. "There doesn't seem anyone else who can beat you now. I don't really have an explanation."

"They're very quiet on the court," said still another. "It seems only [Andres] Nocioni plays with fire and gusto."

"It's almost like they're waiting to get beat," said one more.
Not surprisingly, Skiles was a little more than upset. He was downright angry:

"My only response to that is — if that's not made up and [Smith] actually talked to some people that are saying that — they ought to mind their own store."
Mariotti, of course, rushed to the defense of Smith's cowardly refusal to name his sources while at the same time questioned the integrity of the Chicago Tribune:

Hey, the Tribune does some curious things. I'm still wondering why editors removed "Chicago Sun-Times" from the credit line of an Associated Press story breaking the news of Michael Jordan's comeback with the Washington Wizards. I'm also wondering how the Tribune confused a classy, law-abiding Chicago native, former University of Illinois star Eddie Johnson, for a criminal of the same name last year.
Why even the need for Smith to "protect his sources"? Is this a matter of national security? If these alleged sources are indeed NBA head coaches, why even comment if afraid to reveal your identities?
Memo to Sam, you already know you are in the wrong on this matter when Jay Mariotti is battling in your corner.
This really is beyond idiotic. Only Mariotti would blast Skiles for questioning the authenticity of Smith's sources and suggesting that his coaching peers mind their own business, while in the same hyperventilating breath also accuse the Chicago Tribune of universal wrongdoing itself.
So apparently we should unconditionally accept Jay's Solomon-like judgment that Smith is on the up and up while at the same time distrust the Tribune for being an inaccurate, unethical source of the news?
Stay classy Jay.
This is all my fault. I encouraged the man. I told him to write about hockey so that we could share with the class. And he did. And he did. And he ..... Anyway, today Killer is taking the time to teach us about lines in hockey. So, pull up a chair and let Uncle Killer make you smarter.
BigBadBill
Let the learnin' continue ……
Gather round boys and girls and I will tell you a little story about 'lines' in hockey.
Now when I say 'lines in hockey' please try not to think about former NHL'ers Theo Fleury in New York or Kevin Stevens in an East St Louis crack house.
We're not talking about the 'booger sugar' here.
We are going to discuss line combinations and their roles (not rolls) in the NHL game as we know it today. Basically it comes down to this.
According to the NHL rule book:

a. A Team shall be composed of 20 players (18 skaters and two goalkeepers )
These 18 skaters are generally broken down into twelve forwards and six defensemen.
The forwards are broken down into four lines of three players (left wing, center and right wing) and the defensemen are broken down into three defensive pairs.
Forwards and defensemen will be rotated into the game as different situations warrant.
Got that ??
Goodie.
What we are going to talk about here is strictly 5 on 5 hockey. We will get into Special Teams and 4 on 4 overtime periods at another time.
When I start describing these lines, please understand that each team is different and the individual roles (again not rolls) that I speak of are not set in stone.
Each line is based on chemistry and need at any particular point in a game, or even the season for that matter.
….and away we go !!
Your top two lines are generally going to be comprised of your most offensively gifted and skilled players. These two lines should generally be doing most of the scoring for your team.
These players will often be interchangeable as the season goes and other teams adapt to what they see happening.
Your third line is going to be filled with players with some offensive ability, but more so would be comprised of grinders.
Grinders are players that work hard on every shift; good checking ability and are strong defensively and hopefully have enough skill to light the lamp for you on occasion.
You will most likely see this line being used in a defensive role.
The fourth line is generally your muckers, grinders and an occasional goon.
Muckers and goons have different roles (I think you have got it by now), although they may overlap at times.
Muckers tend to go out and create 'trouble'. They will get into the faces of the other team's players hoping to take them out of their game.
Their job is to go out and 'crash and bang' and create'uneasiness' amongst the other team's forwards.
Goons provide protection for their teammates are will drop the gloves at a moments notice to defend the honor of their team.
The fourth line is not going to lead your team in too many statistics other than PIM (penalties in minutes).
Now here is what the NHL rule book says about line changes.
Following the stoppage of play, the visiting Team shall promptly place a line-up on the ice ready for play and no substitution shall be made from that time until play has been resumed. The home Team may then make any desired substitution, except cases following an icing, which does not result in the delay of the game.
Changing lines during the game becomes a bit of a 'chess game' between the two coaches as they alternate their lines throughout the game, trying to create a favourable mismatch that hopefully their team can capitalize on.
Some teams 'roll' (almost got you on this one – not role) four lines continuously.
Anaheim went through the playoffs last year using their lower lines very effectively when it came to shutting down the opposition's best players.
They were also very fortunate in the fact that these players also developed an uncanny knack for scoring goals for them when the need arose.
Again, every team is different, and every team will use their personnel differently according to what each coach's philosophy.
The best advice that I can give everyone is to get out and watch some NHL hockey and see for yourself.
That's all for now kiddies ….and now back to a regularly schedule NSFW programming !!
If you wait him out long enough, after he has pulled on his True Religion jeans and Louis Vuitton knit cap and answered every possible how-does-it-feel question about being Superman, Devin Hester eventually exposes his secret. He's arrogant. As a God-fearing soul, of course, he is anything but conceited, but as an athlete who is blazing trails before our glazed eyes, he is driven by a raging demand to thrill the senses. - Jay Mariotti
Mariotti must be on a strict "word count" these days over at the Sun-Times. I've read Hallmark greeting card captions longer than this morning's obsessive rant over Devin Hester. It seems that this latest "effort" was written in haste and utter disgust that the Broncos gave up a fourteen point lead. Guess that "Why I Hate Rex Grossman, Part XXX" column gets iced for at least another week, huh Jay?
It is not often that one reads about the intimate details of a football player's fashion apparel. How close Jay actually had to approximate towards the rear end of Hester to read his jeans tag is anybody's guess. However, one can only assume that Jay's latest man crush must have thought that former teammate Tank Johnson was in attendance at the post game press conference and brought his pit bulls. No word yet from the other "house reporters" that the back page pundit also resorted to crotch sniffing in order to identify "Devin from heaven" as a mere mortal or deity.
And of course the comparison to Zeus himself was hyperbolized:

Anyone with functioning senses knows this was The Hesterizer's masterpiece, the latest chapter in a fireworks display that has given Chicago its closest facsimile to Michael Jordan—right down to the No. 23—and provided the NFL with a blur of dominance much more fun and way cleaner than the run of Bill Belichick and the New England Patriots.
I'm pretty confident that Jordan's universally accepted consideration of being the best basketball player of all-time along with six NBA titles still outweighs the performances to date of Devin Hester. And I am more than sure that the Patriots are more interested in maintaining their run at an undefeated season along with another Super Bowl title.
Seems that Jay's interests lie more towards cool fashion labels and individual records over team accomplishments.
Perhaps it would be best for all concerned that Mariotti quits the sports columnist game for good and just play Madden football in the bunker. After all, Hester does have that ballyhooed 100% rating. And I'm sure that Mark Cuban would love nothing more than to play video games against the back page pundit while having a buddy to text message about hip fashion all day long.
Fire the F#cktard.
A special kudos to BigBadBill for helping brighten the Thanksgiving holiday to someone in need. Well done and I am proud to call you a friend.
So, yesterday, I had this nice little fluff piece written about Mike Downey. It was fun, simple and a neat way to pass some holiday time. However, Tyrone had something intelligent, useful and meaningful to post (see immediately below). Darn him with all that stuff. Anyway, if you have an ounce of compassion left in you, CLICK HERE to help out a fellow blogger and US War Vet in his time of need.
Now, back to the brain candy.
Mike Downey caused the death of a lot of trees yesterday and used the occasion to complain about all the players the Sox have lost since winning the WS in 2005. He makes it seem as though Ozzie will be fielding a team of 3A rejects and working with a 10 man bench for the next 3 seasons.
In an effort to provide some cohesion, we will deal with each "loss" in the order presented. First, there is Scott Podsednik. Yes, he was the "little engine that could" in the Sox 05 run. But since then, unless they open a DL category in the MVP voting, he has been irrelevant to this team. It is time for him, and his throbbing groin (yes Jay, you can savor that visual), to move on.
Second is Jon Garland. While it always hurts to see a good pitcher leave, it is not like Kenny traded him for a bag of balls and a box of pine tar to be named later. He got a Gold Glove winning SS who has a ton of patience at the plate and who is considered one of the best players currently in the game. He freed up salary space, shored up the defense and, basically, made the team a little better and left room to continue to improve.
Juan Uribe. Although not traded or benched, clearly the SS position is no longer his. He can play 2nd. But, unless and until he stops swinging at baseballs like they were flies near his dinner, he is expendable. Even so, with his overall average and, occasionally, solid defense, there is a market for him.
Aaron Rowand. "Crash" has become something of a legend in Philly. He is, and was, a solid center fielder. If a tad melodramatic at times. There are those that feel that the reason he crashes into walls so much is that he doesn't have a good eye for the ball. Until last year his hitting seemed to bear that out. Now, improved and less dangerous in the field, he is on the short list of players that can return to the Sox.
Freddy Garcia. Let's just say that had the Sox gotten nothing in return for him other than bag of balls and a box of pine tar to be named later they would have gotten the better of that deal. And, right now, there are fans in Philly that would say that that price would have been too high.
Tadahito Iguchi. A brilliant infielder and a steady hitter. But, when Iguchi left Japan and signed his original 3-year contract with the White Sox in 2005, it included a clause that he couldn't be offered salary arbitration when the deal expired. He was a nightmare waiting to happen and the Phillies just released him rather than deal with it.
Geoff Blum. A nice player. A nice guy. He hit .252 last year with the Padres and is now with the Astros. But, the Sox already have too many guys hitting around .250. Keeping another isn't going to do them any good.
Willie Harris. A guy who's best year saw him play 129 games and who hit .270 for the Braves and saw him claim the term "Bench Warmer of the Year" in Boston in 2006 is just not the glaring need that needs to be addressed. We wish him well, but we don't need him back.
Orlando Hernandez. I have a friend who works for the Mets. He still insists that someone put something in the drinks to make the Mets sign this guy. On his third team in 3 years, and with only one season since 2000 with more than 10 wins, this is not he guy anyone is going to hang their rotation on.
Neil Cotts. I think we owe an apology to the Cubs for that one.
Damaso Marte. Since being traded to Pittsburgh, he has posted a stunning 3-7 record with less than 100 innings pitched. That is over 2 years, not just one season. Face it, the last thing the Sox need is another guy who throws BP.
And then we get to this;
Also long gone are Cliff Politte (who pitched in Games 3 and 4), Luis Vizcaino and Dustin Hermanson (each pitched in Game 3), Timo Perez (pinch-hit in Game 3), Chris Widger (who caught five innings of Game 3) and Carl Everett (who hit .444 in the Series as the designated hitter.)
2 of those guys are out of the league. You can look the rest up online if you can remember who they were.
Now, while Downey has the Sox dumping players faster than Tony Romo dumps girlfriends (obligatory Mariotti styled reference to provide a segue), Mariotti has the Sox being too cheap to compete. Sure, there are facts, like their payroll, that belie that statement. And, there is the fact that Torii Hunter just got 2 to 3 million a year more than any other offer from any other team, but why let silly things like reality get in the way of a good Kenny bashing? Especially when you can turn it into a veiled, homoerotic reference.
Yep, the Ken Doll is being humiliated by a rookie GM in Disneyland.
Ken doll? Is that what he is calling his latest inflatable friend? The only thing humiliating is the complete lack of effort by both writers* to get the story straight.
There are already some interesting takes on the above, so go ahead and read more in the forums.