Ah, that little alpha-numeric perversion of the English language is the subject of a stupid trademark lawsuit, the bane of linguists everywhere and wildly popular on the Internet with 9 year old girls and lonely losers who think they are hip. See, it is a pseudo word for people to express their joy and happiness. Because looking up real words, that actually mean Joy and Happiness, is too much trouble they just invented a new one.
These people are kindred spirits of Mariotti's.
In just the last couple of days the Cut and Paste Queen of Chicago bemoaned the fact that the Bears might actually try and win a game rather than tank it and get some fresh young boy for him* to drool on. And, since the English language isn't big enough for him*, he* had to invent a new word to express the team's joy at beating the Saints, "Joniakism". Google it if you are bored, his* is the only usage in the world.
He* then goes on to list the holes that need filling. Rather than belabor the whole list, let's just say he's* willing, reluctantly I would guess, to give Urlacher another chance and everyone else has to go. He* has the trades worked out and everything. Well, except how to pay for it all or how to make it work in the current NFL system or anything like that. But, hey! Who cares about that silly stuff anyway?
As noted before, the last team to follow (inadvertently or not) his* advice on how to build a championship season was last year's Chicago Cubs. Don't panic, that horrid wailing sound you hear is just Tyrone. We have been assured he will get better soon. Nevertheless, we are not here to beat on the Cubs or denigrate their fans. They did what they did and lived with the consequences. Suffice it to say that neither money alone nor a single player wins a championship. Games? Yes. Championships? No. Otherwise A-Rod would have 6 rings and, last I checked, he actually has 6 less than that.
No, instead, we will look at the man* who keeps trying to put the "I" in "team" much to the chagrin of managers and coaches the world over. Consistently clueless (he* loves that movie) about the dynamics of athletes and teams, he* hangs on the sidelines demanding the impossible, bitching when it doesn't happen and taking time out of his busy, busy, day to toss the odd personal attack at a player or coach who doesn't agree with him*. Like the exothermic theory of Hell, the number of such people grows exponentially. Soon , he* will be relegated to the parking lots of various fast food restaurants to catch his* quotes on the radio. Not that this would alter his* writing, since he* doesn't actually talk to the athletes or coaches in this city anyway. But, it will probably cause a severe decrease in fast food sales.
I know that this is the time of year that rheumy eyed journalists take a moment to opine for all the great things that have happened in the previous year. Taking you on a stroll down memory lane all the way back to .... oh, say, last week. I did give some thought to doing a year in review blog on Mariotti but discounted it since I can sum up his* efforts simply; he* hates everyone, including himself*.
I would rather look at some of the positives that have happened here at Jay The Joke. 2 days ago Pat and Rachel Dahl became an official set of married people. Tethered together by love and mutual admiration it is my hope that the two of them will be strong enough to face the rigors of day to day life and face them with humor, equanimity and patience. Given that she married him even after being immersed in his family life, you have to think they have a real good start on that. It is not everyone you meet that can start a conversation with "I was born on a radio show and my dad had his balls snipped on the same show but at a later date." Actually, off the top of my pointy head, I can't think of anyone, except Pat Dahl, who could utter that sentence.
Matt Lynch, another founder of this site, has moved on to the world of professional journalism and takes with him a love of sports and a loathing of bombast and innuendo. In other words, he is on the path to actually be good. Although just starting out, he is already showing flashes of the writer he will become and I, for one, am gladdened by the hope for the future.
This year saw Jamel Bryant, Tyrone Briggs, ny-exchicagoan and Killer Carlson all become proud fathers. Some for the first time. While I have joked about the need for full body condoms for anyone posting here, in the real world I know that they are all stupidly happy with their progeny. And, knowing the parents as I do, I can safely say that there will not be another Mariotti groomed in the lot. So, again, the future holds promise.
As to me, there is not much to say. While there have been high and low points for me, there have been for everyone. I have a beautiful, caring, wife and we just celebrated our second Christmas together as a married couple. Plus, given that my family now consists of a wide variety of races and religions, I have discovered that it really is possible to insult everyone all at one time. That is something I will need to work on in 2008.
Overall though, it is the future I look toward and not the past. If you wander through the blogs and posts up here you will find diversity taken to a whole new level. And, you will find that you are welcome among them. That is more than Mariotti could say on his* best day.
On behalf of all the posters here at Jay The Joke, I would like to wish you and yours a happy, healthy and successful 2008. Now, come inside and see why FTF is the best acronym in journalism today.
Today's, post Christmas, blog is brought to you by Madhouse52, a popular poster here at Jay the Joke.
In the Charles Dickens classic, "A Christmas Carol" a mistake that people often make is forgetting the end of the story. As we know, Ebenezer Scrooge is depicted as a evil, uncaring, and miserly man who spurns even the needs of the weakest amongst us. He often addresses the needs of the kind and poor with a surly "bah humbug".
This morning Jay Mariotti wants us to view the Chicago Bulls as exactly the same type of person as Scrooge. His* evidence is a summary of the timing of the firing of recent Bulls' coaches whose time may have been nigh. He writes:
What kind of heartless, gutless organization fires a coach on Christmas Eve? Actually, what kind of heartless, gutless organization agrees to let three coaches go at Christmas and Thanksgiving over a seven-year period? Oh, maybe the same suspect organization that demoralizes two of its self-proclaimed young cornerstones by refusing to negotiate in good faith—as exposed this week in Gilbert Arenas' blog, of all places.
Aside from the categorical flaw of citing Gilbert Arenas, one which Mariotti acknowledges at the end of this drivel, Mariotti forgets the true meaning of Scrooge. Let me take Mariotti on a visit of the Bulls' past, present, and future.
Six championships in eight years. That's the Bull's past. General Manager John Paxson was a part of that, and his decision making is based on that portion of the Bulls' past. Much like what made Ebenezer Scrooge a bitter miser (being abandoned by his father), winning championships is what make Paxson who he is today. That is his goal, drive, and ambition---to win, and it is also what someone like Mariotti once mocked the organization for getting away from, in ending the Jordan era too soon.
The present Bulls team is made up of underachieving overachievers. This Bulls team is greater than the sum of its parts. They may not be the Celtics, the Spurs, the Suns, or the Mavericks…hell, right now, they're not even the Indiana Pacers. But, they should be better than what they're playing, and they're not. Even as I write this, Paxson is on WSCR the score, and lamenting the hustle, the rotation, and the playing time. He didn't like what he was seeing, and neither were we. We griped and complained about it, while Paxson was in a position to do something about it. He addressed it with Skiles, Skiles disagreed, and Paxson reached the following conclusion: Scott Skiles was a point A to point B coach, but it doesn't mean he was the point B to point C coach.
The future Bulls team what Paxson is seeking to change. This team is sub-.500 and sinking fast. If this team had the talent to win, and has proven that in the past, they should at least be that or better this year. The team was uninspired, Paxson was not happy about how the team was going about their business, and a change was necessary. The only way you can alter the future is to amend the present. The old adage in sports goes, "if you can't fire the players, fire the coach". This was a shake up that was necessary, even if many believe debatable. There is no quick fix, but the future was dimming before our eyes and something needed to be done.
This morning the MDF uses his* bully pulpit, not to really address what the decision of the Bulls means to the future of the franchise, because that's not important to him*. He* uses this opportunity to lambaste owner Jerry Reinsdorf and cast him as a bitter, evil, miser, and forgets what Scrooge did in the end:
Forget Donald Trump. Forget Simon Cowell. As S.O.Bs. go, there's a new leader in the boardroom.
Donald Trump has made the mediocre meteoric. Simon Cowell has turned that school girl, or waitress, or night club singer into America's Idol. Jerry Reinsdorf brought this city 6 NBA championships, it's only World Series in nearly a century, and John Paxson who turned Jerry Krause's mess into respectability with lofty expectations. The expectations weren't being met, and the person with the ability to do something did something.
Once Scrooge visited his past, his present, and his future, he became a model of generosity and kindness. The Bulls want to be a model NBA franchise, and ultimately a champion again. Paxson has said on multiple occasions since Skiles' firing that the players are next if they don't perform. We believed in him when he made the moves to clean up Krause's garbage. He may not have made all of the moves that we wanted him to make, but I still trust Paxson. As Scrooge made a turn around, so can this Bulls team.
As for Mariotti, I wonder what his* response would have been if Reinsdorf and Kenny Williams had fired Ozzie Guillen on Christmas Eve. To quote Tiny Tim from Dickens' classic, I can just picture Jay standing alone in the bunker saying, "God bless us every one!"
Make sure you have a full cup of coffee. This one's going to take a while and it has nothing to do with today's swill.
Today's blog is all due to Neil Steinberg. Not that he has anything against Mariotti or anything like that. Except for one minor misstatement that I once heard on the radio, he has never said anything to me, or anyone else I know, that could be termed as disparaging toward Mariotti. In fact, for all I know he and Mariotti split a croissant over their morning lattes before ambling to their respective cubicles. With Neil contemplating how to fit the iambic pentameter of the second act of Twelfth Night to Casa fan tutte (knowing full well that he will have to lower the register to work around Sir Toby's monologues) and Mariotti, well, with Mariotti polishing his already burnished ego with a mental chamois.
No, this had nothing to do with what Neil said about Mariotti, but with what he had to say, in a recent column, about Serbian Nationalists and their music. I figured if a bunch of stiff arm saluting, racial epithet spewing, losers could have a soundtrack for their lives - albeit a really pathetic one - then certainly Mariotti must have one too. Yes, you just got a glimpse inside the pinball machine I call a brain.
My first thought was John Philip Sousa. The idea of Dough Boys and Leather Boots seemed to fit well into the Mariotti motif. But two things immediately dissuaded me. First, I am friends with J.P. Sousa's great-granddaughter, Suzanne Sousa (yeah, her parents are a tad whimsical) who is a sweet and wonderful woman and, second, Sousa's music evokes an era of people who put God and Country before self. There is not a universe I am aware of that would allow Mariotti to relegate his ego to second class anything. So, that was out.
My next thought was the Oy band movement. White supremacists who play a mutant form of punk, very badly, to like minded individuals. Oy bands are incredibly stupid and socially myopic, so it seemed I was on the right track here. "How stupid?", you ask. Well, let's put it this way, they don't se the irony in a bunch of Nazi wannabes being called Oy bands. Or, as Richard Roeper is wont to say, "(they are) are dumber than a sack of hammers." But working Oy bands requires energy and effort. If for nothing else other than to keep their version of a mosh pit going. Those are two qualities never even explored by Mariotti, so this wasn't the fit I was looking for either.
Next I thought of Wagner. This seemed closer. A known anti-Semite with a love of bombast seemed to be a good match. Certainly Mariotti's casual racism would fit well here. His* constant praise for 'good black people' who wear ties and say "Yes sir" ala Jordan and Woods, mixed with his* screeching disdain of 'thug life hooligans' such as Rodman and Briggs, both fit his* overall theme that black people (in fact, all minorities) are meant to entertain, and show respect to, him*. Add in his* constant whine that only middle aged white guys should be coaches or managers (we will ignore the Mark Cuban thing for now as we don't have that much bandwidth) and I was as close as I had been all day.
Quick aside here; I have met both Jordan and Rodman on separate occasions. Jordan's entourage shooed me away, which is probably a good idea for someone that image conscience as I am one butt ugly swath of manhood. But Rodman bought me a drink each time he saw me. While it's not like we exchange cards each Christmas, let's just say "gimme the thug every time" and I'll get along fine with the world.
Anyway, back on point. Like I said, it seemed that Wagner was a good match. However, upon reflection, The Ring Cycle requires a lot of patience. A quality Mariotti couldn't spell, let alone espouse. Add in the facts that all opera requires a keen intellect, a knowledge of human passions, an appreciation of subtlety (yes, even Wagner) and an ear for nuance and you begin to see my problem. Clearly these are all attributes missing from Mariotti's soul. For the sake of this blog, I will assume he* has one.
Now, before any of you presuppose that I am a misogynist, I hope you'll understand how hard it is to write about Mariotti's opinions on women. He* doesn't seem to have any. Of course, when you have spent your whole life posturing as a social reptile, it is hard to wrap your image around something as beautiful and strong as a woman. However, I will note that all of the music I did find above does involve the subjugation, or in the case of Wagner - the complete immolation, of women. So maybe, subconsciously, I am on to something there.
Ah well, rambling ruminations aside, I still hadn't found the right soundtrack for Mariotti's life. Then it hit me. A group of Teutonic tunesters from Austria. They like to dress young boys in Hitler Youth shorts, have blonde haired blue eyed men frolicking in the mountains, are overseen by a stern - basso profundo - brunette male with a moustache and ...... you can feel the tremors from Mariotti's quivering already. For a bonus, they rip away any pretense of melody or useless fodder such as harmonies. Their lyrical gruffness is highlighted only by incessant repetition and harping on simplistic themes. In their videos women are an afterthought at best (see above, I do believe I nailed this) and everything else can be summed up with the great Mariotti phrase, "man up."
Yes ladies and gentlemen, I give you Laibach. Which Mariotti will mispronounce as "lay back", only adding to the joy. The video above will show, clearly, why they create the only tunes that hum through the little mind of Mariotti. Their mix of faux Nazism and bafflement with the English language is the perfect blend of stupidity and silliness to enfold the literary scribbling of this site's inspiration.
So, while you are spending the next couple of hours trying to get that damn song out of your head, come on in and join the fun!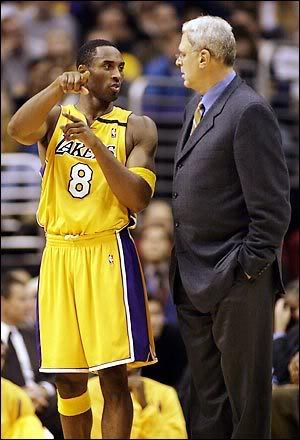 Little did Jackson know that things would jumpstart before the game, when Bryant sat by his locker in the United Center. I told Bryant what Jackson had said a few minutes earlier, that Kobe still has a case of ``Chicago fever.'' It was a cryptic comment, even by Jackson's weird standards, in that everyone involved with the Lakers has tried to bury the notion that Kobe still wants out of Los Angeles. - Jay Mariotti
Phil Jackson is a bloody genius.
One can only imagine the horrific nausea experienced by the Lakers coach upon realizing that he had been inconveniently corned by Jay Mariotti at the United Center last night. And rather than deal with insincere blather from the back page pundit that undoubtedly would've ended up as half-truth tirade laced fodder for this morning's column*, Zen Master Phil sent disciple Jay on a special quest to irritate the inner peace of another loathed equally self-absorbed individual instead.
Scurrying as fast as those chubby short legs would carry him without overtly straining an already arterial clogged challenged cardiovascular system, Jay most assuredly broke quite a sweat upon finding Kobe Bryant.
The merging of two uber-egocentric knuckleheads must have been quite the sight with Jay regurgitating Phil's benign comment regarding that mysterious next "chapter" over to manchild basketball idiot-savant Kobe Bryant intently listening.
And Bryant of course didn't fail to deliver the goods. Mistaking Jay for a legitimate sports journalist, he predictably prattled about maintaining a desire to bolt Los Angeles for the mythical greener pastures of becoming a member of the Chicago Bulls. And only Mariotti could justify Bryant's proclamation of desiring "to go about it in a professional way" in terms of playing out this season on the west coast. Evidently to Bryant, it is quiet reasonable for a professional athlete paid millions of dollars to play basketball to complain and whine in a shopping mall over the atrocity of being a Los Angeles Laker while finding nothing out of sort desperately pining to leave his precious band of "brothers".
The irony is rich. Mariotti actually believes he broke a sports story facetiously choreographed by Jackson to further alienate the Lakers locker room away from Bryant in order to prepare his team for the impending post-Kobe era. Indeed it must have been quiet a wild celebration later that night in the bunker with Vinyl Ben for joyous Jay unearthing his "scoop". However, while either resting in a Chicago hotel room or flying a few thousand feet overhead, Phil assuredly broke a grin over beating the Bulls once again with the added bonus of playing both Mariotti and Bryant like cheap violins.
Well done Phil. Well done.
Holiday cheers and kudos to your stroke of brilliance.
So there we sat. Two steely eyed professionals. Papers riddled with numbers, some large, some small, passed back and forth so often that they had begun moving on their own. The room ensconced in smoke so palpable that you could cut a chunk out and take it home as a memento. 64 Dixie cups of stale joe scattered around the table making a bizarre homage to Stonehenge. Yes, Jay The Joke was for sale and the negotiations were intense.
Okay, the scene is completely fictional, but the tag is not. Jay The Joke was started by Matt Lynch and Pat Dahl. Matt has moved up in the world to write for the Chicago Tribune. Silly things like "conflict of interest" and stuff like that caused him to remove himself as an owner. However, much to his surprise, he has discovered that people get paid for doing what he once did for free. So, he is happy. Pat Dahl is getting married, dealing with the writers' strike in Hollywood and trying to make a life for himself. Never an easy task for any young man. Harder still when you are trying to run a daily web blog. Something had to give.
A little history for your newbies. Jay The Joke was started as a fun way to make fun of Jay Mariotti. It was a very simple post and read style web page. Then people started coming. And more people started coming. And the damn thing grew and grew and .... well, you're reading this and seeing a site with a full posting realm, so you get the idea. Matt and Pat were caught off guard by the sheer success of their idea. And the site kept growing. People started coming to post intelligent thoughts on sports, occasional NSFW flotsam and some keen observations on the human condition. All well and good, but as I stated earlier, Matt and Pat had real lives to lead.
Long story short, either the site had to be sold or shut down. I, among others, didn't want it shut down, so I bought it.
There will be some minor changes for now. We are going to add some sports related categories, move some of the threads into areas where they will make more sense, and little things like that. We will not change the mission of the site; to see Jay Mariotti removed from the public eye. We will not let up on the editors of the sports section, who seem to be akin to crazed howler monkeys, but I am beginning to believe that is an insult to crazed howler monkeys. There is no other excuse for the continuing slaughter of grammar and spelling that gets printed each day in the Sun Times.
Before you hit the forums, make sure to scroll below this post and read Tyrone's take on today's offering from the little man. Actually, read Tyrone's stuff as often as possible. He may be an angry young man, but he makes more sense than 90% of the professionals that are foisted on us each day.