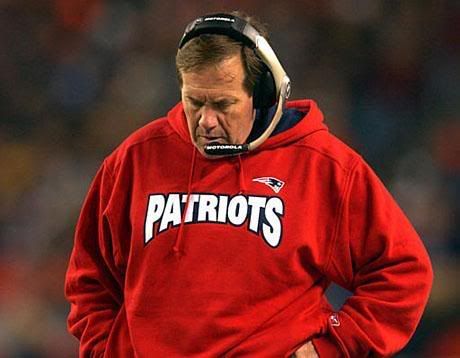 All I know is, the New England Patriots executed a major spending splurge last offseason and almost pulled off a perfect season. Continuing Spygate suspicions aside, they remain the how-to model for franchises in no-man's-land limbo, which describes the Bears after a 7-9 crash to earth. Bill Belichick has dumped his share of players when contracts become issues, but he'd never let his team be sabotaged by a perpetual quarterbacking black hole. Nor would he let someone as important as Briggs get away. To compare New England's system to that of the Bears is comical, and if the Rosenhaus Trio scatters elsewhere, be ready for a lot of Lake Forest-based badmouthing of Briggs and Berrian. - Jay Mariotti
Not that long ago, the dwarf was supposedly fuming over "Bill Belicheat" and bemoaning over the lack of integrity in modern day's professional sports.
However, when the topic turns towards the Chicago Bears, the tone has radically changed. Hell, one might even suggest "flip-flop". Or as the pundit suggests, cast "aside".
Evidently, Jay Mariotti's principles are flexible enough to side with the corrupt and dishonest, especially in a particular situation which is growing uglier each passing day. The NFL's supposed "flagship franchise" is showing chinks in its armor. After being completely demolished in the Super Bowl by the surging Giants, the New England Patriots' alleged repeated violations of illegal videotaping is continues to persist in the headlines. And more information not favorable to the organization is certain to be exposed before the public if Senator Arlen Specter decides to further exercise Congressional power and clout to get to the truth.
The smoking gun that could destroy Belichick's "genius" legacy along with tainting the accomplishments of the Patriots throughout this decade is obviously former employee Matt Walsh. When Walsh's attorneys secure immunity and strike a favorable deal with federal investigators, "SpyGate" is certain to rival Bug Selig's Steroid League of Whores Horrors.
And yet despite earlier denouncing Belichick as a cheat, the Patriots remain the franchise that Mariotti envisions as a perfect model for the Bears to emulate. Really? Free agent Randy Moss and his agent might suggest otherwise. Last season, the standout wide receiver took a huge pay cut in order to try to win a Super Bowl. Now Moss wants to be paid. Robert Kraft and a wheelbarrow loaded with "straight cash" for his "homey" is nowhere to be seen. Anyone wonder how squeamish Tom Brady might be over the prospect of losing his favorite deep threat passing target?
Face it Jay, your Camelot is beginning to crumble. Like your career here in Chicago.
Now go back and hassle Sam Zell over the Wrigley Field naming rights controversy in order to let Jerry Angelo do his job. After all, it is only the first day for signing NFL free agents. We all know that you already have your rant against the imminent 49ers signing of Lance Briggs freeze-dried and ready to be popped in the microwave for reheating. Look on the bright side, at least you can sponge off a few more road trips to visit Lance in your favorite city next season.
And be sure that he is the one driving while showing you around town.
Ahh, Callooh Callay, another Frabjous day. Once again we get to wander through the looking glass of Jay's little mind (it is more of a pocket mirror, actually) and wonder just what it is that keeps it from tinkling out onto the floor.
Today we get to festoon Wonderland with corporate iconography. And, we begin by brightening up the grim facade of Sam Zell.
I have an idea: Let's sell the corporate naming rights to Sam Zell. Metamucil definitely would be interested, as would Baldness.com, Depends, the new roll-in bathtub by Sanyo and whatever store lets him buy denim intended for guys 20, 30 and 40 years younger.

Lucky Brand Jeans, you say? Fine. Slap that across Zell's big, old forehead. If everything in this man's domain is for sale, including sacred Wrigley Field, then he should auction his own hide to the highest bidder.
Let's, for now, ignore the fact that Jay seems fixated on Mr. Zell's choice of pants. Since writers tend to present their perspective based on their point of view, my guess is that is all Jay can see from his diminutive stance. Instead, let us look at his choice of adjectives. I know, he* didn't know he* used adjectives, but we did and that is all that matters. "Sacred." Sacred? A brick and mortar construct named after chewing gum is "sacred"? If so, I want to see landmark status bestowed on the Sears Tower. Or the Hancock Building. Or ....
Oddly enough, this puff has been out of the caterpillar's hookah for a little while. Not only are buildings named, and renamed, after corporate sponsors and pop culture icons, children are as well. Or did Jay really think all those Harleys and Bambis were some divine coincidence?
The raw romance of Wrigley Field is being able to leave behind the troubles of 21st-century life, walk through ancient gates that spill off the street, and for three hours—or as long as it takes for the Cubs to lose—wrap yourself in green, unfettered timelessness. And part of that appeal involves being able to call it Wrigley, which has come to represent sunshine, ivy, bricks, blind faith, booze, hookups, elderly ladies with scorecards and the vintage bleachers, the best bargain in baseball even at $45.
Simple question here; how will any of that change if the field is renamed? Will the boozing little old ladies who are hooking up with frat boys that they notch on their scorecards suddenly disappear? Will the Cubs win or lose more if they are not playing in "Wrigley Field"? I doubt it.
Sam Zell, as has been noted by brighter minds than mine, is a businessman. He is also beholden to those wacky people who paid millions upon millions of dollars, along with him, to buy ALL the assets of the Tribune company. And one of the assets he has, that he wishes to unload, is a complementary ad for a chewing gum that makes him, and his partners, no money. However, that view limits us to the real world, so let us traverse back through the pocket mirror for a bit.
Don't tell Sam Zell that. Heck, he was a minority-share owner of the White Sox until recently. What does he know about it? "Perhaps the Wrigley Co. will decide that, after getting it for free for so long, that it's time to pay for it," Zell said.

"The Wrigley Co. doesn't pay anything for the naming rights at our ballpark," said Kenney, the Zell henchman. "We're trying to balance our desire to win, to have a big enough payroll that gives us an advantage. In my perfect world, the Wrigley Co. would step up and start paying for what they've been getting for free all these years."
Well, since the Sox were brought up, we may as well look at how that naming rights sale went for them. The new full name, U.S. Cellular Field, has been truncated by fans to The Cell. The team has used the monies earned to upgrade the park, improve services and options for fans and people still go to the games. Toss in a World Series win and you really don't hear that many complaints.
Plus, I know Cubs fans. If they were guaranteed a World Series victory in exchange for altering the name, there would be no objections to Massengill Field. People would probably replay Ron Santo's enthusiastic call, "He's rounding the douche-bags and headed home ..." for days on end. Hell, there would be sales, in the tens of thousands, of T-shirts emblazoned with "We Feel Fresh on and off the Field."
In typical Mariotti fashion , there are about 15 other subjects tossed into the fray. However, since TomD (who clearly never sleeps) has already started a thread on them, you can CLICK HERE TO JOIN THE FUN!
Evidently Jay Mariotti has just been made aware of the horrific tragic shootings that occurred at nearby Northern Illinois University. After all, it only took two weeks for the back page pundit to actually acknowledge and comment upon a heinous crime that jolted the mid-west.
I must confess to the odd feeling of "where have I read this before" while glazing over Jay's column* earlier this morning. Read and judge for yourself.

The Jay Mariotti Formulaic Method of Proselytizing Over Tragedies
Step One: The Desolate Battlefield
Paint the picture of despair in the present tense as an eye witness account. Also include items of innocence (a child's toy is effective) to increase theatrical value.
Today: Near dusk, the campus was quiet and calm, still numb from the horror. Students were hurrying back to their dormitories through the interminable winter chill, most staring straight ahead, some noticing the cute ducks flipping around in a stream but absolutely none caring to look at the compact, two-story brick building with 19 doors out front, each locked down and covered with cathartic posters.
Dec. 6, 2007: The horror of murder, the vulnerability of 21st-century life, the rush to judgment by look-at-me media, the over-the-top passion of hero worship in sports—it all converged on a cold, snowy evening in the Washington suburbs. Sean Taylor's jersey number, 21, had been painted days ago in the grass outside FedEx Field, part of a memorial where fans placed burgundy-and-gold flowers, photos, teddy bears and emotional messages for the slain football player.
Step Two: Share the Pain
Jay immediately identifies his own "pain" for the reader in attempt to appear human. Undoubtedly the dwarf envisions himself as a cross between a dignified and solemn Walter Cronkite informing the nation that President Kennedy was assassinated and the proud Native-American elder shedding a tear over the loss of his way of life.
Today: Lord, I couldn't look at Cole Hall as I stood beside it, shivering for more reasons than the cold. How possibly can these kids?
Dec. 6, 2007: And I'm still having difficulty absorbing some of what I've seen, read and heard the last 10 days and nights. The reaction has been that bizarre, that sensational, that irresponsible, that disproportionate to the bigger world.
Step Three: The Crime Remembered
Recall the scene of the crime. Here Jay seems to really get a kick out of utilizing Spielberg's dramatic ploy of having the lead character recall the violent carnage experienced first-hand. Consider a mournful Tom Hanks remembering his lost squad while surrounded by his loving family at the military cemetery in Saving Private Ryan.
Today: How can they tidily move on with their lives when a student gunman sprayed bullets in a lecture hall only two Thursdays ago, when they'll hear ambulance sirens in their sleep forever, when rows of flowers and candles and photos of the five victims will haunt them more than soothe them?
Dec. 6, 2007: No, far from the wild gangland speculation, this apparently was a simple burglary gone awry. Four young men between ages 17 and 20—all of whom with prior arrest records, one of whom reportedly had cut Taylor's lawn, another of whom had a cousin who dated Taylor's sister—thought Taylor was out of town with the Redskins and figured no one was home in an affluent Miami suburb. When they found him there, with his fiancee and their 18-month-old daughter, one of them shot him twice in his bedroom, hitting him in the upper thigh.
Step Four: The Lesson Learned
Remind the reader that there are more important things in life than the world of sports. The time tested and proven "keep it in perspective" philosophy is Mariotti's trump card while delivering his sermon to the minio... masses.
Today: To even suggest that a basketball game Tuesday night could create a sense of normalcy is absurd. Nothing ever will be normal again in DeKalb, just as nothing ever will be normal again at Virginia Tech, where 32 people were killed last year in America's deadliest school shooting. But they tried anyway at the NIU Convocation Center, where the Huskies hosted Western Michigan in the first home athletic event since the Feb. 14 shootings.
Dec. 6, 2007: 'Twas the lonely eve of a visit by the Bears, just another game in a dark season for the Redskins. Slowly, talk shows are changing conversations to the shaky future of Hall of Fame coach Joe Gibbs, who needed to be at his sharpest last Sunday in a Win One For Sean moment and blew the ending because he didn't know a simple rule about timeouts. But when the lights turn on tonight, the shooting death of Taylor again will hang over the 91,000-seat stadium.
Step Five: St. Jay's Proclamation of Hope
Jay shares his almighty important message of hope in which we all must rally together and move on with our lives despite our despair. Mariotti is probably soaked with perspiration at this point of scripting the draft while visualizing his acceptance speech at the Lisagor Awards.
Today:
If there is one silver lining, it's that Northern Illinois may unite in institutional strength and resolve.
Dec. 6, 2007: Eventually, everyone will move on. Life works that way, as the chilly, empty scene outside the stadium suggested Wednesday night.
Step Six: Last Thoughts, Credits Roll
Jay notes his final thoughts before heading back to the bunker.
Today: This is life, death, anger and survival. And as I left the arena, on the coldest night of a hellish winter in Illinois, I wasn't thinking about a game.
Dec. 6, 2007: But as I stood there in the snow, taxi waiting, a thought tugged at me: We need to get a grip about athletes, idolatry and the assumption we know these people when we really don't.
Attaboy Jay, keep up the great work of repeating not so great work.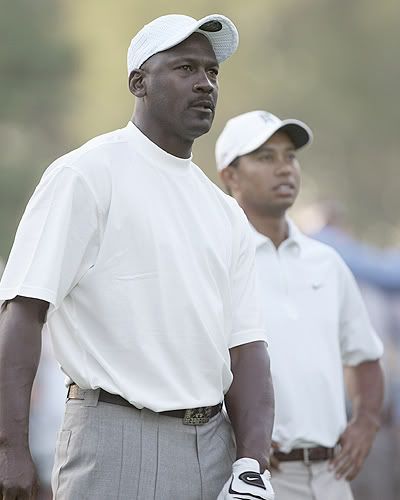 Settled into life as a husband and father, finally comfortable in his skin after 10 public years of trials and trauma, Woods has wrapped himself in a cocoon so impenetrable that we're shocked when he doesn't win. - Jay Mariotti
Jay Mariotti, you are one lazy bastard.
So let's get this "straight", shall we? After a weekend of feigning angst over Indiana's Kelvin Sampson along with the building frustration over Michael Jordan refusing to return your incessant rambling text messages begging for court side tickets to watch Jeffrey, you realized that Tuesday's deadline was rapidly approaching.
"Oh what to write?", you ponder in despair. Well, let us review the options from the past 24 hours.



The Bulls playing well in Dallas last night despite losing Kirk Hinrich as a result of a remarkably cheap game ejection? Nah, lacks a negative angle against Reinsdorf. And much too soon to discuss the Bulls as you are grieving the loss of (Vinyl) Ben Wallace's fine chiseled body.


Mark DeRosa's irregular heart beat? No story for you to relate there, as we all assumed long ago that your alleged angioplasty procedure down in New Orleans was indeed a cover for some other "elected" surgery. Is Mark Cuban also ignoring your emails?


Kyle Orton's contract extended by Halas Hall? The pain must be so "unBEARable" (hah, hah, awesome pun eh?) for you to even discuss the issue.
So what is left? Well that is why indeed God invented....
ESPN.com
!
Being equal parts annoying Chicagoan and pesky Internet Creature, it was a simple matter of curiosity to investigate a suspicion that Jay frantically "borrowed" the concept for this morning's column*. Let's just call it a hunch. And lo and behold, it was not surprising to note the coincidence of Jay's back page rant sharing similarities to Associated Press coverage of the Accenture Match Play Championship (read here) along with the video (same page) of Michael Wilbon laying claim that Tiger Woods may be the "most dominant athlete ever".
Did you really believe that adding a little more MJ while eliminating Muhammad Ali from the discussion would throw us off this trail of deception?
Take the quotes (obtained by the AP) out of the column* (oops, there goes the word count quota) and the Sun-Times reader more or less is left with Wilbon's argument.
"Courage of conviction" indeed. Once again, dear old dad must be so proud.
I once called Mariotti the "antithesis of alacrity." At the time I was referring to the fact that he* Googled a ten year old article to support an opinion that was actually contradictory to an opinion he* had stated in the interim. Confused? Don't worry about it. It is just another shining example of why this site exists.
Today, he* weighs in on the Kelvin Sampson debacle. Clearly, when a journalist waits this long after the facts have occurred to provide a look at the course of events, he has surely been involved in behind the scenes research and conducting in depth interviews. Well, yes, and if we were discussing a journalist everything I just wrote would be true.
So, let's take a look at the insights Jay has provided us today. A complete look at the new information gleaned, the original thoughts espoused, the facts and quotes provided that are not taken directly from any ESPN related site;
**crickets chirping**
BUT WAIT! You cry! Many journalists use this technique to provide an historical basis of the facts and then provide some profundity which us drooling masses may have missed. Okay, I will grant you that. Bob Verdi and Ron Rappaport have made some serious money using that very technique. So, let us delve into the new knowledge and opinions that we have discerned.
**crickets chirping**
So, what do we get today? Well, a nice, and clearly timely, reference to Bob Knight. An admission that a university that has been bereft of NCAA sandals for almost half a century isn't really equipped to deal with this one and is handling it badly. Okay. Granted. And also well documented by real journalists for the last 2 weeks as this mess has unfolded.
We also get a quick rip on NU coach Bill Carmody, an acknowledgment that new IU coach Dan Dakich is not Bobby Knight (which many would see as a good thing these days) and a recap of the game against NU. Whew! I hope you could take all that in.
Yes, he gets paid for this. You, I and several homeless people would be ashamed of ourselves for taking money for this little work. But, to paraphrase the immortal Jiminy Cricket, "What does a journalist want with a conscience anyway?"