First, you must know that curses are real.
The combination of a Cubs curse and SI curse, two of the most notorious maledictions in American pop culture, could be viewed as a supernatural double-whammy capable of causing devastating harm to the ongoing Cubbie dream
Then make a comparison between two things that can't be compared. Even admit it after the fact like a politician saying "(I never claimed) HE BEAT HIS WIFE ...."
During his most recent two-week stay on the disabled list, this time for a right calf strain, the Cubs missed him about as much as, well, the San Francisco Giants miss Barry Zito in the rotation. It isn't fair, I realize, to compare a slow-starting, $136-million Soriano to the $126-million pitching bust that is Zito, who might represent the most disastrous signing in professional sports history.
Then point out the obvious while ignoring the reasons the manager gives for his actions.
As yet, Lou Piniella isn't budging. He has no desire to use Soriano anywhere but atop the order, even though he's known as an innovatator open to any option.
Yes, "innovator" is spelled wrong. Let's get past that. We already know that budget cuts removed Spell-Check from the ST computers.
You see here is where things get murky. While Jay sat in his* bunker, clearly upset that he* didn't get a holiday basket or foot massage or whatever from Soriano last year, Chris De Luca tried this wacky, new, idea that just might catch on. He went and talked to Pinella to find out why Soriano was going to be returned to the leadoff spot.
From this quote;
''We signed him here to an eight-year contract last year knowing that he was as good a leadoff hitter as there was in baseball—or the best because of the power and stolen bases,'' Piniella said during a private moment in the dugout Tuesday. ''What has changed in a year? Last year, he had a few leg problems, and he still hit 33 home runs, drove in 70 runs and just about hit .300. What's changed?''
To this summation;
Sounds crazy, but that's what you get when it comes to Soriano. This is a superstar who performs best in a comfort zone. Remember, he does that little bunny hop before catching flies to feel more comfortable. Hitting leadoff is Soriano's offensive security blanket—something he especially needs now after getting off to such a slow start, then spending the last two weeks on the disabled list.
We get treated to actual journalism. We also get legitimate reasons for the decision. While I may not be a Soraino fan it's not my call or Jay's. The decision rests with that chubby curmudgeon in blue. And the dissemination of his reasons to the public is the responsibility of the person with the note pad. So, thanks Chris for reminding us that not all sports reporters are crazed howler monkeys deprived of their Zoloft.
TomD has already started a thread, so CLICK HERE TO JOIN THE FUN!
Lee Elia - Not safe for work
25 years ago today, Lee Elia went down in sports history with a rant that managed to chastise the very few people who were paying his salary at the time. That was back when the Cubs were just 'the cubs' and not THE FREAKING HOLY COW CUBS!!!! And you have already seen or heard the story so often you know all about it. Or so you think.
But what gets forgotten is how that rant became public knowledge in the first place and what it meant to sports media overall.
25 years ago a vast majority of the people reporting on sports for print used a notepad to collect quotes. It didn't matter if they got them wrong, each and every one would tell you they were right and their memory was infallible. Les Grobstein was more interested in accuracy than ego (he was young then) and took a tape recorder with him. There was a video of the last half of the rant recorded by Mark Giangreco and his crew, but that has been lost forever.
When Les recorded the audio tape of Lee Elia's rant he didn't take it home as a neat souvenir. He got it broadcast. Originally on WLS by Tommy Edwards on the AM and Steve Dahl with Gary Meier on the FM. And it got rebroadcast. And broadcast again and so on and so on. What might have become a "do you remember when ..." barroom staple between sports writers, instead became the stuff of legend. Far from being a silly rumor, it is now on YouTube.
Editors wanted more accurate stories and a shot at catching some more lightening in a bottle. Reporters all began carrying recorders. For good or ill, Les Grobstein changed the whole structure of sports media in print forever.
So, today, 2 and a half decades later, we get to honor Les Grobstein not only for this accomplishment but for all he has meant to the Chicago sports' community throughout his career.
Les, we here at Jay The Joke tip a frosty cold, adult, libation in your honor. And where ever it is you are right now, we hope you join us.
For everyone else, CLICK HERE TO JOIN THE FUN!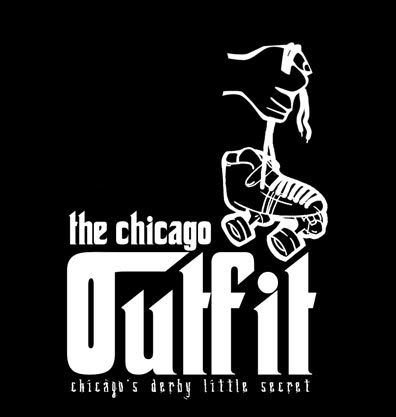 Jay plays GM for the Bears today. He disagrees with every move they made and makes it appear as though the team is being run by pack of, half dazed, drooling morons. So, based on his* opinion, I figure they'll go 12-4, make the playoffs and have a great year.
Now, on to the cool stuff.
Chicago is a sports crazed city. Granted, over the years the fans have learned civility and decorum, but underneath it all in each fan there beats the heart of true competitor. And no sport shows that more accurately than Roller Derby.
You're laughing, I can hear you. But, hear me out for a minute and give me a chance to change your mind.
Chicago is home to the Windy City Rollers. Their matches are usually sold out or close to it. Their fans are rabid. Their teams are fierce and, this is the good part, they do it because they love it. No other reason. Forget the "Kansas City Bomber" crap and Raquel Welch, these are real women, many housewives, who strap on their skates and beat the living hell out of each other for the joy of ... well, for the sheer joy of beating the living hell out of someone.
I can relate to that and I bet you can too.
While not a staple of the mainstream media, yet, alternative publications have been raving about this sport for a few years and justifiably so. It is sport at its purest. The blood is real. The pain you hear, and you will HEAR the pain, is real. The excitement you see is real. The women on the rink are real. No preening, no pandering, no fluff. Just honest to God competition at its most base and pure.
I should also note that these ladies are good. Last year the Windy City Rollers competed for the national title. Had a couple of breaks gone their way I think they could have won it. This year they stand a serious chance of taking it all. If you go see a match you will not be seeing some prima-donnas on skates, you will see hard hitting athletes who are very good at what they do. Think of it as a tonic for wrestling (pro variety) and you get the idea. Nothing here is scripted. Nothing is guaranteed.
In fact, due to the popularity of the sport, there is now a second league in Chicago, called The Chicago Outfit. I have had the pleasure of meeting a few of the teams and assure you that the competition level is just as high in this league as it is in WCR.
So, while our pro sports teams continue to get better and better (yes, I even hold out hope for the Bulls), I thought you might enjoy a peek at a growing new sport that this city can proudly claim as part of its legacy.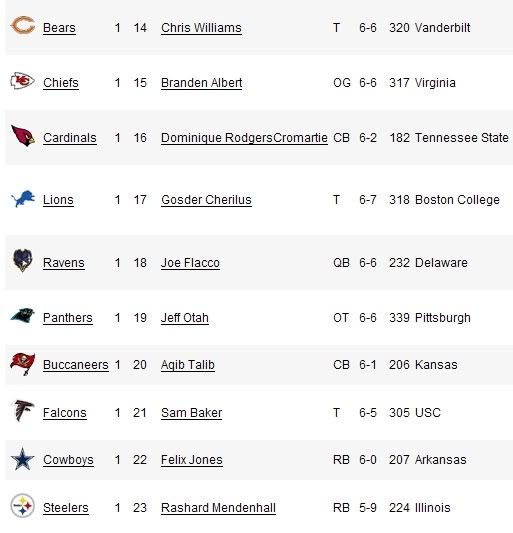 That's because Angelo, on an afternoon when numerous teams traded up to land their desired targets, passed on a possibility to trade up for Rashard Mendenhall in the first round and draft one of two talented quarterbacks in the second round. When Mendenhall began to tumble from the top half of the opening roll call, Angelo and Smith were still in the auditorium, yapping to the media about Williams when they could have been plotting to pull a 2-for-1 that could have led to a 3-for-2. - Jay Mariotti
If Jay Mariotti weren't a Chicago Sun-Times sports columnist*, he'd be a feminine hygiene product tester (you're welcome David). Or a chauffeur for Lance Briggs. Or a cosmetic evaluator to spare pigs. Or a towel boy for Ozzie Guillen. Or a beach ball for the bleacher bums to kick around. Or perhaps most deservedly, Brian Urlacher's bitch.
As suspected earlier in the week, the back page malignant dwarf (haven't used that one in awhile) bandied about the name of Rashard Mendenhall, knowing full damn well that the Bears were hellbent on drafting an offensive tackle.
Why?
So when Jerry Angelo accomplished his mission to begin rebuilding an aging and oft-injured offensive line with the first pick selection, Jay pressed "send" to ship off this pre-cooked drivel over to the Sun-Times and call it a weekend.
And by the way, the Bears were not the only team to pass on Mendenhall. Twenty-one other teams did likewise as well.
Evidently, Jay has scrambled back onto the Fire Jerry Angelo bandwagon (despite an earlier proclamation that he would give Angelo another opportunity to rebuild the team) and today's column* is simply the first rant of many more to assuredly follow. A couple of season's ago, Jay professed to giggling at the thought of the general manager listening to Eagles songs (yes, I know it doesn't make much sense but that is what he wrote). Quite obviously, Hotel California for Mariotti has gone out of business.
The column* consists of an incredibly amount of hyperventilating raving that Angelo should have done a little wheel dealing and secure more first round draft picks. The bizarre suggestion that the Bears trade up for Mendenhall doesn't ring any bells of common sense considering the Bears had the 14th pick while the running back was finally selected by the Steelers in the 23rd spot.
Of course, Jay upon review (a frequent visitor to our little blog who "borrows" minions, blah, Marissa Miller references, etc.), will realize his folly and lamely cover up his sloppiness by suggesting that he really meant the second Bears pick that should have been exchanged for uhhhh.... another first round pick?
Whatever Jay. It is obvious that when Angelo was wasting all that time with your house reporter colleagues (actually doing their jobs), you were too overtly concerned with the irritating rash developing between your legs from that new Kotex pad. Understandably, attempting to add logic and dare say any actual scenario involving teams and players in your demands for Angelo "trading up" to garner Mendenhall was the least of your concerns at that discomforting time.
Mariotti closes today's tirade with a short little sentence implying that the Bears could have done more with their top draft picks. How nice of Jay to write off these kids a few hours after being drafted, especially Matt Forte.
Perhaps Jay should address his own underachieving, lazy habits before criticizing others. Such as the ability to count and read a draft sheet.
Time to change your pad, Jay. And career.
Forsooth, forsooth, attend me peasants, for I have a tale to tell. A tale devoid of rhyme, reason and meaning, but my tale ne'ertheless. This is the tale of the Miser of Mariotti-land (still be it known as the world's worst amusement park and not safeth for children of all ages) and his* quest for the words that make up a witticism.
Yea and verily did he* venture forth from the Bunker of Love into the land of Nicketh and Nameth. Thereupon did the Prince of Purple Prose set his* dainty foot upon the soil and proclaim "I am the scribe of the gods, worship me and I shall attempt to spell your name correctly." And, lo, did the many around look down to see from whence the tiny voice came and then set upon their daily chores heedless of the garish gnome.
Undaunted, the Diva of the Dwarves set forth into the town shops to find the words he* needed. The first shop belonged to one Sir John of Stewart. Inside were many people laughing and cavorting. But, upon review, he* realized he* knew not from whence the references came nor what they concerned. This was not the shop for him*.
Then he* came upon a shop owned by Chriseth of the Rock. Again the interior was filled with many happy voices and much laughter. However, upon seeing the shopkeeper he* ran squealing into the square. Clearly any man that dark had not bathed in years. He* was revolted.
Nearing despair, he* saw one lone shop at the end of an alley. Since the shop was silent and only attended by a few dirty urchins he* thought to pass it by. But then he* saw the sign and knew that this was where he* could get what he* needed. Ye Ol' Shoppe of Schoolyard Taunts - Grades 2 through 4.
And thereupon did he* find the witticism he* could hurl (from a safe distance) at a 300 lb man who could bench press a wagon load of gypsies; Sir Lance-A-Lot! And, for good measure, he* also bought Sir Lance-A-Not! Yes that dancing bear, Lance Briggs, would be duly chastened by this magnificent manifestation of mirth.
And now, with this mission accomplished, he* set forth to write off, on the Queen's taxes, the six pence he* had spent and dream of some prime Urlacher booty.
The Endeth ....?
As painful as that was to read for you, I assure you that today's offering from Chicago's Cut and Paste Queen is even more so. At least this had a topic, a minor item that he* misses completely today. And, since our Dancing Dervish of Dyssomnia, TomD, has already started a thread, you just have to CLICK HERE TO JOIN THE FUN!