On the one hand, I am mildly impressed. Not a single quote from a television commercial, not a single slam on Rocco Mediate for shagging the final putt that would have won him the tournament, not one comment about the nude beach just off the golf course. There was not even one moment of truly uncomfortable man love that has permeated the last few columns* on Tiger. The restraint shown today is admirable.
On the other hand, there is not a single quote that wasn't actually given to a different reporter, not a single insight that wasn't seen on TV, not a single thought that wasn't predicated on the work of others. Given that the article* appeared online prior to the paper even making it to print, you can rightly assume that not a lot of thought or work went into it. In other words, there is a whole lot of nothing here today.
However, we did get this one bizarre bit of insight that must have a lot of people scratching their heads this morning;
Only Mediate, who last year was working as a Golf Channel reporter after a back injury nearly ended his career, had the onions to challenge Woods.
To get to that epiphany he* had to rip all other golfers who failed at this tournament. It took him* a while. But, "onions" ? Not guts nor courage nor talent nor cajones nor any other word. But, "onions"? In the hallowed Land of Compliments, this is one of your lesser ones.
Oh, and we get treated to the word "gimp" for the fourth day in a row. Speaking as someone who walks with a slight limp and can not run, from a surgery years ago, I have a very clear understanding that this particular word is not a compliment and rarely an accurate adjective. However, I guess cripples now join rednecks in the pantheon of 'People Approved for Ridicule' by the Sun Times' editorial staff. Something tells me that the Sun Times' Ethics Handbook would give pause to the creators of South Park.
Nevertheless, congratulations to Tiger for winning his 14th major. That is a stunning accomplishment. Also, our heartiest congratulations to Rocco for insuring that he can be a golf pro at any course in the world or a highly paid analyst on any sports' show that deals with golf. No matter what he chooses, he and his family are now set for life.
TomD Tom Tom, as my wife inexplicably calls him, has already started a thread, so CLICK HERE TO JOIN THE FUN!
Chocolate Salty Balls - Maybe Safe for Work
I was unsure where to begin today. He* has given us so much to work with that it is mind boggling. I mean, do we focus on the fact that he* seems hopelessly enamored with the local scenery which, as has been noted before, includes a predominantly male nude beach? Do we focus on the backhanded, and wholly unnecessary, rip job on Rocco Mediate who suffers from the pernicious malady of not being Tiger Woods? Do we focus on the post match interview that was broadcast on TV, which is also where the Nike ads, that he* fawningly mentions, were shown? Do we focus on the fact that to have seen these things he had to be in a hotel room watching TV and not at the actual match? Do we focus on the fact that Woods' deceased father has now gotten more pub from Marrioti than he did while alive? Actually, that one should be relegated to a therapy group as there are a whole host of issues tied in there.
Like I said, far too many choices.
But, intrepid blogger that I am, I finally settled on one theme. It wasn't that difficult when I re-read the previous blogs from Tyrone and me. It all became clear. Tiger Woods has moved up on Marriotti's check list to his* #1 person of color. And to prove it, he* finally belittles one legendary Michael Jeffrey Jordan achievement; he* makes fun of playing professional sports while suffering from food poisoning.
Historians can comfortably compare this to all the valiant entries in Sports Ailment History—Kirk Gibson's limping home run, Michael Jordan on bad pizza, Willis Reed returning through the tunnel. I suppose he could just collapse at some point, but knowing Woods, he'll wrap his arms around Williams and limp from shot to shot if necessary.
Well, then, all that print he* wasted making fun of Casey Martin kind of goes to waste, doesn't it? Oh well, consistency is certainly not a hobgoblin residing in Casa del Flip Flop.
The rest of the article* is so over the top and devoid of context that one wonders when Tigers' legal team will be taking out that restraining order. Sooner, rather than later, I hope. If not for Tiger's sake, then ours.
If nothing else, as the video above attests, we now know what Mariotti wants for dessert.
TomD, he who can be named, has already started a thread, so CLICK HERE TO JOIN THE FUN!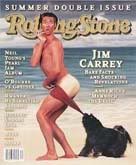 As Bill astutely noted in yesterday's excellent synopsis of Jay Mariotti's most recent Tiger Woods opus, it cannot be helped but inquire if a certain nearby beach has distracted the back page pundit from his duties.
A suggestion for Editor Michael Cooke would be to summon Jay's intern for the special assignment of investigating the tan line on Monday.
I know, I know, I know. Gross.
As always with the golf majors, Jay's adoration for Woods comes across on these columns* as a weird hybrid of obsessive seductive love sonnets intertwined with superhero worship. And of course, that only applies when Woods is in winning contention. As we've seen before, all bets are off when Tiger is simply ordinary among his peers.
After Woods' somewhat unspectacular first round of this tournament, Jay in his ever so subtle famous tone, implied that Tiger's career was in peril from his much ballyhooed surgically repaired knee and promptly labeled the golfer a "gimp". This was in no doubt much appreciated by Sun-Times paying subscribers facing their own disabilities and daily health challenges.
And Jay has more or less heed and hawed over Woods' "gimpy" left knee for the past three columns* while intertwining the obligatory Associated Press available quotes from the tournaments participants, including Tiger Woods.
And we here at Jay the Joke can only help but wonder if Mariotti has other matters on his mind that include a lot of sunscreen lotion and rubbing.
"Bare" (yes that is deliberate) witness and behold Tiger's wounded knee!
June 13, 2008
When he clenched his teeth in full grimace on the 18th tee, this after crushing a drive lovelier than the blue ocean below, I was struck by a shivering thought: Is Tiger Woods actually getting old like the rest of us?

He has had three surgeries on his left knee before his 33rd birthday. The latest, performed two days after the Masters, left him in more pain than he or anyone else imagined Thursday in his first competitive action since the mid-April procedure. When he swung ferociously in the opening round of the U.S. Open and applied torque to the knee, his mechanics looked out of sync. He is taking painkillers and anti-inflammatories, doing daily rehabilitation with ice packs and making regular visits to a whirlpool. His walks down the fairway, once so commanding and approaching a swagger, now were stiff and flat-footed.

I kept waiting for someone to yell, "You Da Gimp!"

It's likely he will be fighting a knee problem for the rest of his career, which conceivably could slash years and majors from his final record.

Now he's encountering physical challenges that the average 30-something hacker faces, making us wonder if winning his next six majors and passing Nicklaus' record will be more arduous than expected.

Did he tweak something on No. 18? "Didn't feel good, no," he said.

And is the knee hurting now? "Ummm-hmmmm," said Woods, leaving no wiggle room for any media quacks who want to claim he's pulling a Paul Pierce and embellishing the injury.

His knee may be wounded, but his indomitable spirit remains.

For his next challenge, how about conquering knee surgery and a two-month absence? Along with the pain, Tiger will have to battle four-day fatigue on a typically torturous layout, by far the longest in U.S. Open history.

This is an injury situation.

Besides, wasn't he playing in pain at the Masters?

A rookie dreams, a legend limps. Amid the canyons of California paradise, life marches on.

June 14, 2008
And in the epicenter of the MMA-meets-USGA vibe was, of course, the Tiger of Woods, whose surgically repaired left knee suddenly didn't ache as badly, not as he drilled home putts like darts hitting bull's-eye cork.

He shot a magnificent 30 on the back nine, leaving him one shot behind leader Stuart Appleby and forging the staggering impression that he could win the U.S. Open after knee surgery and a two-month layoff.

The left knee still hurts, Woods says, but it appears it won¹t be a debilitating impediment.

In fact, when someone asked Friday night if he'd just been in "a zone," he didn't at all dismiss the concept. Imagine, being in a zone in your second competitive round when you hadn't walked a full 18 holes before Thursday.

And that wounded knee. Is it no longer any issue?

Prepare yourself for more Prime Time Tiger tonight and Sunday evening, with the added drama of a warrior overcoming a knee problem.

Davis Love III, who is making his own impressive comeback this week, gave us a lesson about the Woods knee.

Like he was never was on an operating table.
June 15, 2008
The knee buckled, as we knew it would, forcing Tiger Woods to double-over in pain and America to recoil and gasp.

When all of us wondered if the leg might collapse and the ambulance would whisk him away to DQ land—and I don't mean Dairy Queen—he simply ignored the pain.

We smiled along with him, too. Because we're watching something we'll never see again, people. On a bad knee that would have most golfers still stuck in rehab, much less the rest of us stiffs, he's making stupendous shots and finds himself within limping distance of his 14th major title.

If this man somehow wins today when he obviously wasn't ready for 72 holes of rigorous walking, you may consider it one of the craziest things you've seen in sports.

Make no mistake, he is in excruciating pain. He has been taking painkillers and anti-inflammatory pills and soaking the left knee in ice, but it's when he blasts the ball that the knee tortures him.

It's the story of Woods' epic career that he is able to come off an operating table, shake off a two-month absence after knee surgery and take the third-round lead at a major.

And deal with the pain. Is he worried that the knee won't hold up today, on his fourth afternoon of walking, when the rigors of golf's most strenuous test might catch up to him?

But if Tiger wins the Open while walking 72 holes on a gimpy knee—when he hadn't walked more than nine at a time before the event—well, you can tell your grandchildren about it.
Of course, in his typical notoriously lazy fashion, not once does Jay bother to inform the readers (are there any left?) what exactly is wrong with Tiger's left knee other than references to it being injured and recently surgically repaired. That seems somewhat paradoxical as the surgery should have repaired the injury. Tiger simply has not allowed enough recovery time to pass for the post surgical pain to subside and may in fact be re-injuring the knee by playing right now. However these are the compromises all professional athletes face when plying their trades, and Tiger's resiliency is indeed admirable. Just not sure if building a pyramid in Woods' honor and declaring him an immortal deity is really warranted in an era when such athletic heroism is always rewarded with millions as financial compensation.
A more worthy effort than scribing Iliad II , would be investigating and reporting back on the amount of damage sustained to the knee over the years. Readers might be surprised to learn that a benign tumor was once removed. Interview an orthopedic surgeon for an expert opinion on realistic expectations on physical performance of a knee so recently scoped. Why not pop a call to Dr. Rosenberg who actually performed the operation? Snoop around and ask other golfers for first hand testimonial to playing golf in pain. Mariotti came close with the Davis Love bit but stopped prematurely short. Tiger must've sneezed or scratched his ass and Jay needed to be there to mark the historic moment.
Evidently, the consequential seriousness and gravity of the knee injury mounts as Woods has closed in on winning this tournament. After all, in Friday's column*, Mariotti deems that the injury is the stuff that every 30 something "hacker" endures. However later on, (and as Woods climbed near the top of the leaderboard) this was an injury that supposedly no other golfer could endure, let alone contend for the US Open.
Whatever Jay. Enjoy another day at the beach. And should Tiger win today, just be cautious that the golf course does not fall off the cliff and thunder down upon you while face down, ass up in the sand.
If Torrey Pines seems like the edge of nirvana, surrounded by cliffs and water and a nude beach (binoculars can verify this), ...
The image above is a promotional picture taken for Black's Beach just next to Torrey Pines where the US Open is being held. Black's Beach advertises the usual nude recreation activities such as volleyball, Frisbee tosses and backgammon. I guess the latter is for the more sedate members.
However, as you may have already noted from the image above, there is not a lot of estrogen to be found there. We here at Jay The Joke discovered this fact without the aid of binoculars. Let's face it, if you drop the phrase "nude beach" into a frat house mentality like this blog, you and I both know that Google is going to get used a lot. And, despite some initial research to the contrary, it soon became apparent that Black's Beach is, to be polite, a sausage fest.
This column* today lauds Mariotti's second favorite person of color behind Michael Jordan. Sorry, bad imagery. Let me try that again. Today's column lauds Mariotti's second favorite person of color, it's a very short list, and focuses on the masterful performance of Tiger Woods.
That would be great if we were talking about golf.
This was the night when golf discovered its inner dude, the night it turned way-cool, the night it went prime time and steel cage on us.

And in the epicenter of the MMA-meets-USGA vibe was, of course, the Tiger of Woods, whose surgically repaired left knee suddenly didn't ache as badly, not as he drilled home putts like darts hitting bull's-eye cork.
So, we now get to compare Tiger Woods to Mixed Martial Arts. A new sport* that has scantily clad men locking their legs around other scantily clad men and claiming to be a form of wrestling. When I was in High School and boys wrestled like that they got sent to counseling. On the other hand, my wife and her girl friends love that sport*.
He* wanders around several subjects, borrows some quotes from Nike, dismisses Kevin Streelman's accomplishments as meaningless when compared to Woods' and so on. Even though the guy vaulted over 700 positions in just one week in the international golf rankings. Way to suck there Kevin.
Okay, seriously, our heartfelt congratulations to Kevin for that, his recent marriage and his involvement in helping a young child suffering from cancer. He is a much bigger winner in life than our closeted Cut and Paste Queen will ever be.
TomD has already started a thread so CLICK HERE TO JOIN THE FUN!
Three days ago the credible facets of modern sports media broke the story that Tim Donaghy, a former NBA ref who pleaded guilty to gambling and other charges, claimed in court documents that he was not alone. He then went on to list a specific series that he claims was tampered with at the behest of the NBA and levels several other damning charges.
As I said, that was three days ago. But these memos take longer to get to Mariotti than they do actual journalists. So today we are treated to over the top hyperbole claiming the entire NBA is suspect. Or at least, games that matter such as the playoffs.
Who knows? He* may even be right. However, it won't be because he* put any effort into this. His* entire column is filled with un-attributed quotes from other news sources and, more than just a little of, the Associated Press story released on June 10th.
However, unlike the dry facts and journalism in the AP article, today we get a grammatically tortured reference to "A Few Good Men."
But I'm afraid Stern might be living a movie line made famous by a courtside Lakers fan, certain Jack Nicholson.

He can't handle the truth.
I guess Mariotti does serve one purpose in life. All you have to do is wait three or four days after something happens and he* will give you a synopsis of popular opinion without cluttering things up with journalism and stuff.
He* could serve as the poster child for a "Media for Dummies" series. Or maybe, "How to make money off of the work of others!" Whatever his* purpose in life may be, it certainly has nothing to do with credible journalism.
One of our favorite posters, TomD, has already started a thread CLICK HERE TO JOIN THE FUN!