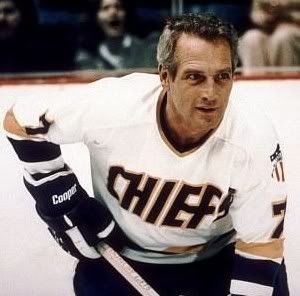 How does one put the appropriate words on paper (or in this case, type on a blog post) that measure up to the standards and principles lived ever so extraordinarily by Paul Newman?
A rather tough chore indeed. After all, we are discussing a true American icon. And one that far transcends the perhaps superficial surreal atmosphere of Hollywood.
Paul Newman.
God bless you good sir.
Loving Husband and Father.
Philanthropist.
Sportsman.
Entrepreneur.
And oh yes, least we mention a splendidly talented and humble actor.
Paul Newman defined grace and class. Assuredly, he must have been self-aware of his multiple talents and cautiously chose dignity and statesmanship over the flash and dash of some of his other paparazzi sought fellow actors. Too bad so many others from a younger celeb hungry generation fail to follow the same path less traveled as Newman.
As always, the dependable Roger Ebert recalls meeting Newman:
I met him several times, most memorably in 1968, on the set of "Butch Cassidy." Yes, his eyes were blue. Very blue. He was genial, relaxed; it felt more like hanging out than doing an interview. Between scenes, he held court in his trailer, sometimes sipping a beer. He was not closed-off and self-protective like many superstars, not seeming overly impressed with himself. One reason he and Woodward lived in Connecticut, he often said, was to have a more normal life than was possible in Hollywood.
Perhaps most impressive of Paul Newman's acting career is his multiple genres of films that equally impressed upon multiple generations of fans. The following list may not reflect upon Newman's finest work as an actor (such a task is far more suited for an expert such as Roger Ebert) but definitely impacted the Briggs household past and present.
And without further ado, the most memorable six Paul Newman films cherished by the Briggs family for perhaps nothing more than sentimentality and fond memories of family bonding.
Cool Hand Luke: A true classic and a daring role of the ultimate anti-rebel/rebel duality of the imprisoned lead character. Luke fought the law and the law ultimately won. Some images such as those silver mirrored glasses worn by the man and the "What we got here is… failure to communicate" line are permanent fixtures in cinematic lore. This film is only one of a few (The Godfather and The Godfather II are the others) that force me to sit down and watch in its entirety whenever on the AMC channel.
Slap Shot : For better or worse, its portrayed violence is permanently ingrained as being synonymous with ice hockey. Perhaps the ultimate cult classic movie of all time. Undoubtedly the dynamic Hanson trio are still wowing audiences somewhere in northern Manitoba. Lost in the glorification of 70s fighting stylized minor league hockey is the simple truth that this is a terrific sports movie made possible by the strength of Newman's portrayal of Reg Dunlop. I remember watching Slap Shot for the first time as a young kid and being mightily impressed by the Hansons' first shift along with Denis Lemieux's unforgettable television interview explaining the fine art of stick work.
The Color of Money: Purists will argue that this film pales in comparison to The Hustler. And I have no doubt that they are absolutely correct. However, I will always remember Newman's reprisal of the Fast Eddie Felson role as being the first Martin Scorsese film I watched. The blues soundtrack accompanied with the pool playing uniquely captured as only Scorsese could, made myself a life long fan of both the blues and Scorsese directed films. Extra props to Newman for completely stealing every scene from the dorkish Tom Cruise as well as coolly toying with the young vamp Mary Elizabeth Mastrantonio.
Butch Cassidy and the Sundance Kid: My parents loved this film dearly. Dear old dad had the ability to recite every single line and was mightily impressed with himself when he purchased the VHS copy of the movie. As for my mother, she absolutely adored the bicycle scene with "Raindrops keep fallin' on my head" playing softly in the background. It took me awhile to appreciate the action sequences of this film. However, no film brings back the childhood memories of my parents as this one.
Road to Perdition: I believe this was Newman's last performance on the big screen and was a memorable masterful one at that. The tragic tone of the entire film never lets up as the story details the relationships of different sets of fathers and sons intertwined in an inescapable criminal outfit. The dialogue between Hanks and Newman is understated yet perfect, as if both already understood the significance of their shared screen time in the twilight of Newman's career.
Cars: The axis of my world revolves around my wife and kids. My eldest son's brand spanking new bedroom is decked out with a Cars theme. The absolute joy this film brings to Briggs Jr. melts his daddy's heart. Newman provides the voice for Doc Hudson and patiently mentors his student Lightening McQueen life lessons far more meaningful than winning and losing. A terrific animation film that I will enjoy with my two boys over and over again for the next several years. It was also gratifying to see Newman end his tremendous acting career with such a positive and upbeat film rather than Road to Perdition.
A thread has already been created in order to celebrate Paul Newman's life. Feel free to join the discussion and share your memories.
This was supposed to be the year. 1906 revisited. The North and South sides meet in the World Series and battle for the real title, not just bragging rights. The Minnesota Twins did their part by playing Kansas City and getting their butts handed to them by a young and hungry team. The Indians and the Tigers had already done their part by having crappy seasons.
All the Sox needed to do was win a game or 2. Three would have been nice.
Instead they went to Minnesota and got swept. They stand today on the precipice of being swept by Cleveland. If the Twins win today and the Sox lose, there is no need for a makeup game. The Sox will be out of the playoffs.
Magic number or no magic number, they will be done.
And that is a shame.
Picked by many pundits to finish fourth or worse, they have had an incredible season. Injuries? They laughed at them. Lack of hitting, timely or otherwise, they found other ways to win. And, here, at the very end of the season, all that work, all those efforts, are set to pay off. The Sox could go to the playoffs and tell all the nay-sayers to go to hell.
As MLB Columnist David Just noted, it was all there for the Sox.
Not to oversimplify what shapes up to be a somewhat complicated finish in the American League Central, but the division crown really was there for the taking for the White Sox on Saturday night at U.S. Cellular Field.

Consider the following. The Twins (87-74) already had suffered an inexplicable second straight loss at home to the Royals before the second inning of the White Sox contest against Cleveland was complete. That news came 20 minutes or so after word that AL Cy Young front-runner Cliff Lee was scratched by Cleveland from Sunday's start with neck stiffness and replaced by journeyman hurler Bryan Bullington. - courtesy MLB.com
So, here we are; make or break; do or die, win or stay home .... pick your cliche.
This is the part where I, as a Sox fan, am probably expected to say things like "Well, they gave it a hell of a ride..." or "No one expected them to do this well, so let's count our blessings and ..."
Instead, I have just one thing to say; WIN THE GOD DAMN GAME WILL YOU?!?!
Okay, you can go back to your regularly scheduled Sunday now.
CLICK HERE TO READ EARLIER PREDICTIONS OF SUCCESS AND THEN CRY.
I normally don't wander into political waters. They are too fraught with rip tides and constantly swimming predators. But, today, I am going to make an exception.
One of the things I have always liked about this site is that the bloggers here - for the most part - wear their politics like their religion; in their hearts and not on their sleeves. It is an attitude I can respect and admire. However, across the board, republican and democrat alike, they have let it be clearly known that the City's attempt to ban sales at bars after the 7th inning of a Cubs' playoff game is the most stupid idea they have heard.
And they are right.
There are three immediate possibilities that can come into existence and a fourth that could play out later and cost everyone dearly.
First; the bar owners could grant the same respect to this "request" that citizens once granted to Ald. Natarus' attempt to diaper horses. They could stay open, serve right on through and fight the city in court. Oh, just FYI, after the City spends a few million of our tax dollars, the bar owners would win. Unfair Restraint of Trade would be the smallest issue before the court. The City has not taken an action like this when the Bears, Bulls, Sox or even last year's Cubs, have made the playoffs and they do not have history or the Law on their side in this argument.
Moreover, the Northside liberals have routinely backed the Mayor's, and the City's, efforts to enforce laws against legal behavior. That will come to a screeching halt when that slippery slope they helped build leads to them. They may be snooty and shortsighted, but they are also rich and extremely powerful.
Second; the bars could acquiesce to the City's "request" and close for an hour or so. The consequences of this great idea are obvious, and a nightmare for the police. Just imagine tens of thousands of drunks hitting the road at the same time while the game is ongoing, headed for open bars that are only a neighborhood away and you will see what I mean. Between the traffic and potential accidents alone, I see nothing but bad things happening there. If you want to see a cop start making funny burbling noises, ask them what will happen if, 2 hours later, those people decide to come back.
I would not blame the department one bit if "Blue-Flu" was rampant those nights.
Third; common sense could prevail and the City could back off this "request" and ..... oh, who am I kidding?
The fourth option, blithely tossed out by our Mayor last night is the stupidest one yet. If he doesn't get his way, he is willing to assist the nascent Northshore Prohibitionists in getting Wrigleyville voted dry. The impact of this brilliant move would be felt immediately and painfully. The owners of the Cubs, whether new or current, would no longer have a reason to try and fix the world's largest urinal. They would turn it into a parking lot and move the team to Schaumburg or Gurnee - two locales with the infrastructure in place to handle the commercial impact the Cubs would bring - and that would be the end of millions upon millions of steady tax dollars for the City.
In a City already over burdened by taxes, loss of services and bourgeoning scandals, what could possibly go wrong if that happened? I mean besides plummeting property values in and around Wrigleyville, a mass exodus of wealth to the suburbs and minor stuff like that?
Hino, which rhymes with wino (oddly enough), has already started a thread, so CLICK HERE TO MAKE YOUR VOICE HEARD!
The following has been posted on THE CHICAGO READER'S BLOG and was originally posted on THE BIG LEAD by Rick Telander. There has been much commentary about what it could all mean, but it seems pretty clear to me. Simply put, Rick "Bitter old Man" Telander has decided to get in the last word on the issue of Jay "Watch Him* Recede into Nothingness" Mariotti. Here is the entire post from Rick.
One: If PeeWee Herman hates you, is that bad thing?
Two: Remember these names: Jayson Blair, Stephen Glass, Jack Kelley, Janet Cooke. Does anybody care about Mariotti's fake date lines, stolen quotes, false scenes, etc.? Anybody?
Three: ask Rick Reilly what he thinks about this hair-dyed and eyebrow-plucked creature.
Four: Put this bitter old man in a room with the yapping fraud, close the door for five minutes, and bring a broom.
Love, Rick Telander
The only thing I might disagree with is Rick's broom statement. I am sure that a mop would be more appropriate. The Chronek has already started a thread on this, so CLICK HERE TO JOIN THE FUN!