Andrea: Unhappy the land that has no heroes!
Galileo: No, unhappy the land that needs heroes.
Unequivocally, Roger Ebert transcends being the world's most famous and respected movie journalist. From time to time, Jay the Joke has wrote of Roger's courage and impact on the newspaper industry. Well worth the read for your Sunday morning enjoyment.
The man is simply one of the finest human beings ever to place an imprint on the character of this city. Yes, he is a tremendously honest writer and critique of movies. And on more than one occasion, he has also admitted to perhaps being wrong on a few of those movie evaluations. Questioning one's opinion is fair game, after all that goes with the job of being a critique. However, Roger's genuine love and passion for movie is indisputable. And that is why he is revered in the entertainment industry.
Despite medical challenges that would defeat and crush the spirit of lesser men, Roger continues to demonstrate courage and bravery by refusing to quit. He continues to inspire others by refusing to give up what he loves most. And that being of course, attending movie premieres and offering his opinions in print.
Thyroid and salivary gland cancer may have claimed Roger's ability to speak. However, this terrible illness has failed to dissuade Roger away from his keyboard. Nor has it claimed his will to travel and be on the scene. Physical appearance and challenges be damned, Roger is still front and center at international film festivals and red carpet openings.
Simply put, the world is a much better place with a Roger Ebert column appearing in the Sun-Times a few times a week.
A cancer benefit was held in Roger's honor. True to his character, the event was reportedly a fun-filled, life celebrating gala, enjoyed by 400 participants and nearly a million dollars was generated for medical research. Susanna Homan covered the party and obtained a terrific sound bite from a physician with personal knowledge of Roger's bravery during his treatment:
"Roger actually wrote the 'Sex and the City' movie review from our hospital," said Dr. Joanne Smith, president and CEO of the institute. "This goes beyond survivorship. If there was a word called 'thrivership,' then we could coin it. His ability to flourish is the embodiment of our program."
Too often columns of heroism and goodwill are pushed off the pages for negative events. The preservation of humanity apparently undersells when compared to its destruction.
Roger Ebert shines because he continues to show up and do his job which also serves as his life's passion. That is something we can all emulate. Life throws unexpected curveballs. The strong persevere and move forward while the weak quit and hide under a rock.
Thanks for continuing to remind us what life really is all about, Roger. You are the best of the best. God bless.
Carlos Zambrano just has a minor, little, itty bitty, problem with his rotator cuff. Since there has never been a Cubs' pitcher who has had an injury underestimated, there is nothing to worry about here.
Carlos Quentin just needs a little surgery on his wrist to make everything all better. What's one tiny screw holding together your wrist bone really mean anyway? If they needed 2 or 3, I might fret.
Rich Harden isn't broken or tired, he just needs to heal and get some rest.
Joe Crede doesn't have any problems with his back, he just needs help lifting his socks off a desk.
Jason Marquis, who just got a memo on what the phrase "strike zone" means, is your new savior on the North Side.
Ken Griffey, Jr., who may be eligible for membership in AARP, is now your featured outfielder on the South Side.
Everything's just fine.
But, just in case you are still a little overwrought, I am here to help.
Here is a stress management technique recommended in all the latest psychological texts:
Picture yourself near a stream.
Birds are softly chirping in the crisp, cool, mountain air.
No one knows your secret place.
You are in total seclusion from that hectic place called "the world."
The soothing sound of a gentle waterfall fills the air with a cascade of serenity.
The water is clear.
You can easily make out the face of the person you're holding under the water…
... there, now.....
aren't you feeling better?
Okay, CLICK HERE and make a pretty picture. It will help.
Today the Sun Times features 2 articles about Carlos Zambrano's arm. The back page is by Greg Couch and the insert is by Chris De Luca. When this sort of thing happened before, our front page was a breeze to write. De Luca would have a solid article based on facts, interviews and solid reporting. He does not disappoint today. The back page would usually be a train wreck.
But, today, the surprise comes from the back page.
Before we get to the topic at hand, allow me a moment to catch you up on some events that were talked about in the forums, but not out here. When Couch was in China he began filing stories that were very different from his usual oeuvre. They were short, to the point, involved actual interviews and insights gleaned from first hand observation and each and every one was hyperbole free.
My guess was that being trapped on a plane for 12 hours with Jay caused Greg to have an epiphany. One of those, "Dear God, do I REALLY want to be like that?" kind of revelations. You can almost see the light bursting through the clouds accompanied by the sound of an angelic choir.
Today, Couch and De Luca tackle the same issue from 2 very different points of view. Couch looks at the Cubs' history of lying about injuries and, while occasionally whiny, does a solid job of pointing out that nothing is as it seems when the Cubs call a press conference related to a player's injury. De Luca seems to point out that he has information that could lead one to believe that Zambrano may be out for the season and then explains how that could affect the Cubs' chances in the playoffs. If De Luca believes it, I pay attention.
Both points are valid and both are bolstered by Zambrano pulling himself out of the game in the 5th inning and then skipping out on a scheduled MRI. Couch's article serves as a nice overview of the team history in these situations and De Luca's works as a "what will they do now" look into the future. They bookend each other nicely and avoid every possible vapid nickname or stupid pop culture reference.
This is not to take anything away from De Luca. Every time his fingers hit the key pads you know you are going to get the truth, the whole truth and nothing but the truth. He is so old school that you can almost smell the Pall Malls and Remington ink as you read. It matters not one whit that he doesn't smoke and uses a computer. It is still the impression you get. And it is a big reason why so many people respect him.
But, while no one is dusting off their Pulitzer nominating petitions just yet, we must give Couch credit since it was not that long ago that he was viciously lampooned in BOISE WANTS JAY!, and deservedly so. While I will probably never know what truly caused his change of heart, I feel safe in saying that we are all glad to see it happening. So, we will pray that it continues and hope for better quality journalism from all who report on sports.
And, as a personal aside, I must admit that is nice to write an entire front page blog without once needing an asterisk to accentuate a male pronoun.
CLICK HERE TO JOIN THE FUN!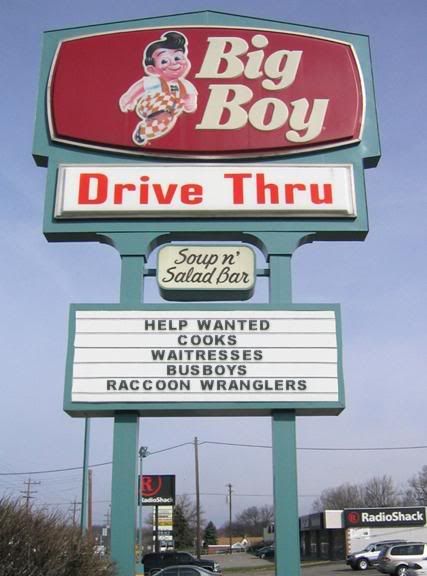 Warning: If you are reading this then this warning is for you. Every word you read of this useless fine print is another second off your life. Don't you have other things to do? Is your life so empty that you honestly can't think of a better way to spend these moments? Or are you so impressed with authority that you give respect and credence to all that claim it? Do you read everything you're supposed to read? Do you think every thing you're supposed to think? Buy what you're told to want? Get out of your apartment. Meet a member of the opposite sex. Stop the excessive shopping and masturbation. Quit your job. Start a fight. Prove you're alive. If you don't claim your humanity you will become a statistic. You have been warned. - Tyler Durden
The worst kept secret within the Chicago media was the not so indiscrete whispering of Jay Mariotti's extreme unhappiness for being a sports columnist. Some, such as his former colleague Neil Steinberg, would argue that the little troll was absolutely miserable and made everyone else within a 50 mile radius feel likewise when in his presence. Mercifully and equally beneficial for both Chicago and Mariotti, the scribe called it quits before a reenactment of Whitman in the bell tower played out on the roof of the Sun-Times Building.
In Jay's infinite wisdom, he voluntarily resigned to avoid going down with the S.S. Sun-Times. Accepting a termination package during these cost cutting times is the cowardly act of those lame house reporters. Mariotti is above such nonsense! And of course, his decision to bail, must have been met with the full approval and loving support of his happy home dwelling. After all, "Being Mariotti" indeed makes the world one's oyster when residing in Chicago. Jay damn well knows that he writes his own ticket in this town, otherwise a lesser man might be concerned about not paying the bills.
However, all that goodwill and global humanitarian relief efforts to fund raise and support Jay during his moment of financial crisis will eventually fade. It is simply for the best that Jay consider those precious Plan B options now that he has entered his post-journalism career. And the Internet creatures really want to help Jay. Let's review his options.
Jay Opens a Basketball Camp
Once upon a time, Jay Mariotti watched Michael Jordan throw a basketball through a hoop. History was made and Mariotti's name will forever be synonymous with the art of proper shooting. In a 9 disc DVD series, Jay painstakingly details every conceivable aspect of layups and free throws. The list of current basketball stars yet to purchase this invaluable tool to improve their skills is impressive:
1. Kobe Bryant
2. LeBron James
3. Dwayne Wade
4. Paul Pierce
5. Ray Allen
6. Dirk Nowitzki
7. Steve Nash
All is not lost however. Shaq O'Neal ordered 3 copies.
Jay Becomes a Movie Critic
At the Movies was an iconic television program. Unfortunately, the show was canceled sometime after Roger Ebert fell ill. Everyone is well aware how much Richard Roeper and Ebert greatly appreciate Jay's dedication towards his column and overall good cheer that he brought to the workplace. So why not team up Roeper with Mariotti and reopen the balconey?
Jay: Today, we are reviewing the digitally remastered director's cut of Citizen Kane. I never bothered watching the movie. In fact, I don't even know who Orson Welles was. If there was a book on this, I didn't read that either. Overall, I think this movie probably sucks and the director should be fired. Of course Richard agrees with me so we don't need to waste time listening to his redundant opinion. Next!
This would truly be "can't miss" television programming.
Jay Endorses a Video Game
Wimps play Madden NFL. True tough guys aspire to be sports journalists. And what better way to walk the sports beat than in the virtual world of EA Sports? Jay works with the programmers to outline the storyboard of the typically dangerous and high risk/high reward existence of a beloved reporter. Begin your day by cautiously leaving the bunker at the crack of dawn (well, more like 11 AM) to head on down the crazy and whacked Eden's Expressway to work. Be careful of those traffic jams and construction congestion! Extra points are generated for strategically ordering your latte from Starbucks and drinking it successfully without burning yourself. Be weary of answering e-mail that might contain derogatory comments. And only the best of the best reach the pinnacle level of the game by engaging in a no holds barred steel cage death match against Woody Paige during a taping of Around the Horn! One false move might result in the devastating Tony Reali "mute" death blow. Rumor has it that Greg Couch will appear on the 2009 game cover. The Sun-Times is taking out an extra insurance policy just in case the Madden jinx applies to Mariotti 09.
Jay Donates His Face for Cosmaceutical Research
When thinking back to all the cats, rabbits and small dogs senselessly disfigured to provide a more effective Botox injection, Jay feels a twinge of shame. Looking young and hip has been the hallmark to Jay's meteoric ascension in the television broadcasting game. Too often, people misinterpret facial nerve paralysis medically required to smooth out those wrinkle lines for a chronic display of self-assured smugness. Jay intends to bring the plight of those seeking treatment of Botox addiction disorder by becoming the face of this disease's activist organization. In fact, the entire ESPN crew is counting on Mariotti to succeed. And to commemorate the sacrifice of all those poor creatures, Jay will permit anti-aging research exclusively on his face for the nominal fee of $2 million per year. Plans for a telethon have been temporarily put on hold until Jerry Lewis switches his date. Jay wants Labor Day weekend and 35% of the donations for himself.
Jay Finally Writes a Book
For years, his biography suggested that he would pen an opus if a topic near and dear to his heart could be determined. Well, wait no more. The Ten Best Games I Never Even Watched will be hitting your nearest Barnes & Noble sometime soon! In a touching memoir, Jay recounts the ten most vital sporting events that he missed during his Chicago stint. He reminisces those precious bunker moments during the Bulls championship run. Be sure to shed a tear when reading Jay's tender and heartfelt dedication to his VHS recorder and TiVo.
Top Gun: The Musical
Jay loves the theater. However, this was a script that needed re-working in order to connect with today's sophisticated fans of the grand old stage. Exhibiting the daring literary prowess of the Bard himself, an interracial romance between Maverick and Ice Man is intricately woven into the script. Agents representing Michael Phelps and Derrick Rose have yet to confirm or deny their clients' acknowledgment of the main lead roles offered. Rumors are later proven correct that a 75 minute choreographed interlude of dancing giant gummy bears outdo the gaudiness of the closing ceremony for the Beijing Olympic Games.
Jay Sells Amway
During his tenure at the Sun-Times, Jay Mariotti could not help but notice that whenever he patrolled down the hallway, people would immediately duck and hide. He quickly realized that those around him had tremendous difficulty being in the presence of greatness. It created awkwardness. And then it dawned him, why make people standoffish and skittish without at least first attempting to make a buck? So off goes Jay to hit the telephone and call everyone he knows to join him on his capitalistic crusade of fame, fortune and residual income to last 12 Mariotti generations all paid exclusively by people that had the misfortune of knowing him and lacking the gumption to saying "no".
Jay Launches IHateChicagoSports.com
In a move that is sure to cause the extinction of the Gutenberg printing press, Jay launches his 24/7 all access website www.IHateChicagoSports.com. This of course, does not include comment boxes for wayward readers and all videos of a lecturing Jay will be produced with a flashlight inside a broom closet. For the first 50 rabid Mariotti fans, a very special introductory rate of $9999.00 annual subscription will be applied. Those registering later, must pay the full rate of $10,000.00 per year. Around the clock posts will be provided by Jay (and one or two volunteering interns) centering on the daily colossal failings of Jerry Reinsdorf and Ozzie Guillen.
Jay Becomes a Motivational Speaker
Do you struggle with the possibility that people might actually like you? Are you suffering from being respected in the workplace? Can you no longer remember the last time you physically threatened a co-worker?
If you answered yes, yes and yes, then obviously you need the assistance of Jay Mariotti. In a specially priced 12 week program (starts at 5 figures and moves upwards), Jay will miraculously transform you from being a socially accepted bumpkin into a tyrannical profane wildebeast. As an additional bonus, you will be trained on when to button up to the top on shirts or maintain the relaxed loose neck fitting.

Jay Manages Limp Bizkit
A few weeks ago, Jay initiated a firestorm of a controversy regarding the true identity of the 5th Beatle. Names such as Pete Best, Brian Epstein and Stuart Sutcliffe were thrown into this hot cauldron of boiling fervor. Multitudes of innocent bloggers' lives were tragically lost in this great conflict of unprecedented virtual reality senseless violence. When the dust finally cleared, Jay had a revelation that in actuality, Fred Durst is the one and true 5th Beatle. When not busy shopping at Banana Republic, Jay proved to the world that he was cool because he rocked out to Durst's band. Jay vowed to restore Limp Bizkit to glory and its rightful place in the annals of true rock music legends should the sports readin' and writin' gig dry up. Now free from the chains of the Sun-Times, Jay can refocus his energy to catapulting Fred Durst back on top of the charts so he can once again be cool listening to this legendary recording artist on the expressway. Look for the return of Limp Bizkit at a high school gymnasium nearby you.
And I bet you are too. The Cubs and Sox are both in first place and it is September, not April. The 3rd place Fire are completely reloaded and making a run for the championship. We have entered week two of the AJ calendar and so far civilization seems to be chugging along just fine.
Unsubstantiated rumors of Jay's resurrection in other major markets were either refuted, quashed or met with open derision. Often all of the above. They were so quickly denounced that one wonders where the heck they came form in the first place. But not too much.
In fact, if BOSTON SPORTS MEDIA is to be believed, residents of that fair city would rather remove their own kidneys with rusty knives than deal with Jay.
Marriotti symbolizes pretty much everything that is wrong with the sports media business right now. He''s all about faux controversy, storylines and manufactured outrage.
Sam Zell, Jerry Reisndorf, et al, find themselves in the enviable position of having to do nothing. Jay's slide into obscurity has already begun and they need neither hasten nor assist since it is doing so well on its own.
So what are we left with?
Well, today I am not feeling like ripping into anyone. Granted there are a couple of, sadly obvious, contenders, but I am just in too good a mood. In fact, even though our parent company gets a complimentary copy of the Sun Times every day, I went to the corner, plopped down my ¢.50 and am enjoying every page of it. As long as we live in a diseased dwarf free zone, I will continue to do so.
Reading from the back page all the way to Elliot Harris I managed to not utter a single profanity. My wife was very impressed. It has been a long time since that happened.
Tyrone did a great job of summarizing the opinions of several Internet sites below, so make sure you read it before you get back to your normal life. It is nice to know that we were not alone in our desire to enjoy the sports' pages without encountering deceit or acrimony.
Mostly deceit.
Moreover, I can see the happiness in our members as well. An ongoing thread about Sarah Palin's family values contains humor, civility and some nice asides. Considering that all political stripes are clearly represented on this site, I am impressed and pleased by that development.
I guess it is too hard too get your "hate on" when you are enjoying the fresh air for the first time.
Put on your happy face, put away your blow up dolls, and CLICK HERE TO JOIN THE FUN!