In 1993 Ismay Montana renamed itself "Joe" to honor the legendary "Joe Montana" and get some free pub. What the heck, the entire population of Ismay has never exceeded 30 people, so I can see how they might need something to do once in a while just to break up the monotony.
Peoria Illinois, however, has a few more people in it. Over 120,000 fine folks live and work there. And, while the city has been the butt of Hollywood jokes for years, "it won't play in Peoria", it has long been the standard bearer for a sensible way of life. Midwestern to the core.
Clearly, they needed to do something to change their staid image. Why? I have no clue.
THE CHICAGO TRIBUNE reports that Peoria has tabled the idea of renaming Peoria to "Thome Town" for the month of October. Not because anyone was against the idea, but because Thome is not in the playoffs this year. They will do it next year when he is.
I do have to admire, and admit that I share, their optimism.
The Tribune goes on to offer up other towns that could do with a name change, and some of them are pretty funny. My favorite? Like you care. But, it's turning "Piper City" into "Pippen City" for 1.8 seconds every June.
I guess there is no great harm in a municipality making a fool of itself, but this seems a little desperate. And unnecessary.
After all, the USDA Northern Regional Research Lab is located in Peoria. Considering that this is the lab where they finally figured out how to mass produce penicillin, you would think they might get, at least, a day. I mean, that is a pretty useful thing to know how to do.
The city has been the birthplace of Richard Pryor, Dan Fogleberg Gary Richrath, David Ogden Stiers, Matt Savoie, Sam Kennison, Shaun Livingston, Betty Friedan, Amy Weber, Philip Jose Farmer, Aaron Schneider and Jack Brickhouse, just to name a few. It's not like Thome is the first person from Peoria to accomplish anything. I doubt he will be the last either. None of the other people I have named have an honorary month. Or week. Or hour, for that matter.
I am a Thome fan. I have his jersey and a bunch of other Sox paraphernalia. But, I have never had the urge to ask my alderman to propose that we rename Chicago to "Reinsdorfia." Not even for an afternoon.
They can give Thome a parade, buy him a dinner, take his family to the show, lots of things that can celebrate his tremendous career and good nature. I just hope they rethink the name thing.
Until then, CLICK HERE TO KILL SOME TIME.
Our very own Killer Carlson takes some time away from his new son to take a look at the Hawks' 2008 season chances and offers some sage advice.
****
The Chicago Blackhawks Hype Machine has done its job in the offseason, and now it's time to 'put up or shut up' for the Blackhawks. The Chicago Blackhawks opened the season on the road 0-2-0 and now return to the United Center for their home opener against divisional opponents the Nashville Predators.
The Hawks opened their hearts and wallets this offseason in an attempt to bring back the 'roar' to the former Madhouse on Madison and the fans have responded. Season Ticket sales are at their highest level in the past decade and fans are ready to win.
The Hawks signed two of the top coveted free agents in defenseman Brian Campbell and goaltender Christobal Huet to a core group of young talent including the returning Calder Trophy winner Patrick Kane and newly anointed Team Captain Jonathon Toews.
The addition of Campbell should pay immediate dividends on the Power Play, where the Hawks haven't had a true PP QB since the days of Chris Chelios and Gary Suter. The Huet signing took many fans by surprise with the Hawks already having invested $6.75 million per year in Nikolai Khabibulin.
It appears that the Hawks have the pieces in place to make a run towards the middle-top of the Western Conference if ......
1) *** Avoid the Sophomore Slump – Can Wunderkinds Toews and Kane improve on last season's rookie campaigns? The weight of the franchise is resting squarely on the shoulders of two 20 year old sophomores.

2) *** Move Khabibulin- Nearly $12 mil invested between the pipes. The Hawks are in 'Cap Hell' and desperate need for a legitimate #2 center. Khabibulin's contract is up at the end of the year and moving him now may pay dividends in the future.

3) *** Can Savard keep his cool? – Shuffling lines like some tweaking meth addict is not the way to keep his job. Ownership has promised Hawk fans big results and Savvy could be an early casualty if the Hawks aren't firing on all cylinders straight out of the gate. Recently hired Pro Scout , Joel Quenneville could be waiting in the wings.

4) *** Havlat or Have-not? - Martin Havlat has averaged 36 games per season over the past three years (with Ottawa and the Blackhawks). At $6 million per season the Hawks are going to need to get a lot more 'bang for their buck'.

5) *** Look Sharp (again) - Patrick Sharp's breakout campaign of 2008 was one of the high points of last season. The Hawks will be hoping to see is Sharp can improve on his team leading numbers of last season (80gp 36 goals, 26 assist and a +23)

6) *** Obey the D - All Stars Brian Campbell and Duncan Keith will anchor the D along with Brent Seabrook and Brent Sopel while James Wisniewski (knee) and Cam Barker (Salary cap casualty) wait to return to the fold.

7) *** The Special Teams need to be 'special'- Now when I say the word 'special', I am not referring to the paste eaters in Special Ed. The Hawks have to get their power Play and Penalty Kill into the top quarter of the NHL ....and keep them there. The pieces are in place, now they have to make it happen on the ice.

8) *** Live up to the hype – The Hawks Front Office may have created expectations that some of their younger players may struggle to deliver out of the gate. Plain and simple the Hawks to win early and often this season.
Chicago Blackhawk fans have jumped back on the bandwagon. It's time for the product on the ice to live up to their expectations. Nothing short of a deep run into the playoffs is going to satisfy them.
It's GO TIME .....now DROP THE FREAKIN' PUCK !!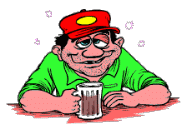 First, the good football news; The Chicago Fire, under new coach Denis Hamlett, have secured a spot in the playoffs for 2008. See? I told you they would! Brian McBride scored two goals in a tie with the Columbus Crew (his old team) to guarantee The Fire a spot in the MLS Playoffs and second place in their division. The Fire travel to Toronto next Saturday to try and secure home field advantage.
While some Chicago teams have had issues when they visit Toronto, I am confident that The Fire will be just fine. So, from all of us at JTJ, we hoist a celebratory adult libation and holler out a hearty CONGRATULATIONS FIRE!
Now, to yesterday in Atlanta.
First off, for those Bears fans who are really feeling the pain today, I invite you to my world. My wife is a Cowboys' fan. Even though they lost yesterday, she comes equipped with the entitled superiority of all Cowboys' fans.
Anyway, memo to Tommie Harris: if you ever get the ball again, just lay on it. Do not move, do not breathe, just DO NOT!!! If you have trouble remembering this, just ask any teammate during the game and I am sure they will remind you.
Also, your question of "How did I lose us the game?" would be better phrased as "How did I hamper our winning the game?" Anything you do that causes a change of possession that benefits the other team is not helping yours. Please remove head from butt and think before speaking. It will be a boon to us all.
Otherwise, we all saw the same game. We all saw the same 11 seconds. We all know that the Bears somehow made Atalanta and their rookie QB look ready for prime time. If it wasn't for some first half heroics from the defense, this game would have been a blowout. That is not a good sign.
It seems that for every step forward one part of the team takes, the rest take one step back. That is great if you are learning to Cha-Cha, not so hot if you want to win in the NFL.
So, from all of us at JTJ, we hoist a tear-filled adult libation and holler out a hearty C'MON BEARS! GET IT TOGETHER!
TomD started a thread during the game that has spilled over to today, so CLICK HERE TO DRINK ALONG WITH US!
In a stunning development that may hamper Gov. Palin's ....
HEY LOOK!
SPORTS!
**Whew, that was close.**
That's right, your first place Chicago Bears travel to Atlanta to battle the resurgent Falcons. Gosh, did I use enough cheap sports' cliches there? Anyway, the game will be either attended or watched from a comfy chair in a living room by our very own SouthSideSlim. He lives near there, we don't actually have the budget for travel ... yet. Either way, we are all eager to get his post game recap.
Assuming he can pronounce consonants, that is. PBR was on sale this week at his local gas station.
The Hawks played and lost last night. That's okay. It has been years since they played in front of a sold out crowd that paid full price and was 100% behind them. Last night they got to see what that was like. Granted, it was for the other team .... Oh well, they will get used to that and they will win. My guess? They will win a lot more than they lose. Once again, Chicago is graced with The Mighty Blackhawks!
The Bulls are back. Did you know that? It seems I forgot. Which is strange since I have actually caught parts of a couple of practices. Here is what I have to say about them. They look like a team. They talk like a team. They act like a team. Virgin coach, Vinny Del Negro, has them believing that they are good and there is no reason they can't win. I have no idea how he did that, but it is the best news I have been able to pass along about them in years.
In baseball news .... never mind, I won't do that to you.
Tonight The Fire try and lock up a playoff spot. Their first year coach, Denis Hamlett, has them playing better and better each week. Considering he loses big chunks of the team for various tournaments throughout the year, that is one heck of an accomplishment. They are a team on the rise at the right time. Look for them to go deep in the playoffs this year.
There's other stuff going on in other places, but it's Saturday and I don't want to take up too much of your day.
If you have some free time, CLICK HERE TO JOIN SLIM IN PREDICTING THE OUTCOME OF THIS WEEK'S BEAR'S GAME.
I was having so much fun dealing with the fun of Internet rumors, I never got around to noting that Greg Couch, in an article that seemed directed personally to Tyrone, called people like him the moral equivalent of idiots. He was not denigrating degreed professionals who own their own businesses, just recently former Cubs' fans.
After making fun of the e-Bay auction, he starts out with the obvious. Which may be the best place to start in this situation.
No more. They are purging the Cubs from their lives.

Here's a message for Cubs fans: You have to be kidding.

Quitting? Now? The Cubs are good now. The Cubs are trying now. They are spending money on players and on a good manager.
Here's the thing. He's right. The Cubs have finally won back to back divisional titles for the first time in 100 years. No, they did not win the big prize, but they finally are a team that can. That is a huge step forward.
As a Sox fan who has suffered three long years without a World Series win, I can feel their pain. But now is not the time for Cubs' fans to bail. Especially not the loyal ones like Tyrone.
Unlike the recently departed back page pundit, Greg even offers up a pretty good idea to go along with his rant.
If you want to have a ceremony, here's an idea: Bury the 1969 Cubs. No, not literally. But Ron Santo can pick a toupee to throw into the box.

Chicago honors the 1969 Cubs, who fell apart at the end despite a roster full of Hall of Famers. But this year's team wins 97 games and then falls apart in the playoffs, and the anger is fierce.
See? Logic and perspective are available at the Sun Times. It has just been so long, it catches people off guard.
In closing, Greg aims directly at Tyrone. He looks at what Cubs' fans, like Tyrone, have endured and celebrated and asks them, and specifically him if I am reading this right, to rationally compare that to the current situation.
In 1980, a Cubs fan reminded me, they brought in Cliff Johnson, who was too old to move and had to play first base. That pushed Bill Buckner, who couldn't move, into left field. Scot Thompson was in center and Larry Biittner in right. Three immovable first basemen in the outfield.

Be disappointed that these guys choked. It was awful. If this is a tantrum, then OK. But leave now? It's just getting good.

You keep coming back to the playoffs, keep coming back, and it hurts when you lose. But it's the only realistic way to break through and stay on top.

So some guy wants to sell his loyalty on eBay? Another cute Cubbie thing. Forget him. The Cubs are nonfiction now.
That's right Northsiders, you have a real team for the first time in a long freaking time. Now is not the time to abandon them.