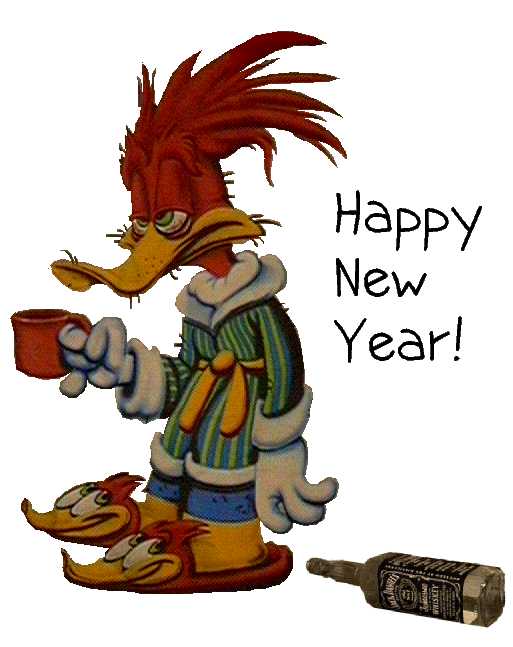 This is the time of year when columnists and bloggers share their 20/20 hindsight with you and cough up Top 10 lists or Bottom 20 lists or what have you. It is a cheap way to mention famous names, comment on very little and have a good time. Overall, it is harmless fun.
However, since we dare to be different here, we will eschew that common custom and instead cast a jaundiced eye into the future and see what we can see.
Ewww, DO! NOT! LOOK! AT! THAT!
I'm so sorry, Jam Jam got a hold of the controls. It won't happen again.
First, let's start with the near future. The Hawks and the Bulls are both playing and, more importantly, playing well. The Hawks finally had a 9 game winning streak, the longest in franchise history, snapped by the dreaded Red Wings. But, they don't have to wait long to get their revenge since they will play them again this Thursday in the first outdoor hockey game that this City has seen in along time. Billed as the Winter Classic, it is shaping up to be all that and a whole lot more.
The Bulls just went to New Jersey and, for the first time since 2001, came out of there with a win. And not just any kind of win, but a solid one built on defense and excellent coaching. First year coach, Vinny Del Negro, has shown a propensity for a "salary be damned" style of coaching and playing the people who give his team the best chance to win every single night. Moreover, when a player has not done well he has consistently laid the blame directly at his own feet and stated that he has not coached the player well enough.
So, what does our all seeing eye see for these teams? Both will make the playoffs this year. Both will surprise people and both will bring dignity and honor back to their franchises. Also, Quenneville and Del Negro are keepers.
The next two teams to come to the fore are the Cubs and the White Sox. Neither team has finished their off season moves so it is not fair to judge them "as is." But, if we take a peek at recent history, and then see what significant changes have been made, we can give it a shot. From 2005 to 2008, a span that will involve many of the key players we will see again in 2009, the Sox have won 2 Division titles and a World Series. The Cubs have gone 0-6 in post-season play while winning their Division in 2007 and 2008.
Major changes for 2009? The 2008 Cubs were built on some pitching, a leaky defense and power hitting. They are clearly hell bent for leather on adding more hitting. The 2008 Sox were built on solid pitching, an aging defense and power hitting. They are clearly dumping some age and power for speed and looking for more pitching. If things shape up as they seem to be right now, look for the Cubs to be 0-9 in post season play and for the Sox to make a run for it.
No, I don't get any joy out of writing that. I have many friends who are Cubs' fans and I am tired of the annual suicide watch. It would not bother me at all to see them make a real run beyond the regular season.
Next up, we look at The Fire. Chicago's soccer team is becoming internationally noticed and for good reason. They went deep into the playoffs despite numerous personnel changes and are bringing back the majority of their team, including the new signings, for 2009. New Coach Denis Hamlett is young, motivated and seems to get along very well with players and management alike.
What do I see for them in '09? The championship round.
Which brings us to the Bears.
I could understand a disconnect between players, coaches and upper level management if this was an expansion team. But it's not. This is one of the original teams in the NFL. It has had stable, if uninspired, ownership for a very long time and should not be fielding 33, borderline, schizophrenics every game. Will they go 0-16? 16-0? 8-8? Who knows? And, honestly, there is no way to guess. But I will say this; as long as the coaching staff continues to blame the players for the coaches' boneheaded calls and uses players out of position game after game, 2009 could shape up to be the year that makes people forget Detroit.
Last but not least, SAY NO TO 2016!
From all of us to each of you, individually, have a safe and Happy New Year!
Oh boy. Where do we begin? The Houston Texans are a young team that has gotten better each year by building from the inside out. They boast one of the best offenses in the NFL and are a couple of minor defensive tweaks away from being a nightmare to other teams. They came into the season with one goal; have a winning record.
That goal was out of reach prior to their tilt against the Bears. So, they altered it a little and decided there was no way in hell they were going out with a losing season. In other words, we had a team with nothing to lose, everything to gain, a growing fan base and a deadly offense that was coming in to the game with a very focused mind-set.
On the other side of the field .....
According to several published reports, the Bears players were using their cell phones and other portable devices to check scores. On the sidelines. During the game.
What? Were they worried about Minnesota covering the spread? Did they have Detroit to win? Did their rent checks depend on the over / under of the Chargers' game? What possible use could this have served? And, more importantly, who is the brain dead moron who allowed it to happen?
Our very own Jamel has opined on numerous occasions about how the Bears seemed to lack heart and focus this season. Several bloggers up here - myself included early in the season - have pointed to this play or that as proof that he was wrong. Sadly, the Houston game not only proved he was right, but that there is a fundamental lack of concentration at the most rudimentary of levels.
Faced with a team that can't even be bothered to pay attention to the game they were playing and a coaching staff that seems to concentrate on the game plan from the previous week, this was a team that was doomed from the outset. This was not "one step away" from the playoffs, this was damn lucky win more than 6.
With those thoughts in mind, let's take a gander at Lovie's post game remarks from NFL.com.
"When you're 9-7, you're close," Smith said following the 31-24 loss to the Texans. "You don't need an overhaul. You just need to add a few pieces to the puzzle, and that's what we'll do."
My main concern here is that the players are working on a picture puzzle while the coaching staff is looking at crosswords and the GM's office is wondering how to fit round pieces in square holes. No one is on the same page here.
"Kyle Orton did a lot of good things during the course of the season—not enough, just like the rest of our team for us to get to the playoffs—but I like the progress that Kyle Orton made throughout the year," Smith said.

-AND-

"Running back-wise, we went into the season not knowing exactly what we had with it," Smith said. "Matt Forte answered a lot of our questions and had an outstanding rookie year."
Here are some facts that you may wish to consider. The Bears consistently started an injured Orton over a healthy Grossman. While that means that Rex is gone, it also means that throwing Orton under the bus after all he did this season is kind of low. As to the rest, the Bears offense ranked 26th at the end of the season. Granted that is better than 27th, which is where they finished last year, but this is not a juggernaut.
During the year we also saw a lot of defensive play calling that even baffled opponents' cheerleaders. Clearly, since the players call their own plays, all the defensive players must be tossed under that bus to keep Orton warm.
(Lovie Smith) acknowledged that two of the defense's top players did not perform up to expectations. Brian Urlacher had two interceptions and no sacks after registering five interceptions and five sacks in 2007, while Tommie Harris also failed to make the same impact that he has in the past.

"Brian at times played well this past year and other times he needed to pick it up a little bit," Smith said. "At times, Tommie played very good football. The consistency wasn't probably there as much as we would like, just like our entire football team."
I have lots of issues with the coaching staff's constant belittling of players while they only pay lip service to their own failings. But, that is a blog for another day.
When it comes to consistency, Corner/Nickel/Safety/Kick Returner, Danieal Manning, is not exactly the poster child. But it is not his fault. This is the NFL, not Abalene. He needs to be given a position, taught it diligently and then groomed for success. He is a tremendously gifted athlete who the Bears are wasting on experiment after experiment.
Devin Hester comes to mind in this regard as well. If he is to be the WR, then get him off Special Teams. Let him truly learn his position since the skills required for one are the opposite of the skills for the other. As a returner, he needs to go straight ahead and damn the torpedoes. As a WR, he needs to be facile and be able to get around the defense (which is all on top of him from the start of each play, unlike on returns).
The various and sundry calls for rolling heads has already begin and this will be an interesting off season for the Bears. But, for now, join our very own Tyrone Briggs in BREAKING DOWN THE SEASON.
The Minnesota Vikings defeated a play it safe 'cause we're going to the playoffs New York Giants team on a game ending field goal.
That was supposed to be the game we were desperately pining for a Giants victory.
However, a more improbable playoff friendly Bears scenario was the Raiders and Eagles each winning their respective games today.
Lo and behold, that actually transpired.
All that was needed was for the Chicago Bears to take care of business in Houston this afternoon.
That did not occur. Keep those champagne bottles corked.
Bears - 24
Texans - 31
Longtime JTJ contributing regular, TomD, offers a candid evaluation of the Bears performance in 2008.
Let the debate begin:
The Bears are done. They're a very mediocre team even with a 9-7 record.

So now comes time to grade them and to expound on what everyone thinks they need to do to be better in 2009.

O.K. I'll start:

Bob Babich: Grade: F

This defense hasn't been the same since Lovie Smith chose friendship and unconditional loyalty over winning. Babich's defenses have been among the worst in the NFL the last 2 years, especially against the pass. Why Israel Idonije wasn't starting all year is beyond me. Per Dan Hampton today on the post game show, the first thing the Bears need to do to improve the defense is to get a new coaching staff. I agree. FIRE BABICH.

Ron Turner: Grade: D

There has been some improvement on the offense, but not much. Most of it is because of Matt Forte, Greg Olson and maybe Kyle Orton. It's bad enough without a #1 receiver, and an O-Line that can't stop a 3 year old on Big Wheel most of the time, but throw in Turner's inability to devise a good game plan, and his inability to make adjustments to it during a game, and you get..well you know what you get..a mediocre offense at best. FIRE TURNER.

Dave Toub: Grade C:

He did a pretty fair job given he didn't have a good punt/kick returner most of the season, and Brad Maynard was inconsistent much of the first half of the year. He's the only coach I'd retain.

Lovie Smith: Grade: D

As mentioned above, Lovie Smith opted to go with a yes man at defensive coordinator rather than keep the guy who's defense got him to the Super Bowl a couple years ago. Add that to the fact that Lovie's teams never seem quite prepared enough to play every week. With Lovie, it's the same dispassionate, unemotional drone-like spin on how this team needs to improve every week. Yeah, I know he's under contract until 2011, but I'm now convinced this team will never make the playoffs let alone the Super Bowl again with Lovie as their head coach. Sorry Lovie. Mediocrity should never be a goal. Time to end the Lovie Smith Era in Chicago. FIRE LOVIE.

Jerry Angelo: Grade: F

Angleo's tenure as GM is a failure. The only difference between him & Matt Millen is the fact the Bears actually won a few games. When this guy was hired, he was touted as some great guru talent evaluator. Take a good look at what the Bears have drafted since Angelo became GM. Not much success there is there. His ability to go out and find solid veteran players has been equally dismal. FIRE ANGELO.

On The Field:

The Offense: Grade: D

People are placing a lot of the blame on Orton. True since his injury he hasn't played very well. But I suspect he's still not 100% healed. Much of the blame must be put on the receivers. Even when Orton manages to hit them right on the numbers, they drop the ball about as often as they caught it. The O-line, while at times seemed to have stepped up, is still bad and deserves the big share of the blame. Devin Hester will NEVER be a #1 receiver. John St, Clair and John Tait need to be playing elsewhere. Send Hester back to special teams where he belongs. At the very best he's a #3 or #4 receiver in the offense. He was the top returner in the NFL until Lovie & Co. f*cked him up.

The Bears need to find a couple top line receivers and completely rebuild their offensive line. I'm not saying Kyle Orton will ever be an elite NFL QB, but I think with good receivers and a line capable of keeping him from getting killed, he could a very good one.

The Defense: Grade F:

This defense has not only NOT met expectations, they've gotten worse. Tommie Harris needs to go. Where? Who cares. Since he got his fat contract, he's expended more energy trying to see how many english muffins he can shove into his face and less energy on doing what he's supposed to: rush the opposing quarterback. The defensive backfield is in serious need of improvement. Tillman & Vasher used to be among the premier CB tandems in the NFL. Now, they just get burned. Sure, injuries might be part of the problem, but even when they were healthy, they weren't the premier CBs they used to be. It might just be time to consider changes. No question Mike Brown is one of the biggest impact players on this defense--when he's healthy. But he hasn't played a full season since 2003. I'm convinced he could fare better if they had a guy at the other safety position who didn't suck.

People say Urlacher is done. I'm not one of them. I'm convinced his talents are not being used properly by that idiot Bob Babich. I'll give Lance Briggs his props. Yeah I said the Bears should get rid of him for his f***tarded contract negotiations, but he's earned every penny he's gotten since resigning. Hillenmeyer? Gone. His replacements so far haven't proven to be any better. They need to find another outside LB to complement Urlacher & Briggs. Most of all they need linemen who can rush the passer. Beyond Alex Brown, they haven't got much there.

Special Teams: Grade C:

Until they finally put Daniel Manning in as a returner, special teams weren't all that special. Even with Manning they were not as good as they should have been. Stupid penalties (Think Peterson and his horsecollar) hurt them. Brad Maynard's punting was spotty although he did seem to do better the second half of the season. Robbie Gould..well Robbie Gould is still one of the best kickers in the game.

Overall Grade: D

This was a mediocre team lucky to win 9 games this year. If they want to get back to the Super Bowl, they need to be overhauled in a big way.
Agree or disagree, there is no denying that the cumulative 16-16 regular season record (minus playoff appearances) since the Miami Super Bowl debacle is underwhelming.
One final personal bone of contention. It was reported during the FOX broadcast by the sideline reporter that Bears players brought their iphones and blackberries out to the bench to keep tabs on the out of town scores. If that actually occurred, there is little wonder why this team lost. Perhaps Lovie Smith can offer an explanation on his team's lack of game focus when not arguing with the press that wide scale changes are not necessary.
A thread has been established to continue this hotly contested debate concerning the future direction of the Bears. Feel free to chime in.
Yes, more than three people are still mighty peeved that Ron Santo didn't get in. On this site alone it seems to run about 5-1 in favor of his admission to the Major League Baseball Hall of Fame. The first thing to do is to take a look at the rules for eligibility.
From MLB.com.
Eligibility for BBWAA (Baseball Writers' Association of America) Hall of Fame Election

BBWAA: Former Major Leaguers who have been active some time during a period of 20 years before and ending five years prior to election and have played in a minimum of 10 seasons. Any player on Major League Baseball's ineligible list is not an eligible candidate. In the event of death of an eligible candidate, the five-year waiting period shall be reduced to six months (this has occurred three times: Lou Gehrig in 1939, Roberto Clemente in 1973 and Thurman Munson in 1979. Gehrig and Clemente earned election).
So, you show up for ten years, manage to wear your uniform without getting a felony conviction, ending up on a reality TV show with Paris Hilton or just being Pete Rose and you make the ballot. That sounds easy enough.
In fact, if you think about it, it is kind of nice. All players who meet the basic criteria will, at least, be given a HOF ballot with their name on it. That has to be something pretty cool to show your grandkids even if you are not inducted.
But, once you are on the list, you have to pass the basic tests assigned by the BBWAA to garner serious consideration to be an inductee. And, what are those tests? You may well ask, and I may well answer.
From the BBWAA.
Method of Election
BBWAA Screening Committee — A Screening Committee consisting of baseball writers will be appointed by the BBWAA. This Screening Committee shall consist of six members, with two members to be elected at each Annual Meeting for a three-year term. The duty of the Screening Committee shall be to prepare a ballot listing in alphabetical order eligible candidates who
(1) received a vote on a minimum of five percent (5%) of the ballots cast in the preceding election or
(2) are eligible for the first time and are nominated by any two of the six members of the BBWAA Screening Committee.

An elector will vote for no more than ten (10) eligible candidates deemed worthy of election. Write-in votes are not permitted.

Any candidate receiving votes on seventy-five percent (75%) of the ballots cast shall be elected to membership in the National Baseball Hall of Fame.
Now, go back and read that all again. Do you see anything about what the PLAYER actually has to accomplish? What basic ground rules are in place whether by position or era?
Of course not, that all gets dealt with in exquisite detail a little bit later.
Voting — Voting shall be based upon the player's record, playing ability, integrity, sportsmanship, character, and contributions to the team(s) on which the player played.

Automatic Elections — No automatic elections based on performances such as a batting average of .400 or more for one (1) year, pitching a perfect game or similar outstanding achievement shall be permitted.
When you get done laughing at the "Automatic Elections" restrictions (i.e., read which players are "guaranteed 1st ballot inductees" in your local paper) you move back to the "Voting."
The player's record, a/k/a personal stats, is only one of 6 criteria on which voting is supposed to be based. Since the votes are cast for first place, second place and so on, there is no way to know how much credence each voter places on each category. Nor is their any direction for them to do so.
In other words, all of this adds up to the following methodology; "It's what we say because we say it."
More commonly phrased as, "Neener neener neener."
I have a better shot at being elected Prom Queen than I do of adding any coherency to this. As it stands right now, there is no accountability, no structure to the process and no reason for anyone to be elected at all, which has been the case for several years in the Veterans' Committee. Short of 750 home runs, over 300 stolen bases AND a lifetime batting average of over .350, there is nothing that could make the BBWAA elect a player at all.
As I stated in the thread I am linking to, Tinkers, Evers and Chance got elected because of a stupid poem. They were not very good players. There are numerous other examples that show, above and beyond any reasonable doubt, that the current induction method is capricious and fickle. It needs to be changed.
I am not sure how to fix this, but several of our members seem willing to give it a shot.
Since our very own loveable and cuddly Niteowl has already started a thread, CLICK HERE TO LET US KNOW WHAT YOU THINK!
I walk around 2 miles to work each day. From my house all the way to Pulaski (by my office), nothing was shoveled or salted. The snow melted a little yesterday and re-froze early this morning. So, it is black ice (near invisible, frictionless, ice - for you non-Illinoisans) all over the streets and sidewalks. Cars are sliding through intersections even though they are driving painfully slow. I should also note that my home is surrounded by 5 churches and three of those have schools attached. If this was a school day they would be scraping kids off the pavement.
But, since no one has been killed yet, I guess everything is just fine.
I am not one of those people who point at one small example to try and make some broader point. Such logic is invariably flawed and seldom accomplishes anything other than showcasing the author's prejudices and ignorance.
But, when taken as part of the greater whole, then my experience this morning is deeply troubling. We live in a City with the highest tax rates in the nation and public services are dropping like frozen flies. We live in a City that recently announced that OVER 50% OF THE RESIDENTS WILL BE ELIGIBLE FOR ONLY 6% OF THE JOBS if it gets the Olympics. We live in a City that promised each and every one of us that they would not use City residents' tax dollars to pay for the Olympics and then, subtly, altered that to read they would only use State tax dollars on an as needed basis. As though Chicago is no longer a City in Illinois and doesn't pay taxes.
I could go on, but suffice it to say that we live in a City where there is a growing disconnect between what is supposed to be and what is.
It is against this backdrop that I look at the City's continuing bid to bring the Olympics to Chicago in 2016.
And it is against this backdrop that I see stark outlines of bad things happening.
The City is not making public their list of guaranteed sponsors, but you need not be a fiduciary forensics specialist to figure out they will come heavily from the construction and hostelry industries. I have no problem with those people or companies making money off of their investment, should this thing turn a profit. Where I have an issue is with the little fact that losses are covered by the City. That's right, if this thing tanks then it will be you, me and that crazy guy across the street who no one talks to who are all going to be bound to pay off the losses. And those amounts could be staggering.
However, all that being said, if the City shows us a written contract, signed by the sponsors, that clearly states that all losses will be absorbed by them, then I will withdraw my primary objection.
As to my other objections that are based on what I see happening to the various neighborhoods and their residents, we can tackle them when we have all seen the above document. Something tells me that, sadly, we will never get to that point.
Our very own Tyrone Briggs has tossed up a quick note, below, and started a thread to discuss this issue, so CLICK HERE TO JOIN THE FUN!