Last year, Milton Bradley participated in 6 or so Spring Training games for the Texas Rangers and then went on to hit around .300. As a DH. People keep skipping over those last 3 words. This year, already laid up with soreness and the flu, Milty is scheduled to sit for a few more days.
As Gordon Wittenmyer (Sun Times) points out, this is fine with the Cubs.
"Look, he worked exceedingly hard and never had any problems, and here he experiences some discomfort [Thursday] prior to our first game, "Pinella said. "But we've got 37 more games, so there's no hurry."
Bradley, regaled as a perfect teammate, wonderful baseball player, great guy and probably helpful to orphans - so say the last 5 teams that have traded him away over the last 4 years - doesn't seem worried about this at all.
Unfortunately for Uncle Milty, the Cubs are paying him to catch the ball as well as hit it and, thus far, he has not set one foot on the field other than to pull up lame after a walk. We move to a Twitter post from Mr. Wittenmyer for a look at this development.
Huh? Bradley just left for pinch runner. No way he strained something not swinging and not running. ... Probably.
12:26 PM Feb 26th from txt

Mild tightness left quad. That's the report on Bradley.
1:46 PM Feb 26th from txt

Today's Bradley report. Now he has flu. And he's still sore. Told to take the day off. Lou: 'Plenty of time on our side.' Yeah, 2-3 years.
about 22 hours ago from txt
In the meantime, on the Southside, all eyes are on 2 young players, Dayan Viciedo and Aaron Poreda. The former, a projected 3rd baseman, seems to hit the snot out of the ball at will. However, he isn't quite at the big league level when it comes to catching it. Which concerns no one all that much right now since he is all of 19 and Josh Fields' off-season regimen seems to have paid off. Poreda, who is (at least) old enough to drink shows a lot of promise for the future. However, no one seems to have informed him that he is a couple of years away from starting. After a couple of shaky pitches, he settled in, retired 6 in a row and walked off the mound with his head held high.
If all you knew about the two teams is what I just wrote, you would think the Cubs are solid across the board and only mildly concerned about one possible outfielder. You would also think that the Sox have completely surrendered this season and are in a full blown youth movement. Oddly enough, that is exactly what both teams want you to think.
It has been a long time since both teams' respective PR departments have been this successful.
But, in the real world, both teams are markedly different. The Cubs are looking at a couple of more holes that they would like to fill, especially on defense. While this team is built around power hitters, it is not exactly dripping in gold gloves. That is the kind of thing that can bite you in the butt in the post-season. The Sox, despite their current PR, have several veterans (wily and otherwise) and more depth position by position than even they give themselves credit for.
It has long been espoused that the Cubs need "Cubbie Love" and the Sox play best when they are pissed at someone or something or just pissed in general. This season seems poised to put both precepts to the acid test.
On a final, unrelated, note; all of the administrators at Jay the Joke extend our deepest sympathies and prayers to the families of Norm Van Lier and Johnny "Red" Kerr. For those of us who have met one or both men in our lives, we can all admit they the touched us deeply.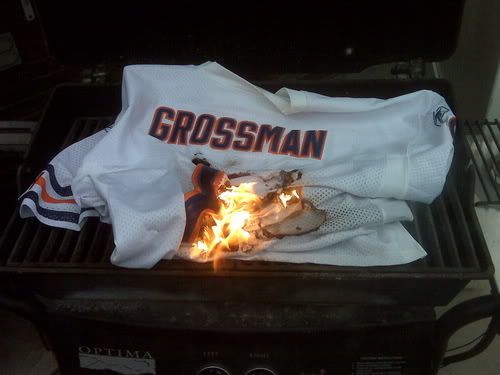 Pat Summerall: That's the second time tonight a Washington player's been knocked out by his own teammate!
John Madden: You know, there's a rule in sports, "Don't do anything great if you can't handle the congratulations."
Pat Summerall: There is?
John Madden: Yep.
There is a clock ticking downward on the Chicago Tribune's front webpage:
15 hours, 37 minutes 00 seconds…
No, it doesn't reflect a countdown of another state politician's indictment or sentencing. It doesn't even represent another press conference on behalf of Drew Peterson or Rod Blagojevich.
It marks the time left for Rex Grossman's official ending days as a Chicago Bear. Afterward, he becomes a free agent.
No word yet if Chicago plans to release fireworks over Navy Pier tonight.
David Haugh wonders if the blistering criticism of Rex Grossman is justified. After all, if the press clippings represented true reality, we would be discussing the attributes of seemingly the worst quarterback in NFL history.
And it simply is unfair.
Geez, just take a look at the past starting quarterbacks for the Chicago Bears prior to the arrival of Grossman (also including while he was injured). We'll kick it off after McMahon's last start in 1988 for argument's sake:
Mike Tomczak: 1986-1990
Jim Harbaugh: 1988-1993
Peter Tom Willis: 1988-1993
Will Furrer: 1992
Erik Kramer: 1994-1998
Steve Walsh: 1994
Dave Krieg: 1996
Rick Mirer: 1997
Steve Stenstrom: 1998
Moses Moreno: 1998
Shane Matthews: 1999-2001
Cade McNown: 1999-2000
Jim Miller: 1999-2002
Chris Chandler: 2002
Henry Burris: 2002
Kordell Stewart: 2003
Jonathan Quinn: 2004
Craig Krenzel: 2004
Chad Hutchinson: 2004
Kyle Orton: 2005
Brian Griese: 2006
One word:
Yikes!
Grossman's greatest strength is also his curse, and that being of course his rocket of an arm. Very few quarterbacks in the game can throw a more spectacular spiral down the field to a wide receiver. Of course, such bravado warrants precaution as too many of those pass attempts resulted in turnovers and touchdowns in the wrong end zone.
Even still, Rex was on the winning side of 19 football games out of 31 starts, along with 2 playoff wins.
And he played hurt. When he was injured beyond the realm of possibility to lead the offense on the field, he worked his butt off to get back to the Bears as quickly as possible and without complaint.
In the end, Grossman was vilified by the home crowd and routinely ridiculed by sports talk bobble heads. Haugh accurately describes Grossman as "Chicago's most polarizing athlete since Sammy Sosa's latter days."
Yet to Grossman's credit, he never seemed to lose respect in the locker room among his teammates.
So how does one sum it all up? 33 touchdowns and 35 interceptions doesn't quite tell the story. And neither does "Super Bowl appearing quarterback" on a defense and special teams dominant football squad.
A disappointment? Sure. But a bust. Not even close.
And if you still don't believe, re-read the above list.
Good luck Rex with your next team.
For a while, it seemed as though there was hope for modern sports journalism. Some of this site's favorite targets had settled down and begun releasing solid, if not awe inspiring, work. Which is fine. You try and be awe inspiring every day and see how long it takes you to end up in a rubber room talking to your toes.
And having them talk back.
That being said, we have become spoiled as of late, so it is almost refreshing to see that some reporters, thinking that no one is watching, have begun the slow slide into Mariotti-isms. We start with PHIL ROGERS (Chicago Tribune) who spends an entire column bemoaning the fact that Dayan Viciedo spent his first batting practice with the White Sox merely hitting almost everything thrown his way and not crushing homer after homer. In fact, based on one session of seeing the 19 year old refugee, he offers up this assessment of his potential;
It is possible the real Viciedo isn't as anyone advertised him. He could be a solid professional who can hit for average and power, a potential All-Star if not a legend.
Damn! Only an All-Star? Well, hell, let's fire Kenny and Ozzie and send Greg Walker to Kansas in a flying house with a little dog. How dare this kid let us down like that?
CAROL SLEZACK (Sun Times), think of her as Mariotti-Lite and you get the idea, took time out of her busy day yesterday to rip the Sox for not re-signing Joe Crede. Granted, he is one of the best defensive 3rd basemen to play the game. However, his back injuries, and two surgeries last year alone, made him a risky signing. Add in the fact that the Twins, his new team, plays on artificial turf and he could be asking for more problems than he solves.
Even so, we are treated to this;
If you can let go of a World Series hero that easily, then good for you. If you can look at pictures of Crede in a Twins uniform without seeing red, you probably have come to terms with the fact that baseball is a business, and the Sox simply didn't value Crede enough to keep him around. If that's you're perspective, it's a healthy one. Maybe I'm stuck in the past. But Crede had 16 home runs and 49 RBI at the All-Star break last year. He had seven home runs and 17 RBI in 11 games against the Twins last year. So I'm not going that far back. A healthy Crede was a guy worth keeping on the South Side. And a healthy Crede in Minneapolis could end up being a nightmare for the Sox.
Yes, a "healthy Crede" is a force of nature. But, over the last 3 seasons that has not been the case. It isn't as though the Sox kicked him to the curb and said the hell with him. His agent wanted a specific long term deal from the Sox that they were not willing to give. As it turned out, nobody was. The Sox used the money they saved to fuel competition at several spots. The free agent market, where a player like Crede should have cleaned up, went dry and the Twins took a shot in the dark.
Trust me on this one, when he comes to Chicago for the first time in a Twins uniform, he will be cheered. He was, and always will be, a favorite of both fans and players. But pesky facts are pesky facts, and Joe Crede has been a question mark when it comes to durability for several seasons.
Suffice it to say that when, the sports gossip column, HEY MISSY! has more depth and better interviews than the main writers, things are not getting better.
That's not a slam on Melissa Isaacson, just a note that the big money writers are writing like crap.
Lovie Smith, the head coach of your Chicago Bears, spent most of last season tossing players under the proverbial bus for various and sundry on-field failures. And, just so no one forgets, here are a couple of highlights for you.
From December 30, 2008 (NFL.com);

(Lovie Smith) acknowledged that two of the defense's top players did not perform up to expectations. Brian Urlacher had two interceptions and no sacks after registering five interceptions and five sacks in 2007, while Tommie Harris also failed to make the same impact that he has in the past.

"Brian at times played well this past year and other times he needed to pick it up a little bit," Smith said. "At times, Tommie played very good football. The consistency wasn't probably there as much as we would like, just like our entire football team."
So, at the end of the season, he had the entire team under the bus. Well, that does promote comradery, I guess.
From December 01, 2008 (Sun Times) on an early second quarter play by Gus Ferotte that doomed the Bears;

"It's amazing what a shift in momentum can do," said coach Lovie Smith, whose team has now lost three of its last four games.
So, with over a half to play, the entire team was so demoralized that they just went out there and waved to the opposing team as they went whisking by? That must have been one hell of a half time speech.
"It's okay men. We coaches all know you suck. That is why we are having you line up 10 yards deep on defense. We are praying that you will stop the occasional long ball. And, offense? Just try to get the ball to someone. Don't be so damn picky about their damn uniform color."
From a Greg Couch article of November 17, 2008;

And why were the Bears throwing passes at the end of the half? They started a drive on their 7-yard line with 1:06 left. They needed to run out the clock so Green Bay couldn't get the ball back and score again. Instead, they threw incomplete passes, stopping the clock.

"We were trying to score some points," Smith said. "That's normally what you do when you're trying to move the ball."
Ah ha! LOGIC. Sorry, I was kidding and you knew that.
Anyway, today, DAVID HAUGH (Trib) notes that the self same bus has now been firmly planted on top of Lovie.
Thanks for nothing, boss.

Lovie Smith would never say so, but you had to wonder if that's what he thought over the weekend after hearing general manager Jerry Angelo's plans to tweak rather than transform the Bears' roster. Knowingly or not, Angelo turned up the heat a notch on Smith by identifying coaching and attitude as the biggest reasons for optimism heading into 2009.

Don't expect any quick-fix, big-ticket free agent signings, Angelo said. Don't count on the NFL draft for an instant cure. Don't hold your breath waiting for that blockbuster trade either.

But by all means, do trust the Bears' coaches to improve the attitude—and thus the record.
Yes, fan favorite, Jerry Angelo ... (okay, I'll wait until you stop laughing. In fact, give me a minute too.) .... has decided that the whole problem with the Bears lies in their coaching. After the last two years it is kind of hard to disagree with that, I am just wondering what took him so long to figure it out?
Our very own SouthSideSlim a/k/a S to the 3 Makin' the WHOOPEE! (as he prefers to be called in private moments), has already started a thread, so CLICK HERE TO JUMP ON THE BUS!