Yesterday I had all of this reality stuff to deal with and didn't get to have my valuable play time up here. But, since all of that worked out to the benefit of my company, I guess I should just shut up and realize that there are going to be those days where I have to do the stuff they pay me to do.
However, today, unshackled from those egregious burdens, I am back.
I bet you're whole day just got brighter knowing that.
Oddly enough, the world did not stop spinning and news did not stop happening. Our elected officials continued to embarrass themselves at epic levels, a prestigious university admitted that some of its graduates couldn't have gotten hired there as janitorial staff except for the influence of their powerful families and both Chicago baseball teams played baseball yesterday.
I am going to stick with the baseball stuff.
Yesterday, the Cubs did something they have not done all year. They won a game while scoring less than four runs. DAVE VAN DYCK (Tribune) takes a look at the story.
The Cubs beat the Dodgers 2-1 Friday!

Yes, that is an exclamation point, and yes, it is needed, because this was a very rare victory.

It was the first time since Sept. 11 that the Cubs won a game while scoring fewer than four runs, which wouldn't seem all that hard. Unless you're the 2009 Cubs, who were 0-19 while trying to do it.

The thank-you cards should go to Ted Lilly and two hitters—Koyie Hill and Jake Fox—who were part of an unusual 2-1 loss just the night before.
After losing by that exact same score the night before and wasting Hill in a bizarre non-at-bat in that game, the Cubs came out and played a solid all around game, got a couple of calls to go their way and got to fly the "W" flag with pride. Hopefully, for the sake of our blue bleeding members, this is a sign of good things to come.
Just for the kids at home who care deeply about this, Bobby Scales went one for four yesterday. That one, however, put Jake Fox at third where Fukudome could drive Fox in with a sarifice fly for the winning run.
CLCIK HERE to vote for Bobby Scales into the NL All Star Team at 2nd Base. Yes, I know he played 3rd yesterday, vote for him at 2nd anyway.
On the South Side, Lance Broadway (aptly named if he were a porn star) was shipped to the Mets in return for back-up catcher Ramon Castro (an excellent name for the pool boy in any romance novel) and their current back up catcher, Corky Miller (a good name for an imaginary sock puppet), got shipped off to 3A.
Oh, and the Sox won the game too. JOE COWLEY (Sun Times) fills us in on that fun little fact and the ongoing development of Clayton Richard.
Making his fourth start since taking over the spot vacated by Jose Contreras, who demoted himself to Class AAA Charlotte, the second-year left-hander went seven innings, allowing two runs and six hits while walking one and fanning seven in an 11-2 Sox victory over the Royals.

Richard is 2-0 with a 2.70 ERA during this stint in the rotation, and that's even including a four-run, 3 1/3-inning debut as a starter in Cleveland, when he wasn't fully stretched out coming from his spot as a middle reliever.

Sox starters now have allowed three earned runs or less in 11 consecutive starts, posting a 7-2 record and 1.92 ERA over this run.
So the Sox, like Stella before them, seem to be getting their groove back. Yes, that was cheesy as heck but I don't care. I'm having a good day and I am not about to let you screw it up.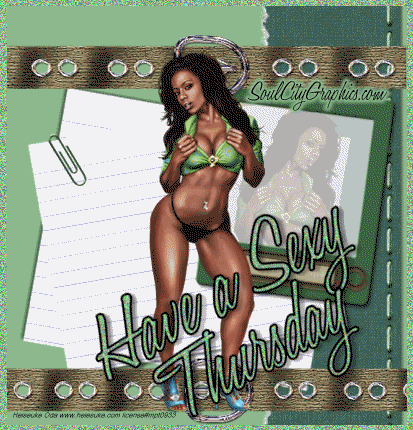 There is something in the water down at the Madhouse on Madison. The Bulls, seemingly Lottery Pick locks last September made it to the playoffs and gave the defending champion Celtics a series that will long be remembered. In fact many are already calling it the best single series ever played in the history of the NBA.
I won't disagree with them.
The Blackhawks, picked by many to be "better than last year" and maybe make it to the playoffs not only made the playoffs, they won the first two rounds and only lost in the third to the world champion Detroit Red Wings. They should all be very proud of this season. I am sure that we will have many more good ones to come.
But, do you see the similarities?
Both teams are young, both teams have long years ahead with their core players and both, while losing to champions, did not go down easy. If you are a fan of basketball or hockey in this town, you just saw the dawning of a very bright future.
This just in, Joakim Noah was applauded for sharing his dinner rolls at La Scarola and Jonathan Toews drank his first, legal, post-season beer.
In baseball, as TYRONE noted below, Carlos Zambrano decided to take his place in the Cubbie clown car and is likely to be suspended for a bit. Lost in all the hoopla is the fact that the Cubs won their first complete game in ten tries.
I don't know if this is a sign that they have turned a corner or just another reaffirmation of the old adage "even a blind squirrel sometimes finds a nut." Simply put, the combined recent actions of Bradley, Lilly and Zambrano do not indicate a team that is in control. Contrariwise, they seem to be coming apart at the seams. So much so that this would be a good time for Gatorade to show off it's new TITANIUM ENCASED DISPENSER. It could be all the rage (as it were). The only plus we get out of recent developments is that Bobby Scales never made it back to the minors, being recalled before his plane left to replace the injured Ryan Feel. He'll be in the lineup tomorrow.
CLICK HERE to vote for Bobby Scales into the NL All Star Team at 2nd Base.
On the other side of town, the White Sox just won their third consecutive series and SCOTT LINEBRINK called Phil Rogers (Tribune) misinformed (to be polite). Not directly, but you'll get the idea. Joe Cowley (Sun Times) reports on Linebrink's reaction to being told that Rogers called the Peavy trade a charade.
Scott Linebrink called the very idea of it laughable.

The notion that White Sox general manager Ken Williams knew all along that Jake Peavy would block the trade from San Diego, allowing him to at least show the fans—"Hey, at least I'm trying."

"I don't think that went into it at all," Linebrink said Wednesday before the 3-1 loss to the Angels. "When [Ken] spoke to me, he was excited to get a pitcher the caliber of Jake and wanted me to do whatever I could to talk to Jake, because I had a personal relationship with him, and answer any questions he might have had, so I don't think he would have gone through all of that trouble if it was all for show."
Well, when Ozzie Guillen is the sanest man in town and getting the least amount of press, you know that sports in this town are going to be a fun read this summer.
[Rick Vaughn is pitching to Jack Parkman during practice]
Jack Parkman: What do you call that garbage?
Rick Vaughn: It's my eliminator. I've got another pitch. You get a piece of it, I'll let you name it.
[Vaughn pitches and Parman hits the ball out of the park]
Jack Parkman: I'd, uh, call it the masturbator.
Is anyone really surprised?
Team Meathead had a really good yuck over yesterday's ball game. Yes, indeed it was truly hilarious. The supposed ace of the starting rotation throws a wild pitch. Consequently, that leads to a play at the plate and the umpire quite correctly calls the runner safe.
It was not even that close. Despite the homerism antics of the shameless duo of club owned broadcasters Bob Brenly and Len Kasper.
And quite predictably, the fireworks began. A bit late mind you since Memorial Day has already come and gone.
Evidently, Carlos Zambrano was not having any of that correct call at the plate crappola. After all, the entire umpire crew in major league baseball is conspiring against the Chicago Cubs. Just ask Malignant Milty and his .196 batting average.
Malignant Milty's newly infected buddy felt terribly wronged. How dare home plate umpire Mark Carlson call Nyjer Morgan safe at the plate? So what if the call was right? Baby Z wanted Morgan to be out because.... well he is Carlos Zambrano sporting a 3-2 record in 2009!
Another conspiracy…
Never one loss at words, the ball club's designated $30 million tumor praised the antics of his latest victim:
''That was pretty impressive,'' the fiery outfielder said. ''It was on a Bradley level.''
"Bradley level" equates to another suspension to be levied by Bob Watson. As if the Cubs can really afford to risk throwing away even more games because it is more imperative to act like a horse's ass on the ball diamond.
All this after Ted Lilly was just recently exonerated after being ejected from a game for arguing balls and strikes in a game that he was not even pitching. Conceivably, the Cubs could have lost up to two starting pitchers to highly avoidable suspensions. All this unnecessary drama in a series against the Pittsburgh Pirates, a team with a promising future but should hardly be invoking such remarkably stupid tirades.
To be fair, Carlos Zambrano was a wingnut before the arrival of Malignant Milty. However, fans have always been forgiving of Baby Z's outbursts due to the seduction of the pitcher's oozing potential to becoming a first rate ace of the staff. The act is growing old for a man turning 28 years old who has yet to achieve a 20 win season or win a single playoff start. Just like his compatriot better known as DH in the Outfield, he is his own worst enemy. And the narcissism is killing this organization.
After the game of course, Baby Z was contrite and apologetic. That probably bears no comfort to either the now thoroughly destroyed Gatorade refreshment machine or pitching coach Larry Rothschild who nearly was bonked on the head while Z was taking some extra batting practice in the dugout.
This is not the type of "fire" that results in team championship seasons. But it appears this team has already given that quest up.
Seemingly, Jim Hendry continues (at least in public) to be in complete denial over his 2009 Miltensteen plagued team as evident in an interview with Fred Mitchell:
"Some of the moves work out right away and some of them take a little time to work out," Hendry said. "And sometimes they don't work. It's just part of the gig."
Dumping Mark De Rosa has not worked. Neither has kicking Kerry Wood to the curb. Jason Marquis' exile? Debatable at best. Jake Peavy is still in San Diego. And Malignant Milty continues to sulk and lurk in the clubhouse seeking out his next victim.
Most of this country cannot afford health insurance coverage for cancer treatment. However in Wrigleyville, Jim Hendry paid millions to purposefully infect an already disease susceptible ball club that has failed to win a single playoff again in consecutive back to back post seasons.
It does not appear that this season will have to concern itself with post season anxiety for the Cubs. End stage for Malignant Milty will probably claim the life of this team much sooner than October. And predictably, it will be the fault of everyone (the media, the umpires, the fans, the curse, the goat, Jim Riggleman, etc etc etc) but the players wearing the uniform.
The symptoms of Malignant Milty are not exactly hidden or undocumented.
Just ask the Indians. Or the Dodgers. Or anyone in Washington with a faint hint of a french accent. Or San Diego. And of course, Texas.
Perhaps if the disease had first struck Baltimore, Jim Hendry would have had a clearer heads up from his garbage collecting pal, Andy MacPhail.
As for Zambrano, all the natural talent in the world will never overcompensate for that two cent melon resting atop those broad shoulders with a one inch fuse attached. And that is really unfortunate. It is why baseball fans will forever honor the name MADDUX and ask "who was that guy again" while being entertained by yesterday's clown act on YouTube.
Hope it was all worth it.
Sherilyn (the male transvestite) collaborates to attempt to censor my sites fromtheir (sic) search engine services, and place his abusive one above mine (in sequence of order through keywords allows it to come up first over mine) as I have tried to list my sites with some of them for as long as 6 months to no avail..."—Edmond H. Wollmann
"There always is," he replied. "No matter what, I'm the type of guy [where] I don't care what somebody does to a colleague of mine. I'm not going to treat him any differently. I do things straight up, because I'm a straight-up, honest individual.

"Unfortunately, I just think it's a lot of 'Oh, you did this to my colleague,' or 'We're going to get him any time we can. As soon as he gets two strikes, we're going to call whatever and see what he does. Let's try to ruin Milton Bradley.'

"It's just unfortunate. But I'm going to come out on top. I always do." - Milton Bradley
I just thought that Uncle Milty might feel better if he knew that he wasn't alone in his perceptions of reality.
US NEWS offers help to paranoiacs.
1. Try not to dwell.

2 . Get perspective.

3 . Examine the evidence.

4 . Think kindly of thyself.

5 . Sleep, eat, and exercise regularly.
First off, the US News article linked above goes into much more detail than the bullet points I have highlighted. If you are feeling like "they" are out to "get you" you might want to give it a read.
To Uncle Milty (the Cubs' player, not the famous 50's drag queen with the legendary appendage), I have only this to say; you are claiming that a fraternity of men who have trouble with the concept that "the tie goes to the runner" and who can't agree on what a strike zone is have somehow managed to coalesce into an agency of doom for your career?
Please.
These guys could screw up a one car funeral. There is no way that they are organized enough to do what you claim.
STEVE ROSENBLOOM (Chicago Tribune), whose subtle version of 'sledgehammer hitting watermelon' style of humor seems to elude some people, takes a look at Uncle Mitly's claims.
Just because Milton Bradley is paranoid doesn't mean he's wrong.

It also doesn't mean he's doing the Cubs much good by offering his conspiracy theories.

Of course, it wasn't his fault. It never seems to be Bradley's fault, according to Bradley, even though it was indeed Bradley who got mad about umpire Larry Vanover's strike-three call, started arguing with Vanover, and got too close and made contact, and got suspended.

And then this weekend, Bradley told Our Guy Paul Sullivan the umps have had it in for him since then. Painted the whole conspiracy theory for hitting below the Mendoza line:

"I just think it's a lot of 'Oh, you did this to my colleague,' or 'We're going to get him any time we can. As soon as he gets two strikes, we're going to call whatever and see what he does. Let's try to ruin Milton Bradley.'''

Bradley is obviously aware of how widespread umpire conspiracies can be. The umps were particularly effective working with the CIA and organized crime in assassinating JFK.

But anyway, after Sully wrote it accurately, Bradley declared the Tribune "tricked'' him. Bradley didn't say he was misquoted. He didn't say the umps weren't out to get him. Just said he was tricked. Said he was caught in a weak moment. Which tells me that he believes the co-conspirator paranoia. So, Sully wrote it right and Bradley was wrong.

Bradley at least he admitted he made a mistake "talking real reckless,'' which kind of blows up Bradley's own story that he was "tricked.''
- AND -
Bradley can't seem to stick around very long. He has been with four teams in the last three seasons. He has never lasted more than two full seasons with any franchise. Perhaps we're seeing a piece of why.
Let's face it, whatever spark Milton Bradley brings to a team will end up in an epic conflagration. Even if the guy hits .350 for the rest of the season, something, somehow, somewhere, is going to set him off. And, then what? The Cubs can't sit him and he will be a major distraction to a team that really doesn't need any more.
So, today, I woke up, fed the cats and the fish, answered some email and then, at 6:30 AM, got a phone call from Guy Bauer, the Executive Producer of the JOHNNY B. MORNING SHOW. We were going to do the interview today.
And at 8:55 AM, we did.
Johnny, like ELLIOTT HARRIS (Sun Times) before him, took our campaign seriously. We ended up having a very fun interview and getting across our message in a pleasantly clear fashion. As I WROTE on May 16th, we have very valid reasons for supporting Bobby to be an All Star this year.
Scales truly embodies the qualities of what a major league player should be. He is humble, grateful and talented. He has been in the minors for 10 years. During that time there were a lot of teams he could have started for, but he wasn't on them. Instead of bemoaning his fate or lashing out at others, he continued to get better. And, this year, the Cubs are reaping the benefits of his work ethic and commitment to the game.

Moreover, he and his wife have made sacrifices for each other so that they can both live out their dreams for the rest of their lives. That devotion, to things greater than self aggrandizement, alone should earn him your vote.

We ask you to join us in helping get Bobby Scales into the 2009 All Star Game. Not only is it the right thing to do, it will leave the national media scratching their heads for the rest of the season. That's just a bonus to keep you happy.
CLICK HERE to vote for Bobby Scales into the NL All Star Team at 2nd Base.
You can do it, we have faith in you.
In other Bobby Scales news, despite suffering from the flu and being a scratch for last night's game, Bobby came in to pinch hit last night. It is that kind of team spirit that makes us continue to support him, even though he didn't actually get a hit.
In other Cubs news, Milton Bradley got tricked into answering a question by a reporter who, and this is really sneaky, asked him one. If Milton does any more backpedaling concerning his rant about MLB umpires all he will need is a unicycle and he can get a job with Cirque du Solei.
Nevertheless, the Cubs scored 8 runs last night and lost 10-8 anyway. Keeping the Cubbie tradition of "this can only happen to the Cubs" alive, Ted Lilly got ejected from the game. He wasn't playing, wasn't in the line up and still argued balls and strikes with the ump. He spoke after the game and said he would be surprised if he got fined. For those of us who saw it, we will be surprised if that's all that happens. He came out of the dug out, may have bumped the ump and was not active during the game. That is a recipe for a long sit down from MLB.
In happier news (at least for me), the White Sox faced, their long time nemesis, the L.A. Angels of Anaheim (which is conveniently down the road from Disney Land and other attractions, see your travel agent for details) and held on to a 17-3 win.
Jim Thome moved up to the #13 spot for all time home runs but the team was energized by the combined efforts of Pods and Alex Ramirez who got 8 hits and 4 RBI's between them. They are starting to look like the team we were promised in Spring Training.
On a more subdued note, I would like to pass along the sympathies from all of us here at Jay The Joke to the family of Ozzie Guillen. Ozzie's father in law passed away yesterday. Ozzie will stay in Venezuela for a while and Joey Cora will continue to manage in the interim.