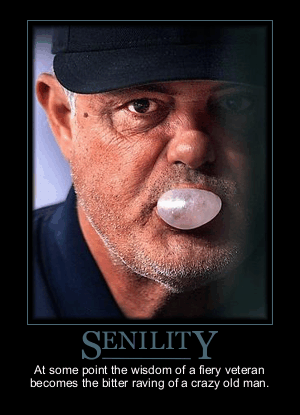 CAROL SLEZAK (Sun Times) today gives Lou Piniella 2 weeks to keep his job. Well, as long as no one is overreacting ......

They might catch fire any day now and reel off a streak that shoots them straight to the top of the National League Central. But let's not kid ourselves. To date, the Cubs have been the biggest underachievers in baseball.

We've watched them stumble all season long, showing more spark while bashing a Gatorade dispenser than they ever have on the field. They are a bunch of hotheads prone to mental mistakes. They are desperate for leadership. Unfortunately, Lou Piniella, the man charged with providing that leadership, seems as lost as his players. He just isn't getting the job done. If the Cubs can't turn it around before the All-Star break, it will be time for a change at the top.
Okay. Let's assume for a moment that I have completely lost my mind and agree with her. HEY! You didn't have to do it that quick. Anyway, if Lou goes, who comes in? It isn't like there are a ton of experienced managers with winning records just waiting for that call.
Maybe Bob Brenly. Sure, that would be fun from a performance art perspective, but I am not sure how good it would be for the team. After that you get a lot of 3rd base coaches who would be shots in the dark. Maybe one is the answer, maybe not.
Or, do you give Ryne Sandberg the chance he has always dreamed of? I ask you to keep in mind that he has a losing record as a minor league coach, no matter how much or how many fans love him. But, Carol is not here to offer solutions, just to toss crap against the wall and see what kind of pretty pictures it makes as it slides down.
Piniella didn't assemble this group of underachievers. Not officially. But you can be sure he had a hand in helping general manager Jim Hendry shape the Cubs' $140 million roster. From his vocal desire for a left-handed bat, which resulted in the acquisition of the troubled Bradley, to his apparent willingness to part with Mark DeRosa, Piniella has the team he wanted. Supposedly, it was built for October. But at the rate the Cubs have been losing, they won't even make the playoffs.
Well, close enough for modern journalism I guess. While it is true that Piniella asked for a left handed bat, he never once asked for a complete head case who plays defense like he has holes in his glove. Though he said all the nice things when Bradley got signed, you had to wonder then if he wanted to throttle Hendry. Lou has never liked problem players. He is akin to Ozzie in that regard.
Inner fire? Yes. Molten lava spewing rampant destruction at random targets? Nope.
Carol does note that it is not Lou's fault that the team can't seem to find a baseball with a guide dog, then notes that it kind of is since, after all, he was once a hitting coach. I should note that he also played some infield in high school. Maybe he should just demote himself and concentrate on his strengths.
But clearly, all facts aside, what has happened is that the team has given up on Lou since the club has such a long history of post season success ..... I'm sorry, not even I can go further with a straight face. But she can.
When Piniella arrived in 2007, there was no doubt he was in charge. When he led the Cubs to 97 wins last season, there was no doubt he was in charge. But he has seemed lost this season. Is he burned out, sick of the managerial grind? Has he failed to recover from the Cubs' second straight three-and-out postseason experience? Has the pressure of trying to lead the team to a World Series taken its toll on him?

I can't answer these questions. But I know for certain that the 2009 Cubs shouldn't be struggling to play .500 baseball. If c can't motivate this team, the Cubs need to find someone who can.
These questions, and many others, could have been answered simply. She could have asked Piniella, or talked to couple players off the record. Of course, that would require work, which is clearly beyond her.
In closing, the Cubs and the Sox both beat bottom dwellers yesterday, which is a good sign. Those are the teams you have to beat.
First off, a quick shout out to TONI GINNETI (Sun Times). She is rapidly becoming one of my favorite writers. And, while we are not referencing her today, I didn't want that little fact to get lost in the shuffle.
Now, on to the fun.
Yesterday saw the Sox accomplish something they have not done in over a month; they won 2 home series in a row. More importantly, they gained a little ground on the division lead which no longer looks like it is lost over some distant horizon.
It also saw the 'perfect mixture of maturity and fire' implode again and drop two games below .500. You do remember that this was the package Cubs fans were sold this year as the team became odds on favorites to win their third division title in a row? RICK TELANDER (Sun Times) takes a look at the "big dog" status of the Cubs.
Sox pitcher John Danks was smoking (no, not Geovany Soto-style smoking), the Sox pounded out 13 hits—including home runs by Alexei Ramirez and Jermaine Dye—and the South Side boys did enough little things to drive the Cubs half-crazy with anxiety and frustration.

A metaphor comes to mind: The Cubs are a big, nervous, pedigreed dog snapping its jaws frantically; the Sox are a sly alley cat, claws out, riding the dog's back.
My wife and I are owned by a couple of cats. I have seen one of them rip a pit bull apart by doing exactly that. So, while mildly imperfect (no one really thinks of Thome when they think of 'feline grace') it is an apt analogy overall.
As the National League's first ever DH, Milton Bradley, continues to make people wonder what kind of photos he has of Jim Hendry, the team seems to have even more pressing issues.
A bigger issue is that the Cubs have two high-maintenance, high-strung head cases at their core—Sunday's starting pitcher Carlos Zambrano being the other—while the Sox have an all-for-one mentality of near-equals.

A display of this came in the sixth inning, when Sox manager Ozzie Guillen called a suicide squeeze that sent Chris Getz flying toward home plate. The play unnerved Zambrano, who threw wildly to his unsuspecting catcher Soto, with the ball getting away and Getz scoring easily. Big Z then hit Dewayne Wise and walked Scott Podsednik before Piniella could yank him from the game.
Or, as my wife asked; "Aren't they supposed to miss the bat person?" Why yes, honey, they are. But Big-Z doesn't seem wired that way. For all his barking and finger pointing he seems to lose focus of the game pretty easily. And we all know that every scout is now telling their teams how to rattle him.
Yeah, I know, more good news for northsiders.
In keeping with the 'add insult to injury' theme that seems to be going on here, the (tied for first place) Cardinals just upped the ante by snagging Mark DeRosa from the Indians. For a manager like Tony Larussa, who likes to make fielding moves, this was a gift from the gods. DeRosa can play every infield position and, as noted last night on ESPN, will play anywhere but pitcher if asked.
Don't yell at me. You can write to Jim Hendry in care of the Chicago Cubs, Wrigley Field, 1060 West Addison, Chicago, IL. 60613-4397.
So, for now, the Crosstown Classic is behind us and we can get back to the business of watching our teams vie for their respective division titles. Only time will tell if our favorites hit the post season as Big Dogs or in the Dog House.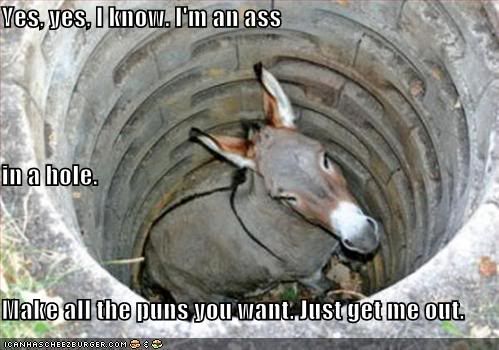 Batman: You either die a hero or live long enough to see yourself become the villain. I can do those things because I'm not a hero, like Dent. I killed those people. That's what I can be.
Lt. James Gordon: No, you can't! You're not!
Batman: I'm whatever Gotham needs me to be.
Be honest.
Did you really waste a gorgeous Sunday afternoon watching today's galactic interleague Cubs vs Sox fiasco?
What a pity.
Stupid me, I was with the family this afternoon. Recently, I've learned it is not enough to simply write and hopefully induce a little provocative discussion. Name, rank and presumptive serial number is becoming a requirement around these parts. So here we go. If this bores you, simply skip to the next paragraph. After all, this is to appease nosy inquiring minds. The family (yes, I have one) enjoyed a little fun in the sun at the local water park. Weird new rule - no cameras or phones are allowed. That must be a great disappointment to those that wish to take pics of others and post them on the "gotcha" revealing websites. Afterward, we had hamburgers over the grill and cherry ice cream for desert. So when the kids were bathed and put to sleep (usually an exercise of futility), I browsed the web for the score.
6-0 for the good guys. And if you have to ask who the good guys are, shame on you once again.
Evidently, the local press has temporarily bought into the Lou Piniella buddy embracing tear jerking coming together with Malignant Milty. How touching. I can only picture a sobbing Edward Norton's head being crushed in the confines of Meat Loaf's lactating man boobs. Quite the image, huh? So as quickly en vogue it was the rip apart the piece of sh*t (and admittedly, it was fun and continues to be so), the press (hello Phil Rogers) has a new knock down mental midget bobo doll to mangle.
Enter Baby Z. And he is clearly infected by Malignant Milty. No lab tests this time required.
Perhaps Dr. Lou has enough chemo left to start the intravenous drip into the big vein of the million dollar arm - two cent melon of a starting pitcher.
The Cubs better have a great private insurance plan. All this cancer treatment has gotta be expensive. And how nice for the Malignant Twins to have immovable contracts. Cancer is a terrible pre-existent condition to have stapled onto the next team's private insurance carrier's application. Renders one practically uninsurable. Soriano in particular, must really feel relieved.
Evidently, Baby Z went ass hunting today with his fastball. Supposedly, that is a little safer than aiming for the head but derrieres may feel otherwise during tomorrow morning's ritualistic visit to the procelain throne. Word to the Wise: better check for a floating baseball prior to flushing. Otherwise, a phone call to the plumber will be in order.
Today's game has all the markings and trappings of a Jay Mariotti column* to appear over at AWOL Nuthouse in the very near future. Hell, it might be up already. How could Jay resist? Baby Z melts down like a two year old sitting in a poop filled diaper, Ozzie with the usual quote of the day (and a dead accurate one at that), Lou facing a paradoxical situation with Z after the much ballyhooed fertilizer dump over Malignant Milty's cranium and the best part of all........
Mark De Rosa is a St. Louis Cardinal.
Woo! Woo!
Hopefully, Jim Hendry cell phoned his cardiologist for a quick EKG study. Never can be too careful these days for fellas over 50 with ticking time bombs in their chests. Why did it have to be Billy and not Vince?
Now can anyone doubt that God truly hates the Chicago Cubs?
Jay's keyboard is taking a pounding that only Vinyl Ben has previously endured. How sad.
Phil Rogers has already weighed in on Baby Z's future with the Cubs. And apparently, this town's WBC lovin' baseball writer has seen enough of Z's antics:
Proving that I did not attend Kellogg, Wharton or even the Acme School of Business, I offer this proposition for Jim Hendry: First thing Monday morning, put Zambrano on waivers. If anyone claims him and the $62.75 million left on his contract which runs through 2012, immediately trade him for whatever is being offered, from a bag of balls to a 32-year-old minor-leaguer.
Geez, what gives Phil? Did another Gatorade container meet its demise or something?
Somewhere out there, Malignant Milty (when not searching for another host body to infect) is screaming "Unfair!" And you know what? If Lou Piniella does not address this situation, the little $30 million tumor just might have a valid point.
If so, then the sh*t will really have hit the fan in the Cubs clubhouse. With or without Sox attendants of course.
What a colossal mess.
Has last season's no hitting, home run swinging future 20 game winning heroic Wrigleyville pitcher now turned into villainous cancer? Could Baby Z now be more despised within the ranks of the Friendly Confines than the newest member of the hated Cardinals?
I guess there is still reason to tune into Len and Bob's corporate friendly broadcasts to breakdown the remaining 90 games or so left in this season from hell.
But please, no baseball (like what we are witnessing this season) on days like today. And I was led to believe that the CIA was under orders by Congress and the President to cease and desist all forms of extraneous torture?
Just watch. A baseball Czar will be appointed to protect Gatorade jugs from irate Cubs. Enough is enough and change must be mandated for Gatorade's best interests.
But as for the rest of us? Perhaps it is time to flick off the tube and get a little fresh air. After all, who could honestly deny not needing about 95% more diet and exercise?
The weather is still tax free unlike our soon to be satellite and cable bills (isn't it great that all television is digital now?).
Better to enjoy those little free moments with the family while one can.
Yes, change has come in many shapes and forms. However, one can always count on the Cubs for one fundamental constant in this grand universe.
Wait until next season.
Addendum - I caved. And crawled over to the outer limits of cyberspace. Indeed Jay true to form pounded one out. But I did write this draft before checking. Nothing more damning then being called a fake or a fraud, hence this final wording. Hopefully my manhood remains intact. And if not, go to hell.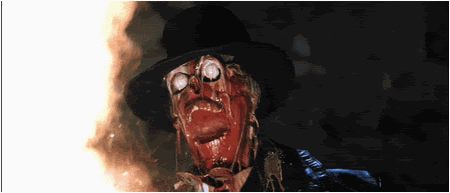 Da Nang Hooker: Hey, baby. You got girlfriend Vietnam?
Private Joker: Not just this minute.
Da Nang Hooker: Well, baby, me so horny. Me so HORNY. Me love you long time. You party?
Private Joker: Yeah, we might party. How much?
Da Nang Hooker: Fifteen dollar.
Private Joker: Fifteen dollars for both of us?
Da Nang Hooker: No. Each you fifteen dollar. Me love you long time. Me so HORNY.
Private Joker: Fifteen dollar too beaucoup. Five dollars each.
Da Nang Hooker: Me sucky-sucky. Me love you too much.
Private Joker: Five dollars is all my mom allows me to spend.
Da Nang Hooker: Okay. Ten dollar each.
Private Joker: What do we get for ten dollars?
Da Nang Hooker: Every t'ing you want.
Private Joker: Everything?
Da Nang Hooker: Every t'ing.
Private Joker: [to Rafterman] Well, old buddy, feel like spending some of your hard-earned money?
Is there an oncologist in the Cubs clubhouse?
Evidently so. Manager Lou Piniella doffed off old #41 and exchanged it for a white coat and a stethoscope.
Nurse Hendry.... administer the chemotherapy stat! And have a surgeon on standby asap! The tumor must be excised immediately before it spreads further!
Cancer is indeed a royal bitch. It contributes nothing toward its host living entity. It deprives nutrients and reorganizes blood supply. And it grows and grows and grows until it kills the very host it depends upon for survival.
But don't take my word for it.
Listen to Principal Victoria:
I was diagnosed seven years ago. Cancer is… pure evil. It is a fat little lump that needs to be… destroyed. [turns and faces Wendy. Outside is the faculty parking lot] When there is a cancer, you have to "fight" it. You can't reason with cancer, you can't wish it away. Cancer doesn't play by the rules, so neither can you.
Milton Bradley is a fat little lump in the Cubs clubhouse. And Dr. Lou needs to eradicate this fleshy diseased mess immediately.
Malignant Milty seemingly was feeling pretty sorry for himself prior to yesterday's game. Evidently, Nurse Hendry took away his very best Cubs friends. And that left the lump lonely and hungry for fresh tissue to invade:
"We just don't have that bond," he replied. "'D-Lee' is cool. He's quiet. But things change. I had a good rapport with [fired hitting coach Gerald Perry]. I trusted Gerald and I could talk to him, and he's gone. I think I clicked with [ex-Cub outfielder Joey] Gathright, and he's gone. So you just kind of feel like you're on an island, and trying to stay afloat."
What a load of bullcrap. Seriously, poor Malignant Milty is all alone because Gathright and Perry have moved on? And pray tell us what lifelong friendships were developed from 7 teams in a little over 9 seasons? Doesn't Jeff Kent return those phone calls?
.237
That is most relevant lab number pertaining to the Cubs part time DH/full time diseased nuisance. Nurse Hendry only wished that a contagious sexually transmitted disease was the consequence of jumping into bed with this prostitute for $30 million dollars while leaving the still sealed rubber in the box by the night stand. But in typical Cubs fashion, the courtship resulted in a full blown cancer pandemic.
Make no mistake about Lou Piniella's disciplining of Milton Bradley yesterday. Yes, the terrible at the plate appearances were annoying. Yes, the showboat move in the outfield was probably a little irritating. And yes, the frequent smashing of the Gatorade container and helmet heaving act (is the Cancer upset about not helping the team or is it really just a self indulgent show?) is growing old. But really, it is all about a battle weary Manager sick and tired of a pompous side show freak act persistently distracting the team from an already challenging season.
So Mt. Piniella finally erupted. Lava thermally kills cancer cells. A tongue lashing ensued. And the player's uniform was ordered off for the rest of the day.
Dr. Lou temporarily excised the tumor from his team:
"I told him to take his uniform off," Piniella said in his postgame news conference. "He threw his helmet off and smashed a water cooler. I just told him to take his uniform off and go home. I followed him up into the clubhouse and we exchanged some words.

"This has been a common occurrence. I've looked the other way a lot and I'm done with it. I'm not happy that this happened. But at the same time, it was time."
Good for Dr. Lou. However, keep in mind that this was no way, shape or form, a permanent cure. Malignant Milty is expected to be in today's lineup.
Unfortunately for Piniella, Nurse Hendry needs to read a few more medical textbooks and become an oncology surgeon. Dr. Lou can only provide the chemo and a little under the fire radiation treatment. And from time to time, Dr. Lou can temporarily stabilize the host from further metastasis by benching Malignant Milty. But sooner or later, the disease will continue to manifest and spread. Cancer always does.
No, Nurse Hendry needs to become Dr. Hendry and do what is best for the team.
And that is surgically remove Malignant Milty permanently. Cut bait and admit that little tryst in the off season was a terrible mistake.
According to Hendry, there will be a meeting of the minds before today's ballgame.
Just remember Pincipal Victoria's final bit of advice:
And you can't listen to what anybody else tells you. You have to be willing to give up everything, because the cancer will take everything. Do you understand?
Nurse Hendry, you are being called to the OR. Better bring those textbooks, a flashlight and a scalpel.
Stat.
Once again, amidst the thunderous roars of the coliseum, the mighty gladiators will gird their loins for ....oh, who am I kidding? The Cubs and Sox, two sub .500 teams, will play each other and hopefully one will win.
That doesn't actually seem like a given. The two teams have redefined mediocrity by going 34-34 over the life of the series. 3 ties wouldn't shock me. Sure, that is almost impossible to do in baseball, but if there is a way to make that happen I am convinced these are the two teams that can find it.
On the plus side, the Sox are 7-3 over their last ten games and have won their last three complete series. While they still do not seem like they are on path to become a juggernaut, they have started to show consistent signs of life between the lines. That is a good beginning.
On the down side, the Cubs are 5-5 over their last ten games and are on a 4 game losing streak coming into today's series. Lou Pinnella looks as though someone darted him with Valium and the team seems to be grooving on his new mellow mood. So much so that Soto's recent acknowledgment that he tested positive for pot in the WBC seems fitting somehow. Sadly, they don't seem to be grooving at the plate which would be more effective.
But, since everyone seems to be in a good mood, it can be further enhanced if you CLICK HERE and help vote Bobby Scales into the NL All Star Team at 2nd Base. Really, do it and you will feel virtuous about everything. I promise or your money back.
RICK MORRISSEY (Tribune) notes that the lethargy emanating from Wrigley seems to have enveloped the fans as well.
Media members tried to make last week's Cubs-Sox series into something epic by asking player after player about the "intense" atmosphere they had just experienced inside Wrigley. They were hoping for the easy story, and you couldn't blame them. They wanted someone, anyone, to say Cubs and Sox fans were so loud that hearing loss was a distinct possibility. Let's face it, a story about dogs and cats fighting is a lot more interesting than a story about two-toed sloths napping.

But Cubs newcomer Milton Bradley blew to bits the fiction of amped-up emotions in the stands. He said his team's previous series, against Minnesota, had more energy.

Cubs-Twins fever: Catch it.
Hopefully this weekend will be livelier. My guess is that it will. Sox fans have never been good at attending weekday day games. Plus, the allure of spending a day off work sitting at Wrigley just doesn't hold the same appeal for them. The schedule for this weekend's series should help fill the seats with conscious adults who are in the mood to root for their team. Because, as Rick notes, last week wasn't very impressive.
But for both sides to just sit there last week, well, it was borderline embarrassing. It doesn't matter that the Game 1 rainout might have set the tone. Doesn't matter that the teams had been scuffling most of the season.

We expect more out of our combatants. I'm not condoning violence. I'm condoning a pulse.
Heartbeat, it's a LOVE beat ... sorry, it just jumped into my head.
Anyway, Defranco Family flashbacks aside, I am looking forward to this series for the best reason there is. I will not be forced to root for the Cubs.