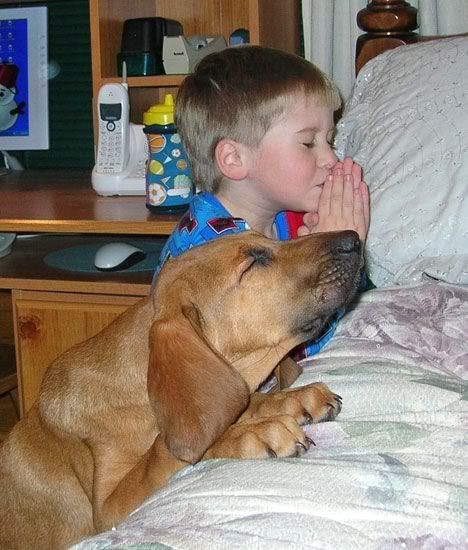 Oh, dear God, thank you, you are such a good God to us.
A kind and gentle and accommodating God, and we thank You oh sweet, sweet Lord of hosts for the smörgåsbord.
You have so aptly laid at our table this day, and each day, by day, day by day, by day
Oh dear Lord three things we pray to love Thee more dearly, to see Thee more clearly, to follow Thee more nearly, day, by day, by day.
Amen.
- Gaylord Focker
Dear Sam,
If there is a shred of decency within your soul, please do not hire Jay Mariotti.
Regards,
Jay the Joke
Tony D'Amato: You're a g*ddamn quarterback! You know what that means? It's the top spot, kid. It's the guy who takes the fall. It's the guy everybody's looking at first - the leader of a team - who will support you when they understand you. Who will break their ribs and their noses and their necks for you, because they believe. 'Cause you make them believe. That's a quarterback.
The Super Bowl of preseason games is over.
Bears - 27, Broncos - 17
As it turns out, I missed most of the final 3 quarters of this magnificent spectacle of football that doesn't even count in the standings. First, the residential internet connection inexplicably goes kaput. And then my office server crashes. What fun indeed.
According to the dateline, Jay Mariotti was in Denver to witness Cutler's homecoming. Whether you truly believe that extra effort to getting to Mile High Stadium actually occurred, is completely your call. However, it is quite apparent that Jay is clearly fond of Jay. For Chicagoans, a Jay Mariotti stamp of approval is about as fatalistic as appearing on the cover of Sports Illustrated or Madden Football.
But alas it seems obvious that Jay is quite infatuated with Jay. And Jay quickly rises to Jay's defense (go to AOL dot com for further indigestion) when those big mean diaper wearing, pacifier sucking Broncos fans welcomed their outcast of a former starting quarterback:
How fascinating to see him take the high road, as he did last week when he voiced nice comments about McDaniels. This was a dramatic departure from the Cutler who was known as a jerk in his first three Denver seasons, the Cutler who picked verbal fights with San Diego quarterback Philip Rivers, the Cutler who never minced words, the Cutler described by Chargers linebacker Matt Wilhelm as "a punk" and "one of the biggest crybabies in the league.
Punk.
No wonder Jay's tentacles arose spastically.
Now where have we heard that word before? Where indeed.....
Oh yeah:
Denver Post columnist Jay Mariotti, then with the Rocky Mountain News, called Elway "a greedy and scared punk" and advised him: "Go ahead John, leave. Get out of Denver, baby. Go. You'll be crawling back here after a week."

But more people apparently thought Mariotti should leave than Elway.

Mariotti was doing his radio show at a local restaurant when four police officers appeared and surrounded him. When Mariotti asked why they were there, the officers told him that two death threats had been phoned in against him. This, of course, is the town where talk-show host Alan Berg was shot to death.

Told that Mariotti's life had been threatened, Elway said with a laugh: "He deserves it. No, that's off the record. He called me a greedy young punk. The guy's never around here. He's one of these guys that like to take potshots. I don't worry too much about Jay Mariotti."
God bless the Internet. And God equally bless the L.A. Times for archiving this little treasure of a column.
History kind of shows that things worked out just fine for John Elway and Denver.
Bears fans can certainly hope that Jay Cutler fares just as well for Chicago as Elway did for Mike Shanahan's Broncos.
But just in case, perhaps it should be equally demanded of Mariotti to also label Cutler a "greedy and scared punk". Why mess with good karma?

Random thoughts.... off the cuff remarks....
Here we go:
Pre-Game
Denver fans can be complete retards. Really, showing up to Mile High Stadium wearing diapers and sucking on pacifiers? Who knew Denver hosted the Jay Mariotti Tolerance Parade?
Pretty weird to see Al Michaels sans John Madden. No more "booms", "Favreisms" or over explanatory bootleg pattern descriptions. Insert bland Cris Collinsworth. Yes folks, it is indeed the end of an era.
Josh McDaniels has a really, really squeaky voice. That would make me punt a football away from a kid as well.
1st Quarter
Kickoff…
Here comes Neckbeard. Hey wait a minute.... Clean shaven? Say it ain't so!
Ed Hochuli seems to be wearing an extra extra small jersey this season. He should be tested for steroids.
Is Collinsworth even in the booth?
So far our first team defense is being shredded by Kyle Orton. Collinsworth finally woke up and noted that Tommie Harris is a shell of his former self. Meanwhile Urlacher almost intercepted Orton with the football just short hopping in front of him. Kind of like watching Soriano muff a fly ball in the outfield.
Here comes our offense. Jay gets booed. The stadium is allegedly shaking from the foot stomping.
Michaels: "The crowd is like one collective spurned lover now."
Well that sucked. 3 and out. Denver cheers enthusiastically. Apparently the Super Bowl will now be awarded to them.
Jay Cutler is upset. And the cameras of course caught his little hand gestures. Kind of reminiscent of Milton Bradley.
Not that there is anything wrong with that. Right?
A lot of camera shots on Josh McDaniels. Obviously, NBC does not want to mic Squeaky Voice.
Hester to receive the punt. He manages to step backwards and lose yardage. Yup, Devin is in mid season form. And we take a penalty in the process.
I smell a Denver safety on this next Bears possession. Their defense is playing Romanowksi mad right now.
Okay, I admit it. I already really miss John Madden. It ain't the same.
Cutler is doing a really great imitation of Rex Grossman in our own end zone. Almost sacked for a safety. 3rd and 8.
Another 3 and out. This "offense"* looks an awful lot like last season. Lovie Smith is pretending to read the game plan cards. Or is he reviewing his resume?
Tommie Harris made a tackle. Hurrah.
Now we are being beat by Orton's rocket arm. Wow.
I see no difference right now between Lovie running the defense versus Bob Babich. Rod Marinelli must smell blood in the water.
31 yard field goal attempt is good. Broncos 3, Bears 0.
So far the offense* game plan appears to dink and dunk with Matt Forte. Real smart to get your starting RB banged up.
Olsen completes a nice reception for a first down.
Kuper (Denver Guard) looks like a goner with that injury. And Royal is probably out for the game as well.
Cutler completes a pass to Davis. Nice play.
Forte throws the ball away. Yes, you read that correctly. Cutler might as well just take a knee and lose the down.
These short pass attempts are going to result in Matt Forte getting killed. Knock this crap off Turner.
40 something yard field goal attempt is good. The game is knotted up at 3.
End of the first quarter.
Bears - 3
Broncos - 3
Discuss.
Tony Gartner, Washington Post: General, Colonel Sterling's order to activate lights, was that a standard response to enemy infiltration of the lines?
General Hershberg: At the critical moment, in spite of terrible losses, Colonel Sterling didn't hesitate to act. Ordering those tanks to turn on their lights saved the lives of God knows how many of our men. Heroic acts arise out of desperate circumstances.
Tony Gartner, Washington Post: I have no trouble at all believing Colonel Sterling is a hero.
General Hershberg: Like Captain Karen Walden. Did you know, Mr Gartner, that for the first time a woman is being considered for the medal of honor for her performance under fire? And, um… Colonel Sterling is just finishing up the inquiry. How's that going, Nat?
Nathaniel Serling: I think, uh… in order to honor a soldier like Karen Walden, we have to tell the truth, General, about what happened over there. The whole, hard… cold truth. And until we do that, uh, we dishonor her and every soldier who died, who gave their life for their country.
[Colonel Sterling gets up out of his chair, walks over to General Hershberg and throws his report on the desk]
Nathaniel Serling: My full report General.
I am a married, 29 year old Iraqi War Veteran, an above the knee amputee on my left side and a 2008 Paralympian. I love the USA and all that it stands for. - Melissa Stockwell
I could go on and on about recalling this week's sad example of an overpaid self-absorbed millionaire professional athlete complaining about hurt feelings.
But I won't. It is Sunday. The weather is remarkably football conducive and there is nary a cloud in the sky. And besides, I promised to take the kids to the zoo today. Yes, we go there a lot. One of the simple joys of parenthood is to watch the awe and excitement of a couple of toddlers visiting the bears exhibit and saying hello to the baby seals.
And then later tonight, I'll don my new CUTLER jersey (thanks to the wife) and watch with great interest Bears vs Broncos at Mile High Stadium, home of the turbulent reign of Josh McDaniels.
Let's get back to our business at hand. And recognize true heroism, self-sacrifice and dedication not to just sport but to the freedom and protection of our great nation.
Today, is the Accenture ParaTriathlon Challenge taking place right here in Chicago. And participating in the triathlon is Melissa Stockwell, the toughest athlete you will find in Chicago over this weekend.
Check out this little excerpt from Phillip Hersch's excellent column:
After all, what is a sore hand to a woman who went from losing nearly all of her left leg five years ago in Iraq to swimming at the 2008 Paralympics in Beijing, where she carried the American flag in the Closing Ceremony while wearing a prosthetic leg decorated with stars and stripes?

Just a month ago, Stockwell was third of five women finishers in the handcycle division at the Sadler's Alaska Challenge, a 250-mile, eight-day race with 16,000 feet of climbing billed as the "longest wheelchair and handcycle race in the world."

At 29, the retired Army lieutenant decorated with a Purple Heart and Bronze Star thinks her handcycling days should be over. Stockwell is ready to concentrate on paratriathlon, a sport pushing for inclusion on the 2016 Paralympic Games program.
Inspiring. Class. Sports at its best.
And it gets better.
Check out Melissa's own words of determination and excitement from her blog:
This weekend will mark another first for me. My first attempt at an Olympic Distance triathlon, the Chicago tri. A 1 mile swim, 26 mile bike and 6.2 mile run. I've been training for the past few weeks but my few weeks of laziness after Alaska won' help me on Sunday. The swim will be fine, the bike I'll finish at my slow pace, but it's the transition from bike to run and the run that I'm a bit nervous about. My furthest to date run is 4 miles. And even though my running has dramatically improved and I'm becoming real fond of it, 6.2 miles after that bike ride, won't be easy. I know I'll get to the finish line. My goal of 4 hours may be a stretch and realistically 4.5 may be a better estimate but I'll just see what I can do.
She'll make that finish line. Have no doubts whatsoever.
Best of luck today, Melissa. God bless you for your tremendous service to our country. And thanks for continuing to inspire.
I am presently packing for a quick business trip that will take me out of town for a couple of days. Which means that I share that little bit of fun with the members of the Chicago Bears. After that, we kind of diverge.
Nevertheless, much has been written about how the Bears fleeced the Broncos in getting Jay Cutler for Kyle Orton. To many people it looks like the most lopsided trade since ... pick any one the Cubs did prior to 1985.
Anyway, a funny thing happened on the way to reality. The Broncos seem to like the guy they got. And, more importantly, have been able to slot him into their system and have his teammates (sans Brandon Marshal) feel comfortable with what he brings to the game.
For all the people who loathe Neckbeard, I have one little reminder. Not counting the games where he was forced to play while injured, he was one of the winningest QBs in recent history for the Bears.
Does he have Cutler's arm? Nope. Does he have Cutler's mobility? Nope. So, you may ask, what the heck does he have? The ability to win games with what he has available.
Sure, there is no one in their right mind saying he is a #1 QB in the mold of Elway or Marino, et al. But, even the casual fan has to admit that Kyle Orton treats pressure filled moments like an afternoon tea. In the Bronco's offensive scheme, that is exactly the attribute that they were seeking.
BOB LeGERE (Daily Herald) recently took a look at the situation.
Orton says he doesn't care who throws more TD passes this season because, "I don't think touchdown passes necessarily equal wins, so why would that matter to me?"

Orton has a better won-loss record, having gone 21-12 as a starter while Cutler is 17-20. But Orton isn't gloating.

"You guys can choose to evaluate it any way you want," he told Chicago-area media members. "But I'm looking forward to taking this team to the playoffs and doing a lot of great things."

Bears defenders know what things Orton was asked to do as a 15-game starter in his rookie season of 2005, when he went 10-5 after being forced into the lineup ahead of schedule, and when he went 9-6 last season after winning the job from Rex Grossman. But they don't know what type of QB he'll be with Denver.

"When Kyle was here, I guess it was, 'just don't make too many mistakes,' " defensive end Alex Brown said. "I don't know what their offense requires him to do. Maybe it requires him to be more aggressive than he was here. He's going to make safe throws, and he's going to get rid of the ball.

"But, if he gives us time, if he pumps the ball and then comes back to a second or third read, we have to get there. Orton's a smart player, he knows us, he knows that we're going to be coming, so he better get rid of the ball."

Bears offensive coordinator Ron Turner believes Orton has the qualities and intangibles to be a successful quarterback in Denver, even though he is off to an uneven start with fans.

"He's a good player," Turner said. "He's talented. He's extremely intelligent, a very good leader, and he's got a tremendous work ethic."
DAN POMPEII (Tribune) took some time to talk to Orton's new coach.
Broncos coach Josh McDaniels identified Orton's ability to operate a complex offense when he was considering trading Jay Cutler. So the Bears have Orton's brains to thank for Cutler.

"You could tell on film he was smart," McDaniels said. "He had a lot of responsibility mentally in the Chicago offense. He was doing a lot of things at the line of scrimmage. There aren't too many players I would feel like we could just plug them in and they would pick things up like this. It's not a normal deal."

McDaniels saw more in Orton than a sound mind.

"You also look at the skill set and say what would that look like in our offense?" he said. "Our offense is totally different than most offenses in this league, certainly different than the one they use in Chicago. I feel like that guy in this system is going to be a different player and a good player."

Much has been made of Orton's arm strength, or the lack of it. To believe some, he couldn't throw a pebble through a wet tissue.

While Orton's arm is nowhere near as strong as Cutler's, it is strong enough for what he will be asked to do, McDaniels says.

"If he can make the throws accurately we want him to make in our offense, then to me he has a good arm," he said. "I don't worry about if he can throw the 28-yard in cut. There aren't too many people who can do things like that. John Elway was a different breed."
Given the current state of the NFL, I am no longer sure that "Who has the best quarterback?" is the correct question. I think a better one might be "Who has the best quarterback for their system?" And the answer to that one may haunt Bears' fans as the year progresses.
Or not. That's why they play the games.