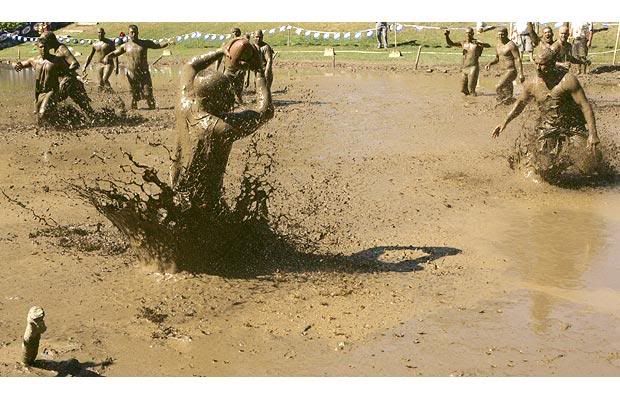 [after the briefing]
Matthews: What's the matter Danny? Something you don't like?
McKnight: No Spectre gunships, daylight instead of night, late afternoon when they're all f*cked up on Khat, only part of the city Aidid can mount a serious counter-attack on short notice…
[chuckles]
McKnight: What's not to like?
Harell: Life's imperfect.
McKnight: Yeah, for you two, circling above it at five hundred feet it's imperfect. Down in the street, it's unforgiving.
A real quick one here. Just the facts.
Desmond Clark has a blog. It is entitled "2009 What Type of Season Will It Be?"
Geez Dez, hopefully better than the last 2 non-playoff seasons.
Anyway, Mr. Clark apparently is fed up with his home cow patch where he is expected to ply his trade.
Apparently he is really ticked off. A little excerpt:
Basically, to some it up in a sentence, we have one of the worst fields in the NFL and there are no excuses why the Chicago Bears, of all teams, should have to play on such a bad surface.
Do yourself a favor and check out the entire blog post.
For those possibly doubting the validity and authenticity of this particular blog, Brad Biggs of the Sun-Times wrote a column on Clark's opinion of the home field. Furthermore, Biggs was kind enough to provide the results of a recent survey of Bears players:
The 52 players were asked what they attribute the condition of their home game field to. Here is how the responses broke down, according to information provided by the NFLPA:

21 (40.4 percent) replied the grounds crew, which is a joint operation between the team and the Chicago Park District, which runs the stadium.

5 (9.6 percent) replied the stadium manager, which would be the park district.

18 (34.6 percent) replied ownership.

2 (3.8 percent) replied all of the above.

6 (11.5 percent) replied not applicable.
In other words, Bears players blame the Chicago Park District front and center for their less than desired work environment. Interesting that Chicago is unable to provide its own team a decent playing field, considering that the Bears pay a hefty city recreational tax.
Just asking, but would the Park District also be responsible for grass playing surfaces should the 2016 Olympics bid be won?
Good luck Desmond. And watch your foot holding.
Courtesy of the Department of Labor.
Labor Day: How it Came About; What it Means
Labor Day, the first Monday in September, is a creation of the labor movement and is dedicated to the social and economic achievements of American workers. It constitutes a yearly national tribute to the contributions workers have made to the strength, prosperity, and well-being of our country.
Founder of Labor Day
More than 100 years after the first Labor Day observance, there is still some doubt as to who first proposed the holiday for workers.
Some records show that Peter J. McGuire, general secretary of the Brotherhood of Carpenters and Joiners and a cofounder of the American Federation of Labor, was first in suggesting a day to honor those "who from rude nature have delved and carved all the grandeur we behold."
But Peter McGuire's place in Labor Day history has not gone unchallenged. Many believe that Matthew Maguire, a machinist, not Peter McGuire, founded the holiday. Recent research seems to support the contention that Matthew Maguire, later the secretary of Local 344 of the International Association of Machinists in Paterson, N.J., proposed the holiday in 1882 while serving as secretary of the Central Labor Union in New York. What is clear is that the Central Labor Union adopted a Labor Day proposal and appointed a committee to plan a demonstration and picnic.
The First Labor Day
The first Labor Day holiday was celebrated on Tuesday, September 5, 1882, in New York City, in accordance with the plans of the Central Labor Union. The Central Labor Union held its second Labor Day holiday just a year later, on September 5, 1883.
In 1884 the first Monday in September was selected as the holiday, as originally proposed, and the Central Labor Union urged similar organizations in other cities to follow the example of New York and celebrate a "workingmen's holiday" on that date. The idea spread with the growth of labor organizations, and in 1885 Labor Day was celebrated in many industrial centers of the country.
Labor Day Legislation
Through the years the nation gave increasing emphasis to Labor Day. The first governmental recognition came through municipal ordinances passed during 1885 and 1886. From them developed the movement to secure state legislation. The first state bill was introduced into the New York legislature, but the first to become law was passed by Oregon on February 21, 1887. During the year four more states — Colorado, Massachusetts, New Jersey, and New York — created the Labor Day holiday by legislative enactment. By the end of the decade Connecticut, Nebraska, and Pennsylvania had followed suit. By 1894, 23 other states had adopted the holiday in honor of workers, and on June 28 of that year, Congress passed an act making the first Monday in September of each year a legal holiday in the District of Columbia and the territories.
A Nationwide Holiday
The form that the observance and celebration of Labor Day should take were outlined in the first proposal of the holiday — a street parade to exhibit to the public "the strength and esprit de corps of the trade and labor organizations" of the community, followed by a festival for the recreation and amusement of the workers and their families. This became the pattern for the celebrations of Labor Day. Speeches by prominent men and women were introduced later, as more emphasis was placed upon the economic and civic significance of the holiday. Still later, by a resolution of the American Federation of Labor convention of 1909, the Sunday preceding Labor Day was adopted as Labor Sunday and dedicated to the spiritual and educational aspects of the labor movement.
The character of the Labor Day celebration has undergone a change in recent years, especially in large industrial centers where mass displays and huge parades have proved a problem. This change, however, is more a shift in emphasis and medium of expression. Labor Day addresses by leading union officials, industrialists, educators, clerics and government officials are given wide coverage in newspapers, radio, and television.
The vital force of labor added materially to the highest standard of living and the greatest production the world has ever known and has brought us closer to the realization of our traditional ideals of economic and political democracy. It is appropriate, therefore, that the nation pay tribute on Labor Day to the creator of so much of the nation's strength, freedom, and leadership — the American worker.
The unequivocally dichotomous results from last night's baseball has left many fans scratching their heads. You couldn't have attracted more polar opposites with a magnet. And yet, there they were. The team destined for post season glory facing off against a bottom feeder and the team slated for post season obscurity facing off against a playoff bound franchise.
The results ended up being the exact opposite of what you would expect.
Our old pal GORDON WITTENMYER (Sun Times) takes a look at the North Side's efforts.
Anybody who has watched this team all year, knows the ending to what has become the same bedtime story for the Cubs, who may have finally gone nighty-night for good by losing 6-2 to the Flushing Bay Floaters in the first game of a no-time-left, now-or-never, gotta-have-it road trip.

"I don't know if you start panicking now,'' reliever John Grabow said, "or just go game by game and try to win series and stay in it.''

Whatever. If you can't score a run in seven innings against Bobby Parnell, who gives up an average of five in that span to everyone else, and can't win when Carlos Zambrano finally brings his good stuff to the mound for the first time since July, then it's not going to matter whether you panic, get mad, relax or take a nap.

"It's gotten to the point where it's beyond frustration,'' said Piniella, who needed a few more minutes than normal for cooling off before dealing with media after this one. "It's almost to the point where ... where ... where I don't know what you do.''
Flushing Bay Floaters? Okay, that moniker alone was worth getting Gordon a front page post today.
Standings aside, here is where the Cubs are at right now; they finally shut down Soriano - which anyone with a pulse knows they should have done weeks ago, Milton Bradley has declared that he's a man's man (there is a bar near the park called the Cell Block that caters to manly men, just in case ....), Bobby Scales is back (HI BOBBY!) and Lou looks like he has already moved into his Florida home for the winter.
Can they pull this season out? Sure. There are 29 games left and they are only 7 out of the wild card. But before anyone can try and put all the pieces together for that to happen, they actually need to win some winnable games first.
On the South Side, in just his 6th season as manager, Ozzie Guillen earned his 500th win. Sure, Tony LaRussa has managed that feat with three different teams, but last night was Ozzie's night to shine.
This game was over so fast that Red Sox manager, Tony Francona, pulled 7 of his starters in the 5th inning. Ozzie took the respite to try out rookie pitcher, Daniel Hudson, in front of a major league team. Managers feel comfortable doing that when they are staked to a 11 run lead in the 7th. Also of note, Freddy Garcia keeps making a solid bid to be the Sox fifth starter now and in the future. Considering many were saying that he was out of baseball last year, this is one of those feel good stories that gives you the warm fuzzies. I, for one, wish him well.
JESSE TEMPLE (MLB.com) takes a look at the rest.
"You give the coaching staff a little relaxation for the first time in five months," Guillen said, "and hopefully they continue to do that."

Before this recent three-game winning streak, the White Sox had lost nine of 10 games, falling 4 1/2 games further behind the Tigers. But they played on Friday like they had a short memory of their missteps.

The White Sox pounded out 20 hits, their most in a game since May 25 against the Angels, when they recorded 24. They batted around twice by the fourth inning and produced 16 hits in the game's first 12 outs.

"To play such a good team like the Red Sox and really come out with the bats exploding, it seems like forever since we've scored a bunch of runs, and tonight was a good sign," White Sox third baseman Gordon Beckham said.

The South Siders got the scoring started in the bottom of the second inning when Mark Kotsay parked a pitch from Red Sox starter Paul Byrd into the right-field bullpen, a two-run shot that scored Paul Konerko and put the White Sox ahead, 2-0. Chicago tallied four hits in the inning, but that frame was relatively tame compared to the two that followed. The White Sox (67-69) batted around in both the third and fourth innings, scoring five runs on six hits in each.

In the third, the White Sox pumped six hits around the diamond in the first seven batters off Byrd (1-1). Beckham led off the third with a triple to center field, his first career three-bagger. A.J. Pierzynski followed with a single to right field on the first pitch from Byrd, scoring Beckham to put the White Sox ahead, 3-0.

The final carnage came five batters later when Alexei Ramirez singled to center, plating both Kotsay and Chris Getz for a 7-0 lead. Kotsay and Getz had singled and doubled, respectively, earlier in the inning. Ramirez's blow proved to be the last hitter for Byrd, who exited the contest after just 2 1/3 innings. Byrd surrendered seven runs on 10 hits.
So, you may be asking, how is this season going to play out? Beats the heck out of me. But, this blogger will be watching it until it's over. It is some of the best entertainment going.
Or, as they say on TV, SURVEY SAYS ??????
Rachel Phelps: I think he'll fit right in with our team concept.
Charlie Donovan: That reminds me, I was going to ask you. What exactly *is* our team concept?
One can only wonder if Milton Bradley has already requested the blue prints for Citi Field. More specifically, he is probably seeking the quickest and most efficient path from the visitor dugout to the broadcast booth.
Will Bob Brenly fashion the new super cool over sized major league helmet for a little extra protection? He could probably get one autographed by David Wright.
All the more reason to tune into tonight's broadcast of an epic Cubs vs Mets battle of the underachievers.
Apparently, Brenly has had enough of the "Len & Bob Friendly Confines Chat Fest" of nicey nice banter and howdy doody faux worship of 7th inning D-list celebrity intruders at the bequest of Crane Kenney.
In short, Bob Brenly must be tired of being a corporate lackey. And it has been showing more and more as this dreary Cubs season will soon enough be mercifully euthanized. His growing criticism of boneheaded defensive gaffs, dumb base running and overall ineptness of this year's Cubs has been spot on.
Inevitably, Brenly finally commented on the Cubs chief malcontent, as reported by Gordon Wittenmyer:
''The bottom line is, just get the job done,'' said Brenly, a former World Series-champion manager. ''He can point fingers and assign blame wherever he wants and laugh in the face of critics that he can swing the bat from the left side and he can stay healthy, but do it all year long; don't just do it for a month of the season and proclaim yourself the guy we were looking for.

''I think Milton Bradley is a much better offensive player than we've seen this year. I just think he's allowed too many distractions to get between his ears. I think he incorrectly blames everybody else for making him the lightning rod. Well, if you don't want to be the lightning rod, then don't stand on the roof in a thunderstorm with a 1-iron in your hand.

''Don't call it upon yourself, and I think with some of his comments, he's done that.''
Hey Milton, don't blame Bob for refusing to give the standby corporate bullfeathers. After all, nobody bemoans "politically correct answers" louder than Milton Bradley. Bob Brenly is just being Bob Brenly and "giving it to all of us straight", right Milton Bradley? I simply cannot wait for Milton Bradley's response.
Gotta love this third person shtick. It grows on Tyrone Briggs after awhile.
But anyway, not all is lost for Milton Bradley. Here are a few suggestions to help boost up his approval ratings in this town:
1. Have popular (past and present) athletes do 30 second commercials on ESPN Radio to promote the goodness of Milton Bradley. After all, Milton Bradley staying in Chicago for another two years will provide much needed jobs and a boost to the economy. Take it one step further and buy up banner ads on the Tribune and Sun-Times websites for the Milton Bradley 2010-2011 campaign. If Chicagoans are so lucky, Jim Hendry might still be around long enough to extend Milton Bradley's contract to 2016.
2. Milton Bradley needs to go on Oprah and explain to the world how it is all wrong and he is the answer. Say what you want about this town's favorite Texas cattle hating couch sitting acai chugging book of the day peddlar, Oprah Winfrey rules the heart, mind and wallet of Chicago. Maybe she could shutdown Waveland Avenue for 2 days and demand a command performance from Bono shrilling "I Still Haven't Found What I'm Looking For" from the rooftop in honor of Milton Bradley. One call from Oprah to King Dick is all that is required. And just one more thing Milton, be sure to bring along a copy of "My Life Behind Bars With $30 Million in Right Field at Wrigley - The Milton Bradley Story As Told By Milton Bradley And Ghost Authored By Official Milton Bradley Apologist Scoop Jackson" to Oprah's studio. It'll sell. Promise.
3. The Milton Bradley Hater Snitch Website. This is fairly self-explanatory. Milton Bradley requires a nice, comfortable restaurant where he can sit, relax and enjoy a dinner without the waiters, cooks, busboys, customers, and maitre ds snickering or saying completely untrue lies and misconceptions behind his back. If you witness such an atrocity, please email the details, names and addresses of the offenders to flag at miltonbradley dot org. Be warned. Say only nice things in the right field bleachers otherwise your name and address might be written on the back of a matchbox and handed over to Jacques Jones, LaTroy Hawkins or Dusty Baker.
4. If Milton Bradley's approval ratings cannot climb higher among Chicago's adults, it is time to tune up the propaganda machine towards their kids in the CPS. Here's an idea for the ages; after Labor Day weekend, broadcast a nice heartfelt speech from Milton Bradley. He can detail everything that the kids should do in order to help Milton Bradley swing better from the left side. A discussion book will be provided to every student to help pen down thoughts. And afterward, the kids can assemble into groups for more thought provoking discussion on how to best serve Milton Bradley explore and define their own goals. Because as we all know, Milton Bradley cares about the people.
5. Once the mission to save the children has been accomplished, Milton Bradley's attention will turn towards the grownups. Time for a little Town Hall Meeting. Assemble the Aldermen and Mayor. Invite the Cubs, White Sox, Fire, Bears, Bulls, Blackhawks, Sky, Red Stars and of course, Bliss. Once everyone saves their most current solitaire game and powers down the notebook, it is time to read an inspiring speech off the teleprompter. Explain how none of the disappointments that plagued the 2009 Cubs campaign had anything to do with Milton Bradley and everything to do with the departed dimwit Mark DeRosa. Make mention of the next super duper dueling pianists performance at Wrigley to appease Crane. The whole affair can be televised live by Comcast. Scoop Jackson can host the evening. And just to show that no favorites are played, grant Bob Brenly at least 10 seconds for an official counter-response.
That should do for today. Well maybe not. So here is one more grenade hurled over the trench and into enemy territory. Fire Lou Piniella. It was a bit much to see a happy go lucky Lou banter with Ozzie during a game that every attending fan should have demanded a refund. Lou doesn't care anymore. And neither does the team.
Brenly seems to care. Good enough for me.
Fire Lou. Hire Bob.
Have a great Labor Day weekend.
While horticulture afficionados are still working out the details and can only get a tree to grow frat boy endorsed near-beer, this is still an exciting development in gardening. Just imagine the fun when they finally get a Guinness Grevilla or a Bonsai Bud or what have you. The possibilities are endless and exciting.
And, it is in that spirit of limitless possibilities that we take a look at the state of baseball in Chicago. Yes, the beer will help. We'll start with a look at the lighter side as posited by ELLIOTT HARRIS (Sun Times).
White Sox win, Cubs win. On the same day? The end of the world must be nearing. Though probably not as quickly as the end of the season for each team.

• • So the Cubs and Sox take winning streaks heading into today's interleague makeup game at Wrigley Field. If one game (for the Sox) constitutes a winning streak—which it does lately for each team.
Yes, it is time once again for the Crosstown Classic. Ozzie had promised, after the first two rounds, to forfeit the game if the Sox were mathematically out of the race. It was his logic that the Cubs would still be in it and that would be a nice gesture. Not even he saw their season coming apart at the seams like it has.
Nor did he see the Sox taking the Hellaciously wild roller coaster ride they have.
So, here we sit with the Cubs 10 ½ games out and the Sox a full 7. While neither team can forfeit to help the other, it isn't like fans are prepping their parkas for baseball in November either.
Nevertheless, as Elliott mentioned, the Cubs won yesterday so let's turn to CARRIE MUSKAT (MLB.com) for the recap.
Lilly joined rookie Randy Wells (10-7) in the double-digit win category. However, Lilly tried to do a little too much in the third. He singled with one out, the first hit off Astros starter Felipe Paulino, and was thrown out trying to steal second, getting tagged as he dove headfirst into the base.

"About the only thing bad today was that ill attempt trying to steal second base," Cubs manager Lou Piniella said.

Did Lilly have a green light?

"The light was red as hell," Piniella said.

So, nobody missed a sign?

"There was nothing missed," Piniella said. "Teddy just brainstormed that one. He tried to make things happen."

"Obviously, it didn't turn out too well," Lilly said. "I thought I could get a good jump. I started to, and I hesitated at the last second. The combination of the pitcher, catcher and my speed doesn't suit up well for me to steal that base. To do that, the lead and the jump I have to get has to be so much to make up for my lack of speed and the strength of the [catcher's] throwing arm and the pitcher's quickness to the plate—it didn't set up very well."

He won't do it again.

"Fortunately, we can kind of joke about it because we won," he said. "I'd rather have not attempted that in that situation."
Yeah, even the win had a Cubbie occurrence. On the South Side, Paul Konreko's assertion that "We own this place!" seemed slightly tinged with sarcasm after the Sox won their first come from behind game in the 9th inning at the Metrodome since 1982.
SCOTT MERKIN (MLB.com) was able to handle the excitement and get the story.
That rally began after eight innings of listless, scoreless baseball from Chicago's offense, with Minnesota (67-66) turning four double plays. Nathan quickly retired pinch-hitter Mark Kotsay on a swinging strikeout to start the ninth and then induced Scott Podsednik's routine fly ball to left fielder Denard Span for out No. 2.

Nathan jumped ahead on Gordon Beckham with two quick strikes, needing one more swing to send the White Sox to their sixth straight loss. But the rookie phenom worked the count full and then launched a 3-2 pitch into the left-field stands for his 10th home run and a 2-1 deficit.

"I was fortunate to get it to 3-2 and then get a pitch I could drive," Beckham said. "I didn't miss it."

"I'm not going to walk a guy to get Konerko up as the tying run," said Nathan of Beckham's home run. "So, I challenged him and he put a good swing on it."

Beckham's blast was a nice moment for the White Sox, but they still were one out away from falling 4 1/2 games behind the Twins for second. Once again, Nathan brought the game within its final strike, but Konerko drove out his own full-count offering for home run No. 24.

Konerko's long ball was more of a high fly, and Span looked as if he had his jump timed to take away the game-tying run. It would have been a fitting ending for the White Sox in the Metrodome, but instead, it landed about four rows beyond Span's outstretched glove.

"When I first hit it, I thought it had a chance, but when he got back to the wall, it seems like a lot of balls die here late in the game," Konerko said. "And let's face it, every time something is borderline in this park, you think it's going to go against us. Let's be honest for a second.

"Alexei got the huge hit after that. Just because we tied it, you didn't think, 'OK, we got these guys right where we want them,' because we've been walked-off so many times."

Alexei Ramirez's hit came off of Matt Guerrier, after Nathan exited following walks to Jermaine Dye and Carlos Quentin. His single to left on an 0-2 pitch scored pinch-runner Dewayne Wise when Span's throw short-hopped catcher Mike Redmond.

A good throw would have had Wise by a few feet. But it was an aggressive send by third-base coach Jeff Cox in a venue where the White Sox literally had nothing to lose.

"It was a good solid win," Konerko said. "I wish we had more of them, but at the same time, no one is going to cry that we're not going to be playing here again. It's fine with me, and I think it's fine with the rest of the team."
Both teams will have September call ups on their rosters today and the Sox are starting rookie Carlos Torres on the mound. Not exactly the playoff caliber baseball we were all looking for in March.
Oh well, as I noted, beer helps. Just in case your curious, the beer tree can still be seen at The Levee (4035 West Fullerton). Feel free to drop by and PICK A COUPLE RIPE ONES!