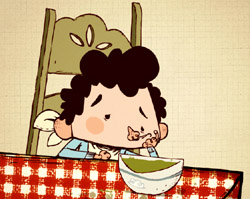 Like 40 or 50 billion other people, I saw Avatar. Unlike most of them, I noticed a flaw in the film that has been driving me nuts. I asked a couple of film critics about it and became afraid that I was going to be the subject of a restraining order or two. So, I will ask the wonderful readers at Jay The Joke if they can explain it to me. If you have seen the movie you will note that all the animals on Pandora are sextopeds. In other words, 6 legged creatures. But all the Na'Vi, the 10 foot tall blue nature lovers, are bipeds. In other words, descended from quadrupeds. To put a long rant short, there is no way they could have evolved on Pandora. So, where the heck did they come from?
Okay, I've got that off my chest so I'll move on.
Last night, during Chicago's official "Buy B3 a Beer Day", ELLIOTT HARRIS from the Sun Times came out to catch the action. And, bonus for me, buy me a beer. During the course of the evening we talked about a wonderful variety of subjects. We also got to sample free soups. Now that you know that you should know this; nothing I have written thus far has anything to do with the point of today's blog.
In fact, for a while I wasn't sure what the point would be at all. But, after slogging through a wide variety of articles (the Bears are doomed, MJ bought the Bobcats, the Bulls are better than expected, the Hawks are just insanely good, etc.) I finally decided to talk about the best of the new and the best of the old.
For the former, I will turn to CARRIE MUSKAT from MLB.com who takes a look at the Cubs' luckiest find in a long time, Esmailin Caridad.
Esmailin Caridad was in the right place, right time for the Cubs, and may be the right-handed setup pitcher the team needs.

Caridad signed his first pro contract with a Japanese team when he was 16 years old. He didn't get a call up to the Japan big leagues until 2007 when he pitched very briefly for the Hiroshima Carp, appearing in two games.

"I liked Japan," Caridad said Friday. "I like it here better."

A free agent after that season, he was pitching back home in the Dominican Republic when Cubs player development director Oneri Fleita saw him. Cubs general manager Jim Hendry just happened to be coming to the Dominican for a few days and Fleita, who had gotten a tip about the youngster from a friend of long-time scout Jose Serra, asked Caridad if he would throw for him.

"Jim watched him throw a couple innings and said, 'Why haven't we signed him already?'" Fleita said.

On Dec. 19, 2007, Caridad signed with the Cubs and was invited to the Cubs' spring camp.

"Everything in life is about timing and in Esmailin Caridad's case and the Chicago Cubs' case, the timing couldn't have been any better," Fleita said.

Now, Caridad is 26 and appears to have a spot in the Cubs bullpen.

"He's on the team," Lou Piniella said Thursday. "He's almost got to pitch himself off it. I don't think he will. I like this young man. He competes, he's got a good arm, he can pitch a lot. He handled himself here quite well the last two months of the season."

In 2008, Caridad was with Class A Daytona, then moved up to Double-A Tennessee. Last year, he made 25 starts for Triple-A Iowa and went 5-10 with a 4.17 ERA, striking out 114 over 131 2/3 innings.

Late last season, Caridad was called up to the big leagues and appeared in 14 games. He compiled an impressive 1.40 ERA over 19 1/3 innings. Could he be the right-handed setup pitcher the Cubs need?

"He's got the stuff for it," Piniella said. "Does he have the experience, savvy? We'll have to wait and see. He does have the stuff. One good thing about this young man is he's not scared."

Caridad saw Piniella's comments.

"I'm ready for the season," the pitcher said Friday. "When I started this spring, I put my energy and concentration into the game."

At 26, Caridad is older than most of the other bullpen candidates.

"He's got a young arm," said Mike Mason, who was the Iowa pitching coach. "He makes a lot of youthful mistakes. He overthrows. Last year, when he came up to the big leagues, it was kind of his niche—short doses of high energy pitching."

Which would seem to be the description of a setup pitcher.

"If it was up to me, he's one of those guys who will be a seventh- or eighth-inning guy who's going to come in and try to blow balls by batters," Mason said. "We've been working on his breaking ball, which is improving, and if he ever gets that, you never know what he's going to be."

Anyone who watched Caridad at Iowa might wonder where the oomph in his fastball came from. The right-hander's fastball averaged in the upper 80s at Iowa. But last season, the radar gun also flashed 95, 96 mph.

"It's confidence," Mason said. "When he first signed, he was a little bit apprehensive about how he went after it. He wanted to make sure he threw strikes first. Now, he's pretty much got that down and he's throwing strikes and now he's just letting it go and he's able to maintain his strike zone command and letting it go, and that's why the 95, 96 is coming out. It's trust. He's trusting his stuff a little more."
I wonder if the "find some guy on vacation from Japan, by accident, in the Dominican Republic" is actually a corporate philosophy? Either way, it worked for them and it worked for him. As a side note, maybe they can snag some Kim Chi in Seoul and get themselves a speedy lead off hitter.
Just a thought.
On a sadder note, Sox legendary slugger Jermaine Dye is being forced to consider a career in the dynamic fast food industry. JOE COWLEY at the Sun Times tries to figure out how that happened.
Standing around as a spectator at the Phoenix Open was not how Jermaine Dye was supposed to be spending his Thursday afternoon.

He was supposed to be somewhere with a wooden bat in his hand. He was supposed to be somewhere joking with teammates, getting ready for the monotony of spring camp. Shagging fly balls, one more sprint. Somewhere, anywhere.

Instead, he's waiting.

''I'm shocked,'' Dye told the Sun-Times. ''I really am in disbelief, but what can I do?''

Nothing.

And that's the hardest part for the free agent to accept.

Over the last five seasons with the White Sox, Dye was first among American League outfielders in home runs and second in RBI. He has a World Series ring from 2005 and an MVP trophy from that Fall Classic. Then there was an All-Star appearance in 2006, and Dye even was a .302 hitter with 20 home runs in the first half of 2009.

Now, having just turned 36, Dye is being told by Major League Baseball that his services are no longer needed—or at least not enough to where Dye feels it's ''really worth it.''

So he waits.

''I still feel like I'm a productive player and feel like I can contribute, but teams want me as a backup player, and that's something I'm not ready to do,'' Dye said. ''I feel undervalued, basically. I don't think I have to go out there and prove anything to anyone. My numbers the last five or six years show I can help someone.''

There have been calls. Heck, there have been offers. But many of them have felt like slaps more than a serious negotiation.

''There's nothing close,'' Dye said. ''Still a few teams calling, couple teams made offers, but nothing really worth it. Anaheim made an offer, but they could only offer me 200-250 at-bats. Toronto made an offer; they wanted me to play right field every day, but the money was ridiculous.''

Then there were the Cubs, who offered Dye $3 million to be their fourth outfielder. That meant sitting behind Kosuke Fukudome, who in two years was hitting .258 with 21 homers. Dye said no thanks, and a few days later the Cubs gave $3.3 million to 31-year-old Xavier Nady, fresh off a seven-game '09 season that ended with a second Tommy John surgery.

''I want to play every day,'' Dye said. ''Cleveland was interested but never made an offer. Tampa was supposed to call, and we're still trying to work that out. There have been offers, but like I said, nothing worth it.''

How did it reach this point?

That's what Dye has been trying to figure out. Yes, he had a terrible second half in which he hit .179 with just seven homers. Yes, his defense has slowed, but he's willing to split time among the outfield, first base and even designed hitter if need be.
The problem for Dye, as with other older free agents this year, is that they are in a very tough spot. Teams are no longer willing to pay top dollar for a part time player, no matter how marquee the name may be. He may feel that he is worth several mil and should be on the field every day, but the reality is that he has older knees, limited range and is becoming a one dimensional player. That holds true with a lot of older players. Omar Vizquel being the exception that proves the rule.
On the other hand, if Dye wants, Elliot and I can show him a place that needs another soup maker.
I had to take a couple of days off for personal reasons. No big deal, just life interrupting e-life kind of thing. I have to admit that I was pleasantly surprised about how many people who wrote wanting to know if I was dead or, maybe, selling the site. Quick note to cyber-land, dead people generally do not respond to emails. As to selling the site, that isn't happening either unless someone brings me a giant bucket of money, all large untraceable bills. And I am talking about a very large bucket.
Anyway, while I was off, Canada embarrassed themselves again in hockey. Well, in men's hockey anway. Their women's team won the gold. They were also seen slamming champagne and smoking cigars after the victory. I don't mean to be rude, but the Canadian women's team plays a tougher brand of hockey than does their men's. Oh, okay, I meant to be a little rude. Anyway, since NBC has seen fit to broadcast hockey at 3 AM, Icelandic time, with rebroadcasts exclusively in Taiwan, no one is seeing just how good the American men's team is. Or any other team for that matter. The number 1 sport in the host country with a growing fan base in one of the largest countries in the world and it is replaced by men in sequins pirouetting on pretty skates. One of whom bragged about his Broadway show tunes posters. If I were as sensitive as he, I would cry.
So, let's take a look, instead, at a sport where crotch grabbing and spitting rank on statistical charts. Yes, I am talking about baseball.
On the North Side, just 3 days after the White Sox announced that Mark Buehrle will be their opening day starter, Carlos Zambrano announced that he will be the Cubs' opening day starter. No, he didn't ask Lou for his opinion. CARRIE MUSKAT at MLB.com has the full story.
Carlos Zambrano will likely be the Cubs' Opening Day starter for the sixth straight year.

"We haven't even gone there yet," manager Lou Piniella said Thursday when asked if he'd named his starter for the April 5 season opener in Atlanta.

"I've been here three years and Zambrano has been the Opening Day starter every year," Piniella said. "I don't anticipate any difference there."

Last year, Zambrano won the Cubs' season opener against Houston, giving up one run on five hits over six innings. It was his fifth straight Opening Day start but first win.

The Cubs are sorting through the arms in camp to determine their bullpen and one candidate, Angel Guzman, had another setback. Guzman was shut down Thursday because of some discomfort in his right shoulder. He underwent arthroscopic knee surgery in January and already was a couple weeks behind the others. However, he still could be ready by Opening Day.

"We just felt that coming off the 'scope and because he's had difficulties on and off in the past, that we'll take the precautionary route and push him back a couple days," Cubs general manager Jim Hendry said.

Pitcher Ted Lilly remained at home for the fourth straight day because of a high fever. The hope is that Lilly, who had arthroscopic surgery on his left shoulder in early November, can come to Fitch Park on Friday to play catch.

One pitcher who appears to have secured a spot in the Cubs' bullpen is Esmailin Caridad.

"He's on the team," Piniella said. "He's almost got to pitch himself off it. I don't think he will. I like this young man. He competes, he's got a good arm, he can pitch a lot. He handled himself here quite well the last two months of the season."

Caridad appeared in 14 games with the Cubs late last season and gave up three earned runs over 19 1/3 innings for a 1.40 ERA. He's not experienced—last year was his first at Triple-A. Could he be the right-handed setup pitcher the Cubs need?

"He's got the stuff for it," Piniella said. "Does he have the experience, savvy? We'll have to wait and see. He does have the stuff. One good thing about this young man is he's not scared."

Jeff Samardzija had an early pitching session Thursday, getting his work done before the rest of the team had gone onto the field to stretch. The former Notre Dame wide receiver has impressed this spring.

Pitching coach Larry Rothschild told Piniella that the first couple years, Samardzija looked like a football player who was pitching. Rothschild said this year, the right-hander looks like a baseball player who played football.

"That's a big transformation, and that's a really profound statement as far as I'm concerned," Piniella said. "It says he's making the adjustments and really stepping forward and looking like a Major League pitcher."
If the Cubs can get some of their young guys to step up to the big league level, that will take a lot of pressure off of the team. Yes, I know that Lilly's reappearance will give the Cubs a formidable front four, but he won't be back until sometime in May, at the earliest, and will probably need a few starts before he is back to form. They are still going to need a couple of bodies in there now and for later.
On the South side, still reeling after Tweet-gate
, things are looking pretty bland. Which, for the White Sox may be the best news they have gotten this spring. Their biggest worry seems to be whether to use Omar Vizquel as an assistant coach or play him on a semi-regular basis. SCOTT MERKIN, also of MLB.com, notes that the latter is far more likely than the former.
It was a batting practice session just like any other in the early stages of Thursday's White Sox workout at Camelback Ranch.

Out just behind shortstop, on the practice field featuring the same dimensions as U.S. Cellular Field, two figures of notice suddenly stood out, just talking. It was Omar Vizquel, making his first appearance in a full White Sox uniform, and Alexei Ramirez, the team's starting shortstop for the second straight season.

Let the mentoring process begin.

"I know Alexei is a young guy playing shortstop, so if there's anything where I can help, that would be good for me because it will keep me in the game," Vizquel said. "There are so many things that happen in a season. I'm sure I can help him and everyone around the infield."

Vizquel's biography lists his age at 42, turning 43 on April 24. But one of the greatest defensive shortstops in Major League Baseball history clearly has defied the aging process. If not for thinning hair and the look of a 21-year veteran, Vizquel's supreme physical conditioning would leave most people guessing he's the same age as players 10 years his junior.

This commitment to staying in shape allowed Vizquel to come back for another season, agreeing to a one-year, $1.375 million deal with the White Sox. As much as Vizquel wanted to play for Ozzie Guillen and be part of the Venezuelan shortstop tradition on the South Side of Chicago, he admits the decision to continue was not always a clear-cut one.

He may not look 42, but Vizquel certainly does feel his age.

"Sometimes you feel it. I'm not going to lie to you," Vizquel said. "Sometimes you wake up in the morning, and not every morning is the same. It's hard to get up for a 1 o'clock game. But I think all that training and everything I've been doing is to get away from those bad habits, and it's helped me out.

"At this point, you don't really know until you go out on the field and prove it, show you can play. I don't want to use the word 'still,' but you have to show you can still play.

"Last year, I was wondering if I could do it [with Texas]," Vizquel said. "But every time I stepped on the field I gave it my best, and I had some great results that make me think I can give it another chance this year to do the same things I did the year before and keep doing it."

Before anyone thinks Vizquel might be naturally slowing down, take a look at his errorless run in 2009 for the Rangers. That total includes 27 games at shortstop, 20 at third base and 16 at second.

Don't get completely caught up in this "coach on the field" description for Vizquel. Guillen is counting on him on the playing field almost as much as in the clubhouse and dugout.

"It's amazing how good shape he is in," said Guillen. "I saw him this morning—we're almost the same age. I got more hair than he does, but he looks so great and he swung the bat real well. He moves like he's still in his 20s.

"Omar is going to help us a lot playing three [positions] in the infield. I'll try to give him as many at-bats as I can."
63 error-less games in a row is a lot better than a bunch of guys half his age. Something tells me that the Sox got a better bargain here than they initially bargained for. And that is never a bad thing.
Since I know how much you missed me, CLICK HERE TO BUY ME A BEER
The Cubs and Sox both need some more runs. The Cubs have decided that power is the answer and the Sox have decided that it is not. That interesting dichotomy will play out over the coming season. One or both may be right. Or as my buddy, a Mets' fan, said, both will probably be wrong. It's a lot of fun hanging out with him. Especially when the Mets do their usual imitation of a kamakazie team.
On the North Side they are looking for Alfonzo Soriano to return to form and become the force he used to be. PAUL SULLIVAN of the Tribune takes a look at that.
More than five months after undergoing arthroscopic surgery on his left knee, Alfonso Soriano said he's almost good to go.

"It feels like about 80-85 percent," Soriano said Monday. "I have five or six weeks here working now, and I'm hoping it feels much better and I'm ready for Opening Day."

Soriano said he has been working this offseason in the Dominican Republic but has not tested the knee yet by running hard or playing any outfield. He doesn't feel pain when taking batting practice and is not worried about being ready for the season.

Soriano was told by the coaching staff to take it easy at the outset of spring training, and the Cubs didn't expect him to be at 100 percent at this point.

"He looks wonderful," manager Lou Piniella said. "He's strong. He's ready to go, says his knee hasn't bothered him."

After hitting 12 home runs the first two months of last season, Soriano hit only eight the rest of the way in one of the worst seasons of his career, finishing with a .241 average and 55 RBIs. Baseball Prospectus projected Soriano's "days as a premier player are long gone."

Now it will be up to Soriano to prove his critics wrong.

"It's tough to play this game, and when you have something on your mind, it's tougher to play," he said. "I'm not making excuses about me knee. It's part of the game. … What happened with my knee, a couple years ago is what happened with my hamstring and my calf, and I kept playing with soreness in my body. I hope this year I'll play more healthy."

Soriano is in the fourth year of his eight-year, $136 million deal. He turned 34 in January and has had the nagging injuries the last three years. He insisted his bat speed is still there, and that the only problem he had last year was battling the knee injury.

The addition of hitting coach Rudy Jaramillo should help Soriano, who hit 34 home runs and drove in 104 runs under Jaramillo with the Rangers in 2005. Soriano also is looking forward to playing with center fielder Marlon Byrd, whom he teamed with in Washington.
Well, since the Cubs have him for 4 more seasons, then him playing at a higher level is almost mandatory. They will need more than him, of course, but he is an integral part of the Cubs' offense. If, as he seems to believe, he is over the injuries and returns to form, then the Cubs will be a dangerous team to face. That assumes that they fill those 4 and 5 holes on the pitching staff with something other than pine tar.
On the South Side the Sox are implementing their new plan over the objections of General Manager Kenny Williams. I do find it amusing that they are going to be a more traditional National League team just as the American League is settling into a rein of dominance. It is so nutty it just might work. CHRIS DE LUCA at the Sun Times took a few minutes out of his busy day to speak with Ozzie Guillen about the changes.
''We can create more runs,'' Guillen said. ''In the past, yeah, we could score 10, but all of a sudden, when we need to score one, we can't. That's why our philosophy changed.

''We have a bunch of guys in the lineup who can hit 20-plus home runs. I would rather have 10 guys hit 20 home runs than have one guy hit 50. How many times did we have men on second base and we couldn't score a run when we needed it? If everybody contributes—not have a super year, but have the year they are supposed to have—then this ballclub should be fine offensively.''

No doubt, Guillen believes that. But Williams seems to prefer a big bopper in the middle of the lineup.

That's why there was such a battle of wills between the manager and GM over whether to re-sign Thome, a free agent who later went to the Twins. It was the first clear sign of tension at the top since Guillen and Williams formed a partnership—with the blessing of chairman Jerry Reinsdorf—before the '04 season.

''Kenny always worries about the ballclub,'' Guillen said. ''That's his job, I guess. He's never satisfied. I told Kenny two months ago that I'm satisfied. I'm not worried about this ballclub. Maybe people are going to look at it a different way, but I don't see it that way. The power is there. The astronomic power is not.''

It's a gamble for a team that has relied on those big bats in the middle. And we're talking about trying to survive with a National League-style offense in the American League.

If this doesn't work out, Guillen says point the finger directly at the manager. There are some in the organization who believe Williams will do just that if the new Sox fall flat.

''I'll take it. Why not? I always like challenges. I like to prove people wrong,'' Guillen said. ''When we won in 2005, we didn't have that many guys that hit home runs, but we could score from second on a base hit.

''I say to Kenny and Jerry, 'Listen, if this thing don't work out because of me. ...' The first time something doesn't work, I'm not going hide ... from the media, the fans or the players. I take the blame. You know why? Because I'm the face of this ballclub. I'm the one that makes the move.''

Is Guillen feeling extra pressure?

''No. Thanks to Kenny, Jerry and [assistant GM Rick Hahn], they have given me good ballclubs to compete,'' Guillen said. ''If you have a bad ballclub for two, three years in a row, then you have a chance to get fired. But they never give me that kind of chance to be that bad.''
I do wonder what he called Rick Hahn that prompted the editorial correction. But I am not sure it matters. The Sox have have made a bold decision to go back to baseball's roots. Of course, in the good old days you never had to worry about steroids. Beer and cigarettes, yes. But not much else.
The fun thing about the Cubs is that, after their failed experiment of having the first DH in the National League, they have gone back to their strengths no matter the record. And, more fun for fans, the Sox are planning on being a team that the South Side hasn't seen since the late 50's. Since both teams are going to be so diverse, they will give fans clear talking (i.e., beer buying) points for the entire season. I am not sure I have ever looked forward to watching both teams at the same time this early in the year.
I'll watch them both, but I'm still only cheering for the Sox.
Both the Cubs and the Sox are firmly ensconced in Spring Training and preparing for the season ahead. Both teams are coming off of disappointing seasons. On the North Side a lot of problems were laid at the feet of Milton Bradley. Certainly he was a clubhouse cancer but he didn't injure all those other players. Well, not as far as I have been able to discern anyway. On the South Side, they were bedeviled by two pitchers who cost them around 25 games all total. That is a lot of games just to throw away and the team could never overcome the negative inertia. More importantly, as a player, you had to feel down when you knew that two days out of every five you stood a better chance of losing than anything else. In other words, while more subtle, the White Sox had their own form of clubhouse cancer.
However, both teams displayed their own versions of baseball oncology and cleansed their rosters. For the Cubs, just getting rid of Milton Bradley made them better. For the Sox, that Jake Peavy acquisition resonated deeply. His 1.35 ERA over his last three starts didn't hurt either.
PAUL SULLIVAN at the Tribune is down in Mesa with the Cubs and takes a look at where they are at this Spring.
Asked if the Fitch Park had changed any since he began his career in the mid-80s, Greg Maddux replied: "Yeah, the trees are bigger."

Piniella had no news, which is considered good news for the Cubs, a franchise famous for spring training calamities, including hot tub spills, convenience store punch-outs, and even a twisted testicle over the last few years.

Piniella said he's undecided on whether to use Ryan Theriot or Kosuke Fukudome as his lead-off man, and that both will get a shot this spring. Ted Lilly is back to normal, or as normal as Ted Lilly can be these days. "We've got to bring him along slowly, and not rush him," Piniella said.

The manager also said none of the four candidates for the No. 4 and 5 spots (Jeff Samardzija, Carlos Silva, Sean Marshall and Tom Gorzelanny) has an edge, and that Angel Guzman is two weeks behind the other pitchers, and may appear in a game the second week of March.

Finally, Piniella enjoyed the sound of the ball hitting the catchers' mitts in the covered batting cage. He had an idea for Cubs pitchers, but mentioned it only to the media.

"I would pay a catcher to make that mitt pop as much as possible, I can tell you that," he said. "We've got some nice, young arms there. But, boy, that sound makes your fastball look about three or four miles faster."

After the workout, most everyone left to watch the hockey game.
I have no idea how to make a mitt louder, but something tells me that there are blue bleeding scientists huddled in Area 51 working on just that as I type. As to the hockey game, the US beat Canada 5-3 to earn a bye and force Canada to play Germany to even get a chance at moving on. As a side note, Canada did all that it could to keep other nations from having a chance to work out in their facilities until the very last moment. That has earned them the ire of several nations. It also hasn't helped them very much as they are in 4TH PLACE in the medal count. Korea stands a very solid chance of passing them too, so this could be one of the more embarrassing home Olympiads in history.
Back to baseball.
MARK GONZALES at the Tribune is in Glendale with the Sox at their shiny new facility. He reports that Ozzie has already made one of the toughest decisions he had to make.
Mark Buehrle and Jake Peavy were described by John Danks as staff ace 1 and 1A.

"I feel as good about our starting rotation as I've felt coming into a spring training," general manager Ken Williams said Sunday after pitchers and catchers completed their first workout under soggy conditions.

Buehrle, who was named the Opening Day starter by manager Ozzie Guillen, noticed a little more "buzz'' in the clubhouse.

The optimism is understandable. Buehrle, 30, will set a franchise record with his eighth Opening Day start against Cleveland on April 5. Peavy, 28, a two-time National League Cy Young Award winner, was 3-0 with a 1.35 ERA in three starts with the Sox last September after a trade with San Diego.

Danks, 24, set career highs of 13 wins and 200 1/3 innings last year. Gavin Floyd, 27, struck out a career-high 163 batters in 2009 and is fully recovered from a sore left hip.

And Freddy Garcia, 33, the projected fifth starter with 121 career victories, limited opponents to three earned runs or fewer in seven of his nine starts after rejoining the Sox on Aug. 18.

"I like it both ways," Williams said of adding an ace like Peavy and a veteran like Garcia at the end of the rotation. "There are given days where your No. 5 (starter) is matched up with someone else's No. 1 or No. 2 (starter).''

The starters, however, are mindful that credentials don't always guarantee success. Buehrle was 2-7 after throwing his perfect game against Tampa Bay last season. Peavy will spend his first full year in a notorious hitters' league and park.

Danks hopes to avoid circulatory problems in his left index finger that caused him to miss a start. And Floyd needs to lower a 4.89 ERA against the AL Central.

"If the season goes the way it should on paper, I might get about 15 innings this year," quipped closer Bobby Jenks.
On the other hand, since Jenks weighed in 10 pounds under his projected weight, he will look very svelte for those 15 innings.
Nevertheless, whether it was to be Peavy/Buehrle or Buehrle/Peavy, fans knew that they were looking at two of the best in the game going back to back. That should help the mentalities of players who were used to losing 2 games straight out of every five. After that, who knows? If the Sox had just won 10 of those 25 they would have won their division last year instead of placing third. Those little things can go a long way.
When not out debauching virgins or setting the bar higher with levels of hedonism gone wild, Jay the Joke's very own Nick takes time out of his busy life to support Chicago sports. More importantly, he is a major supporter of Chicago's women's sports. Not because they look cute in those shorts, although they do, but because he is a true fan of the game. He introduced Jay the Joke to the intricacies of the Chicago Red Stars and The Chicago Sky. More importantly, he helped both teams garner new fans. Add in the fact that he is a pretty good writer and that he is well connected with both teams, it should then come as no surprise that CHICAGO NOW showed the good judgement to let Nick interview Ella Masar from the Red Stars and then print the results.
Red Stars Confidential got the privilege of being able to interview star Forward Ella Masar. Since professional soccer players get soccer questions all the time, we figured that we should have some fun with Ella.

NH: The Red Stars have undergone a big transformation in the off-season. How do you feel coming back to what seems like a brand new team?
EM: I am extremely excited. Anytime you have a disappointing season, as we did last year, we know changes need to be made. I have no doubt that the choices the Red Stars made in the off season will make us a better team and a top contender in the league.

NH: What's it going to be like with Kate Markgraf back? (after missing the 2009 season due to the birth of twins)
EM: Kate Markgraf is a name that speaks for itself. She is not only a veteran of one of the best team's in our countries history but even more an amazing person. She is someone that will bring experience, heart, and pride to the Chicago name. I am truly flabbergasted to be able to call her my teammate.

NH: Which would you rather play for? The 2011 World Cup team or the 2012 Olympic team? (my hope is both)
EM: haha that's like choosing between chocolate and long walks on the beach, not possible! To be able to have your name on the back of the US jersey is a dream within itself. The hours of sacrifice, hard work, and dedication are something many people can't fathom (not even myself at times). Just to have that honor would be worth more than a Gold Medal and World Cup, those are just extra bonuses.

NH: WPS puts a lot of effort into social networking: Facebook, Twitter, etc - do you think this helps bridge the gap between fan and athlete?
EM: I definitely think that it helps. It's a way that the fans can interact with us and take a small step into our lives. Hopefully it can show the joy and love we have for them, as well as how much their respect and appreciation mean to us.

NH: Who do you look up to professionally?
EM: Lindsey Tarpley hands down. Humble and hungry is something that I strive to live by everyday and Linds is someone that upholds that to the highest regard. She is by far one of the most dedicated, humble, and hardest workers I know. She has allowed me to know and respect the journey of a national team and professional player that much more.

NH: What's your pre-game play list on your iPod?
EM: Hahaha, well in the past years it has been the Lil Wayne, Eminem, and any other rap music that gets my heart beating and blood a pumping. Yet this year, after taking a liking to movie soundtracks, I can't help and put on songs that are from an inspiring or dramatic scene. For instance the song "Promontory" from Last of the Mohicans or "Prime" from Transformers are two of my favs. If those don't make you feel like you can run climb the highest mountain, I'm not sure what else can :p

NH: I looked at the Chicago Red Stars website and saw that you also do double duty as answering the phones for the Red Stars. Shouldn't Coach Hayes have you practicing instead of taking ticket orders?

EM: lol, What can I say, being a professional comes with all sides of the spectrum. Anything that will allow me to be closer with the fans and help build our supporter base is something I can't turn down.

NH: Complete this sentence.... "My teammates would be surprised that I can do..."
EM: .... numerous songs on the piano.

NH: Three things I can't live without are...?
EM: My family, my bible, and my iPod

NH: Last book you read?
EM: "Have a Little Faith" by Michael Smith

NH: Dream vacation destination?
EM: Anywhere you can see your toesy's in the clear sweet blue ocean.

NH: The informal poll of fans is that you have the most male admirers of anyone on the team. How do you feel about that?
EM: Haha well my cheeks are definitely blushing :p It's honestly hard to believe I can put up a fight with the girls on our team. I mean last year we might have not been the best on the pitch, but come on, we always knew we were the prettiest team :D

You Must Choose:

NH: Cubs or White Sox?
EM: Hmmmm, I'm not too sure. Yes I do know it's an ultimate sin in this city to be in between, however, baseball is not my forte. Whether it's Wrigleyville or Cellular Park, it's always a good time which makes them both great to me.

NH: Hot dogs or deep-dish pizza?
EM: Deep dish for sure!

NH: The Blues Brothers or Ferris Bueller's Day Off?
EM: The Blues Brothers - have to love the music.
So, there you have it. A great interview with an up and coming star written by a Jay the Joke legend. Not a bad way to start a Sunday.