The representatives of the Madhouse on Madison each took the stage last night to attempt to go deeper into the playoffs. In the case of the Hawks, they were facing their long time nemeses, the Vancouver Canucks. For no other reason other than these two teams loathe each other, you knew you were going to be in for some seriously good hockey.
Game 7, the whole she-bang on the line. You couldn't ask for anything more.
At least not until it was over. Then you could ask for one more goal for the Hawks.
You couldn't have it, but you could ask for it.
After leaving everything on the ice but their spleens, the Hawks finally fell to Vancouver 2-1 in overtime last night. David Haugh at the Tribune has a great article about the whole affair so, if you have a minute, I strongly suggest you read it.
Just FYI, if you want to start a fight in a hockey bar, just tell a Hawks' fan that they remind you of Dale Tallon.
The other residents of the Madhouse, DA BULLS, also played last night in the Madhouse. Somehow they'd allowed the Pacers to earn the moniker "pesky" and there were still people on TV, allegedly smart enough to be paid to be there, who were saying this would be a 7 game series and that Indy could win it.
Last night the Bulls politely said to those people, F**k you.
HERB GOULD at the Sun Times has the longer version of their official statement.
Grandfather knows best.

With grandpa Zacharie Noah in attendance, a sky-high Joakim Noah got the Bulls off to the start they've been wanting.

And with Derrick Rose's left ankle looking ready to roll, the Bulls finally took care of the pesky Indiana Pacers.

The Bulls energetically put away the Pacers 116-89 in Game 5 on Tuesday at the United Center to close out the first-round series 4-1.

''The energy was just there from the beginning,'' Noah said. ''My grand father was there, my sister, my mom. The building is already crazy. There was a lot of energy going on. I just fed off of that.''

The Bulls will open their second-round series Monday against the winner of the Orlando Magic-Atlanta Hawks series, which is headed to Game 6 on Thursday in Atlanta after the Magic's 101-76 victory at home Tuesday. The Hawks lead the series 3-2.

''I'm speechless right now,'' Rose, who played only 30 minutes because of foul trouble, not his ankle, said after winning an NBA playoff series for the first time. ''I really can't believe it. It's a great
accomplishment. We're going to try to keep this thing going.''

Coach Tom Thibodeau knew this was a moment for his players.

''It's always good to advance,'' he said. ''It doesn't mean a lot to me as coach.''

Still, he seemed pleased that the Bulls had delivered a solid knockout punch in Game 5 after four tough encounters.

''We knew we were capable of playing better,'' Thibodeau said. ''There were things we had to correct, but we were also up 3-1. In the playoffs, every win is hard to get. I liked our mentality today.''

The game wasn't as easy as the Bulls' 14-2 start hinted it would be. But when the going got rough in the third quarter, Rose got going, making two three-pointers for a 69-57 lead after the Pacers had pulled to 61-57. Rose finished with 25 points.

''He's tough,'' guard Kyle Korver said. ''He didn't just play, he played really well. He hit those shots in the second half. He's the MVP for a reason, right? He's young, but he showed a lot of character.''

Pacers coach Frank Vogel wasn't lulled by the sprained ankle. Asked how he expected Rose to play, he said, ''I think he's going to play like an MVP.''

He was right about that.

''As Derrick Rose goes, so goes Chicago,'' Pacers forward Danny Granger had said before the series began.

He wasn't exactly right about that.

Noah, who had 14 points and eight rebounds, was a dynamo, whipping the crowd into a frenzy with his animated cheerleading. He apparently flustered the Pacers' Josh McRoberts into taking a swing that got McRoberts ejected.

Keith Bogans brought his ''A'' game, scoring 15 points on 5-for-7 three-point shooting through three quarters.

And Taj Gibson (10 points, seven rebounds) filled in nicely for Carlos Boozer, who had another disappointing, foul-prone game. Boozer left the arena in a walking boot after apparently suffering a bruised toe.

But it does all start with Rose, who scored 12 of his 25 points in the third quarter. When he went to the bench with his fifth foul with 11:30 left, though, the rest of the Bulls dug in and didn't let the game get away.

After back-to-back three-pointers by Korver and Luol Deng, the Bulls led 96-75 with 7:09 left. And the Pacers were done.

Playing like a No. 1 seed against a No.  8 seed, the Bulls finally showed their horns at the start of the game. With Noah and Rose looking good, the Bulls opened a 14-2 lead.

The whirling Noah scored two baskets and assisted on two others as the Bulls made seven of their first eight shots. Rose also was active, showing early signs that the left ankle he sprained in Game 4 on Saturday was ready to go.

With Zacharie Noah in the crowd, Noah was over-the-top hyped. He cheered when his grandfather was introduced via the giant video screen and urged the crowd on at both ends of the court, fist-pumping beyond the end line after forcing a turnover on defense and after drawing a foul on offense.

''It feels great, but we're not satisfied,'' Noah said. ''We want more. Give credit to the Pacers. They played real tough. They're very good. We're going to be facing them for a long time.''
As my wiser, and better looking, friend observed last night, it was as though the Bulls were the Cat and the Pacers were that cute toy they finally got tired of.
I don't care what the final score was, the Pacers were never in this thing. By the third quarter it was clear that they may as well have stayed home for all the good playing was doing them.
South Side Slim already started a thread, so CLICK HERE TO JOIN THE FRAY
Follow us on Twitter!
Tweet


Mark 11:1-10
And when they came nigh to Jerusalem, unto Bethphage and Bethany, at the mount of Olives, he sendeth forth two of his disciples,
And saith unto them, Go your way into the village over against you: and as soon as ye be entered into it, ye shall find a colt tied, whereon never man sat; loose him, and bring him.
And if any man say unto you, Why do ye this? say ye that the Lord hath need of him; and straightway he will send him hither.
And they went their way, and found the colt tied by the door without in a place where two ways met; and they loose him.
And certain of them that stood there said unto them, What do ye, loosing the colt?
And they said unto them even as Jesus had commanded: and they let them go.
And they brought the colt to Jesus, and cast their garments on him; and he sat upon him.
And many spread their garments in the way: and others cut down branches off the trees, and strawed them in the way.
And they that went before, and they that followed, cried, saying, Hosanna; Blessed is he that cometh in the name of the Lord:
Blessed be the kingdom of our father David, that cometh in the name of the Lord: Hosanna in the highest.
CLICK HERE TO HAVE A JTJ EASTER
Follow us on Twitter!
Tweet


While I know that most of you have been preoccupied with all your Earth Day festivities, coloring Easter eggs, honoring Passover and, basically, being very confused about which holiday conflicts you can ignore and which are deal breakers. For example, you've finally figured out that there's no such thing as Kosher ham. Which finally explains why last year's Sedar was such a train wreck.
And you thought everyone was just being picky.
Nevertheless, while you were out, the Bulls and the Blackhawks have been making their respective post-seasons interesting. The latter had been written off and the former was supposed to just cruise through Indy like a pace car on amyl nitrate. But, to everyone's surprise, the Hawks are 2 wins away from advancing and becoming only the 3rd NFL team to ever rebound from a 3-0 deficit. Meanwhile the Bulls have had to gut out wins against a wildly overachieving team.
Let's start with the Hawks. STEVE ROSENBLOOM is so giddy at the Hawks' prospects that he sounds close to strapping on tap shoes and wearing brightly colored flamenco shirts.
The Blackhawks will not practice today. The Vancouver Canucks, I believe, were being tended to by all the king's horses and all the king's men.

Or should we be calling them the Vanquitter Canucks after the way they've rolled over easily the last two games?

Or maybe the Panicouver Canucks, what with the fire drill going on in places where the players' brains and hearts used to be.

Then again, the way this comeback is unfolding, the way one team is halfway to accomplishing an epic choke, maybe we should call them the Vancouver Cubs. I mean, if you didn't know better, you'd think Roberto Luongo is Alex Gonzalez (not Steve Bartman because Bartman at least got a glove on the ball).

Admit it, Hawks fans: You're giddy. You're imagining the improbable four straight wins after those first three losses.

Can't blame you. I'm the same way after the Hawks utterly destroyed their stupid and heartless opponent for the second consecutive game and forced Luongo to make the skate of shame for the second consecutive game.

The Canucks had a burst early and drew a power play, but got nothing. And then the Hawks got everything.

They raked the Canucks in every area --- power-play, penalty-killing, even-strength, loose pucks, board battlesm you name it --- prompting memories of last spring's dominance. Duncan Keith had two goals and four-point night. Marian Hossa scored twice. Yes, THAT Marian Hossa, the one who was MIA the last two weeks and had scored only three goals in 26 Hawks playoff games before Thursday night. Hossa's power play goal at 5:54 of the first period beat Luongo to the glove side. Same goes for his second goal. About half the Hawks' goals have gone that way in their two wins. It's so obvious that even the people in Panicouver should be able to see it.

The Hawks were faster, tougher and better, just like the Canucks were in winning the first three games. Doesn't that seem a long time ago?

The Hawks looked like the puck-possession version of the Globetrotters again. They have played that way since Brent Seabrook got that cheap shot from Raffi Torres or since they went down three games, take your pick. Perhaps they finally got mad and motivated, or perhaps they relaxed to their default setting of a skating-passing game when they had nothing to lose.

The Canucks, meanwhile, are paralyzed. The've played tight and bad. They are unwilling to do whatever it takes to get the most difficult win. The Canucks didn't want to skate unless they could throw a cheap shot in Game 5. Stupid and dirty must be two of their four major food groups. Vancouver turtled again, even earlier than in Game 4.

I guess the Hockey Gods don't like quitters. Heart, brains --- do the Canucks have anything when it matters, or just in the regular season?

It could all go bad for the Hawks at home in Game 6 on Sunday. It has gone bad at home during this season, especially in the third period. That would be a killer. Jeez, after the last two games, losing this series would be a killer. It's like the Canucks made the Hawks to get out of the chair and bring the leather belt with them.

But I know it could go bad because that's what happens in the Stanley Cup playoffs. It happened to the Canucks justlikethat when they were playing as brilliantly as the Hawks have the last two games, scoring 11 of the last 12 goals in this series.

So, this isn't a free pass to the second round. There are still two games to go. But I'm giddy over the way the Hawks are turning Vancouver into the Can'yuk-yuk-yuks.
All I know is what fans know. None of us expected the Hawks to be in a positive position after the first three losses. That and tonight's game is going to be must see TV all over Chicago.
As far as the Bulls are concerned, neither team is feeling very giddy right now. As LACY J. BANKS reports, the Bulls are mad at themselves for not playing better and Frank Vogel, coach of the Pacers, looks like the next one who's going to cry after a Bulls game.
I never heard a coach sound more down than Frank Vogel after his Indiana Pacers played their hearts out Thursday night only to lose 88-84 to the Bulls at Conseco Fieldhouse.

The quiet way in which Vogel said, "Once again, I'm proud of our effort," as he looked nonplussed at the game's stat sheet, gave me the feeling that he either had just finished crying or was about to.

Can't blame him. Coaches have to appreciate it when their underdog teams consistently play above expectation and grit out close losses as the Pacers have done.

Did the Bulls really finish with an NBA-best 62-20 record and the Pacers squeak into the playoffs at 37-45? Every other team that entered the playoffs had at least nine more wins.

I agree with Vogel when he said his team deserved to win. The Bulls won it in the fourth quarter each game to grab a 3-0 lead in the ­Eastern Conference quarterfinal series. Game 4 is today.

The Bulls can't be proud of the way they played, allowing close finishes that made the outcomes something close to a crapshoot. They won because they possess a house-money player in Derrick Rose.

Woulda, coulda, shoulda

"We very easily could have won every game,'' Pacers forward Danny Granger said. "Just look at the scores. We lacked one or two plays that would have won it for us."

In other words, they did not have a finisher like Rose. Talented, gutsy players like Rose can cover a multitude of faults, including his own. Rose is simply too good to let even his poor performances cause the Bulls to lose.

The Pacers have a super shooter in Granger and great role players in center Roy Hibbert, forwards Tyler Hansbrough and Jeff Foster, point guard Darren Collison and shooting guard Paul George. But they lack a superstar who can create his own shot and make it.

Of late, the Bulls have been begging an opponent to beat them. While the Bulls have beaten the Pacers by an average of five points, the Miami Heat, which had the second-best record in the East, has been winning by an average of 12 points against the Philadelphia 76ers.

The Bulls haven't had a blowout win since they skunked the host Atlanta Hawks 114-81 a month ago. Their formula has worked so far. They keep the score close and give the ball to Rose to close the show with a bang. They won their last nine games of the regular season that way.

Rose can handle the pressure

After the first two wins, I asked Bulls coach Tom Thibodeau if he was concerned about the Bulls eventually asking Rose to do too much too late too often.

"No," Thibodeau said. "He can handle it."

Rose agrees.

"I'm cool," he said. "I just want to play and do my best to win as many games as possible."

That all sounds good and looks good right now. But Rose is not perfect, and he is no superman. He's still human. He has his limits. What helps the Bulls is that every playoff series is best-of-seven. That means that good teams can have a couple of stinkers and still win the series.

To their credit, the Pacers have had no stinkers. They have acquitted themselves valiantly and have only close, proud losses to show for it.

Now, Pacers fans are on death watch because no NBA team has survived a 3-0 deficit. And I wouldn't have blamed Vogel or any of his players for crying about their state of affairs. In fact, I'd not only buy the Kleenex, I'd probably pitch in and cry with them.

Their tears would be more understandable than those shed by the Heat after the Bulls completed their season sweep of the Heat.

It's really a crying shame what has happened to the Pacers. But this series isn't over. Maybe, in today's Game 4, a close game will favor them in the end.
Somehow I don't think the Bulls gutted it out this far just to fall to the Pacers in game 4. They want this series over. One thing you should keep in mind is the words and wisdom of Sir Charles Barkley. He predicted, and subjected himself to ridicule, that the Bulls would be the beasts of the East. He also, before the playoffs, said that the Pacers were the one team that matched up well against the Bulls.
I'm wondering if he could pick some lottery numbers for me.
CLICK HERE TO GET GIDDY WITH US
Follow us on Twitter!
Tweet


My buddy Amelia is a die hard Hawks' fan. She has every conceivable form of their logo festooned on her clothing and lingerie, including some that I've only heard about by rumor. Her beloved team colors everything about her personality. I've seen her stop being friends with people who don't like hockey.
Suffice it to say she's a tad committed to her team.
Yet, when the Hawks were down 3-0, even she didn't see the silver lining behind that dark cloud.
Then it was 3-1 and it got there in dramatic fashion. She brightened.
And now, today, she's so giddy it's almost frightening.
As ADAM L. JAHNS reports, the Hawks seem to have found their groove and have now drawn the series to 3-2 and are bringing it back to the Madhouse on Madison.
It was utter domination — again. And believe it or not, the Blackhawks' performance in Game 5 on Thursday night at Rogers Arena might have been better than what transpired two days earlier in Chicago.

The Hawks laid waste to the Vancouver Canucks for the second game in a row. Their stars shined, and goalie Roberto Luongo was sent with his head down to the bench again as the Hawks posted a convincing 5-0 victory.

The Canucks still lead the series 3-2, but they are learning in a very hard way that eliminating the reigning Stanley Cup champions is not any easy thing to do.

"We're focused, and we believe," defenseman Duncan Keith said. "I don't think we played our best in the first three games, and we felt we were still in every game. Give them credit, they did what they had to do the first three games. But we've played the way we can the last two games."

Keith played like a Norris Trophy winner for the second game in a row, scoring twice and adding two assists. It was the first four-point game of his career. Marian Hossa had two goals and an assist, Patrick Kane tipped in a Keith blast and Patrick Sharp added two assists.

Luongo lasted only 21:15, allowing four goals on 12 shots. He's yielded 10 goals on 40 shots in the last two games. Goalie Corey Crawford made 36 saves for his first career playoff shutout for the Hawks, who led 3-0 after the first period.

There already were questions about Luongo's and the Canucks' mind-sets after they were routed in Game 4. But after they failed to respond in Game 5 like they said they would, the heat will be turned up.

Are they in Luongo's head?

"I don't see in his head, so I don't know," Hossa said.

"They have momentum on their side right now," Canucks coach Alain Vigneault said.

Despite both teams' stances that they are "different" teams, there is a festering hatred underneath all the pleasantries. The roster overhauls of both teams, especially on the Hawks end, did little to negate the contempt.

The Canucks came after the Hawks as if they had bull's-eyes on their backs in the first three games and took all three. The Hawks responded by blowing them out in back-to-back games.

"For us against this team, [the rivalry] gets personal because it's between certain guys," Hawks captain Jonathan Toews said. "We don't want to make it easy on this team. "

New characters such as Hawks 6-8 giant John Scott and Canucks troublemaker Raffi Torres, who knocked defenseman Brent Seabrook out of the last two games with a shoulder-to-head hit in Game 3, have maintained that intensity and malice.

There may be more brewing.

The Canucks followed up their Game 4 third-period meltdown with another emotional response Thursday as skirmishes broke out at the end of the second period. The highlight was Troy Brouwer's bout with Kevin Bieksa, who had scraped with Viktor Stalberg two nights earlier.

Earlier in the second period, defenseman Dan Hamhuis took a crack at Sedin twins pest Dave Bolland, hitting the recently concussed center in the head.

"We're not going to let them off easy and they're going to do the same thing to us," Toews said. "If we score a bunch of goals on them, they're not going to be happy about it and you're going to see some stuff happen at the end of the game. It just shows both teams really want to beat each other."
The Canucks look completely flustered. By the third period yesterday they looked like they were auditioning for a remake of Slapshot.
45 teams have come from 3-0 to 3-2 but only two NHL teams have come back from 3-0 to win their series. What does that mean for the Hawks? Not a damn thing.
South Side Slim has already started a thread, so CLICK HERE TO PROUDLY DISPLAY YOUR INDIAN
Follow us on Twitter!
Tweet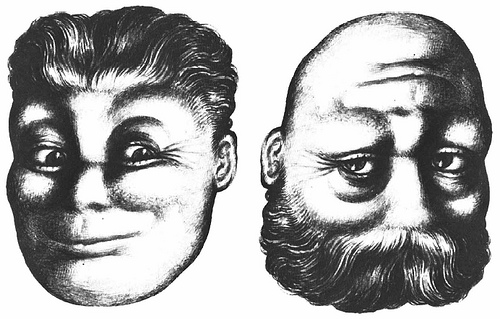 Up is down. Left is right. Birthers are supporting Obama's reelection campaign. Nancy Pelosi's been seen at NRA rallies trying to purchase an AK-47. And not even the Hello Kitty version. Everywhere I turn things are not as they're supposed to be.
It's like I woke up in Bizarro World and Lois Lane's turning tricks on Lake Street for $5.00 a pop.
And, who knows, it might be better this way.
After all, the status quo wasn't getting anyone anywhere. We may as well toss reality to the wind and let things fall where they may.
And now that that's been done let's take a peek at the world around us and see what we can see.
I'll let CARRIE MUSKAT start with your, first place, Chicago Cubs.
So far, the Cubs have been 1-1, 2-2, 3-3, 4-4, 5-5, 6-6, 7-7 and 8-8 this season. And after Wednesday's doubleheader split against the Padres, they're now 9-9. And in first place.

Ryan Ludwick hit a two-run homer and Cameron Maybin and Chris Denorfia each hit solo shots to lift the Padres to a 5-4 victory over the Cubs in the second game and a split of their doubleheader.

Alfonso Soriano doubled and hit a two-run homer for the Cubs, who are now tied with the Reds and Brewers for first in the National League Central. It's the first time they've been at the top of the standings since Aug. 6, 2009.

"I'm a race track guy and they don't pay anybody at the 16th-pole or the half-mile pole," Cubs manager Mike Quade said. "We've got to work some things out and we still have to get better. I'm just so pleased with the effort.

"This was a long day and it would've been great to come out of here with a sweep," he said. "We're doing enough good things that I'm still optimistic down the road. First place—no one is paying us for that in April."

In the first game, Reed Johnson led off the 11th inning with his first homer to give the Cubs a 2-1 walk-off win, their second extra-inning, walk-off victory of the series.

The Padres called a team meeting during the 45-minute break between games and must have gone over their scouting report on Cubs starter James Russell (1-2), who was making his second Major League start in place of injured Andrew Cashner. The Cubs needed an extended outing by Russell after using five relievers in the opener and the lefty did match his career high in innings pitched by lasting four.

But he gave up seven hits, including the three home runs, and threw 74 pitches. In his other start one week ago against the Astros, he threw 55. Whether he'll get another start is to be determined.

"There were a couple pitches I would like back but overall, I did what I wanted to do and kept us in the game," Russell said. "We had a chance to win out there. That's all you can ask for."

"In my heart of hearts, he's a bullpen guy," Quade said of the left-hander. "He gives you everything he's got and throws strikes. He seems better suited overall to bullpen stuff. If you left him in this kind of role, his changeup would get better, his whole game would get better, especially to right-hand hitters. It's a tough assignment."

The 1930 Cubs were the only other team in franchise history to post eight consecutive stops at the .500 mark to open the season. But the '30 squad that featured Gabby Hartnett, Footsie Blair and Kiki Cuyler rattled off seven straight wins after reaching 8-8. So, the 2011 Cubs now have set an odd record for being even.

Eleven of their first 18 games have been decided by three runs or less. Expect more nail-biters.

"There's something special about this team," Johnson said of the Cubs' comeback ability. "We've done it a couple times and come up short. The more times we're knocking on the door, the more opportunities we have, the more chances we have to succeed in those situations and that's a good thing."

Ludwick homered in the second, Maybin connected in the fourth and Denorfia hit his in the fifth to open a 4-0 lead. Russell was then pulled.

Soriano doubled to lead off the Chicago fifth against Padres starter Aaron Harang (4-0) and scored one out later on Johnson's double. Johnson, though, was thrown out at third trying to stretch his hit.

"If there's no outs or two outs, I'm not going in that situation," Johnson said. "If it's late in the game and we're down by three runs, I'm not going in that situation. It's the fifth inning, fly ball, if I'm standing out there it makes it 4-2.

"If you had to do it over and I had a crystal ball and I knew the three guys behind me were going to get base hits, I would've held up," he said. "I got around second and I knew I was in trouble. I just hit the wall."

Jeff Baker, Kosuke Fukudome and Darwin Barney each singled after Johnson was thrown out, with Baker scoring on Barney's hit, to close to 4-2.

"He's not just a good fiery player but he's a pretty intelligent player," Quade said of Johnson. "It's easy to sit here and say he should've done this or that.

"I'd rather have us err on the side of aggression than be pulling up short all day long," Quade said. "A player makes a read and makes a decision and it didn't work out."

Harang said the Cubs made it tough on him in the fifth.

"[The Cubs] were out there scrapping to get hits," Harang said. "Things worked out and we able to get through the sixth."

Alberto Gonzalez's sacrifice fly in the fifth gave the Padres a 5-2 lead, but Soriano belted his sixth home run with two out and one on in the eighth off Chad Qualls to close the gap.

Scrappy is a good description for his team, Quade said.

"I'm OK with that—I absolutely like that," Quade said. "Intelligent and scrappy is a good combination. We've shown signs of the intelligence part and we've scrapped the whole time."

And now they're in first place.
At one point fans were lamenting Carrie's job. It did seem as though she was going to spend an entire season writing about seagulls and upcoming promotions. Instead she seems to have inherited an interesting season. Given the fact that the NL Central is not going to require much more than 84 wins to take the division, the Cubs could be in this for the long haul.
On the Southside, the Sox find themselves one again fending off the Twins. However, the two perennial powerhouses are fighting for last place, not first. SCOTT MERKIN stopped staring goggle eyed at the carnage and managed to write about what he saw.
Ozzie Guillen's postgame press conference on the heels of Wednesday's 4-1 loss to the Rays at Tropicana Field began with the White Sox manager taking inventory as to the media members in attendance.

"Who wasn't here last night? Everybody was here last night?" said Guillen, after being told that everyone but one local television cameraman was in attendance for Tuesday's defeat as well. "Well just write what I said yesterday.

"It's the same type of game. They continue to play good defense. We struggle at the plate."

With that simple and accurate explanation, the White Sox slipped to 7-11 overall and lost their seventh in a row. This skid marks the team's longest streak in the wrong direction since dropping eight straight from Sept. 14-21 of last season.

But maybe the team needs to set its goals a little lower before tackling this stunning stretch of misfortune. Focus first on taking a lead.

The White Sox held a lead in every one of their opening 13 games. Since taking a 1-0 advantage in the third inning against the Angels' Jered Weaver on Friday night in Chicago, the White Sox have not been ahead for the past 51 consecutive innings. It's difficult to consistently play in a come-from-behind posture.

"When the guys go out and pitch and don't have any run support, it's not easy," Guillen said. "All of a sudden, you cannot make that many mistakes."

"Obviously, nobody thought we'd be in this position," said White Sox catcher A.J. Pierzynski, who was given his fifth career ejection courtesy of home-plate umpire Brian Knight following an inning-ending groundout in the sixth. "But you've got to find a way to battle through it. This team does not quit. This team is not down. We're still fighting and want to win. You look at Ozzie, and he has been positive through this whole thing."

Guillen was positive the White Sox were going to take a much-needed lead in the first inning when Carlos Quentin drew a two-out walk from Tampa Bay starter Wade Davis (2-2) and Paul Konerko followed with a double to right. Adam Dunn drew a four-pitch walk to load the bases, setting the stage for Alex Rios.

Rios ripped a 1-0 offering from Davis, which looked destined for extra bases, if not a first-inning grand slam. But Sam Fuld made the catch about two or three steps from the wall, just as the outfielders for Tampa Bay (9-9) have been catching everything hit in their general vicinity during this series.

"We're fighting. We're clawing. We're doing everything we can. We've hit a lot of balls hard. They made great plays," Pierzynski said. "Give them credit for the defense they played. In the first inning, Rios hits a bullet to the left fielder. If that ball falls, it's a different game. It's just the way it's going right now."

Whereas the White Sox came up empty with two outs and finished 0-for-6 with runners in scoring position, the Rays offset a 1-for-6 RISP showing with two-out rallies against Phil Humber (1-2). All four runs for the Rays scored with two outs, and the first two rallies began with two outs and nobody on base.

Humber allowed four runs on six hits over 5 1/3 innings, striking out three and walking one. But with the offense scoring just once, on Quentin's leadoff home run in the sixth, all Humber could do was keep the White Sox close.

After the first two Tampa Bay hitters were retired rather easily in the second, Casey Kotchman singled and John Jaso followed with a monstrous home run to right on a 1-0 pitch. It was the first home run of the season for Jaso, hitting .182 overall.

"On the first pitch, I threw the ball exactly where I wanted to throw it, and I tried to go back in there again," said Humber of the Jaso long ball. "I got too much of the plate and he put a good swing on it. That was definitely the difference in the ballgame. A good at-bat."

Kotchman doubled home B.J. Upton in the fourth, after Upton drew a two-out walk, and Matt Joyce doubled home Reid Brignac with two outs in the fifth. But Joyce did more of his damage defensively.

Pierzynski opened the top of the fifth with a popup to left falling between Fuld, Brignac at short and Upton in center. Alexei Ramirez then singled to left, giving the White Sox their best chance for a big inning since arriving in Florida.

Juan Pierre blasted a pitch from Davis toward the right-field corner following a Mark Teahen strikeout, but for the third time in seven games this season, Pierre was robbed of extra bases and multiple RBIs. Joyce made a running, leaping catch against the wall, and Gordon Beckham popped out to end the inning.

"I'm just happy I caught it," said Joyce. "I kind of felt bad for Pierre, because we've robbed him a couple of times down the right-field line. But it was a big play for us."

A team with as many ejections as runs scored rarely is going to win on a given night. But this White Sox squad still isn't panicking.

Frustrated over a high-powered offense scoring 13 runs in seven losses? Absolutely. Hanging their heads after just 18 games? Not this veteran group.

"We're grown men and been through this before. Most of us have been around for a while and know what it takes," Pierzynski said. "I still like this team and I like the direction this team is going. We just got to fight."
It's very odd to see guys who are serious power hitters as well as solid average hitters and just watch them stare at the pretty white ball as it whizzes by. It does seem that the Pale Hose have figured out their bullpen problems only to find a bunch of other issues to cause Ozzie to start drinking in the 3rd inning.
Sigh.
Follow us on Twitter!
Tweet