They'll be lucky to go 5-11.
They may break the Detroit record (0-16).
That O-line couldn't stop a crippled Girl Scout.
No Olin = No Wins.
Cutler'll be in a body bag by Thanksgiving.
I had more, but I'm pretty sure you get the idea. I was not buying into this year's version of the Chicago Bears. In fact I was strongly advocating that everyone just avoid TV on Sunday altogether or, at the very least, watch nothing but ice dancing or gymnastics.
But, I'm a hypocrite as well as a masochist. Of course, in my defense, my favorite bar was giving away free burgers and grilled corn and their beer is always cold. Yes, they do this for every Bears' game. So, lured by the delicious temptations, I went to watch the game. And eat burgers. And eat corn. And drink beer.
Mmmmmm beeeeeer.
Anyway, I got there just as the National Anthem was being sung by Jim Cornelison, and if that doesn't move you then you're dead (sorry to let you know that so abruptly), and then the flag was folded properly and the teams took the field.
Believe it or not the first thing I noticed was that the sod looked good.
Then the game began. The Bears got the ball and promptly started moving it in the right direction. And kept doing so until Robbie Gould put up 3 points. For a while it looked like it was going to be a defensive slug fest when Atlanta tied the game up at 3. That promise was quickly killed as the Bears put up 13 unanswered points by half time to take a 16-3 lead. They held the ball so long that you began to forget Atlanta had brought their offense along too.
It was, simply put, a dominating win. Brad Biggs from the Trib was at the game and has all the glorious details.
The Bears didn't just announce to doubters they're to be taken seriously in the NFC this season. They screamed it.

A 30-12 dismantling of the Falcons in the season opener Sunday at Soldier Field was as much an affirmation as it was a victory. They took apart the conference's top-seeded team from a year ago piece by piece, dominating at the point of attack and winning in all phases.

The Falcons have a glitzy offense with stars all over the place, but the Bears were the ones that showcased playmakers in a victory as impressive as the 2008 opener in Indianapolis and the 2006 shutout to begin the year in Green Bay. The latter season ended in a Super Bowl appearance; the former was a disappointment.

"There were a lot of questions about our team coming into the season," said middle linebacker Brian Urlacher, who intercepted Matt Ryan, scooped a fumble for a touchdown and made 10 tackles to open his 12th season. "We're off to a good start, 1-0 against a good team, so we just have to keep building."

While it's too early to make conclusions about those questions, the results were positive. The Falcons' upgraded defensive line had six weeks to prepare for a rebuilt Bears offensive line, and Mike Tice's unit looked good enough. Jay Cutler completed 22 of 32 passes for 312 yards and two touchdowns, and though he was sacked five times, the line was not overmatched.

Cutler got 109 yards on screen passes to Matt Forte and Devin Hester, but he also had time to throw downfield. He hit Roy Williams for 23 yards on third-and-6 and connected with Johnny Knox for a 25-yard gain on second-and-19. Cutler needs time to set up to take Mike Martz's scheme to the next level, and there was a glimpse of that.

"Everyone has an expectation of what's happening out there, and there's less thinking," Cutler said. "Protection-wise, those guys did a heck of a job. If we can get that level — and those guys are going to continue to get better and build on that — we're going to be pretty good."

Falcons running back Michael Turner finished with 100 yards on 10 carries, but 53 came on one dash and the low carry total is what mattered. Ryan was forced to throw 47 times as the Bears made the Falcons one-dimensional by getting out to a 16-3 halftime lead.

Ryan hit only two throws downfield — one to Tony Gonzalez and one to Julio Jones after the game was decided. The pressure on him was relentless. Henry Melton and Julius Peppers had two sacks each, and Amobi Okoye added a fifth. Melton had seven of the Bears' 11 quarterback hits, and Ryan was relegated to an afternoon of check-downs against a defense that swarmed to the ball.

Melton looked like the version of Tommie Harris the Bears hoped would resurface but never did the last three seasons. He was explosive, powerful and efficient. Peppers played at his usual Pro Bowl level. It bodes well for the back seven.

"It's sort of the nature of what they do in the Tampa-2, to kind of keep everything cradled in front of them," Ryan said. "We had plays called aggressively, trying to get the ball downfield. They executed their game plan well. I couldn't really go there."

The defensive backs held up well against Roddy White (eight receptions, 61 yards) and Jones (five, 71), and the Falcons didn't have an offensive touchdown, getting only two field goals and a 50-yard interception return for a score by defensive end Kroy Biermann.

It would have been a bigger blowout had the offense not sputtered twice in the red zone, making two of Robbie Gould's three field goals chip shots. Cutler did throw a 1-yard touchdown pass to tight end Matt Spaeth, one of eight players with a reception.

It's one win in a tricky opening stretch that next takes the Bears to New Orleans, then back home against the Packers. Urlacher was asked if it felt like the '06 opener at Lambeau Field, the last time the Bears won by more than 18 to start a season.

"Ask me in 16 more weeks," he said.
Am I completely sold on this team? No, not yet. They left too many points unscored with red zone collapses. But, and this is the part that makes my special place tingly, I do think they can overcome that lack. They have an O-line that has 4 guys (out of 5) in new positions and it held against a pretty good defense. Their rotating D-line was creating havoc across the field. Nobody made the mind boggling mistakes that seemed to have plagued this team in the past and Lovie Smith actually out coached someone.
Of course, Lovie being Lovie, he still seems baffled by that whole challenge flag thing. You don't just throw it when you're lonely, you really need to have a good shot at overturning the play.
But that's a minor quibble after a game like this.
So, next Sunday at noon, you'll find me, a burger, an ear of corn and a bottle of beer plopped on a bar stool (with free wi fi no less) and waiting to see if this week's game was an omen or an aberration.
Oh, don't worry, their burgers don't taste like crow, except to me.
Follow us on Twitter!
Tweet


10 years ago on September 11, 2001 I was on the phone with a buddy of mine. We hadn't talked in a while and he was getting ready for a long day at the office. His office was on Greenwich street in Manhattan. During the course of our conversation the first plane hit the towers. Being, as he was, about two blocks from the towers he had a pretty good view of the result. I flipped on the news and we kept talking. At that time no one was really sure what had happened. It could have been a bomb, an innocent (if that's the right word) explosion or any number of things. As the news droned in the background I informed him that it was a plane that had hit.
Again, at this point, we were all thinking accident. A sad, but merely unfortunate, event.
I was getting a second cup of coffee, it's odd the things you remember, when I heard a loud WHUFF over the phone and, seconds later, watched on TV as a second plane flew into the second tower. My buddy couldn't see exactly what was happening from where he was at so I quickly recapped and told him to get the hell out of there. Which he did, taking his staff with him.
They made it to one of my favorite bars in New Jersey and hunkered in to figure out what was going on. Many of his people lived near the towers so they were stuck for a while.
The bar was part of a hotel so he was able to whip out that corporate AMEX and do what CEOs get paid to do, take care of his people and let the accountants sort it out later.
We spoke a little later in the day when things had settled down for him. His wife and kids were in Connecticut so they were safe and that helped ease his nerves.
The rest of us stared transfixed at our TVs and tried to make sense out of what we were hearing. Thousands dead, heroes in the sky, the nation's capital attacked, on and on the list went. When the dust finally settled, both literally and figuratively, we knew that 2,977 Americans had been killed. All at the hands of 19 terrorists.
Two weeks later the Onion proved that America could take a punch and get up laughing. Under the headline Hijackers Surprised To Find Selves In Hell they managed to get everything right without offending anyone. I guess I shouldn't be surprised that, as I check my Facebook page, Neil Steinberg has also cited this article as a must read for the weekend. I imagine others will as well.
JAHANNEM, OUTER DARKNESS—The hijackers who carried out the Sept. 11 attacks on the World Trade Center and Pentagon expressed confusion and surprise Monday to find themselves in the lowest plane of Na'ar, Islam's Hell.

"I was promised I would spend eternity in Paradise, being fed honeyed cakes by 67 virgins in a tree-lined garden, if only I would fly the airplane into one of the Twin Towers," said Mohammed Atta, one of the hijackers of American Airlines Flight 11, between attempts to vomit up the wasps, hornets, and live coals infesting his stomach. "But instead, I am fed the boiling feces of traitors by malicious, laughing Ifrit. Is this to be my reward for destroying the enemies of my faith?"

The rest of Atta's words turned to raw-throated shrieks, as a tusked, asp-tongued demon burst his eyeballs and drank the fluid that ran down his face.

According to Hell sources, the 19 eternally damned terrorists have struggled to understand why they have been subjected to soul-withering, infernal torture ever since their Sept. 11 arrival.

"There was a tumultuous conflagration of burning steel and fuel at our gates, and from it stepped forth these hijackers, the blessed name of the Lord already turning to molten brass on their accursed lips," said Iblis The Thrice-Damned, the cacodemon charged with conscripting new arrivals into the ranks of the forgotten. "Indeed, I do not know what they were expecting, but they certainly didn't seem prepared to be skewered from eye socket to bunghole and then placed on a spit so that their flesh could be roasted by the searing gale of flatus which issues forth from the haunches of Asmoday."

"Which is strange when you consider the evil with which they ended their lives and those of so many others," added Iblis, absentmindedly twisting the limbs of hijacker Abdul Aziz Alomari into unspeakably obscene shapes.

"I was told that these Americans were enemies of the one true religion, and that Heaven would be my reward for my noble sacrifice," said Alomari, moments before his jaw was sheared away by faceless homunculi. "But now I am forced to suckle from the 16 poisoned leathern teats of Gophahmet, Whore of Betrayal, until I burst from an unwholesome engorgement of curdled bile. This must be some sort of terrible mistake."

Exacerbating the terrorists' tortures, which include being hollowed out and used as prophylactics by thorn-cocked Gulbuth The Rampant, is the fact that they will be forced to endure such suffering in sight of the Paradise they were expecting.

"It might actually be the most painful thing we can do, to show these murderers the untold pleasures that would have awaited them in Paradise, if only they had lived pious lives," said Praxitas, Duke of Those Willingly Led Astray. "I mean, it's tough enough being forced through a wire screen by the callused palms of Halcorym and then having your entrails wound onto a stick and fed to the toothless, foul-breathed swine of Gehenna. But to endure that while watching the righteous drink from a river of wine? That can't be fun."

Underworld officials said they have not yet decided on a permanent punishment for the terrorists.

"Eventually, we'll settle on an eternal and unending task for them," said Lord Androalphus, High Praetor of Excruciations. "But for now, everyone down here wants a crack at them. The legions of fang-wombed hags will take their pleasure on their shattered carcasses for most of this afternoon. Tomorrow, their flesh will be melted from their bones like wax in the burning embrace of the Mother of Cowards. The day after that, they'll be sodomized by the Fallen and their bowels shredded by a demonic ejaculate of burning sand. Then, on Sunday, Satan gets them all day. I can't even imagine what he's got cooked up for them."
If I can ask you to remember one thing it would be this; it was not "Muslims" who attacked us. It was a group of psychotics who wrap themselves in the religion of the week. The people who followed Osama bin Laden are no more an accurate representation of Islam than the Westboro Baptist Church is of Christianity or the Ku Klux Klan is of Anglos.
There was, and is, a mosque less than 4 blocks from the towers. It was built just after World War II and the people who attend there have been part of the warp and weft of everyday life for decades without incident.
People like bin Laden paint in broad strokes. They make it easy to hate since all their followers see is an abstraction. His followers don't see Bill & Big Star & Hino & Slim & Toko, they see a group that is unlike their group. They see an entity that they must remove. I see the same going on over here and wonder if some of the most vitriolic know that they seem to be agreeing with bin Laden as they tout their patriotism.
The real victory over terrorism is a simple one, don't let them make you hate as they hate. Look at the truth instead of the easy lie. Remember that people, once you strip away the social veneer, are pretty much the same the world over. They want a safe home for their family, food on their table and a community to share with their friends.
It's not that much to ask and it's easy enough to understand.
Have a safe weekend.
Follow us on Twitter!
Tweet


You see the problem already don't you. You're looking at a picture of the 1908 World Champion Chicago Cubs and you see what they had that the current team does not. They had a mascot. An actual, not very cuddly, dancing bear.
Oh, they still have a mascot. Sort of. He's a Cubbie and he wanders around outside the bars hugging people and offering his best Third Reich salute.
He's also not endorsed by the Cubs. Think Ronnie Woo Woo in a fur suit and you get the idea.


Not that I think an authorized mascot could fix things on the Northside, but I doubt that it could hurt.
Another thing the 1908 team had that this one doesn't is a team that had a clear hierarchy. Never has that been more apparent than in the last few weeks of Hendry-Gate. They fired a guy and then let him oversee some of the most sensitive negotiations the team had going on for their future and then gave a contract extension to the one guy that most GMs would prefer to pick for themselves.
Tom Loxas, over at Chicago Now, ranted about this the day it happened and now finds that he is not alone in wondering what people are thinking at Clark and Addison.
Jeff Passan of Yahoo has been tweeting today about the state of the Cubs GM search, and it's not good.

Passan claims he has been getting negative feedback surrounding a potential extension for scouting director Tim Wilken. Passan also says Fleita's extension may not be such a huge issue, but a new deal for Wilken could scare off some good candidates. Here is just one of his many tweets today regarding the subject.

Heard the same thing a few times now: If Tom Ricketts gives Tim Wilken a long-term deal, a lot of prospective Cubs GMs will sour quickly.

Hate to say I told you so, but I haven't seen much written to the contrary of what I said about Fleita's deal on Saturday night. Passan isn't the only writer out there saying this stuff, but his tweets are a good example of what the temperature is like on the subject.

Again, this is not how you do things in big boy baseball. Tom Ricketts needs to heed some of this talk if he has his sights set on Andrew Friedman and company.

It's one thing if he has some sort of "go-ahead" from a GM candidate he likes, but the more I hear, it just sounds like it's way too early for him to have that kind of contact with anyone. I heard today that things could drag into early November. I doubt that myself, I would expect something before the organizational meetings sometime in October.

Now I've also heard that the incoming GM could have some flexibility with Fleita by re-assigning him and there is an out clause in the deal for Fleita to leave early. Those factors could be important, but it's also important that Ricketts doesn't blow this by falling in love with the only baseball people he seems to have respect for in the organization.

This isn't a tallest midget pageant.

Granted, Fleita and Wilken maybe respected and liked around the league, but Ricketts just sounds naive floating around his desire to retain both of them without getting a GM first.

Some kudos are due to my partner in crime John Arguello over at Cubs den. Buster Olney mentioned one of his pieces today in his insider column.
Our own Big Star has a famous thread going concerning his feelings for Tom Ricketts, et al. Some of it is pretty funny and in some cases you have to worry for the poor guy. He is a Cubs fan in pain.
And it's not just Tom. Jordan Campbell at Cubbie Crib, a site so devoted to the Cubs that even the font face has a blue tint, thinks that this is the kind of move that eliminates the serious candidates.
The problem with the move, is that the new general manager will now have Fleita forced on them. I can see if it was (scouting director Tim) Wilken, but Ricketts may have been too quick to pull the trigger on Fleita's extension. The reason for the extension was that Fleita was being pursued by the Detroit Tigers, and Ricketts put a quick end to that by handing Fleita a new contract. But this move may make the Cubs general manager position less attractive to some of the big name candidates. For instance, I can't imagine that Cashman, Beane, Theo Epstein, or Andrew Friedman would be attracted to the idea of having the vice president of player personnel in place before they get there. Having said that, it now seems more likely that the new Cubs general manager will be someone who is currently a highly touted assistant general manager.

While Fleita has played a significant part in improving the Cubs minor league system, the decision to keep him around for four more years should have come from the new general manager.
Even the Bleacher Report, which deals with all things Cubbie with a self effacing sense of humor, busted out the big boy nouns for their thoughts on this move in an article entitled "Tom Ricketts is a Fool."
Horrifying news broke this afternoon for Chicago Cub fans with the announcement that Player Personnel Director Oneri Fleita had his contract extended. Knowing that he was a Jim Hendry guy, you would think he would likely be out when the Cubs hired a new general manager.

With this move, owner Tom Ricketts just put the kibosh on any of the big name GM's being bandied about coming to the Cubs. Do you think they're going to want to be told who they have to employ?

What was he thinking? The timing is crazy, just like waiting until June 22 to fire Hendry and keeping him around another month to make trades and sign draft picks.

Was there any urgency that this had to be done now? He just handcuffed the entire organization and dashed the hopes of Cub fans everywhere.

There has been nothing to look forward to this season until Hendry was let go. Then the names came out about who the Cubs would have interest in. Finally, I was looking forward to what would happen in the offseason.

I was excited, and I don't get excited easily.

I was wondering what the team was doing with Quade continuing to play his veterans and try to win games when it doesn't matter anymore, and hasn't since early May.

Because there is no one in the organization to dictate what should be done now and that is giving the young players an opportunity, this is another completely wasted year.

They also didn't trade away any veterans for prospects because interim GM Randy Bush wanted to leave that for the new guy.

Year 2 for Tom Ricketts—same as the first—only worse.

It's scary, but it really seems like this guy doesn't have a clue, and he's the one we're counting on to make the decision that is going to affect the future of this franchise.

He was a fan before he was an owner. He convinced his daddy to buy the team for him because he told him "They sell out every game, every day, win or lose."

You can't have a fan running the team. Who is advising this guy?

He should have hired a baseball guy as soon as he was handed the keys. He had plenty of time to do research while the process was taking place.

Instead, he came in like a farm boy looking up at the tall buildings in the big city and going, "Golly gee."

He's in over his head and because he is the owner of the team—all hope is dead.

The offseason no longer matters because he will get it wrong. That's what this move proves.

Since he took over the team, because of his looks and speaking manner, he has been compared to Mike McCaskey of the Chicago Bears, who is persona-non-grata in Chicago.

The bad news is—he is Mike McCaskey.
I use these sources today for one reason and one reason only. I'm a Sox fan, what I think or say doesn't matter one whit when it comes to the Cubs. But each of the above is a Cubs' fan, even Big Star, and each and every one of them is staring at the future and seeing only dark.
What sucks for me is that I'm not a sadist. I would like the Cubs to do well. A real baseball team on the Northside is good for everyone. It's good for the city, it's good for the fans and it's good for the businesses. More importantly for me, it's good for Big Star. We get tired of coaxing him in off the ledge every day.

CLICK HERE TO BLEED CUBBIE BLUE
Follow us on Twitter!
Tweet


In case you're wondering why I'm in a snarky mood today, click here to understand my hatred of wind chimes. Were it not for the repeated tingling cacophony in my back yard I could say I had a really nice weekend and would be hoping the same for you. Because, all in all, I did have a nice weekend. But, hey, I suffer for my art.
Well, okay, usually I drink for it, but now things have changed.
Other people who seem to be a bit snarky lately would include Dusty Baker who keeps getting asked AGAIN AND FREAKING AGAIN what he would do to fix the Cubs. To his credit he points out they fired him the last time he made suggestions so he would prefer to not answer that question. Adam Dunn gets added to that list as he was asked - honest to God - if he knew he was having a bad year. That's like asking someone if they noticed their limb had been amputated. Trust me, they got that particular memo.
One particular ray of sunshine, who never seems snarky, is Paul Sullivan over at the Tribune. He managed to watch the Cubs play yesterday and not make one snide remark.
Former Cubs manager Dusty Baker sat back in his chair and spit tobacco juice into a garbage can when asked over and over about the recent change in management at Wrigley Field.

Only five years ago, Baker was on the hot seat at Wrigley while nearly everyone in town knew general manager Jim Hendry was about to fire him at the end of the season.

Now Hendry has been fired himself, and manager Mike Quade is the one sweating out September with a new general manager coming in and no word from ownership about his future.

"It happens, part of the game," Baker said. "I'm sure some more changes are coming."

Changes are a certainty, though no one knows for sure who will stay or who will go.

After posting a save for Matt Garza in the Cubs' 4-3 win over Baker's Reds, embattled closer Carlos Marmol wondered if he might be on the way out.

Asked if he thought he would close for the Cubs next year, he said: "You want (the closer) to be somebody else? I don't know. I can't say anything. Any time they give me the ball, I'm going to be here, no matter what … unless they trade me."

Marmol laughed, though he knows a new general manager may want a change from a closer who is tied for the major league lead league in blown saves (9) and has posted a 7.25 earned-run average in the second half.

Quade remains solidly in Marmol's corner, though his vote may not matter next spring. Garza said Monday that Marmol deserves a mulligan for a "rough" season.

"He wants the ball and what else can you ask for?" Garza said. "You don't want a closer who's afraid to grab the ball. … It's a rough year. What are you going to do? Keep going, keep grinding and next year he'll see and learn from what he did.

"The last three or four seasons, he's been unbelievable. It's just been a rough patch. He still has (32) saves, so that's still a positive thing from a team where we're 22 or 23 games out."

Garza (8-10) is assured of staying, and will join Ryan Dempster at the head of the rotation. The Cubs will search for a No. 3 starter to stick ahead of Randy Wells and Andrew Cashner, the projected Nos. 4 and 5 starters, assuming Carlos Zambrano is jettisoned.

Garza allowed one earned run over 7 2/3 innings Monday, and has a 2.23 ERA over his last seven starts. Aramis Ramirez's two-run single off Dontrelle Willis in the fifth keyed a three-run inning, and Garza left with a one-run lead in the eighth before James Russell bailed him out. Errors by Reed Johnson and Starlin Castro led to two of the Reds' runs, but Garza kept his cool.

"The toughest part is trying to control my own emotions," Garza said. "Yeah, it can (tick) me off, but if it (ticks) me off and I don't control it, then I'm just going to let everything get out of hand."
Just for the record, the Cubs were officially eliminated from the playoffs this weekend. Cubs fans were so upset by this development that they filled the stands and sang the annoying Cubs' song after the game.
That'll teach 'em.
As to the rest, it was nice to see Garza get the win. As things stand right now he will finish the season as the pitcher with the least amount of wins and lowest ERA. Even among winning pitchers his ERA ranks near the top, so he should win in this category going away. The fact that he's not slamming bourbon between innings is a testament to him an no one else.
Yesterday the White Sox set out to do something they haven't done since 1977, sweep the Twins in a double header. As Mark Gonzales reports, they accomplished their task for whatever good it will do them this year. I know they're mathematically still in it, but let's be honest, last weekend's drubbing at the hands of the Tigers was a mercy killing on a national stage.
Manager Ozzie Guillen sounded Monday like he wanted to return to the White Sox.

And rookie Zach Stewart and Philip Humber gave Guillen two more reasons to come back.

After Humber threw seven shutout innings in a 2-1 win over the Twins, Stewart pitched seven perfect innings before settling for a 4-0, one-hit victory in his eighth major league start that gave the Sox a doubleheader sweep.

"I could tell it was going to be somewhat of a good night," said Stewart, who lost his perfect game when Danny Valencia hit an opposite-field double leading off the eighth inning. "But I didn't know it was going to be that good from the beginning."

Stewart (2-3) struck out nine in his eighth major league start and his fifth since joining the Sox in a July 27 trade with Toronto. Both of his wins have come at Target Field.

"He did such a good job of working so quick it's like we were never on defense, like we were up to bat all the time trying to score runs," said Brent Morel, who made three exceptional plays at third base.

"They saved our bullpen," said Guillen, referring to Stewart and Humber, after the Tigers pounded the Sox for 35 runs over the weekend.

Stewart, 24, became the first Sox rookie to pitch a nine-inning complete game win since Wilson Alvarez did at Cleveland in 1991.

"He's relaxed and nothing bothers him," Guillen said. "That's a good sign to step it up. When you're a kid, you get nervous and try to overthrow. I don't see any sign of that."

Stewart said he pitched a perfect game in high school, and that he wasn't rattled after Valencia got the hit.

"I felt like I threw a good pitch right there," Stewart said. "(Valencia) just got it and did what he wanted with it."

Humber (9-8), pitching for the first time since getting hit above the left eye by a line drive on Aug. 18, was hit on the right thigh in the second inning but was very effective.

"I must pitch with my eyes closed," said Humber, who was hit in the back during his rehab start Aug. 30. "I don't get it. I don't know why I'm carrying a glove out there. I'm not using it. Hopefully I'll get better."

In assessing the Sox's problems before the game, Guillen said he had no qualms about playing most of his starters together for final week of spring training after past springs of using his roster liberally.

"But we didn't play well in spring training either," Guillen said. "We didn't play like, 'Wow, White Sox are kicking (rears) in spring training.' But what can we do now in spring training? I will do the same stuff."
Yes Ozzie wants to come back. In many ways this is the only baseball home he's ever known. And, while no one will care but me, I happen to like him as a manager and see no reason he shouldn't be managing the Sox. He fits there. Sure he could do fun interviews in Spanish in Florida, but that would be the highlight of his life there. Here, despite all the BS that surrounds the team, he has a chance to win every year.
Now, if he could only get the memo to Reinsdorf that big, slow, guys are the past and not the future of baseball all would be well.
CLICK HERE TO SLAM BOURBON WITH US
Follow us on Twitter!
Tweet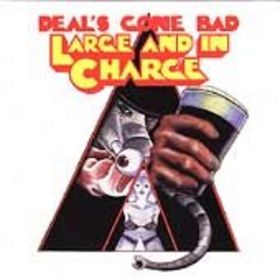 Yesterday, God smiled on me. I was walking down the street near a young, African American, woman. She was about 3 feet away from me, slightly in front. She had on a knit, sleeveless, T-shirt, shorts and sneakers. Suddenly she said "(the heck with) it, I can't take it any more!" With that pronouncement she stopped, unhooked her bra and ripped it out from underneath her shirt. Since I stopped when I heard her yell, thinking something bad was about to happen, I happened to be in the perfect place at the perfect time to see a couple of examples of God's finest work. It took her a nanosecond to realize what she'd done and what I'd seen. So, seeing no other options, I smiled and said "Thanks, you just made an old man happy." She thought about that for a second, laughed and continued walking with me down the street. We talked about silly stuff, how her under-wire was burning her skin (thus her actions) and how she was going to Northwestern to study law. We got to an intersection and she saw some people across the street whom she seemed to know. She turned to me and then glanced at her chest and said "They are pretty nice, aren't they?" I agreed, she gave me a quick kiss on the cheek and ran off to join her pals.
That whole situation could have gone wrong in 100 different ways. But, when two people deal with things like adults and retain their sense of humor, all will always end well.
Contrariwise, when one person acts like a bully and demands that everyone do as he says or go home, then things don't work so well. More importantly for Kenny Williams, the aforesaid bully of this sentence, he also found out who's really in charge and who's opinion counts for the most. You see, KW fired the Sox' hitting coach, Greg Walker. Ozzie didn't want him fired and Jerry Reinsdorf said Walker was not going anywhere. So Walker stayed. Daryl Van Schouwen heard about the affair and got some face time with Walker to see what actually happened.
The frustration stemming from the shortage of production from Adam Dunn, Alex Rios and Gordon Beckham recently reached a boiling point between ­general manager Ken Williams and hitting coach Greg Walker.

Walker took issue with Williams' comments about Beckham's swing, and after he and Williams exchanged heated words in the tunnel leading to the Sox clubhouse at U.S. Cellular Field, Williams told Walker to clean out his locker, a source said.

When chairman Jerry Reinsdorf was made aware of what happened, things were smoothed over.

"I'd rather not comment on it,'' Walker told the Sun-Times on ­Friday. "What goes on in our clubhouse stays in our clubhouse. It's been a very frustrating year for a lot of people.''

Williams told reporters on Aug. 19 he preferred the swing Beckham brought with him from the University of Georgia after he was picked in the first round of the draft to the swing he has now.

"As long as Gordon continues to work, I have no problem with it,'' Walker said Friday. "We're not satisfied with the results. We've looked at it every way we can look at it.''

None of the Sox coaches are signed beyond this season, and most of them are not confident that they will return despite the backing of manager Ozzie Guillen — who is signed through next season.

"There's an expiration date on all coaches and managers — and players,'' Walker said. "I had a career as a player and that was over. I'll wait till the end of the year and I'll make a decision — or they will make a decision. But in a pennant race with guys fighting as hard as they are, the last thing I want is to be is a distraction or become a story.

"My goal to come here was not to be a personality. I came here to help players. I am still doing that every day. Sometimes we're not getting the results we desire and that' s part of the business. It's been very frustrating for everybody involved and that's all I can say about it.''

Williams' comment last month about Beckham's swing appeared to be a direct hit aimed toward Walker.

"Any high fastball, he could get on top if it with his top hand,'' Williams said then. "But again, as the general manager you sit back and you have to respect the work that your coaches do and you have to respect the desire from the player as to what he thinks will work.

"I personally liked the swagger and the cock that he had of his wrists and the loading of his hands when he had the previous swing I spoke of.''

Walker is as disappointed as the results as anybody. He knew expectations were high after Williams signed Dunn to a $56 million free-agent deal last off-season.

"So far we haven't played well and our department is a big part of it,'' Walker said. "So yeah, I've been frustrated about it just like everybody else. But I'm not the story. I'm just a hitting coach. It's an important role but in the big picture it's way down the food chain.''
Blaming Walker for Beckham's woes this year must also mean that he get's an award or two for Paulie's career, or Beckham's rookie year or .... you get the idea. Sox hitters, these last two years, have been wildly inconsistent. To some fans that means that Walker has been doing something new and unproved and must be removed.
Sorry for the rhyme.
But everyone I've spoken with says the same thing, he hasn't changed a lick. To some that alone is reason for banishment.
The thing is that I put some, but not a lot, of stock in position coaches. They are there to help. Don Cooper has, over the years, done an amazing job of helping pitchers find their way, but they're the ones who still have to go out each day and pitch. The same holds true for Walker. Adam Dunn seems to have taken up golfing at the plate, Beckham seems intent on swinging at balls that are still in the dugout and so on. I can promise you that none of those, for lack of a better term, techniques were Walker's idea.
Not that long ago I mentioned that KW would be a good GM for the Cubs since he likes a line up built around power. Give him a team built around a bunch of slow giants who lumber around the bases like those ballplayers in Bugs Bunny cartoons in the 40's and he'd be in hog heaven. As Cubs fans know, those are a lot of fun to watch, but teams built like that tend to have just as many losses as homers.
I should note that the legendary Murderers Row was a lineup that hit for average more than power. Not that I would ever claim to contradict a GM, but it is worth noting.
Follow us on Twitter!
Tweet