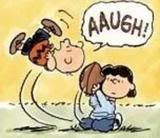 Hope everyone had a lovely holiday.
Jay certainly did. He managed to find the time to rip Brian Urlacher for defending a teammate and Charlie Weis for his wardrobe choices. He even dazzled us with yet another mention of fag-gate.
I also heard a rumor that while watching the Charlie Brown Thanksgiving special, Jay referred to Brown as "a no-talent loser about as likely to kick that football as Paris Hilton is to win a Grammy."
Just a rumor.
But alas, we haven't the time to discuss the past.
Why, you ask?
Because, ladies and gentlemen ... did someone say ... QUARTERBACK CONTROVERSY?!?!
That's right, another suspect performance by Rex Grossman means the great Griese-Grossman debate is back. And it's better than ever.
Fire up the sports talk radio! Get me a split screen with two ESPN guys screaming at each other! And get me Dan Jiggetts on the phone!
Ahh, nothing gets the sports media in a tizzy quite like a good old quarterback conundrum.
I must admit, for the first time this season, benching Rex has become a legitimate question.
Jay implies that the Bears should make a switch, but Lovie Smith doesn't have the "cojones" to do it.
It's too bad Jay doesn't go to locker rooms. I'd pay 200 dollars to see him question Lovie's manhood to his face.
I'm with Lovie in the "stick with Rex" camp. Here's my explanation.
As erratic as Rex has been, he's still the best Bears quarterback I've seen since Jim McMahon. If I honestly thought Brian Griese gave them a better shot, I would say go for it. But anyone from the Denver area can tell you Griese is far from a sure thing in the playoffs. Just because he had a nice little stretch with Tampa Bay last year and a good preseason playing against scrubs everyone suddenly thinks he's Johnny Unitas.
Sure, Tony Romo has saved Dallas and Jay Cutler is about to try a resurrection act in Denver. But in both of those cases, which Jay fails to mention, coaches benched suspect journeymen in favor of a possible quarterback of the future.
For the Bears, a switch would be the exact opposite.
It would have been nice for Rex to have a great game Sunday and quiet all the doubters. He didn't. And like Jay said, having the season in his hands right now is "a scary thought"
But that doesn't mean it isn't the right decision.
Comments