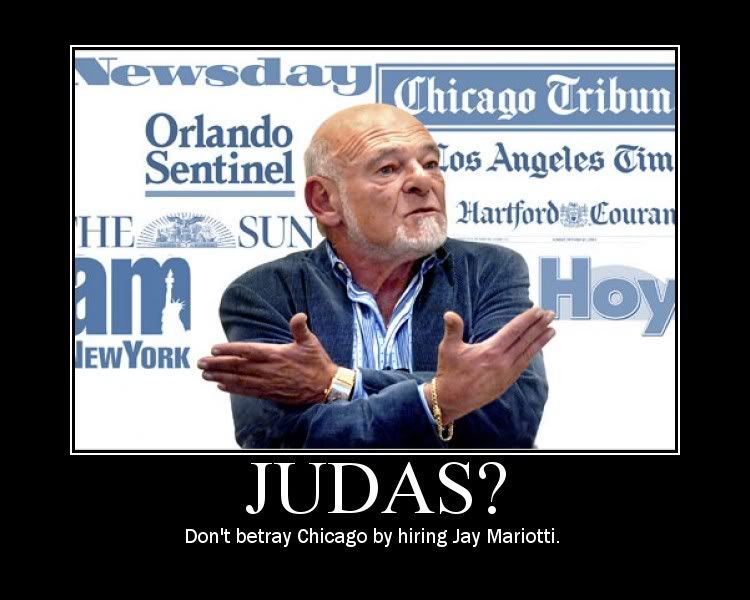 Free will. It's like butterfly wings: once touched, they never get off the ground. No, I only set the stage. You pull your own strings. - John Milton
Sam Zell,
This is evil and you damn well know it.
If newspapers are indeed "dying" then this is not the way to go about making a buck in the business.
Have you no soul?
Your Tribune subscribers and fans of the Cubs deserve better. Chicago has endured enough of Jay Mariotti's abuse.
Make no mistake. You will be reviled. And profit not one cent from hiring the dwarf.
Perhaps you need a little reminder of what your prospective new employee has written about yourself and the Chicago Tribune. Keep checking in. We know you like to visit us. This front page will be updated frequently throughout the day.
In Zell's slash-and-burn world, $500,000 equals the heads of 10 sports writers at Tribune prices. - Jay Mariotti, 7/23/08. Thanks to BigBadBill
You say Sam Zell, in his detached role as temporary Cubs owner, will provide a refreshing change after 27 years of ineptness from previous Tribune Co. chiefs. I say Zell looks like the billy goat, actually might be the billy goat and already is plotting to eliminate the jobs of at least a dozen Cubs players through voluntary separation programs, involuntary layoffs and attrition. - Jay Mariotti, 3/25/08. Thanks to Fire Jay Mariotti
He's a sellout, Sam Zell. - Jay Mariotti, Around the Horn. Source: YouTube

Did you really think the Tribune Co., locked in an 0-for-26 World Series slump, suddenly would serve Cubdom well in its final season of baseball ownership? The Tribune sports section was openly rooting for it the other morning, slapping a management-friendly headline atop a balanced article about the end of the Tribsters' sorry reign: ''Tribune years could finish with a bang.''

A bang? Only if the Trib shoots itself in the rear end, as usual. - Jay Mariotti, 08/16/2007. Source: Chicago Sun-Times
The situation looks dire, probably because there's always an egomaniac out there who wants to say his company's name is splashed in red across Clark and Addison. But just as some shred of hope can be found in every Cubs rally, maybe a front can be mounted against The Evil Zell if enough fans raise hell. You know, keep protesting and make a CEO think twice about the backlash before doing business with Zell and mucking up the shrine. I'm happy to see the flood of angry e-mail sent to the Sun-Times in recent days. I'm just as happy to see the results of an ESPN.com poll that inquired: Which venue's name is most untouchable? As of late Wednesday, 60,000 had responded. - Jay Mariotti, 2/28/2008. Thanks to Cheddarhead Pack of Houston
At one point, Kenney told an audience of concerned fans that the William Wrigley Jr. Co., of chewing gum fame, should ante up fees for the free publicity it has received. Never mind that Wrigley Field was so named by Bill Wrigley when he owned the Cubs many decades ago. Kenney sees dollar bills when the rest of us see ivy and bricks.

"In my perfect world, the Wrigley Co. would step up and start paying for what they've been getting free all these years,'' Kenney told the fans.

We talk endlessly about steroids in sports. But greed, too, can poison what we love about the games of our lives. The owners of the Red Sox wouldn't dare sell naming rights. Same goes for the Packers, Yankees and Knicks. When Cuban last was in town, I asked if he would ponder leaving Wrigleyville for better business opportunities as Cubs owner.

He looked at me like I had five eyeballs. The reason he wants to buy the Cubs, you see, is the reason so many people love the Cubs: He loves sitting at beautiful Wrigley Field with a beer, a hot dog and a smile on his face. Sam Zell never will understand. Jay Mariotti, 2/22/2008. Source: Baseball Think Factory Special thanks to 34payton.
So here we thought the sale of the Cubs by baseball-dopey Tribune Co., announced on Opening Day, was the greatest thing since ivy on brick. April Fools! We should have known this would be a messy transition season, complicated by the scary combination of fleeing Trib executives, eccentric short-term buyer Sam Zell and commissioner Bud Selig's crony-driven conflicts of interest. - Jay Mariotti, 7/4/2007
Only hopeless grumps and half-dead curmudgeons wouldn't enjoy the union of Mark Cuban and the free-at-last Cubs. For one, he's a bleacher bum at heart, a crazy fan who truly gets Wrigleyville, vines, beer and bikini tops. And unlike the fallen Tribune Co.—good riddance, losers—he doesn't like mixing futility with fun, preferring to augment the party with big spending and bigger winning as shown by his once-moribund, now-dominant Dallas Mavericks. - Jay Mariotti, 4/3/2007
You do remember saying this, don't you Sam?
Tribune Co. Owner Sam Zell told Chicago Tribune employees at Freedom Center that Jay Mariotti was an assassin. Zell drew laughter as he said Mariotti, who wrote a scathing piece about Zell in the Chicago Sun-Times last week, was frustrated that he didn't own the Chicago Cubs himself. Source: Chi Town Daily News Thanks to bones73
Comments