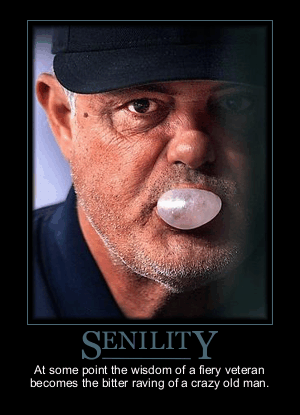 CAROL SLEZAK (Sun Times) today gives Lou Piniella 2 weeks to keep his job. Well, as long as no one is overreacting ......

They might catch fire any day now and reel off a streak that shoots them straight to the top of the National League Central. But let's not kid ourselves. To date, the Cubs have been the biggest underachievers in baseball.

We've watched them stumble all season long, showing more spark while bashing a Gatorade dispenser than they ever have on the field. They are a bunch of hotheads prone to mental mistakes. They are desperate for leadership. Unfortunately, Lou Piniella, the man charged with providing that leadership, seems as lost as his players. He just isn't getting the job done. If the Cubs can't turn it around before the All-Star break, it will be time for a change at the top.
Okay. Let's assume for a moment that I have completely lost my mind and agree with her. HEY! You didn't have to do it that quick. Anyway, if Lou goes, who comes in? It isn't like there are a ton of experienced managers with winning records just waiting for that call.
Maybe Bob Brenly. Sure, that would be fun from a performance art perspective, but I am not sure how good it would be for the team. After that you get a lot of 3rd base coaches who would be shots in the dark. Maybe one is the answer, maybe not.
Or, do you give Ryne Sandberg the chance he has always dreamed of? I ask you to keep in mind that he has a losing record as a minor league coach, no matter how much or how many fans love him. But, Carol is not here to offer solutions, just to toss crap against the wall and see what kind of pretty pictures it makes as it slides down.
Piniella didn't assemble this group of underachievers. Not officially. But you can be sure he had a hand in helping general manager Jim Hendry shape the Cubs' $140 million roster. From his vocal desire for a left-handed bat, which resulted in the acquisition of the troubled Bradley, to his apparent willingness to part with Mark DeRosa, Piniella has the team he wanted. Supposedly, it was built for October. But at the rate the Cubs have been losing, they won't even make the playoffs.
Well, close enough for modern journalism I guess. While it is true that Piniella asked for a left handed bat, he never once asked for a complete head case who plays defense like he has holes in his glove. Though he said all the nice things when Bradley got signed, you had to wonder then if he wanted to throttle Hendry. Lou has never liked problem players. He is akin to Ozzie in that regard.
Inner fire? Yes. Molten lava spewing rampant destruction at random targets? Nope.
Carol does note that it is not Lou's fault that the team can't seem to find a baseball with a guide dog, then notes that it kind of is since, after all, he was once a hitting coach. I should note that he also played some infield in high school. Maybe he should just demote himself and concentrate on his strengths.
But clearly, all facts aside, what has happened is that the team has given up on Lou since the club has such a long history of post season success ..... I'm sorry, not even I can go further with a straight face. But she can.
When Piniella arrived in 2007, there was no doubt he was in charge. When he led the Cubs to 97 wins last season, there was no doubt he was in charge. But he has seemed lost this season. Is he burned out, sick of the managerial grind? Has he failed to recover from the Cubs' second straight three-and-out postseason experience? Has the pressure of trying to lead the team to a World Series taken its toll on him?

I can't answer these questions. But I know for certain that the 2009 Cubs shouldn't be struggling to play .500 baseball. If c can't motivate this team, the Cubs need to find someone who can.
These questions, and many others, could have been answered simply. She could have asked Piniella, or talked to couple players off the record. Of course, that would require work, which is clearly beyond her.
In closing, the Cubs and the Sox both beat bottom dwellers yesterday, which is a good sign. Those are the teams you have to beat.
Comments