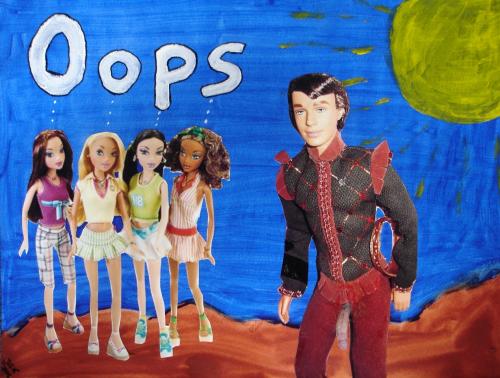 Before we recap the fun and frivolity of yesterday I want to take a look at a stat that gets horribly misused. Darwin Barney has played 112 games without committing an error. Before anyone thinks I'm about to rip on Barney or belittle this accomplishment I will remind you that I picked Barney to be an elite player when I saw him in 3A. In fact my ire is directed at those who note that Barney could tie the NL record of 113 games without an error tonight and then, just to make me homicidal, point out that Soriano hasn't committed an error this year either.
I have a friend who scouted the Cubs for his team this year. Since he summed my anger up best, I'll share what he said one night over a frosty cold libation.
"Each outfielder is expected to cover about 30 feet to either side of their position. Sori covers about 10, on good days. So when a ball drops 15 feet from him, without him making a play on it, it's marked as a hit. I think that every ball like that should be called an error. Sori would have about 40 on the season, which would be a more honest way of looking at the level of his play. (MLB) won't do that since it would humiliate older players, but all of us (scouts and so on) use some form of accounting like that for our presentations. It's why no sober team bid on him."
Thus Soriano's "error free" season is a mercy granted by MLB scoring and not by reality.
Look at it this way; Alejandro De Aza has 3 errors this season for the Sox in the outfield. 2 were turned into outs and one of those was turned into a double play that caught the opponents so far off guard you would have thought the scroe card read "De Aza to Ann Romney to Michelle Obama for the deuce." All total, before his injury, De Aza had 11 put outs from the field with two of them turning into double plays. Or, to keep things simple, De Aza kept 13 bad guy runs off the board. Sori has 9 assists this year, but four came against the Astros who are still trying to learn what to do about those white squares that clutter up the diamond when they're running around during their T-ball matches.
Not that 9 is a bad number but it isn't all that great either and Sori has been in about 30 more games than De Aza this season.
In other words, only a team in need of a DH should look at him and he doesn't want to be a DH. So when the only team drunk enough to try him as an every day fielder in a pennant race, the Giants, came along and he dissed them, it let everyone know they shouldn't waste their time. Whatever he wants it isn't winning. Congratulations Cubs fans, you get Soriano until the next Gubernatorial election in Illinois.
For those of you who really, really, really, really like to get to the bottom of the meaning of stats (yes, Nite, I mean you), check out John Grochowski in the Sun Times. Today he looks at the mathematical formulas which predict luck.
And does a pretty good job too.
Now, to yesterday.
Carrie Muskat was at Wrigley and noted that starting pitching kept them in the game and their utility outfielder pitched good enough to get the save.
Well, he would have if they weren't down 11 runs at that point.
Joe Mather did not want his sporadic pitching career to continue, but the outfielder was needed in the ninth inning on Monday. The good news for the Cubs: He threw four pitches, all strikes.

The Cubs called upon Mather to get the final out and end a nine-run ninth inning as the Brewers posted a 15-4 victory. This one was actually closer than the score would indicate.

Aramis Ramirez looked right at home at Wrigley Field, hitting a pair of home runs and a RBI double, and Ryan Braun drove in five runs, including three on his 35th home run, to power Milwaukee.

Rookie Brett Jackson hit his fourth home run of the season, and third in the last four games, but it wasn't nearly enough as the Cubs fell to 3-11 against the Brewers this year.

"Obviously in the ninth, it got out of hand," Braun said, "but it was a really close game and a tightly-contested game up until that point."

The Brewers led, 6-4, going into the ninth against Alex Hinshaw, and sent 13 batters to the plate. Braun, Ramirez and Corey Hart hit consecutive home runs off Hinshaw to take a 10-4 lead. Lendy Castillo took over, but served up four more runs before he was pulled for Mather, the first position player to pitch for the Cubs since Gary Gaetti on July 3, 1999, against the Phillies.

Mather, making his second career relief appearance, gave up a RBI single to pinch-hitter Jeff Bianchi, but got pinch-hitter Martin Maldonado to hit into a force and end the inning.

"Those guys have to pitch when we're losing," Cubs manager Dale Sveum said of the relief corps. "We can't just keep throwing [Shawn] Camp and [Manuel] Corpas and [James] Russell and those guys in the games. Those other guys have to get through those innings. Obviously, we couldn't accomplish that."

Mather last pitched April 17, 2010, while with the Cardinals in a 20-inning game.

"Obviously, it's never what you want to do," Mather said. "I know Dale doesn't want someone to come in and throw like that. It's an unfortunate thing you have to do, and tonight we got out of it pretty quick."

He did throw strikes.

"I think it goes back to your childhood and you want to be competitive," Mather said. "You want to get the team out of the situation it's in and you want to get those guys out. You can't help but want to go out and beat the guy you're facing."

Justin Germano (2-4), making his sixth start for the Cubs, scattered a season-high 10 hits over five-plus innings, and was unable to avenge a loss one week ago to the Brewers.

"It's hard to be perfect, but I have to go out there and minimize the mistakes, at least the hitters that I make them to," Germano said. "I make two of the mistakes to Ramirez, and that's a guy you can't make a mistake to. I thought I was hanging right in there until that homer [in the fifth]. That kind of set the tone for them. You make a better pitch and it could be a completely different ballgame."

The Cubs trailed, 5-3, when Jackson greeted Kameron Loe with a home run to open the sixth. Chicago loaded the bases with two outs and Hart made a great play on Alfonso Soriano's ball to end the inning. The Cubs had another opportunity in the seventh with two on and two outs, but right fielder Norichika Aoki made a nice catch of pinch-hitter Luis Valbuena's liner to end that threat.

"Soriano has a great at-bat with the bases loaded, and hits a missile in the hole and Corey Hart makes a great play," Sveum said. "Valbuena pinch-hits and hits a missile and Aoki makes a great diving catch. Otherwise, we could've broke the game open just as easy right there with a little bit of luck. Then we couldn't get the lead. We have to find a way to hold teams down."

Marco Estrada (2-5) struck out eight over five innings to help the Brewers pad their lead in the Major Leagues in strikeouts. The Cubs have struck out at least 12 times in each of their last four games against Milwaukee, including 15 on Monday. The 15 Ks tie a season high, set June 6 against Milwaukee.

Is this a game Sveum would like to forget?

"I hope so," he said. "I don't want to think about it too much longer. It was long enough."
Here's the deal, Russell, Camp and Corpas have already been overused. There is a risk of ruining their careers at this point. So they sit. Marmol, in non save situations, has an 11.00 or so ERA. For an already demoralized team that would like pulling the final switch in the The Green Mile. So, Mather it is. Or was. Or whatever.
Mather has a decent fastball and a hanging curve. If he could teach the latter to the team it would be a godsend. That thing is freaking nasty.
On the Southside, they too had a little problem getting out of a game. In their case, they horked up the hairball when they had the lead, despite the fact that they had walked 6 players heading into the 8th. Jeff Seidel has been banished to Baltimore so he brings us the ugly truth.
The worst losses in baseball are those that come on a big play late in the game. In the midst of a pennant race, they're that much tougher to swallow.

That's why there wasn't much talking going on in the White Sox clubhouse after Monday's 4-3 loss to the Orioles at Camden Yards. Nate McLouth's two-run homer in the eighth off Brett Myers ended Chicago's six-game winning streak and handed the White Sox a very frustrating defeat.

Chicago (71-56) still holds a two-game lead over the idle Tigers in the American League Central. But the White Sox twice rallied from being a run down to take the lead, the final time on Adam Dunn's infield single in the top of the eighth that put them up 3-2. McLouth then turned everything around a few minutes later.

"It's a tough one, but we'll be back tomorrow," White Sox manager Robin Ventura said. "They're playing hard. That's the only thing you can really ask for is effort, and the way they go at it. I have no complaints with that."

A few mistakes did the White Sox in on this night. Starter Francisco Liriano gave up a solo homer to Baltimore's Lew Ford in the second, his first homer in the Major Leagues since July 31, 2007.

Liriano and Jesse Crain combined to walk three in the sixth inning, the final free pass coming to McLouth with the bases loaded and forcing in a run that tied the game at 2.

The biggest mistake came in the eighth, and a walk was once again involved. Mark Reynolds drew a one-out free pass off Myers (2-2). Two pitches later, McLouth crushed a fastball from Myers for his two-run homer to right. White Sox pitchers walked seven on this night.

"It was a mistake and he got it," Myers said of McLouth's home run. "I'd like to have it back, but unfortunately, it doesn't work that way. I thought I made some good pitches on [Reynolds]. Can't walk a guy in that situation. It came back and bit me in the rear."

McLouth had been one of the more talented outfielders in the Major Leagues a few years ago but went on a mysterious slide that landed him in the Minors.

The Orioles (70-57) picked him up earlier this summer, and he became the starting left fielder, helping on defense and offense. This time, McLouth said he was helped by the fact that he'd seen Myers before.

"I faced him a number of times in the NL Central when he was with Houston, with mixed results," McLouth said. "[But] I got a good fastball that I could handle."

The White Sox nearly tied it in the ninth against Orioles closer Jim Johnson. Alexei Ramirez, who partially pulled the nail off one of his fingers earlier in the game, reached on an infield single with two outs and went to second on a wild pitch.

Gordon Beckham then hit a slow roller to short. Ramirez took off and had already rounded third and would have scored if Beckham reached. But J.J. Hardy got him at first to end the game.

"You never want to lose a game like that," said White Sox third baseman Kevin Youkilis. "We had a chance in the ninth inning to [tie it]. It's one of those games you battle back and forth, both teams."

The White Sox really needed to do battle against Orioles starter Wei-Yin Chen, who kept them quiet in his six innings of work.

Chen, a left-hander, gave up two runs on just four hits. He struck out eight, often using a sneaky fastball that he spotted well and that clearly bothered the White Sox. Several times, Chen got them to swing and miss or foul off his high fastball.

After Ford's homer off Liriano made it 1-0 in the second, Chen didn't have much trouble until he made a fielding error on a Dewayne Wise grounder to start the sixth.

Youkilis then blasted a two-run homer to left on the next pitch for a 2-1 White Sox lead. The three walks came in the bottom of the inning to tie the game before Dunn gave Chicago a brief lead in the eighth. Pedro Strop (5-2) worked his way out of trouble and gave up just one run to the White Sox there, setting up McLouth's big hit in the bottom half.

But like Ventura said, the White Sox simply have to come back tomorrow and try again. They've got 35 games left and a good shot at the playoffs.

"We're happy with how we're playing," Youkilis said. "This time of the year, you've got to win all the series possible. We're in a pennant race here. You've got to be on the winning side a lot more than the losing side."
I want to go nuts since the Sox have given up a walk every inning and a half over the last nine games. But then I look at the fact that they're 6-3 over that span. The I see that they're still in first place and that they have the youngest pen of any competing team and I - well, not relax exactly - calm down. When I remember that they are now 15-5 in their last 20 one run games I even put away the bourbon.
Robin Ventura MOTY? It might be worth discussing.
CLICK HERE TO PUT IT BEHIND YOU
Follow us on Twitter!
Tweet