I like kids. That may come as a surprise to those who read this blog but it's true. My son, the result of a prom date that went very well, is in his 30's now and has a kid of his own. The fact that he barely knows me is a testament to how well he was raised by the family that took him in. He doesn't need me in his life, he already has a dad. And that's just fine with me. There's no way in hell I could have raised him better.
But maybe that's why I find myself drawn to the Jackie Robinson West story. These are kids who have nothing. And yet, despite all odds, they have everything. They have friends, they have hope and they have futures. They have all of these things because some adults decided that those things were more important to give to kids than anything else. The fact that they are also a very good baseball team is just a bonus.
There's a great article in today's Sun Times by Dan McGrath, it's not online for some reason, about the importance of mentoring. He nails it. He talks about how important his mentors were to him and why he mentors high school students now. It's worth the price of the paper just to read that article.I know how grateful kids are when any adult shows them the courtesy of caring. There isn't enough money in the world to replace that feeling when you get it.
That's why I'm pleased to read articles about these kids that focus on what they've accomplished and what's in store for them.
Mary Mitchell does a great job of showing how the kids live up to the legacy of their name.
You don't realize how big the Little League World Series is until you actually see the small town nestled among towering mountains and trees.

It is here — away from Chicago's segregated South Side — that you get how ironic it is to have an all-black Little League team play in Williamsport when Jackie Robinson left the Negro leagues to integrate Major League Baseball 67 years ago.

But the Robinson name fits.

These young baseball players have given the entire city of Chicago something that Robinson gave his fans: hope.

Hope that with the right mix of education, parental guidance and community nurturing, they could save their children from the cruel lives many of them had suffered.

I saw that hope in the faces of the hundreds of young adults, children and seniors who flocked to Jackie Robinson Park to witness the team's triumphant debut Thursday at the Little League World Series.

That Jackie Robinson West won 12-2 in five innings via the mercy rule put the frosting on the cake.

"While it is only the first round, they have already inspired the entire city of Chicago with their athleticism and their determination to succeed. They continue to remind us what all of our children can achieve when we invest in them and when we believe in them," said Mayor Rahm Emanuel after Thursday's game.

Given recent headlines, it's hard to fathom, but black people had that kind of hope when Jackie Robinson entered Major League Baseball. My father, who would tie up our only TV on weekends watching baseball, never missed an opportunity to remind his children why it was important for the world to see a black man standing shoulder to shoulder with a white man playing a sport that America had claimed as its own.

He thought it was important that Robinson use his talent to make the world take notice of black humanity at a time when too many whites were still blinded by the scourge of racism.

Today, Jackie Robinson West and their families are ambassadors for a city that desperately needs one.

Additionally, the success of this team may renew interest in the sport.

By the time my own son was old enough to pick up a bat, young black athletes had drifted away from the baseball field to the basketball court.

But at Thursday's watch party, groups of boys who had gathered in the park to watch the celebrated Little League team on the big screen organized impromptu games of their own.

Whether they know it or not, the youngsters on the Jackie Robinson West team are walking in the footsteps of their famous namesake.

Their very appearance of this all-black team at this competition of the nation's top Little League players will likely showcase a side of Chicago that is often overshadowed by stories about gangs and drugs.

Even more important, the fathers and mothers of these players are the kind of role models other young parents need to see.

Let's be honest, if the majority of us were investing time in our children the way we ought to invest in them, we wouldn't be dealing with a crime wave in our neighborhoods.

These kids didn't get this far by themselves.

They had mothers, fathers, uncles, grandmothers and grandfathers who were willing to haul them to practices and games.

Take a good look because this is the village.

The team will play again on Sunday.

But it really doesn't matter to me how far the Jackie Robinson West Players get. They already are winners in my book.

I came to see the spirit of Jackie Robinson influencing their lives.
As of this writing they are 2 wins away from playing for the championship. Just for the record, there is no Jackie Robinson East or anything else. The team took the regional name when there was a Jackie Robinson youth league in the 70's. That is now defunct but they decided to leave their name alone.
As to Mary's larger point, I couldn't have said it better. We're writing off generation after generation of young people for reasons that elude me. Until that changes nothing changes.
And yet, here are these kids. Erudite, funny and talented. They didn't come from nowhere. They came from here. And they got to where they're going because some adults said "This is important. More important than beer."
That's REALLY important.
And we're not the only ones who've noticed. Seth Gruen writes about how the Dodger's Carl Crawford has reached out to the team.
The Jackie Robinson West team got a call from its most famous fan Saturday.

Los Angeles Dodgers left fielder Carl Crawford spoke on Skype with the 13 Little Leaguers from Morgan Park. The experience might have given the youngsters an indication of how popular they have become.

''That's the first time I actually went voice-to-voice with an actual person that plays in the major leagues,'' said Josh Houston, who was the winning pitcher Thursday.

Said Jackie Robinson West manager Darold Butler: ''If anything, that will motivate them. These are guys that they look up to. So to see these guys actually calling them by their names and acknowledging all the things that they're doing, that will have them turn it up a little bit more.''

Crawford is a charter member of the Jackie Robinson West fan club. Butler said Crawford has been ­following the team since it fell a game short of qualifying for the 2013 Little League World Series.

Millions more have followed Crawford's lead in the week since the team qualified for the 2014 LLWS. That growing fan base landed Jackie Robinson West on
national TV for its game Sunday against Nevada
(1 p.m., Ch. 7).

Jackie Robinson West's opening game Thursday earned a 2.4 rating in Chi-
cago, the highest for any round on ESPN networks in the market.

''It feels just like playing with no cameras,'' shortstop and pitcher Ed Howard said of the exposure. ''I don't worry about the cameras; I just play my game.

''I heard a lot about Chicago, what they're doing, cheering for us and stuff. That just gives us motivation to play better.''

But Howard isn't close to having the full picture. Dick's Sporting Goods in the South Loop has been selling ''Great Lakes Champion'' T-shirts since the team qualified. The store already has gone through three shipments, and community marketing manager Brian Dibbert said the store sold out a shipment of 500 in 18 minutes Saturday. All proceeds go to the Jackie Robinson West Little League.

''I'm a little nervous, but we've got to get through nerves sometimes,'' Trey Hondras said. ''So probably the first inning [Sunday] will be a little nervous, but after that it will be good.''

The baseball world took notice of Jackie Robinson West heading into the tournament. The number of African-Americans in Major League Baseball has decreased in recent years, and the hope was that Jackie Robinson West would help inspire other African-American youths to play the game. Combine that with its high-powered offense, and Jackie Robinson West is the most-talked-about team in the tournament.

The players seem numb to it all. For them, the game doesn't change just because it's on national TV. With a victory Sunday, the team would be one win away from getting to play in the U.S. championship game.

''They don't have a clue,'' Butler said. ''Believe it or not, that's a good thing. They don't understand ESPN, ABC. They just play.''
I know that a few Chicago athletes donated to the team and their families so they could attend the series. And that's good. Money was, and is, needed. But, as evidenced by the kids reaction to the Skype from Mr. Crawford, direct interaction is needed as well.
If you give the gift of time you'll reap rewards you never dreamed of.
Try it if you don't believe me.
CLICK HERE TO BE A BETTER HUMAN
Follow us on Twitter!
Tweet
Visit us on Rebel Mouse


Email BigBadBill
Photo by Associated Press
Fame is an odd thing. I'll give you an example. I write. Not just here but in the real world too. Sometimes, if I'm lucky, people I don't know read what I wrote and say nice things about it. Even better, sometimes said strangers will contact me and we'll meet for a drink or exchange emails or what have you. Recently a young lady from Botswana contacted me and, after exchanging pleasantries, offered me free booze. As JTJ devotees know, I'd walk through a brick wall for a free drink so I happily said yes. She is an exchange student who is, literally, half my age. No, this isn't one of those kind of stories. Sorry.
Anyway, we met, we talked and we had a very nice time. I enjoyed her company and she seemed amused by me. Then again she seemed amused by the napkin, the bartender, the Japanese cartoons I insisted on watching and so on. All in all she's a pretty happy person generally.
The following week she contacted me and said she'd like to meet up again. Part of my mind, the part that thinks porn is nothing but a series of documentaries, got a tingle going. Then she followed up with "I'd really like you to meet my mom. She's single."
What the hell? If mom's like her daughter this could be cool. So I agree.
The appointed time comes, she and I are sitting at the bar when mom walks in. Mom hugs daughter, turns to face me and says "You never said he was white." The next awkward thirty seconds ended blissfully when mom stormed out. Before my new friend could apologize I burst out laughing. She looked confused for a moment and then got what was so funny. I knew she'd sent her mom my Facebook link. It's not like I'm heavily tanned.
So my little bit of fame has brought me a new friend and my life has been enriched.
I bring all this up to remind you that not all unintended consequences are bad.
And it is with that thought in mind that I considered the Jackie Robinson West baseball team.
The only time the New York Times gives a rat's ass about black kids in Chicago is when they're shooting at each other. But today that changed. Hopefully for an extended period of time. Today they have, not one but, two stories on the JRW kids. One is a reprint of the AP story about Pierce Jones hitting three homers. The second is a staff story about the kids themselves.
I'll share the latter.
When Joseph Haley founded the Chicago-based Jackie Robinson West Little League in 1971, there were no grand plans of winning state championships or reaching the Little League World Series.

There was a vision of using youth baseball to help black families moving into a previously all-white neighborhood unite and establish a sense of community. Haley died in 2005, but the league he founded has blossomed and been carried forth by his son Bill and his widow, Annie.

"I'm sure he never envisioned anything like this," Bill Haley said.

A team of Jackie Robinson West all-stars reached the Little League World Series in 1983. This year, after a drought of 31 years, a team from the league won the Great Lakes regional championship game. On Thursday, the team played its first game in South Williamsport, Pa., beating Lynnwood, Wash., 12-2.

Along with a team from Philadelphia led by a phenomenal young pitcher, Mo'Ne Davis, Jackie Robinson West became an early World Series story line. A similar sentiment surrounded a team from Harlem in 2002.

Supporters of the Chicago-based team at its series opener Thursday in South Williamsport, Pa. The team beat Lynnwood, Wash., 12-2. Credit Brett Carlsen for The New York Times
Bill Haley said he remembered cheering for that team.

"When you see kids from similar backgrounds and similar situations, you pull for them to be successful and beat the odds," he said.

This year's Jackie Robinson West team has attracted the attention of Mets right fielder Curtis Granderson, who grew up in the suburbs south of Chicago. Granderson began playing baseball in the Lynwood Little League, but he said he knew about Jackie Robinson West.

"A lot of my friends, guys my age, played in that league," he said.

Granderson said he liked what the Jackie Robinson West team represented, as well as the idea that the team's appearance in the World Series would prompt discussion about blacks in baseball.

"The cool thing is the way people talk about it," Granderson said. "Like, 'Wow, there is an all-black team out there; I didn't know there was an all-black team playing.'

"The fact that people don't realize that there is a black team means that people are under the assumption that black kids aren't playing baseball. Hopefully this could be something that sheds light both in the African-American community and the non-African-American community."

Granderson recently contributed $5 million to the development of Curtis Granderson Stadium at the University of Illinois-Chicago, where he played for three seasons and where his No. 28 was retired. The stadium will be the home of the university's baseball and softball teams and will serve more than 38 youth organizations in Chicago.

Asked about the small number of blacks in baseball, Granderson said there was simply not much buzz about the game in predominantly black communities, where basketball dominates and football is another substantial presence.

Getting his peers to see baseball as a viable sports option was difficult, Granderson said, so much so that when he accepted a baseball scholarship to U.I.C., his friends seemed surprised that he was still involved in the sport.

"They said, 'You're still doing that baseball thing?' " he said. "For them, baseball was a thing, a hobby."

Ed Howard scoring for the Jackie Robinson West team from Chicago's South Side. Credit Brett Carlsen for The New York Times
Even as baseball preaches diversity, the game continues to spiral economically out of the reach of an increasingly larger pool of potential players after Little League. The cost of participation, especially with travel teams becoming the norm before players reach high school, can reach thousands of dollars a year.

To reverse the decline in black participation, Granderson said, Major League Baseball could copy the Amateur Athletic Union model in basketball, in which major shoe companies provide financial support that allows talented teams to travel to tournaments. Baseball also needs to do a better job of putting black players in front of young people, he said.

"You have to make some major changes if you're serious about really getting more African-Americans into the game and staying in the game," Granderson said.

While Haley acknowledged that basketball was king in Chicago, he said the athletes on this year's Jackie Robinson team were a different breed. Perhaps a new breed.

"These kids who are playing in Pennsylvania are baseball players," Haley said. "They won't switch over to anything else. They'll play baseball a long time."

The Jackie Robinson team is the best marketing for a sport that continues to lose ground to basketball and football. But when asked if the success of his all-stars might lead to a surge of young black players in the majors, Haley said that was not his concern.

"Our mission is absolutely not turning out major league baseball players," he said.

He added, "Our goal is to focus on getting as many kids involved as possible and get them to love the game as early as possible."

For now, Haley is focused on the journey to Williamsport and having his team meet players from around the world and experiencing first-class treatment.

But what he primarily wants is to see the players compete to the best of their ability on a grand stage — to be excited by the environment, not intimidated by it.

"When it comes game time, the kids are going to be fine," he said. "Kids are going to make errors; kids are going to strike out — things are going to happen in a baseball game. But it won't happen because the kids are scared or intimidated or nervous. They're going to play their style of baseball, and they are going to compete."

They will have some major league stars in their corner. After they advanced to the series, Los Angeles Dodgers outfielder Carl Crawford called Darrold Butler, the Jackie Robinson West manager, and volunteered to give the team a pep talk via speaker phone. Granderson will be watching from the Mets' clubhouse. And thousands who played Little League baseball and never got close to South Williamsport will be pulling for a team from Chicago's South Side, and for Davis, a hard-throwing black girl from Philadelphia, to beat the odds.

They represent a refreshing breeze in a sport in desperate need of fresh air.
And, yes, this year MLB is starting to look at girls in baseball seriously. Despite Greg Maddux' wildly misogynist rant about the game allowing men to be men, there isn't one good reason girls can't become women and play this game at the professional level.
The same concept applies to a group of black kids from the south side of Chicago.
I feel safe in saying that all of us here at Jay the Joke wish Jackie Robinson West nothing but the best! They're already winners in our book.
Follow us on Twitter!
Tweet
Visit us on Rebel Mouse


Email BigBadBill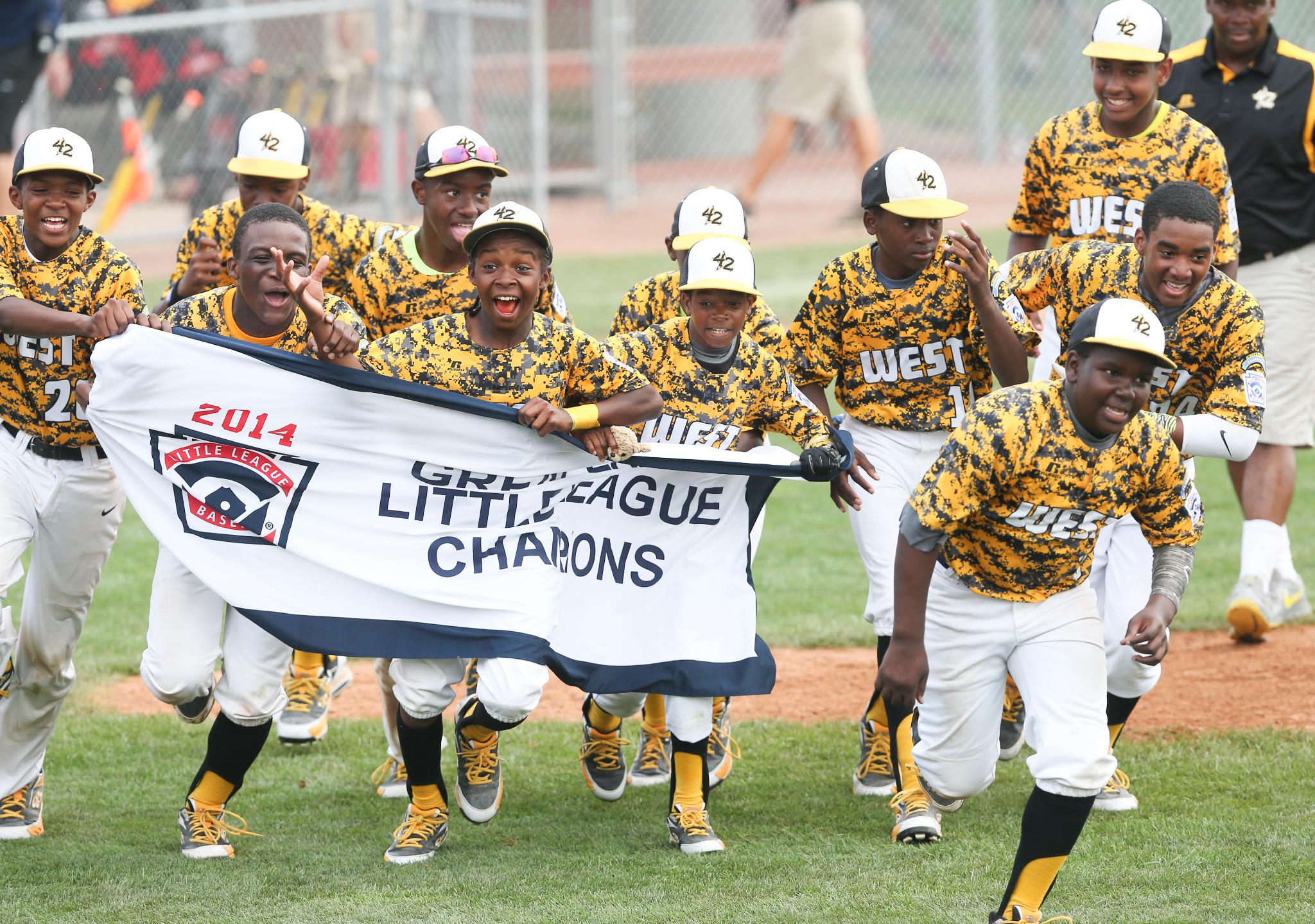 Fred Goodall at ABC says it well enough for all of us.
Win or lose, a collection of youngsters from Chicago figure to leave a lasting impression on the Little League World Series.

The Jackie Robinson West team is comprised of all African-American players. When tournament play begins Thursday their league will make its first appearance in South Williamsport, Pennsylvania, in 31 years — the latest indicator that baseball is making strides in an effort to lure more young African-Americans back to the game.

The number of African-Americans in the major leagues has dwindled steadily since the mid-1980s when they comprised about 19 percent of rosters; the number stood at 8.13 percent on opening day this year.

No one is ready to proclaim the sport is back in talent-rich inner city neighborhoods because of Jackie Robinson West's success, however programs such as the Little League Urban Initiative, Major League Baseball's RBI (Reviving Baseball In Inner Cities) and Urban Youth Academy clearly are making a difference.

Jackie Robinson West has created a buzz.

David James, senior director of MLB's RBI program is very familiar with the team's history and is delighted to see it back on Little League's biggest stage.

"All of us at MLB is talking about that team," said James, a native of Williamsport and a former head of the Little League Urban Initiative. "It's really good for the game."

The RBI program has grown over the years and now has a presence in 200 cities with about 230,000 participants.

Jackie Robinson West, which bears the name of the first man to play in the major leagues, has a storied history. Joseph Haley founded the league that's grown to include 28 teams. Haley's son, Bill, runs the program today and it is one of the Urban Initiative success stories.

It is the first all-black team from Chicago to reach the World Series since 1983 and the first Urban Initiative affiliate to earn a berth since Harlem in 2002.

While the Urban Initiative helps provide resources essential to running successful leagues, its director — Demiko Ervin — is reluctant to take credit for Jackie Robinson West's success, noting that the program has been around since 1971.

"Everybody wants to talk about the Urban Initiative League and how we've helped" Jackie Robinson West," Ervin said. "They've benefited from the program, but I've got to give so much credit to the folks in that league and folks in that community.

"It doesn't work if you don't have the coaches and the volunteers that come out, support them and do the things that it takes to run a league," Ervin added. "They're one of the better Urban Initiative Leagues in the country."

Jackie Robinson West is one of nearly 200 Urban Initiative Leagues in about 100 cities across the country, although no records are available on how many young African-Americans are involved because most registration forms don't request information on nationality or race.

"We don't keep those kinds of statistics," Ervin said.

"A lot of people think it has to do with leagues having a predominate number of African-Americans, and that's not it. It's more of a need-based program," Ervin added. "We want to make sure all of our leagues, all communities, all neighborhoods, from the affluent to the disadvantaged have the opportunity to play Little League. That's what it about."

Jackie Robinson West, representing the Great Lakes, makes its LLWS debut against Northwest champion Lynnwood Pacific.

They will be joined in the 16-team field by teams from Pennsylvania, Nevada, Tennessee, Rhode Island, South Dakota and Texas. The international pool will be comprised of squads from Puerto Rico, Japan, Mexico, the Czech Republic, Australia, Venezuela, British Columbia and South Korea.
CLICK HERE TO JOIN THE CONVERSATION
Follow us on Twitter!
Tweet
Visit us on Rebel Mouse


Email BigBadBill
The Bears opened their preseason with a nice win and prompted a buddy of mine to reserve Super Bowl tickets and a room. No, I am not kidding. But I guess I understand. Professional baseball, aside from a few individual players, has been godawful this year. Neither hockey nor basketball are happening at the moment and, I'm sorry, no one gives a damn about the Fire. Which is fitting since the team's upper management doesn't seem to give a damn about the few fans they have. Granted, the WNBA's Sky made the playoffs this year, barely, but they fail to resonate outside of their rabid fans.
So we need something to rally around. A team that embodies all the good things sports has to offer.
Today I am going to give you one such team.
They are local, they are young, and they are winners. Transparency alert, I have the honor of knowing a few former players for this team and they are all fine young men. They will tell you how much they benefited from this program and team and how their lives are better just for having been there.
They are called the Jackie Robinson West team and they play youth baseball. And they play it at an elite level.
The Sun Times staff all pitched in to share their story so I'll let them do just that.
With a 12-7 victory against New Albany, Indiana, in the Great Lakes Region championship game Saturday in Indianapolis, the Jackie Robinson West team became the first all-black team from Chicago to reach the Little League World Series in three decades.

Cameron Bufford's fifth-inning grand slam helped the South Side team rally from a 5-0 deficit to reach Little League's premier event in South Williamsport, Pennsylvania. Play begins Thursday, when Jackie Robinson West will play the winner of the Northwest regional at 2 p.m. on ESPN. The championship is scheduled for Aug. 24.

The last Chicago team to qualify for the World Series was West in 1983. That team finished fifth overall. After falling one game short of the Series last year, West was determined to reach Little League's biggest stage this year.

"You have 13 African-American players, volunteer coaches, and everybody throughout the league trying to do something positive for the city of Chicago," manager Darold Butler told the Sun-Times last month. "So this is huge. This gives our kids something to strive for, to set goals, and to accomplish. It gives them something to look forward to outside of the negativity.

The victory in the regional final prompted Gov. Pat Quinn to declare Saturday "Jackie Robinson West Little League Champions Day" in the state.

"With power and poise, this group of young ballplayers has outperformed opponents across the state, region and now they have their eyes, gloves and hearts set on a bigger field," Quinn said in a statement. "Like Jackie Robinson, they didn't hang up their cleats in the face of adversity. Now this year for the first time since 1983, they will get to compete in the Little League World Series. This group of young ballplayers and their coaches have made all of Illinois proud. I wish them the best of luck as they represent our state on the worldwide stage."

Mayor Rahm Emanuel said the city "could not be more proud."

"More important than making history on Saturday, the courage to persevere and hard work displayed by the Jackie Robinson West Little League Team and Coach Darold Butler, has once again reminded all of Chicago the very best of what we hope from and for our kids," Emanuel said in a statement. "I want the whole team and Coach Butler to know that Chicago is rooting for them, and as they take the field for the Little League World Series, they will be taking the best wishes of an entire city with them."

The team was 6-0 in regional play, outscoring its opponents 61-19.
Unlike many All Star based youth teams, JRW relies heavily on donations. If you've gota couple of bucks to spare click here to send them a donation via Paypal. You'll automatically be a better human when you do.
CLICK HERE TO LAUD THE VICTORS
Follow us on Twitter!
Tweet
Visit us on Rebel Mouse


Email BigBadBill
I have been going to school again. And working full time. And designing DVD covers for a bondage video. What have you been up to? Anyway, that's why I've been scarce lately. Don't worry, I'll share a link to the DVD when it comes out. I'm not cruel. Anyway, ya'll peeps always be asking me where I hang. And when I tell ya'll ya'll jus say "Where?" So in an effort to stop me from talking like that ever again I'll just post a link. If you want to hang with me when I'm not at work or going to school or watching pretty young girls spank each other you can just click here to get directions.
Better now?
I know I am.
Anywho chilluns, while I've been away our teams they did play. And, for the most part, that wasn't a horrible thing.
We'll start on the north side and work our way down. Just like the brunette did to the red head.
Since the Cubs traded away their hope for the future that have been scrabbling for wins. Not that they were piling them up before but you know what I mean. Things didn't get any rosier after Jed Hoyer held a press conference and, when asked about pitching, dropped this gem; "We have to add a lot more talent. And really our next 18 to 24 months is going to be largely spent on doing just that." Two years from now means he's prepping for the 2017 season. Just in time for Castro and Rizzo to test free agency.
This is a GREAT plan.
Still and all, the guys that wear the uniforms have been doing their level best. You can make of that what you will but it is nevertheless true. Well, not Edwin Jackson of course. He's completely forgotten hoe to pitch. But the rest are, at least, trying.
Oh lawsy, are they trying. Trying my patience that is.
Oh, you were thinking it.
Well, yesterday they trotted out the amazing Kyle Hendricks, not to confused with Jimi, and let him throw baseballs at the opposing team. Oddly enough, as Carrie Muskat points out, this was a good plan.
It was a perfect homecoming for Cubs pitcher Kyle Hendricks.

Hendricks, who grew up about one hour from Dodger Stadium, picked up his second big league win, plus his first multi-hit game, and first RBI in the Cubs' 8-2 win over the Dodgers Friday night.

"He continues to impress everybody," Cubs manager Rick Renteria said.

This was Hendricks' third consecutive quality start, and he's the first Cubs rookie to total that many in a row since Casey Coleman had four straight, Sept. 12 to Oct. 1, 2010. It's the second time Hendricks has pitched at Dodger Stadium, although he didn't feel the first one counted because it was one inning in a high school showcase in front of a few hundred people.

On Friday, there were 47,900 at the ballpark, including at least 40 of Hendricks' family and friends, including his high school coach.

"It was awesome tonight—that's a heck of a lineup over there," Hendricks said. "Every guy up and down can hit, they're one of the best teams in the league. I was lucky to go out there and throw some strikes and get them out. It was really fun to have my family and friends here to watch."

The Hendricks contingent was easy to spot in right field. They were dressed in Cubs blue and had brought posters to brag about the right-hander.

"We've seen him execute, mix his pitches, and knows what he needs to throw in particular counts," Renteria said. "He's pitching, and I think he's done it since the first day we saw him. ... Kyle set the tone in his ability to attack the hitters and attack the offense. He gave us an opportunity to go ahead and do what we did on the offensive side."

Luis Valbuena hit a solo home run and an RBI single, and Starlin Castro had three hits to back Hendricks, 24, who now has pitched at least six innings in each of his four big league starts. The Cubs acquired the right-hander two years ago at the Trade Deadline from the Rangers in the Ryan Dempster deal, and last season, was named the Cubs' Minor League pitcher of the year.

At that point, he didn't think about making a start at Dodger Stadium, practically in his backyard.

"You always have lofty dreams but I was more concerned with the day-to-day work to get me here, and I think that's what I attribute to finally getting me here," said Hendricks, from Newport Beach in Orange County. "I thought about playing up here but didn't think about this moment necessarily."

Hendricks got a wake-up call as Dee Gordon lined a single off the pitcher's calf to lead off for the Dodgers. Gordon then stole second and third for his 49th and 50th steals of the season, more than the entire Cubs team has combined. One out later, Adrian Gonzalez was intentionally walked and Hanley Ramirez hit a grounder to Castro, whose throw sailed into right field. Gordon scored on the play, and Gonzalez was thrown out at home on a 9-3-2 relay.

"You can't get rattled," Hendricks said. "You have to stay in the game. The guys scored a ton of runs for me. You have to try to treat it like a 1-0 lead."

Valbuena quickly tied the game with a leadoff home run in the Chicago second, and the Cubs added three more runs in the third when Ryan Sweeney hit an RBI single and Castro scored on a throwing error by right fielder Matt Kemp. Sweeney then tallied on a wild pitch by Dodgers starter Dan Haren.

"I'm just embarrassed by my performance and I feel bad for the fans and the other 24 guys," Haren said. "As bad as it's been lately, I felt really good mentally and came to the park feeling good things were going to happen. But just the same results. It's one of the toughest times in my career. I had a bad start last year, but this means more, the way we've been playing and to be the weak link. I have no one to blame but myself."

The Cubs scored three more runs in the fifth, including one on an infield single by Hendricks to third that deflected off pitcher Chris Perez toward third baseman Justin Turner, who didn't step on the bag for a force or make a throw.

How did he prepare for the start? Hendricks, a Dartmouth graduate, studied video, talked about each hitter with catcher Welington Castillo, and did his homework. Give credit to Triple-A Iowa pitching coach Bruce Walton, who did his best to prepare the right-hander for the big leagues, telling Hendricks to eliminate the fans and the hype and the upper deck, and focus on making good pitches.

He's been tested. Hendricks' first big league start was in Cincinnati, he's faced the Cardinals at Wrigley Field and now the Dodgers on the road.

"He's really smart and he knows what he's doing, and he knows what to use and when to use it," Castillo said of Hendricks. "I think his stuff is not like [Adam] Wainwright or guys like that. What he does is get his pitches down in the zone and do his homework and I think it's working. Execute the pitches—that's working for him."
Hendricks looked solid. He has every start so far since he got called up. I have no idea what to make of that. He wasn't all that impressive in the minors. Oh well, what can you do? Wish him well and move on.
On the south side, where the brunette ended up in spectacular fashion, Chris sale was clearly distracted (and I can't say I blame him) and went out and gave the world his best Edwin Jackson impersonation.
I prefer his Garth Brooks.
Scott Merkin, our favorite whimsical pixie, was there and has the whole story.
Chris Sale got hit.

Then Sale got angry Friday night at U.S. Cellular Field. But the White Sox offense got him even during a 10-8 victory over the Twins before a crowd of 28,060 that was one of the loudest of the season on the South Side.

The Twins (48-60) did have a chance to win, but the White Sox pounded out 17 hits in their 23rd comeback win of 2014. It's a game that the White Sox (54-56), who were 28 games under .500 at this point in 2013, wouldn't have won last year.

But when every player in the starting lineup comes away with at least one hit, and every starter but Gordon Beckham had at least one RBI, it's easy to offset a rare off night for an ace hurler who entered the contest featuring a 1.88 ERA.

"Just how we drew it up," said Sale with a broad smile of his team's sixth win in eight games. "It was a little bit of everybody. Everybody in the lineup got a hit today, which is awesome. Scoring runs early, scoring runs late and in between.

"This team never quit fighting, especially when I put us in a pretty good hole right there. We never quit battling and put some good at-bats together and some runs on the board."

Sale didn't factor into the outcome, leaving the game after giving up five runs (four earned) on eight hits over six innings, while striking out seven. In the month of July, Sale allowed just three runs on 22 hits in 31 2/3 innings.

Five runs scored for Minnesota in the third, after the White Sox grabbed a 2-0 lead on Moises Sierra's triple and Adam Eaton's bunt single in the second. Eaton has hit in eight straight and reached base safely in 18 straight games.

After retiring Danny Santana on a routine grounder to shortstop Alexei Ramirez, the Twins recorded five straight hits, with Josh Willingham and Kurt Suzuki picking up RBIs. It was Kennys Vargas' first Major League hit, a ground-rule double to right, which really drew Sale's ire.

Vargas stranded the bases loaded in the first when Sale fanned the rookie on four pitches, punching him out on a changeup. Sale jumped ahead at 1-2 in the third, but caught too much of the plate with a 98-mph fastball, and Vargas produced to score two runs. Sale followed with a few yells and arm gyrations near the mound, representing utter anger with himself.

"Didn't really have command of anything," said White Sox manager Robin Ventura of Sale. "Pitch count got up real high. They worked him over in that inning of being able to get a good hitter's count and take care of it. Just an off night for himn but at least the offense came back and helped him out."

"He's filthy. The guy's really tough," said Minnesota manager Ron Gardenhire of Sale, who struck out 12 Twins over eight shutout innings during a start on July 26. "We were a little more aggressive today. He was in the zone a little bit more and we didn't chase out of the zone."

Chris Parmalee's homer off of Eric Surkamp actually gave the Twins a brief 7-6 lead in the top of the eighth, but the White Sox didn't stay down long. Ramirez's soft single to right scored Jose Abreu with the go-ahead run, as the White Sox rallied for four in the eighth off of Casey Fien (5-5).

Abreu and Paul Konerko, something new and dominant and something more established and proven, helped fashion that rally. One out after Eaton reached on a base hit to left, Abreu singled to center marking the 10th straight plate appearance he has reached base. Konerko followed with a single to left to tie the game and send Abreu to third. That sequence set up Ramirez.

Jake Petricka got the save, his seventh, after loading the bases with no outs and escaping with just one run.

Abreu extended his career-best hitting streak to 21 with a fourth-inning, run-scoring single, and has hit in 39 of his last 40 games. He had three hits, a walk and a hit by pitch on Friday, to go with three hits and two intentional walks in Thursday's win over the Tigers.

There was more to this game than Abreu, described accurately by Konerko as "a monster," in a good way of course. Tyler Flowers added two hits and two RBIs, including his seventh homer, while Alejandro De Aza and Sierra each had two hits and an RBI. And those three represent the No. 7 through No. 9 hitters in the lineup.

"That's our team. We have a lot of good hitters," Konerko said. "When we are playing well, it's not just one guy carrying the load. We have a lot of good at-bats. When you have a night like that where you are swinging, you should get that win."

Just ask Gardenhire, who certainly would have liked his victory chances if told earlier in the day that his Twins would score eight runs in a game started by Sale.

"I bet Las Vegas would take those odds," Gardenhire said.
Who are these guys and what did they do with the losers we came to know and love before the All Star break? I mean seriously. When Chris Sale is the worst player on the field and the team still wins something is horribly amiss.
Oh, screw it (said the .... oh, never mind) I'll take it (said the other).
CLICK HERE. YOU DESERVE A SPANKING
Follow us on Twitter!
Tweet
Visit us on Rebel Mouse


Email BigBadBill